Oct. 15 Matheny postgame interview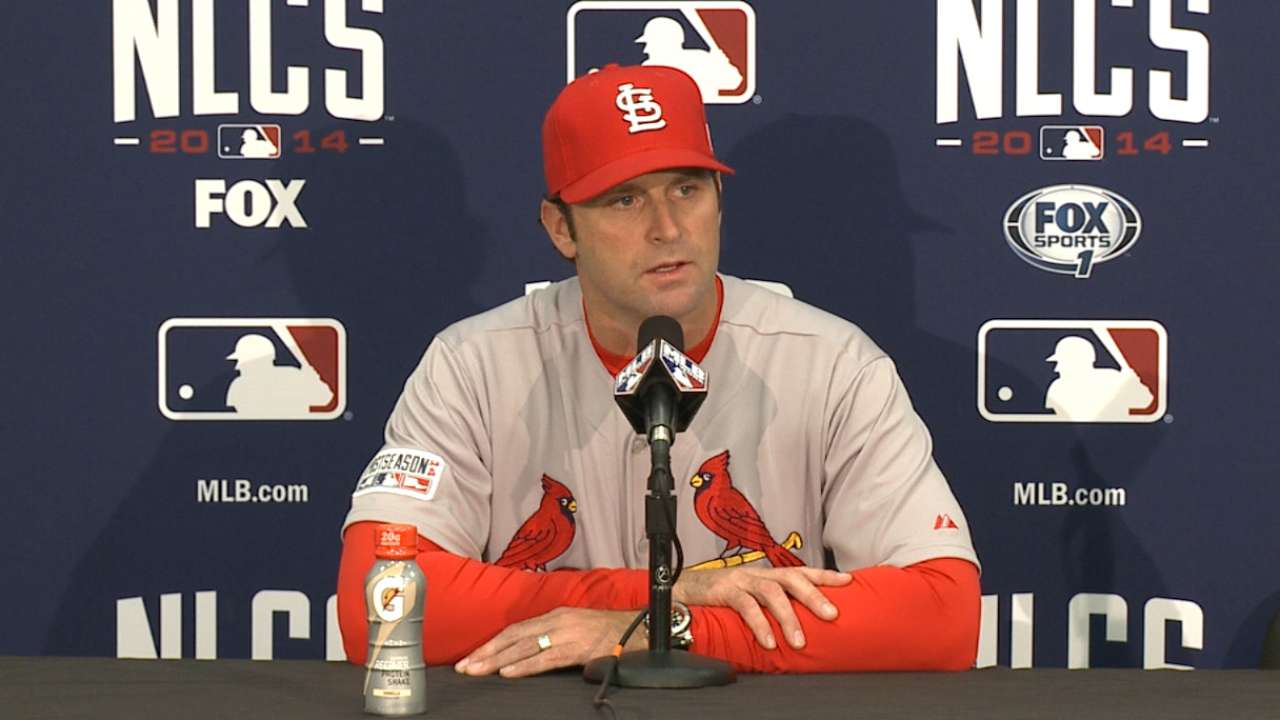 Q. You had a 4‑1 lead and things kind of got a way. Do you have any regrets about maybe sticking with Shelby too long and letting that lead get down to one run?
MIKE MATHENY: We got him out in the fourth. That's pretty early.
Yeah, we're trying to be on top, see if we can make a move. Left with a lead and an opportunity to take that a little deeper into the game. Just didn't work out.
Q. Can you talk about the confidence that you had leaving Choate out there? It was pretty evident you were fired up and behind him on that one.
MIKE MATHENY: The guy has had a great season for us, and we're going to need him. We needed him tonight, we need him as long as we can play. And he's going to have to continue to get big outs for us and we trust that he's going to get the job done regardless of what happened last time.
Always anxious to get our guys back in after they had a tough night and watch them answer the bell. He did a nice job of getting us out of that inning and giving us a chance to keep moving forward with the lead.
Q. On the second ground ball hit to Adams where he takes the play to first and then tries for the force, how would you like to see that play handled?
MIKE MATHENY: Yeah, it's the right play by touching the base. He's just got to check home at that point. And the runner wasn't going. We eat the ball, got a base hit and we got a lot of different options we can go to at that point.
But you know, they took off once he released the ball to second base. That's not really the play we want.
Q. I know it's not pleasant to watch him, but when you see Posey have a game like tonight, being a former catcher yourself, any special appreciation for what he does?
MIKE MATHENY: I don't know if appreciation is the right word. It's hard to watch. We trust our guys to go out and get anybody out. Have a great deal of respect for the calibre of player he is. We know in big situations, he doesn't scare and he's going to answer the bell.
We tried to put ourselves in spots where we don't necessarily need to see him in big situations. But they do seem to keep coming up and he's making the most of it, and that's what big‑time players do.
Q. Obviously not the situation you want to be in, down 3‑1, but still tomorrow you have Wainwright. Even though he has a high ERA in the playoffs, he's still your ace. How do you feel having him to stay alive?
MIKE MATHENY: Nobody else we'd rather have on the mound. We don't look at it in series. We haven't done that all season. We look at it as a game. They are letting us play again tomorrow. We can control tomorrow, and Adam Wainwright is going to set the tone for us. Everybody's got to follow suit and jump in and figure out a way to make it happen.
But we don't take it any further than one at a time when we've got our guy on the mound.
Q. You had Michael warming up, I'm guessing if you would have tied it, he would have taken over at that point. What do you like about him better in that situation versus early in the game with a long‑inning situation?
MIKE MATHENY: We haven't had a situation really to get him in there that he's going to get stretched out like we need him to. We're also in that spot that if we get a chance to get somebody on and hit a home run and we don't have anybody at the back end of this game to throw multiple innings, we're in a bad place.
Exactly the same situation I told you before the first series. This is his role right now. Now it could change tomorrow, since we have used the bullpen pretty hard. It could be different. You know, we keep kind of talking about this, but it's the same answer, and this is what he's going to have to be prepared for, and he will. And when he gets his chance, I know he'll be sharp.
Q. What do you think the root of Shelby's problem was?
MIKE MATHENY: Well, it was really ‑‑ you see some walks. Walks, you play a team like this and it's not just Shelby, you go through our pitching as a whole. We give free bases and we give extra outs, non‑plays, it's going to come back and it's going to bite you when we're in a close series with a team that's playing well and doing things fundamentally right. Those will, and they did, cost us.
At times, Shelby I believe got to the middle of the plate. Saw a couple of the replays where the ball was up the middle and these guys, especially in the middle of the order, are going to make you pay for that.
Q. How much of a factor was it and how disappointed were you that you put up the runs early and then didn't tack on after the third inning like that?
MIKE MATHENY: Yeah, it was nice to get a lead and be on the other side of that. Knowing that this team is going to continue to fight and put together tough at‑bats, and that's typically when either we figure out a way to get to their pen and start tacking them on, and we just couldn't make it work.
Had a couple opportunities where had some pressure put on them, but they made the plays when they needed to and we couldn't get that big hit after early.
For the most part, we had some guys come in and pitch some good innings for us, figure out a way to get it done. And just that one inning jumped up with the lead‑off walk and a couple hits ended up being the difference.
Q. If you guys tie it up, who is your catcher, Daniel or Yadi?
MIKE MATHENY: Yadi's catching, yeah.