Cards' early-inning momentum halted by double plays
Peralta's rally-killers plus Adams' miscues open door for Giants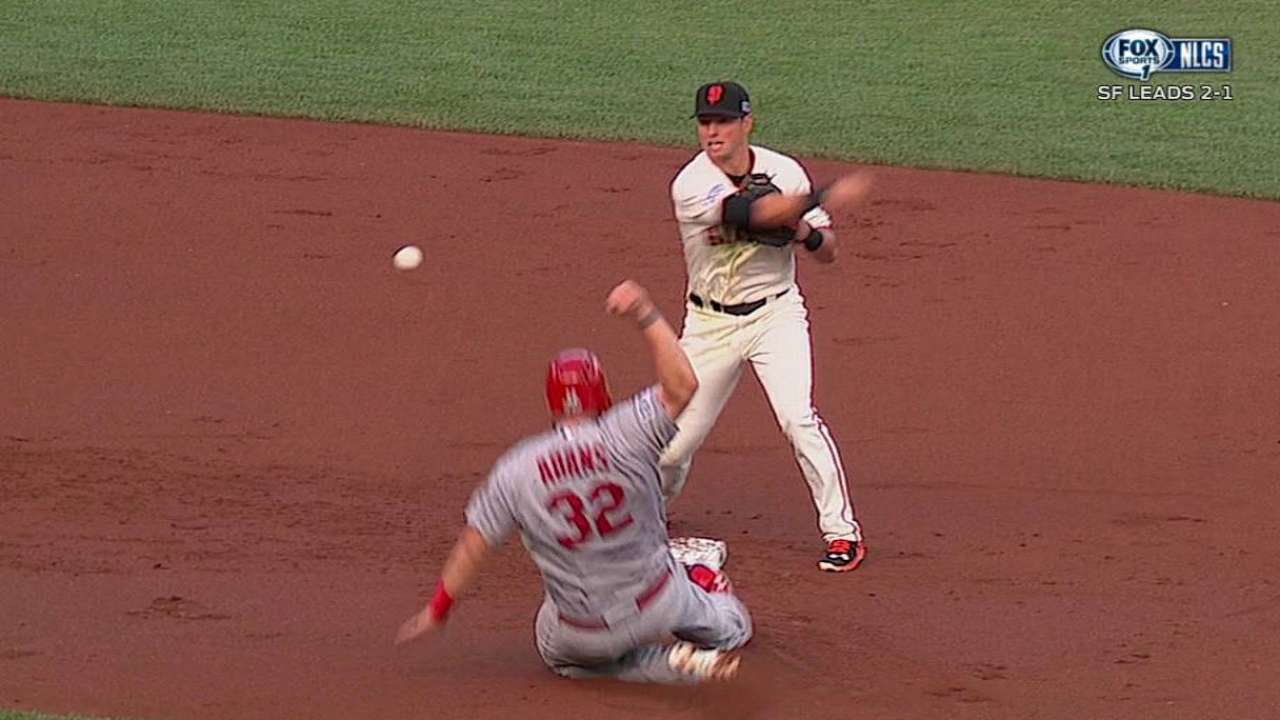 SAN FRANCISCO -- Given the way this October has gone so far for the Cardinals, their four-run output in the first three innings against the Giants on Wednesday night at AT&T Park felt like an offensive explosion. In eight prior playoff games, St. Louis had scored just three total runs during the first three frames.
But a three-run advantage proved insufficient in Game 4 of the National League Championship Series, as San Francisco mounted a comeback and won, 6-4, to take a 3-1 series lead.
While it's difficult to gripe about the Cardinals' early-inning performance, they certainly could have had more against Giants starter Ryan Vogelsong.
In hindsight, two double plays off the bat of Jhonny Peralta in the first and third frames are tough to swallow.
"We had some real good at-bats early that set the tone for us," said Cardinals manager Mike Matheny. "Those were innings where we were really hoping to [break open], especially that first one. Double plays always hurt."
In the first, Matt Adams smacked an RBI single with one out to open the scoring. But with men on first and second, Peralta bounced into a 5-4-3 double play to end the inning.
The Cards left two more on base in the second, and then in the third, Vogelsong induced another 5-4-3 DP from Peralta with runners at the corners and nobody out. A run scored on the play, but the bases were empty when the next batter, Kolten Wong, hit a homer.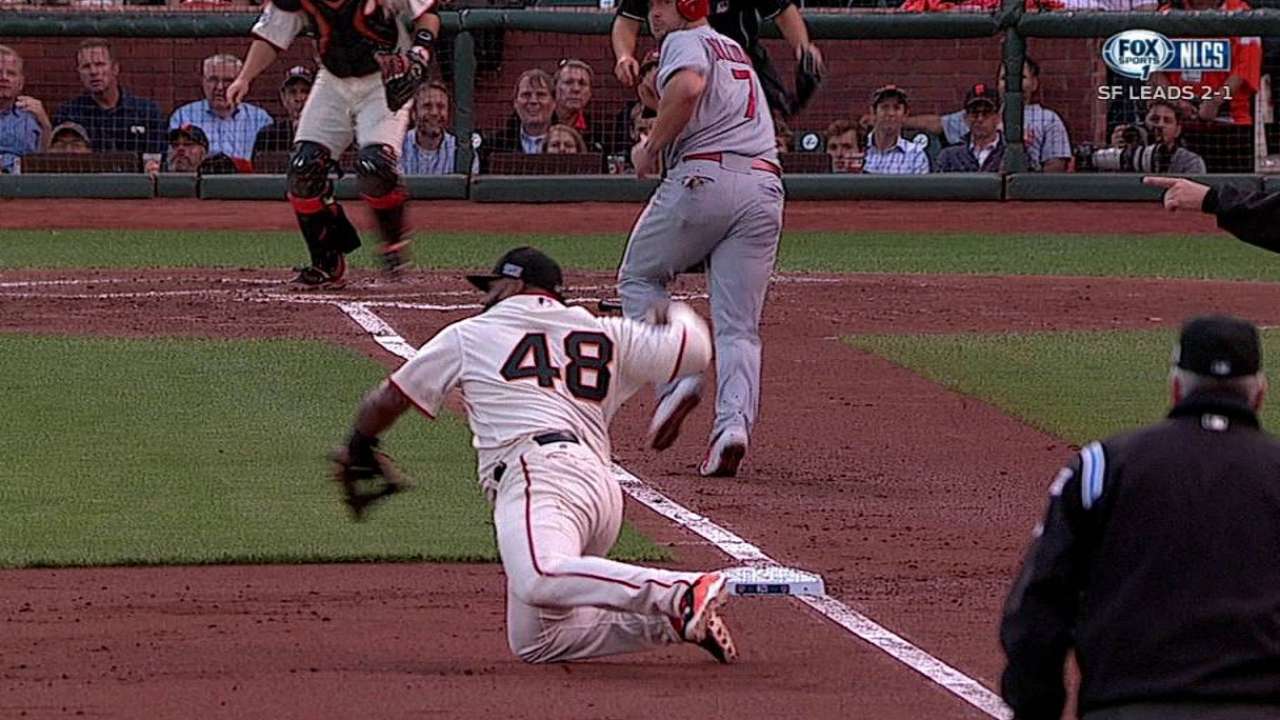 Video: Panda turns two from his knees
"I think we all kind of had the right approach against him," Wong said of Vogelsong. "He's one of those seasoned veterans who knows how to pitch, he knows how to make you chase pitches, so if you kind of stick to your plan of basically making him throw the ball down the middle, most of the time it'll work."
That approach helped the Cards chase Vogelsong after three innings, but San Francisco turned a third double play in the fifth. One inning later, a pair of defensive mistakes by Adams cost St. Louis the game.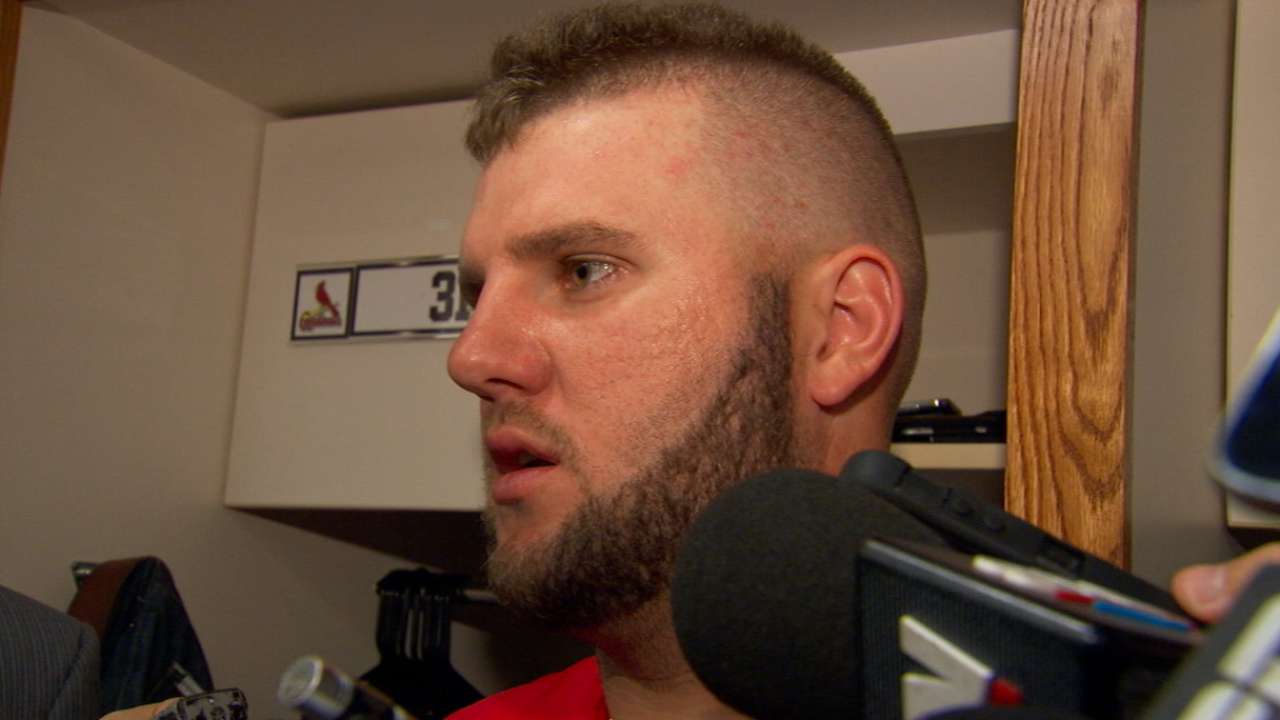 Video: Adams on troublesome sixth inning
"That's what good teams do," Adams said. "They capitalize on mistakes."
To set the stage for their comeback, the Giants needed to keep the floodgates closed in the early innings.
"If we don't play the small game the right way," said Giants third baseman Pablo Sandoval, "we don't win."
Aaron Leibowitz is an associate reporter for MLB.com. This story was not subject to the approval of Major League Baseball or its clubs.