Miller's short start puts Cardinals in a bind
Starter staked to lead but runs into trouble early against Giants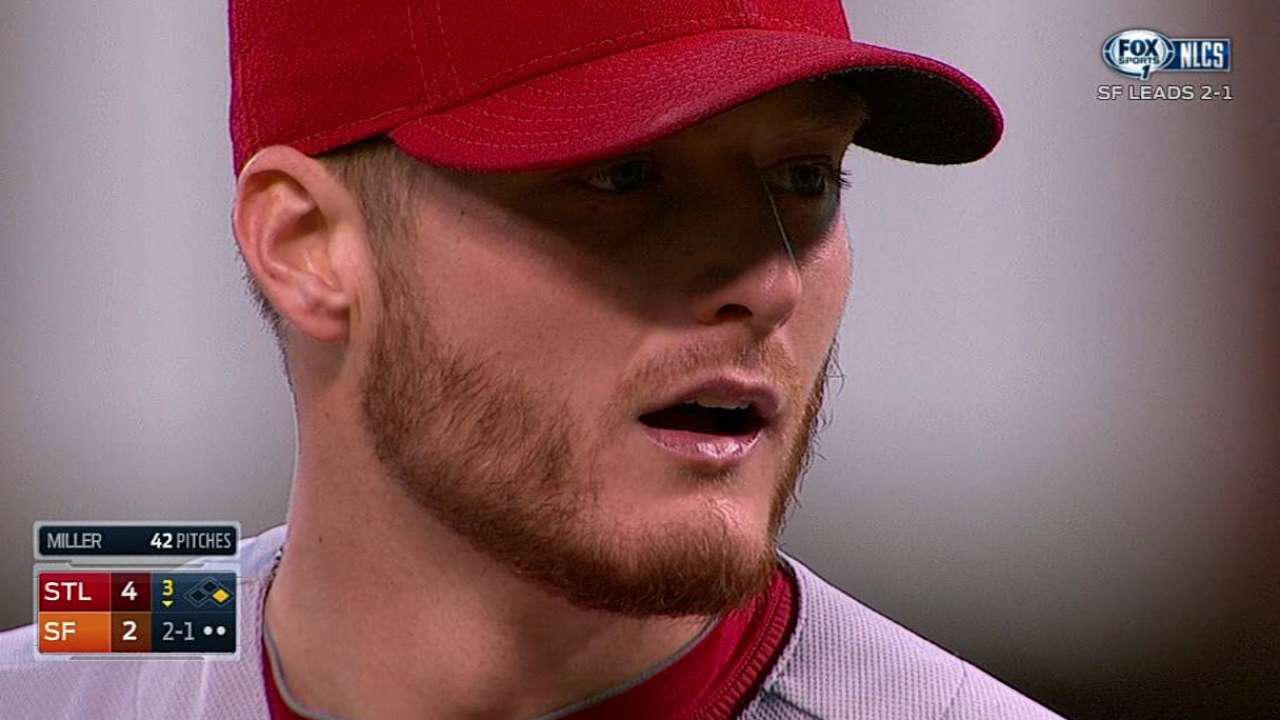 SAN FRANCISCO -- The Cardinals have spent very little time leading during the early innings this postseason, so when they established a three-run advantage in the third inning on Wednesday, it felt like a golden opportunity.
But starter Shelby Miller let the Giants right back into Game 4 of the National League Championship Series at AT&T Park and San Francisco completed its comeback in the sixth to win, 6-4, and put St. Louis one loss away from the offseason.
Miller, making his second career playoff start, allowed three runs in 3 2/3 innings in his shortest outing since June 24. He induced a double play to hold the Giants to one run in the first, but Buster Posey and Hunter Pence hit two-out RBI singles in the third to put a damper on Miller's night.
"I just started to throw some balls up over the middle of the plate in the third and gave up a couple runs and let them back in the game," Miller said. "It's not my job to do that. We definitely had a lot of momentum, went up 4-1, and then you give up two runs and they're right back in the ballgame. That's on me."
Manager Mike Matheny let Miller finish the third and then take an at-bat -- a strikeout -- in the top of the fourth before calling on lefty Randy Choate to relieve him with two outs in the bottom half. Though Miller was not at his sharpest, Matheny defended his decision to keep the right-hander on the mound past the third inning.
"He gets into trouble [in the third], but when he gets into trouble, he's in the right-handed part of their lineup," Matheny said. "What right-hander are we going to go to that we're going to put in there and then let him stay in there and hit? Is there anyone that we want to go to at that point? The answer is, we like his stuff as much as anybody right now. Then, once we do get around to the lefty, Randy comes in.
"Letting him hit," Matheny added, "comes down to whether we want to burn up one of our guys on the bench with one out and nobody on base."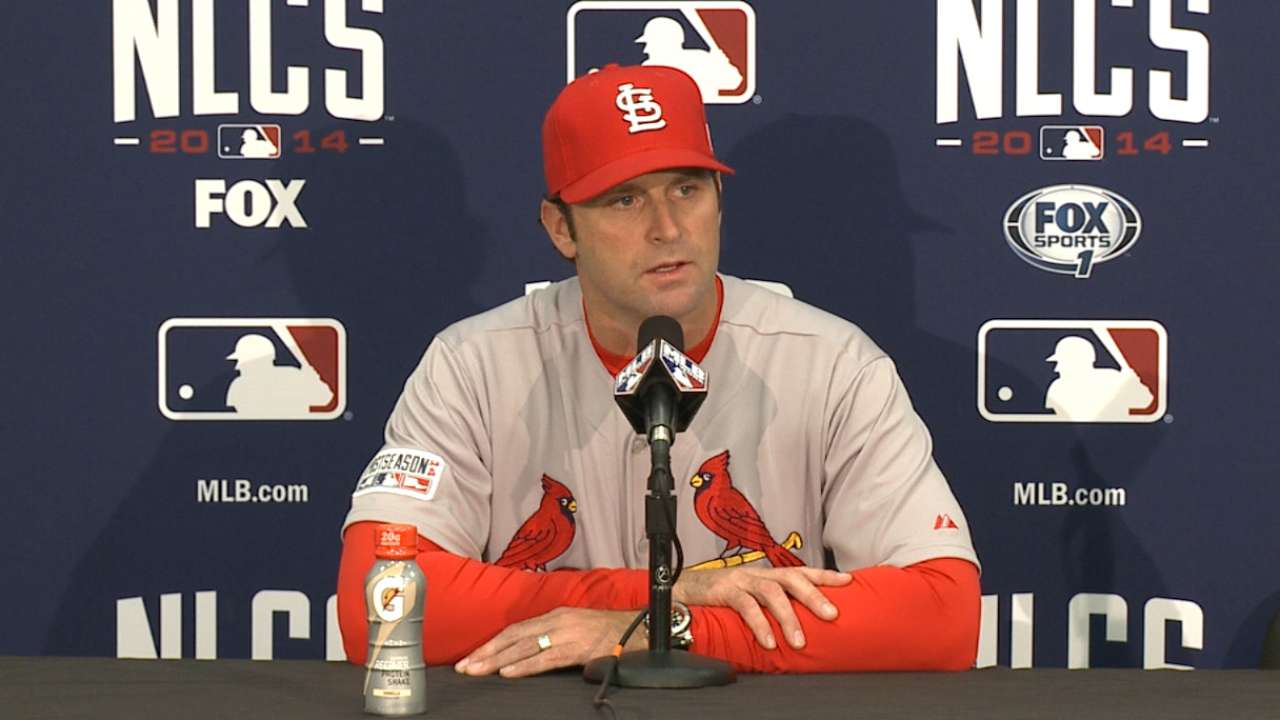 Video: Matheny on Miller's outing
The Giants were in attack mode against Miller from the outset, and Miller responded by utilizing his breaking stuff. While he admitted he may have been overthrowing a bit, he said he felt fine mechanically but simply let the third inning slip away.
"They weren't even trying to take a pitch," Miller said. "I started throwing some breaking balls early on and it started working out good. Just that third inning, a little bloop into center field [by Joaquin Arias] and then it kind of goes downhill from there. It's my fault to let them back in the game."
"I thought he was good," said catcher A.J. Pierzynski. "He threw the ball well, and unfortunately we didn't get it done. I thought his stuff was fine, the ball was coming out of his hand well. It just didn't work out."
Miller departed with St. Louis leading, 4-3, a score that held up for two more innings thanks to strong bullpen work by Choate and Carlos Martinez. But Marco Gonzales faltered in the sixth, and the Cardinals' late-inning magic was nowhere to be found.
"They've got a great team, there's no doubt about that," Miller said. "A lot of tough guys in the lineup, a lot of power, a lot of guys who can get on base, and when they do get on base they know exactly how to play baseball to get 'em right back in.
"We know that, we realize that, but at the same time, I failed to keep our team ahead giving up those two runs. Let them have the momentum a little bit right there, and they played good baseball from then. Tough loss."
Aaron Leibowitz is an associate reporter for MLB.com. This story was not subject to the approval of Major League Baseball or its clubs.