Royals' front office celebrates with loyal fans
Glass family, GM Moore pleased to deliver franchise's first AL pennant since 1985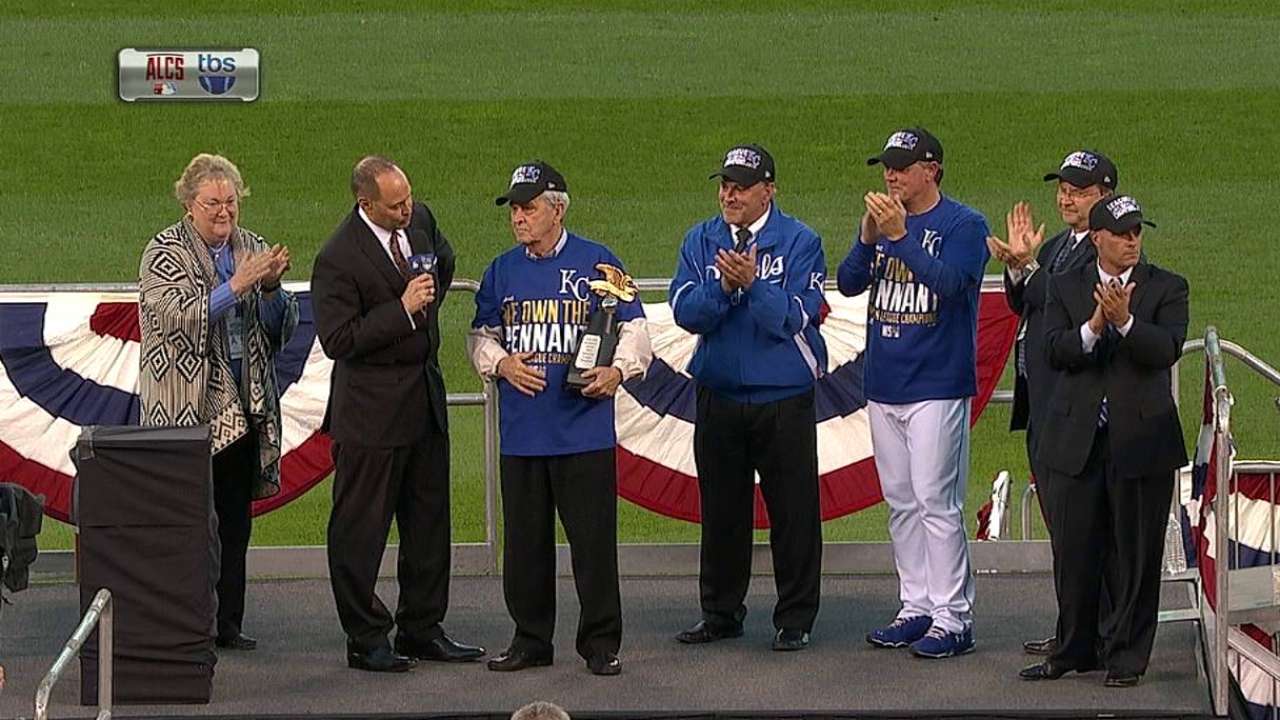 KANSAS CITY -- Royals president Dan Glass sounded the theme for ownership and the club's front office: "We couldn't have done it without the fans. That's where it all starts from. It's time to celebrate."
His father, owner David Glass, realizes that Kansas City fans have waited a long time for the American League pennant won on Wednesday with a 2-1 victory over the Orioles in Game 4 of the AL Championship Series. The Glass ownership is in its 15th year and the stewardship of general manager Dayton Moore is in its ninth year.
"The fans have gone through some tough times where we didn't have a very good team. They hung in there with us the whole time," David Glass said during the victory celebration. "They deserve a winning team, as this team is right now. Without the fans, we would not have a team, so we're all dependent on them. The players know that, the manager knows that, Dan and Dayton know that. So they are the one critical ingredient."
Glass hired Moore from the Atlanta Braves in May 2006 and he took over from Allard Baird. Moore was the sixth GM in Royals history and only two of the others, Joe Burke and John Schuerholz, had delivered postseason teams. Now, Moore has joined the elite group.
"Dayton has all the assets you want in a general manager. He's a great talent evaluator, he's a great leader, he has absolute integrity and is very intense," David Glass said. "He's as good as it gets as far as general managers are concerned, in my opinion."
Even Moore has conceded the process took longer than expected, but his patience paid off.
"It's hard to be patient because all of us are tempted to take short-term strategies to solve the problem of the moment," Glass said. "But to his credit and the credit of Ned [Yost] and all the baseball people we hung in there and we stayed the course. I think this is the beginning of something for us, not the culmination of something."
And finally Kansas City has been rewarded.
"We knew it was a great baseball town, we knew that if we could put a great product on the field, this group of fans would get behind our players," Moore said.
The GM was thrilled to see his underdog team show some bite.
"I just think they love to play and when you love to play, it's a lot easier to concentrate on every single pitch of every single inning. And when you do that, you get better, and if you keep getting better, you might end up getting good," Moore said.
"These guys believe in themselves. They've had some of the best at-bats they've had all year, they've always had great defense, and the bullpen has always been dominant."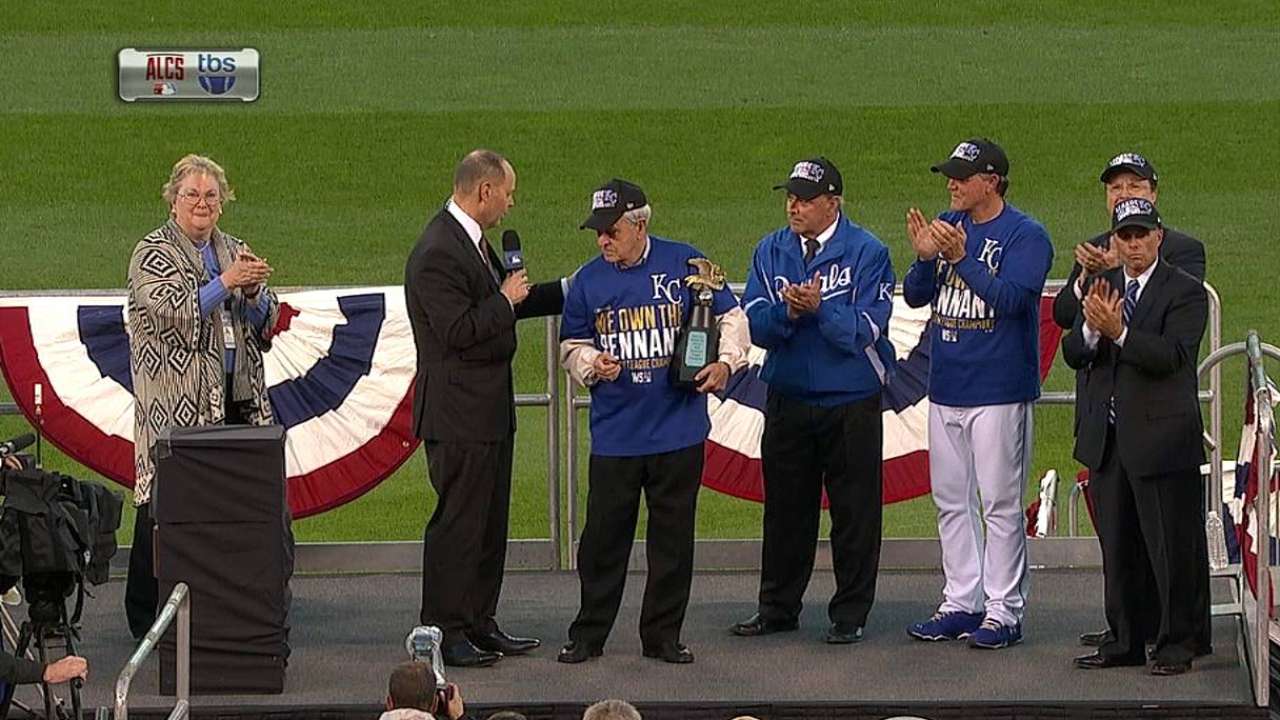 • Video: AL trophy presentation
Moore was also pleased to see Yost succeed as manager after enduring some harsh criticism from fans and the media.
"That's the nature of the game, Ned's a very thick-skinned person," Moore said. "I've said it many times, he's an incredible leader and he's very passionate, he's the most competitive person I know. He's very positive, he's always very optimistic and he just loves to compete. He and the coaching staff have done an incredible job."
Longtime scout Art Stewart, with the organization for 45 years, said this AL title meant more to him than 1980 or '85 because he had personally scouted many of today's players such as Mike Moustakas and Eric Hosmer.
"It's even more personal from the personnel. It's more special," Stewart said. "And another thing was this club wasn't given a chance to win -- it was the Tigers from the get-go. And the other personal satisfaction was seeing Oakland get [Jon] Lester to put 'em over the top and Detroit getting [David] Price to put 'em over the top, and they're all sitting on the sidelines, and here we are."
Dick Kaegel is a reporter for MLB.com. This story was not subject to the approval of Major League Baseball or its clubs.