Orioles praise Royals' strong performance in ALCS sweep
Baltimore players cite Kansas City's ability to find ways to win in tight series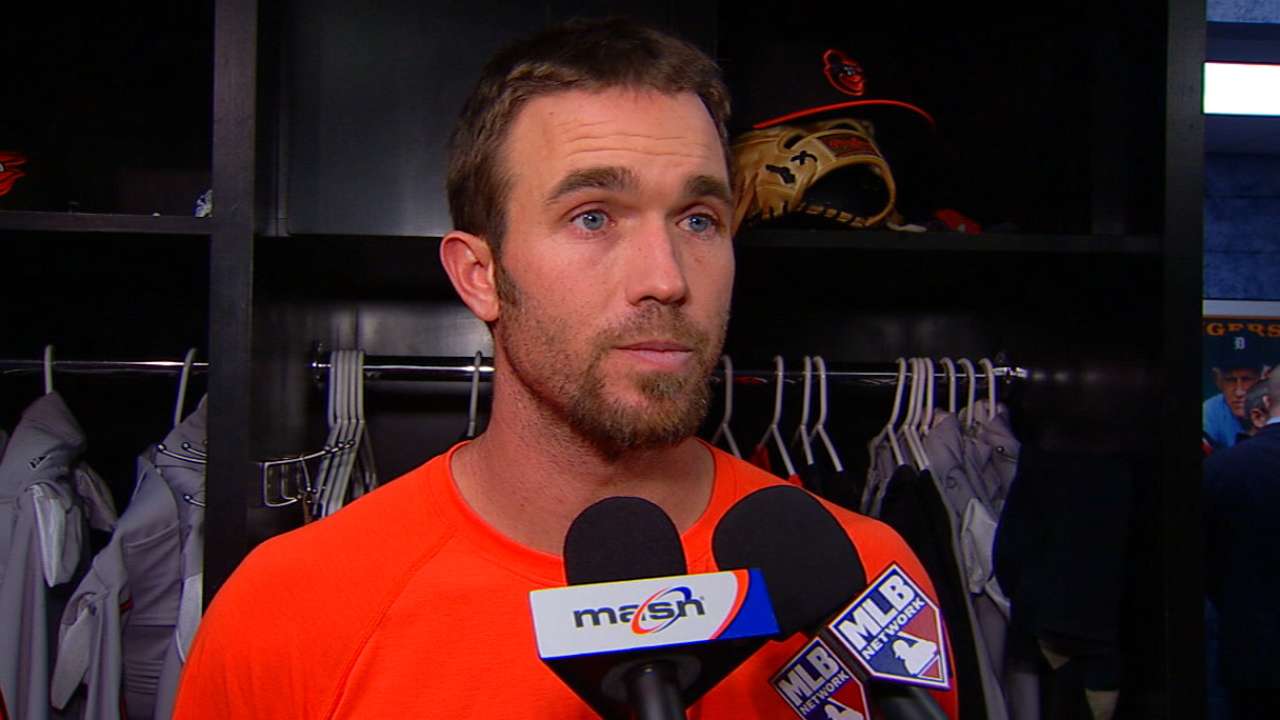 KANSAS CITY -- The Orioles will have plenty of time to reflect on a memorable season that came to a sudden end in the American League Championship Series on Wednesday night. But one thing was clear after a 2-1 loss in Game 4 at Kauffman Stadium: the O's had nothing but respect for the way the Royals played throughout the four-game sweep.
"They made great plays when they needed them," said right fielder Nick Markakis. "They kept us out of big innings. Pitching and defense they say wins, and they did a good job of both this series."
The Orioles were flying high coming into the ALCS after sweeping the Tigers in the AL Division Series. But the Royals hadn't lost a game either, and Kansas City became the first team to win eight straight to open a single postseason.
For rookie catcher Caleb Joseph, it seemed as if the Royals could do no wrong.
"If we score five runs, they're probably going to come back and do something crazy and hit a bases-empty grand slam," he said. "It's how it's been for them. Missed opportunities for us, but they took advantage of every hit, every home run. They did it all. They're on some kind of streak."
It's not like the Orioles were completely overmatched. Baltimore fell in extra innings in Game 1. Less than 24 hours later, the Birds were tied heading into the ninth inning and lost Game 2, 6-4. Both games at Kauffman Stadium were 2-1 affairs.
"We played a good team," said infielder Ryan Flaherty. "We got outplayed for four games. It's not what we did; it's more what they did. They played great baseball. The found a way to score runs."
The Orioles had one of the top bullpens in the AL. But the Royals' 'pen is arguably the best in baseball. Against the formidable back-end trio of Kelvin Herrera, Wade Davis and Greg Holland, the O's managed 10 baserunners and one run over 14 2/3 innings, with 14 strikeouts. Holland saved all four games.
"It's a special group they have over there," said left-handed reliever Andrew Miller. "Those guys pitched their tails off. "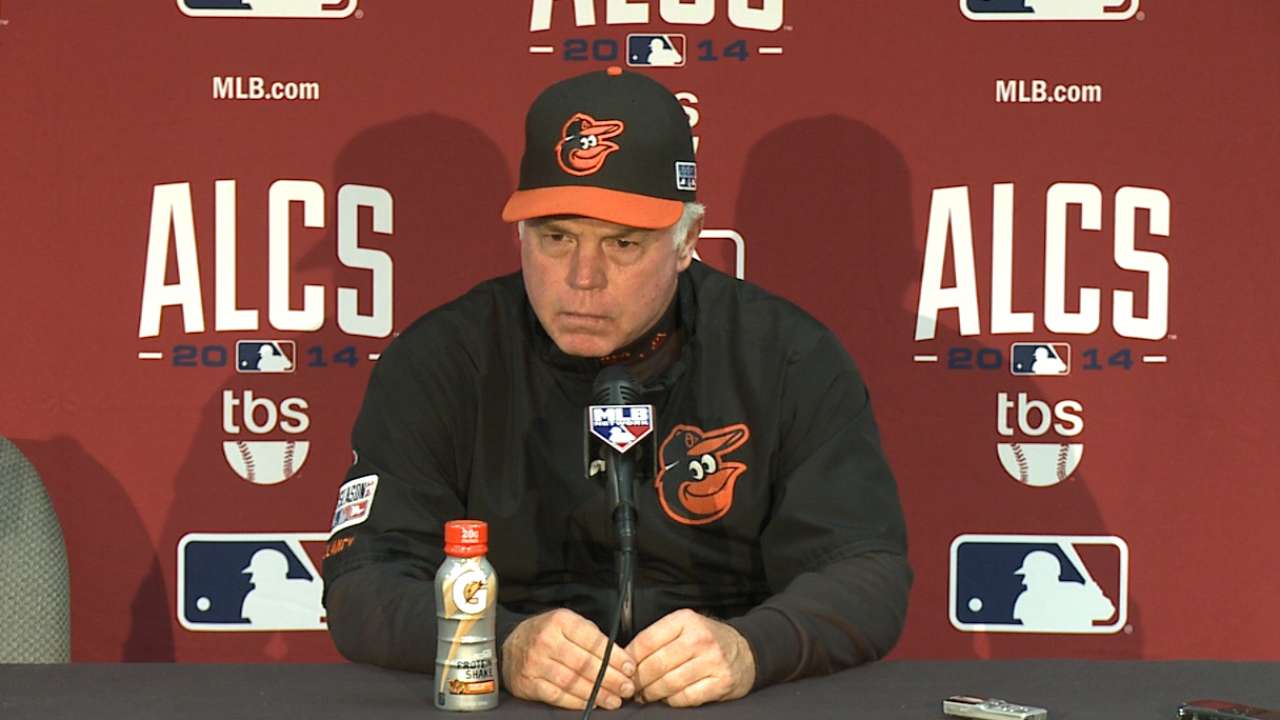 • Video: Showalter on series-ending loss
To Baltimore hitters, the only thing better than Kansas City's arms might have been their gloves. It seemed as if every hard-hit ball resulted in an out.
"Them boys made some plays over there, on everybody," said No. 3 hitter Adam Jones. "Tip your cap to them."
Of all the Royals' defensive highlights, the one the Orioles and many fans are likely never to forget was third baseman Mike Moustakas diving headfirst into the seats to catch Jones' foul popup in Game 3. Outfielders Alex Gordon and Lorenzo Cain, the ALCS MVP, also made dazzling plays to rob Baltimore of a number of hits.
"Gordon and Moustakas played great defense," said second baseman Jonathan Schoop. "You can't take that away from them. What else can you do?"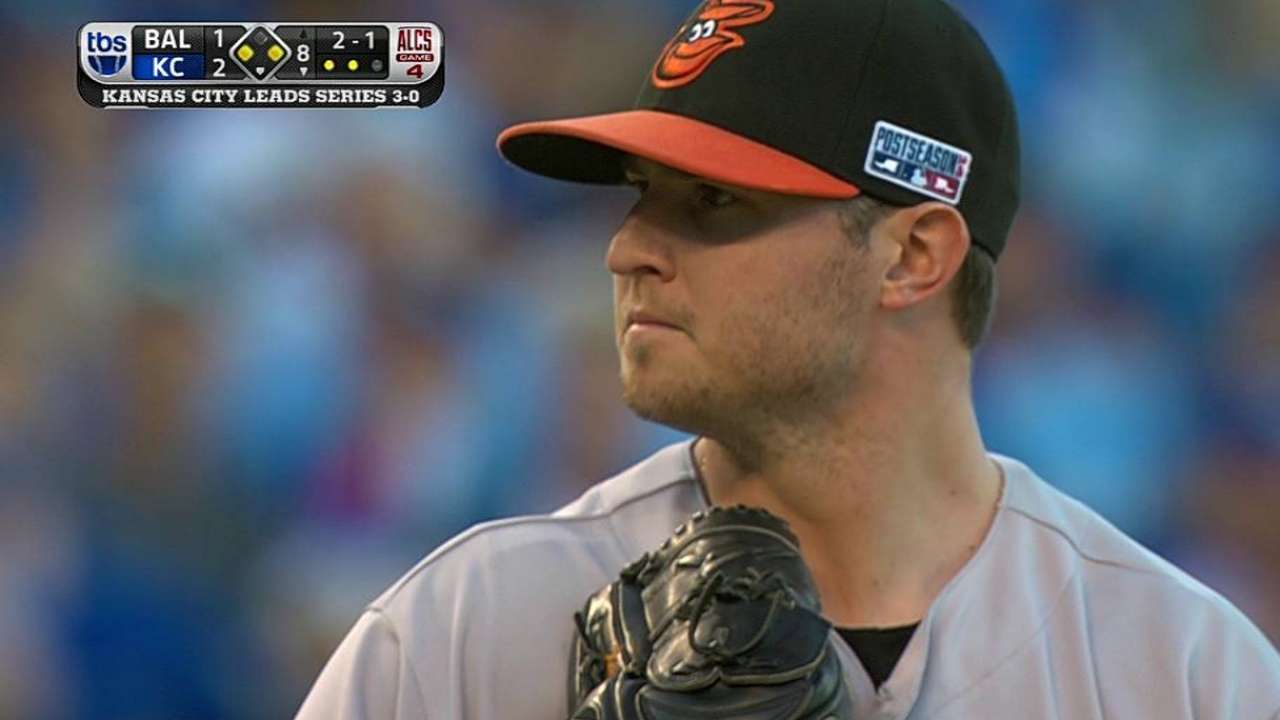 • Video: Britton ends the threat
And it wasn't just the Royals' defense and pitching that earned the Orioles' respect. Closer Zach Britton said Kansas City put together tougher at-bats than when they clubs met in the regular season.
"They fouled pitches off and they put the ball in play," Britton said. "They put the ball in play and they made you make mistakes. They were flawless the way they played defensively. Offensively, they got guys over and they got them in. That's what you have to do to be successful in the postseason."
The Orioles are one of 29 teams that will end the season in disappointment. For now, the Royals play on. Kansas City is going to its first World Series since 1985. It's a special accomplishment for any franchise, and the O's understand that.
"I congratulate them," said manager Buck Showalter. "[Royals manager] Ned [Yost] did a great job, and the whole organization. They get a chance to represent the American League in the World Series and we wish them well."
Austin Laymance is a reporter for MLB.com. Follow him on Twitter at @jalaymance. This story was not subject to the approval of Major League Baseball or its clubs.