Five reasons the Royals won the AL pennant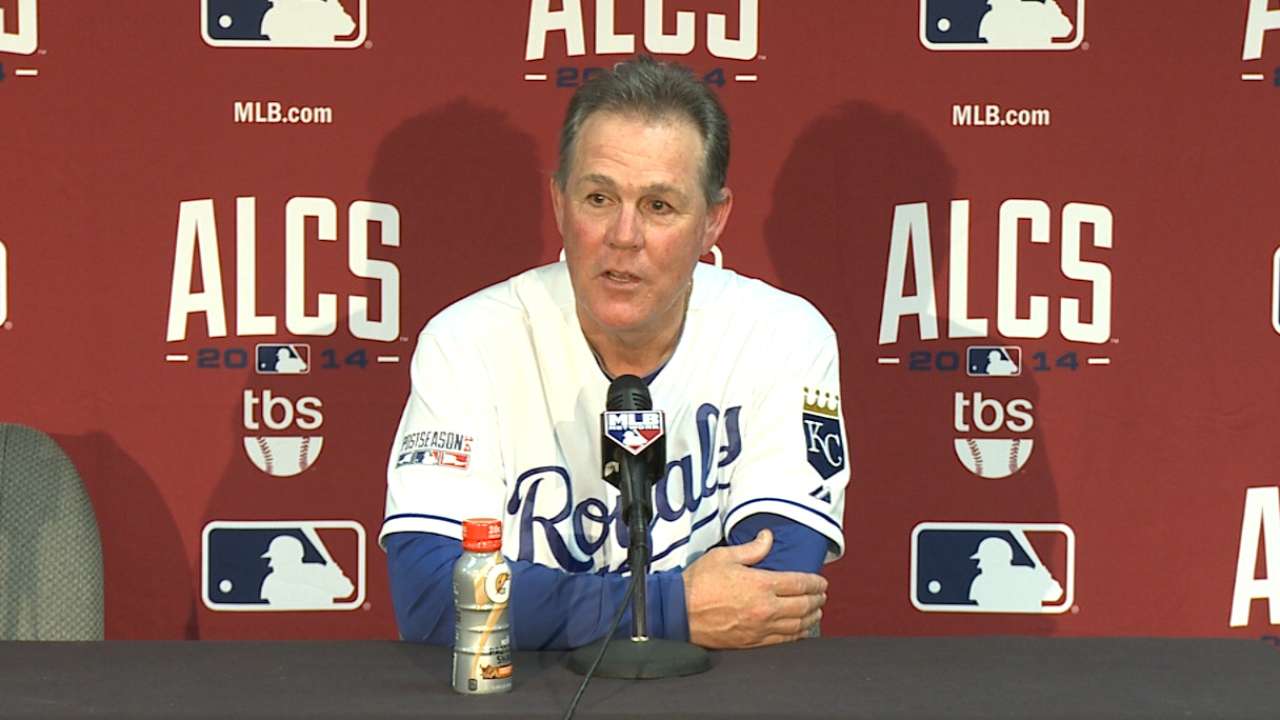 KANSAS CITY -- The Royals screamed with delight, hugged and stomped across their infield as the newly minted American League champions, soaking in the adulation of a title-starved crowd while grabbing up licensed attire that served as tangible proof of their accomplishment.
It has been a magical run, as manager Ned Yost's club reeled off its eighth consecutive victory in this postseason, edging the Orioles, 2-1, on Wednesday in Game 4 of the American League Championship Series to advance to the club's first World Series since 1985.
The Royals' work is not complete: they'll face either the Cardinals or Giants next, hoping to add an even larger crown to this late and improbable run of terrific baseball.
Shouting into microphones on the infield dirt, Yost said that there was no way he could have envisioned sweeping both the Angels and Orioles, a pair of powerhouse rosters, to reach this reality. So how are the Royals here? Here are five reasons:
1. The Wild Card effect
Something clicked into place on the evening of Sept. 30, as the Royals tasted postseason play for the first time since the end of the 1985 World Series. Kansas City trailed the A's, 7-3, as it came to bat against left-hander Jon Lester in the eighth inning.
Six outs away from winter, the Royals first trimmed the deficit to one run by knocking Lester out of the game, then tied it up in the ninth before sending Oakland home in the 12th. Several Royals called it the best game they'd ever played in, and it reinforced their belief that they belonged on this stage.
"We knew that we had to win that game," Mike Moustakas said on Wednesday. "All that matters is winning that game. We were able to come back against Lester, and after that it was pretty much as it goes right now."
Extra innings don't frighten these Royals -- they've gone past nine innings four times already this postseason. Yost said that he has seen "a world of difference" with his team in the time that has passed since Salvador Perez's game-winning hit off Oakland's Jason Hammel.
"In the middle of the Wild Card Game, bam, all of a sudden it flipped and they totally believed in each other and their ability to win a championship," Yost said.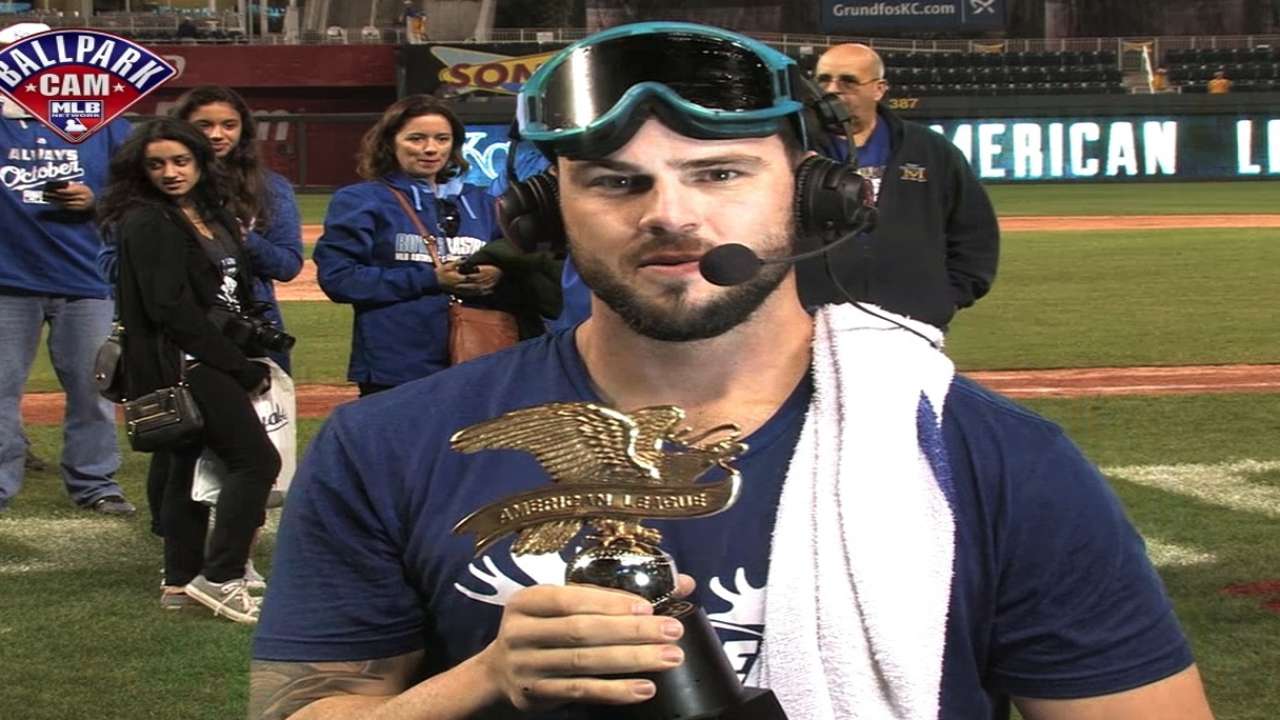 • Related video: Moustakas talks about clinching pennant
2. Just get it to the bullpen
It started last year, when Yost started to consider blueprints for how to get the ball to closer Greg Holland. Over time, Wade Davis and Kelvin Herrera stepped in, and now all the Royals try to do is get through six innings with a lead. Sometimes not even six.
"If you're not comfortable with that bullpen," Lorenzo Cain said, "I mean, I don't know. ... Something's wrong with you."
During the regular season, the Royals were 65-4 when leading after six innings and 72-1 when leading after seven. They're 3-0 in the postseason for both situations.
Even in this ALCS, no Royals starter recorded an out after the sixth inning -- they haven't needed to. Paced by Yost's familiar seventh-eighth-ninth combination, Kansas City retired 16 straight batters to close out Game 3 and locked down the last 11 outs scorelessly in Game 4. Holland saved all four games, and Kansas City's bullpen spun 11 2/3 scoreless frames after permitting a pair of runs in Game 1.
"It's definitely been the model for us," Yost said. "It started out, find a way to get the ball to Holly in the ninth inning. With Kelvin's emergence this year, it turned into, let's just find a way to get through six and we're going to be in great shape."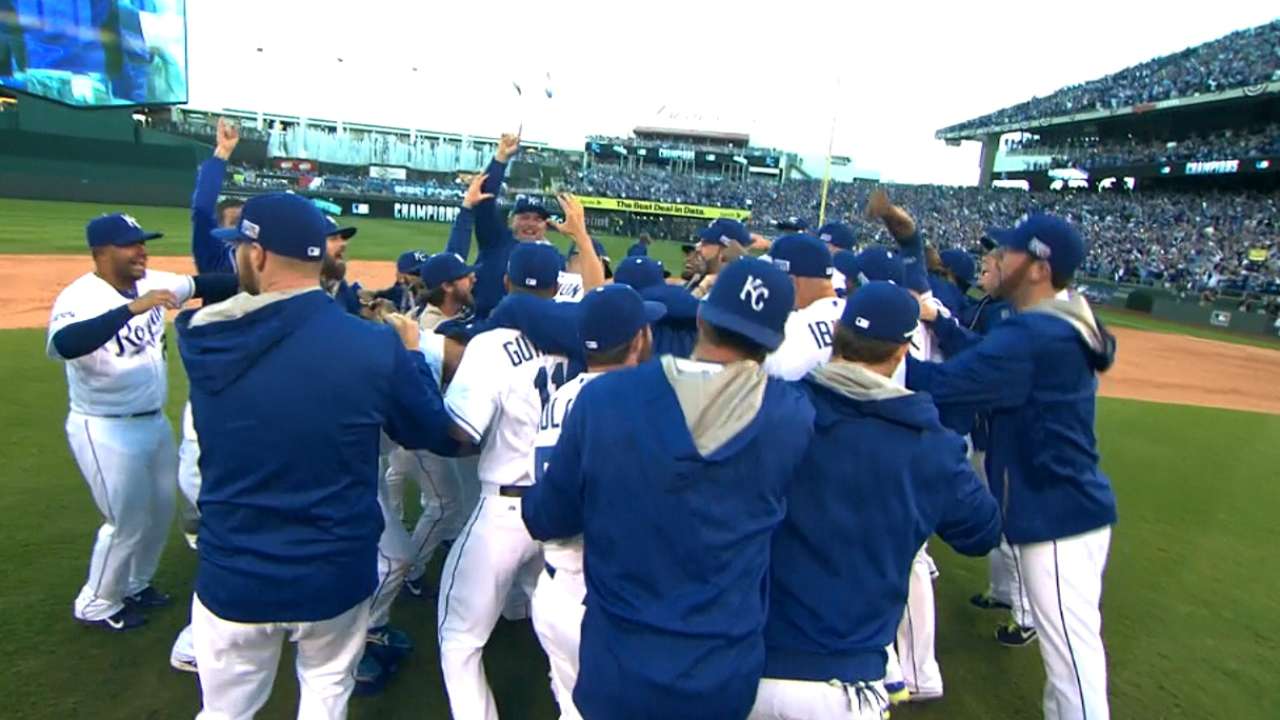 3. Baltimore power outage
This was billed as the ALCS of the Orioles' muscle against the Royals' speed -- the Birds hit 211 homers to lead the Majors and swiped just 44 bases, lowest in The Show. Kansas City swiped a Major League-leading 153 bases during the regular season while slugging only 95 homers.
Kansas City's pitchers flipped the script by keeping the Orioles in the yard, permitting just two home runs in the entire series -- Adam Jones' two-run shot in Game 2 and Ryan Flaherty's solo shot in Game 4, accounting for three runs total.
Not only that, but the Royals beat the O's at their own game, with Moustakas hitting two of the Royals' four homers during the first two games of the series at Camden Yards.
4. Gold Glove defense all around
How many times did you see an Orioles player spike his bat to the infield turf or rip off a batting helmet in this series? The Royals' glovemen got in Baltimore's heads, whether it was Moustakas tumbling into the dugout suite, Alex Gordon crashing into a chain-link fence or Lorenzo Cain running down deep fly balls in the outfield gaps.
"There's really no weaknesses," Gordon said. "It's someone new every day, and someone new making the play every day. It's pretty cool to be a part of eight guys out there that are very talented and very good at defense and good at what they do."
The Royals believe they have the best defensive team in the game, and the number of cap tips they have earned from their pitching staff in this series would confirm that theory. There will be no shortage of compelling footage to fill up a DVD at the conclusion of this postseason.
"They don't do anything wrong," Orioles outfielder Nelson Cruz said. "They don't miss any plays. Everything they did was right."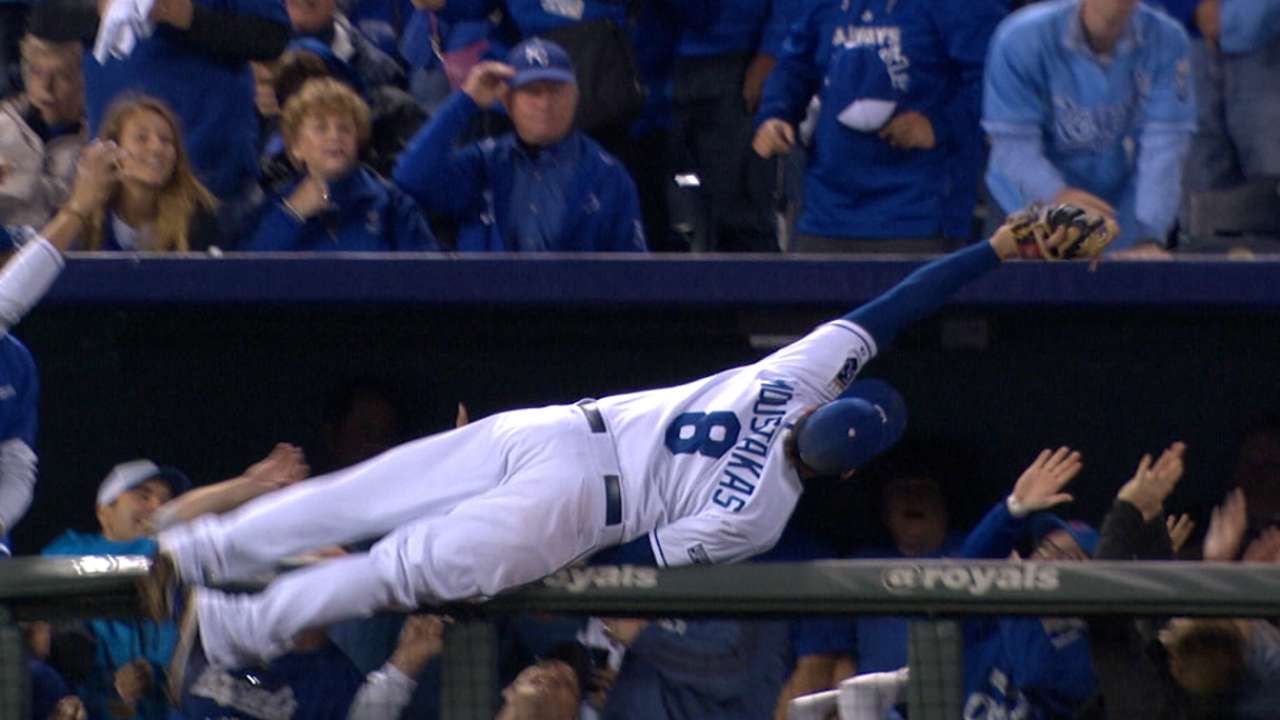 • Related video: Royals flash leather in the postseason
5. Now playing: 'The Bunt for Ned October'
Social media does not hold much appeal for Yost, who actively tries to avoid whatever is swirling out there in cyberspace. He has a pretty good idea of the commentary that follows some of his more controversial managerial decisions, so there's no reason to seek out the actual text.
"I get criticized all the time. I'm the dumbest manager in baseball," Yost said. "I'm OK with that, because I've got really smart coaches. I'm OK with that. I don't need validation. I know who I am and I know what I'm about."
Yet something crazy has happened this postseason: Yost seems to be pushing all the right buttons and his Royals are catching the breaks they've needed, whether they're broken-bat flares that elude fielders or plays of the quirkier varieties, like the ball that wouldn't stick in catcher Caleb Joseph's glove in Game 4.
The ALCS was in no way a lopsided series, and a few bounces in Baltimore's direction might have had this series heading back to the Inner Harbor at the very least. Instead, the Royals are partying on their home turf, ready to take on whatever comes next.
"This team is good enough that we can beat you in a lot of different ways, and I think we were able to show that this postseason," Moustakas said.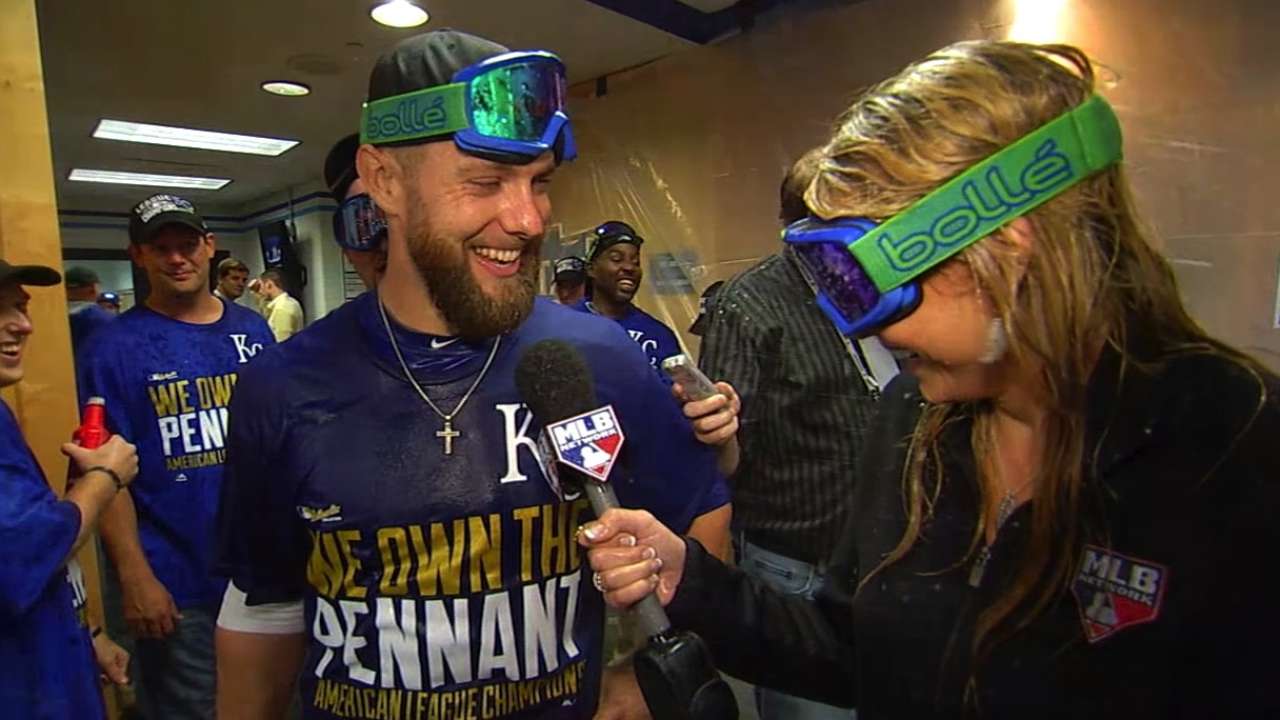 Bryan Hoch is a reporter for MLB.com. Follow him on Twitter @bryanhoch and read his MLBlog, Bombers Beat. This story was not subject to the approval of Major League Baseball or its clubs.