Cardinals nearly get Pence, but safe call confirmed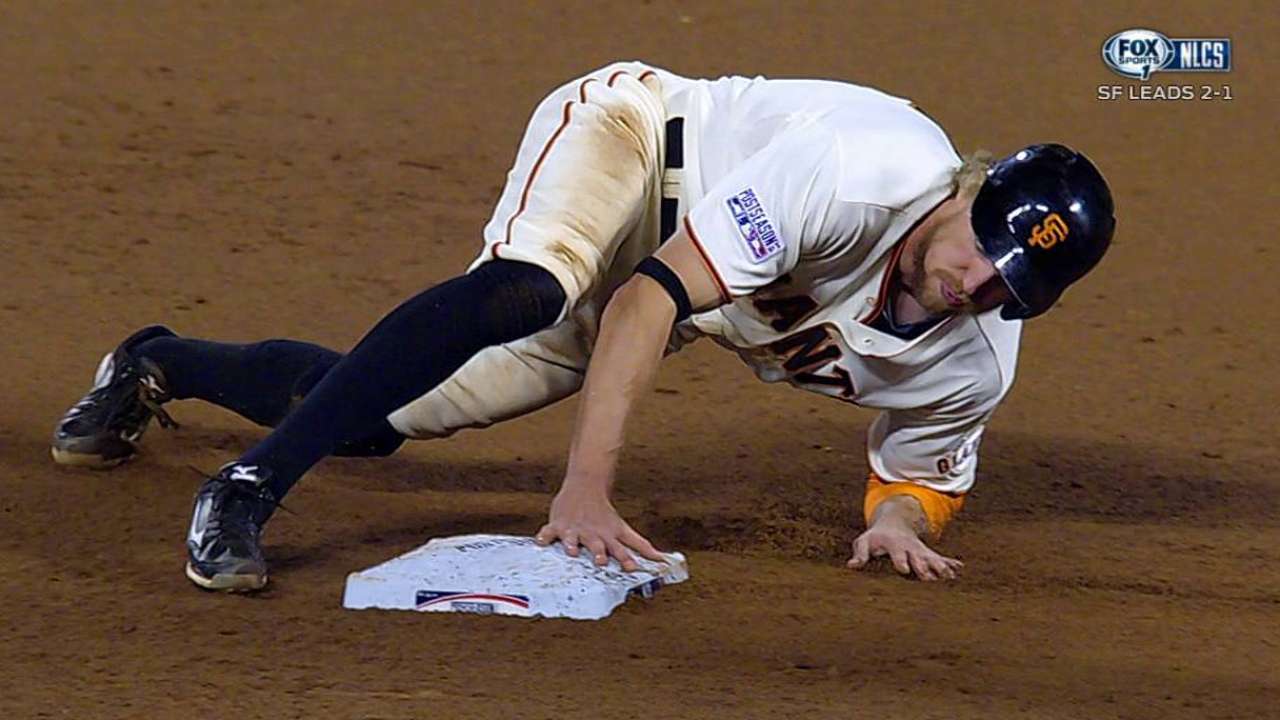 SAN FRANCISCO -- A twisting slide at second base allowed outfielder Hunter Pence to steal a bag in the fifth inning of the Giants' 6-4 win in Game 4 of the National League Championship Series on Wednesday, despite Cardinals catcher A.J. Pierzynski's throw beating him to the spot. Second-base umpire Bill Miller called Pence safe, and the call was confirmed after a review.
Had Redbirds shortstop Jhonny Peralta kept his glove on Pence the entire time, the Cardinals might have nabbed him as he briefly popped off the bag. Instead, Pence slid to the outfield side of Peralta's tag, touching second just before Peralta swiped him with his glove.
The review ultimately did little to help the Giants, however. Brandon Belt flied out to end the inning, stranding Pence on second. That became a theme in the middle innings for the Giants, who walked four times in the fourth and fifth but did not score a run.
Previous replay reviews this postseason
Tigers-Orioles, Game 2 ALDS: Markakis' homer confirmed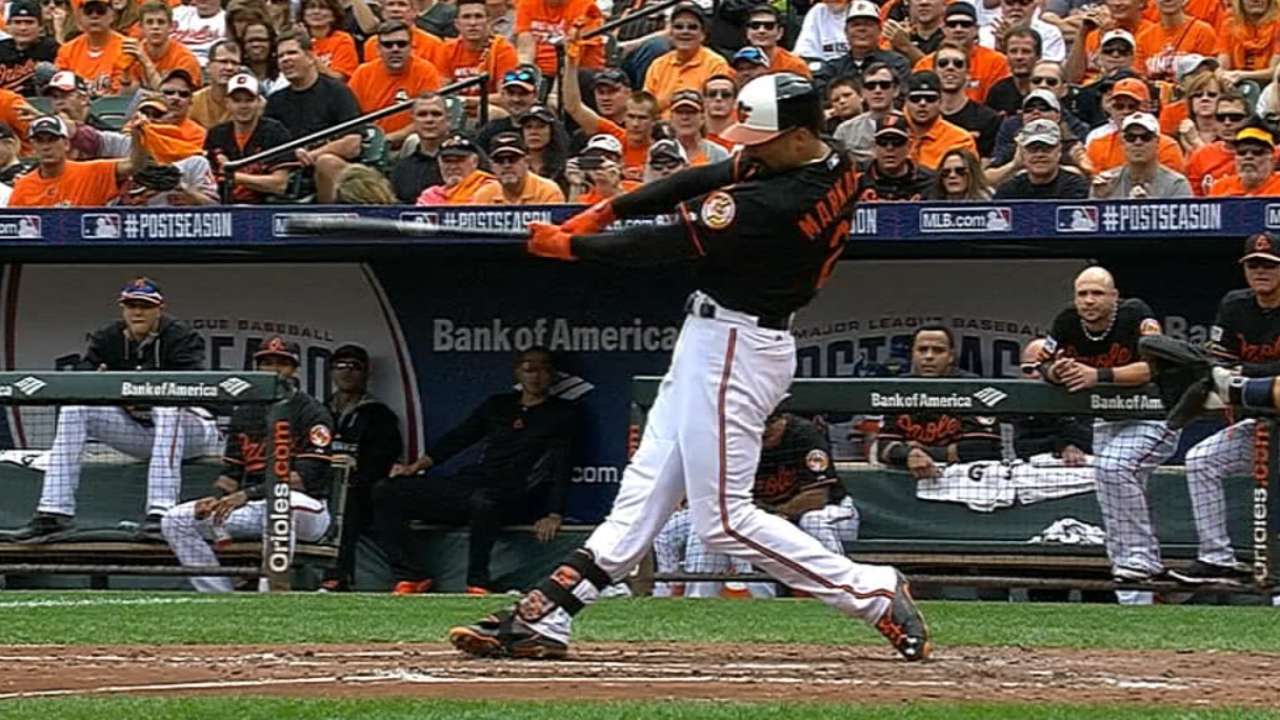 • Video: Markakis' homer confirmed
With one out and one on in the third inning of a scoreless game, Nick Markakis launched a fly ball to right field that bounced off the grounds' crew shed roof in right field and came back onto the field of play. Right-field umpire Paul Schreiber signaled it was a home run, but Tigers manager Brad Ausmus requested the play be reviewed. The call on the field was confirmed, correctly according to the Camden Yards ground rules, which state: Fly ball hitting the grounds crew shed roof in right field and bouncing back into play: HOME RUN.
Giants-Nationals, Game 1 NLDS: Ishikawa safe at second after reversal
• Video: Call at second overturned
With no outs and Travis Ishikawa on second, Jake Peavy laid down a sacrifice bunt. Instead of taking the out at first, Nationals first baseman Adam LaRoche threw to second in hopes of gunning down Ishikawa, and umpire Tom Hallion called him out. Bochy challenged the call, and it was overturned after a review of just one minute and one second. Ishikawa would later score in a game the Giants would win 3-2.
Cardinals-Dodgers, NLDS Game 2: Overturned call aids Dodgers win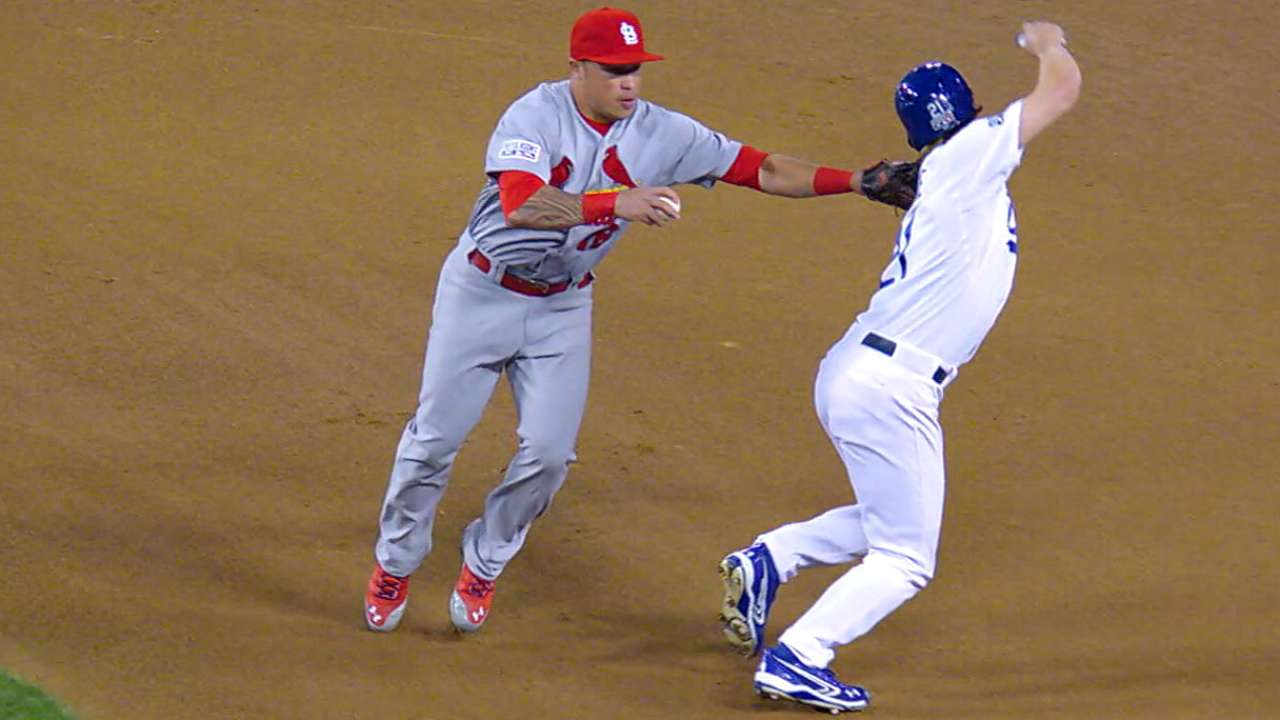 A play on a Dee Gordon grounder to second base that Dodgers manager Don Mattingly challenged in the third inning turned out to be a pivotal play in his club's 3-2 victory. Zack Greinke was on first base when Gordon hit a bouncer to Cards second baseman Kolten Wong, who put the tag on Greinke to get an out call from umpire Eric Cooper. Replays, however, showed Wong had tagged Greinke with his glove while the ball was in his throwing hand, and Greinke was awarded second base after the review. He later scored on an Adrian Gonzalez single.
Orioles-Tigers, ALDS Game 3: Schoop's run-saving scoop confirmed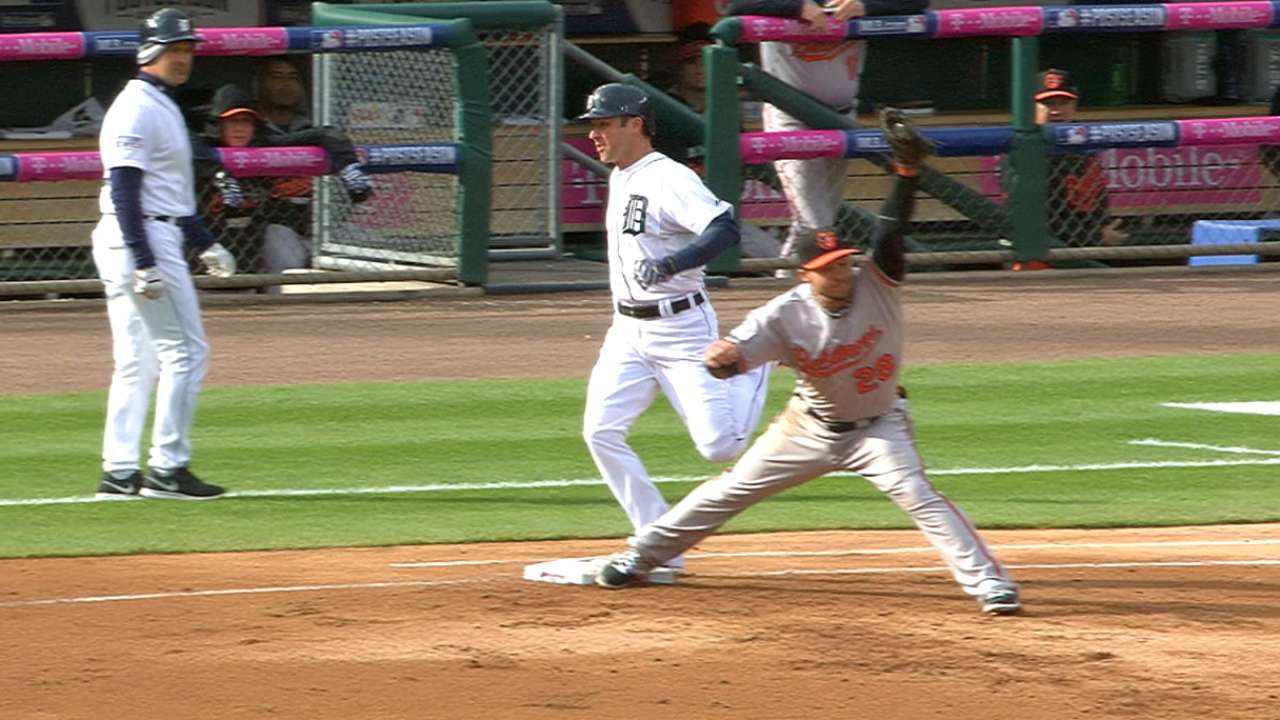 • Video: Schoop's play confirmed
With Tigers catcher Alex Avila at third base and two outs in the second inning, shortstop Andrew Romine bunted toward Orioles second baseman Jonathan Schoop. The ball was deftly scooped up by Schoop, who flipped the ball to first baseman Steve Pearce in one motion, and umpire Jim Wolf called Romine out. With a run at stake, Detroit manager Brad Ausmus challenged the call. After a two-minute, 28-second review, the call on the field stood. The Tigers would lose, 2-1, and were eliminated from the ALDS.
Giants-Nationals, NLDS Game 2: Call stands; Posey out at home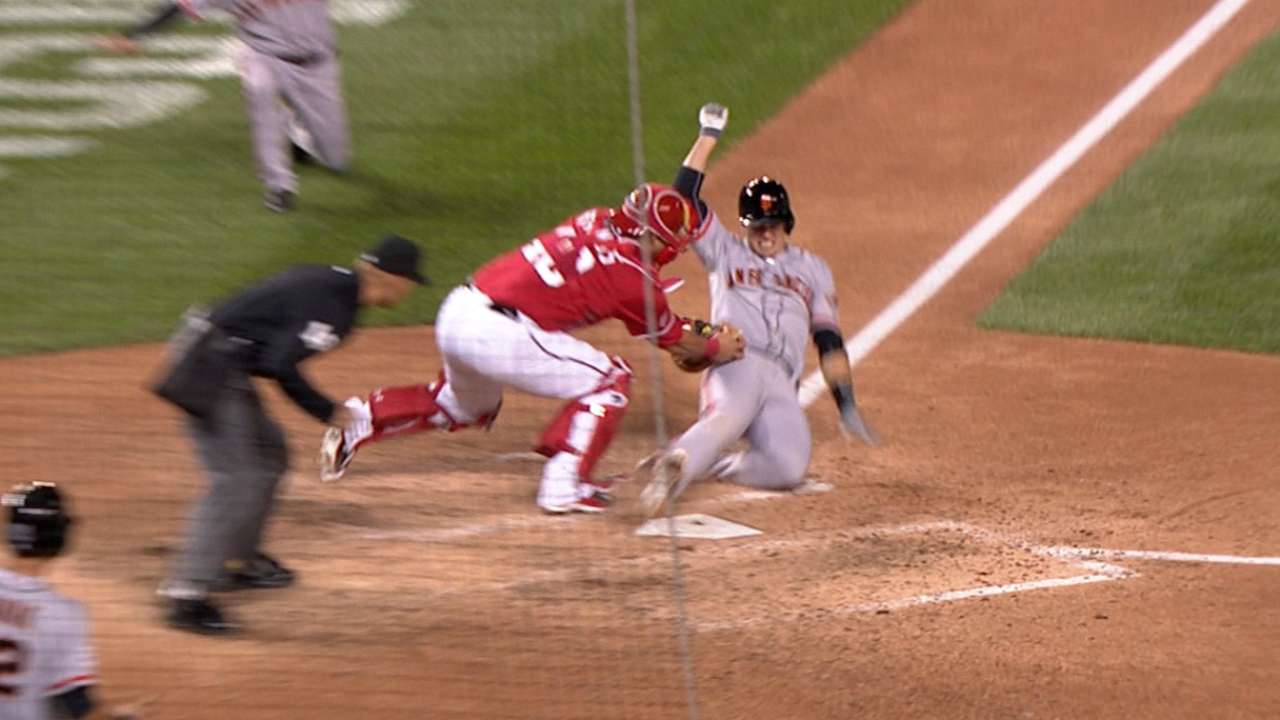 With the Nationals leading, 1-0, with two outs in the bottom of the ninth, Pablo Sandoval sliced a ball to the left-field corner with two runners on. Joe Panik easily scored from second, but Buster Posey was called out by home-plate umpire Vic Carapazza after the relay throw beat him by a split second. San Francisco manager Bruce Bochy immediately challenged the call, but it was upheld due to a lack of conclusive evidence.
Dodgers-Cardinals, NLDS Game 4: Molina's laser throw gets Ethier on overturn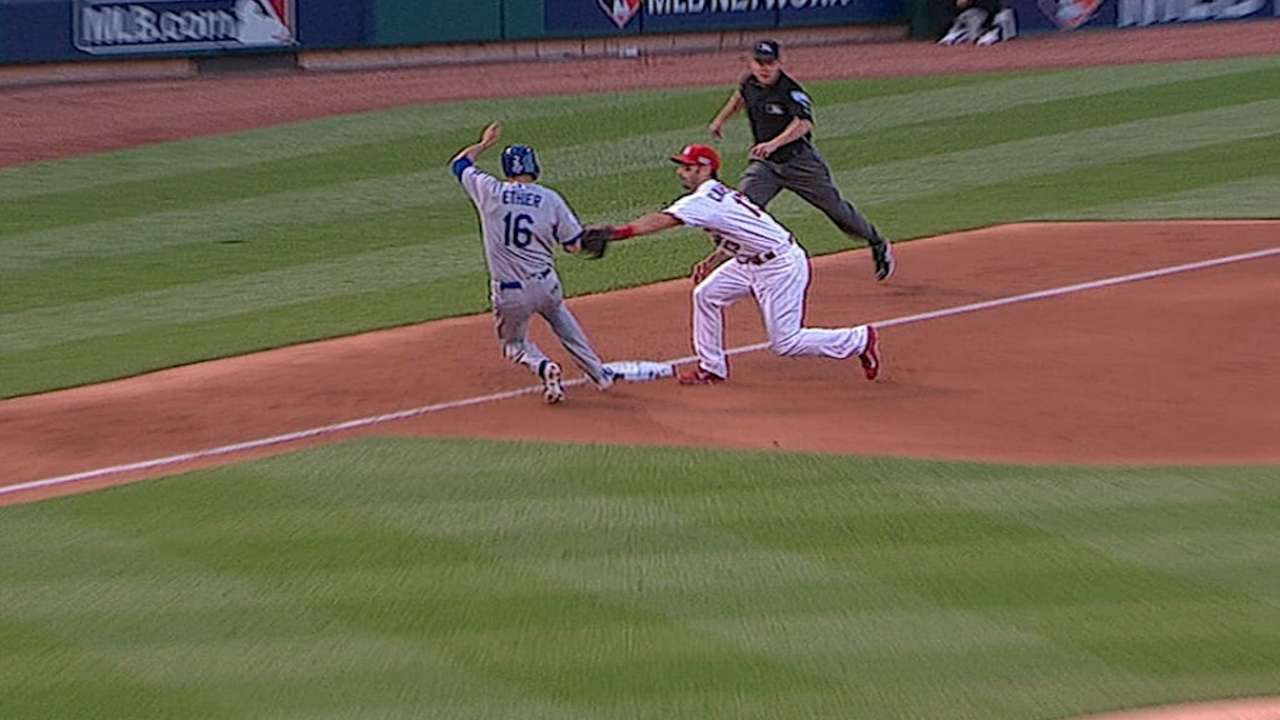 • Video: Molina throws out Ethier
The Dodgers' A.J. Ellis was at the plate with runners on first and third and two out in the sixth inning when Cardinals reliever Seth Maness bounced a pitch just behind All-Star catcher Yadier Molina. Andre Ethier darted off third toward the plate and stopped short as Molina came up with one of his patented laser throws that seemed to beat the Dodgers center fielder as he retreated back to the bag. Third-base umpire Jerry Meals called Ethier safe as third baseman Matt Carpenter applied the tag. St. Louis manager Mike Matheny challenged, and after a 92-second review, the call was overturned, ending Los Angeles' rally.
Nationals-Giants, NLDS Game 4: Wild seventh seals fate for both Nats, Giants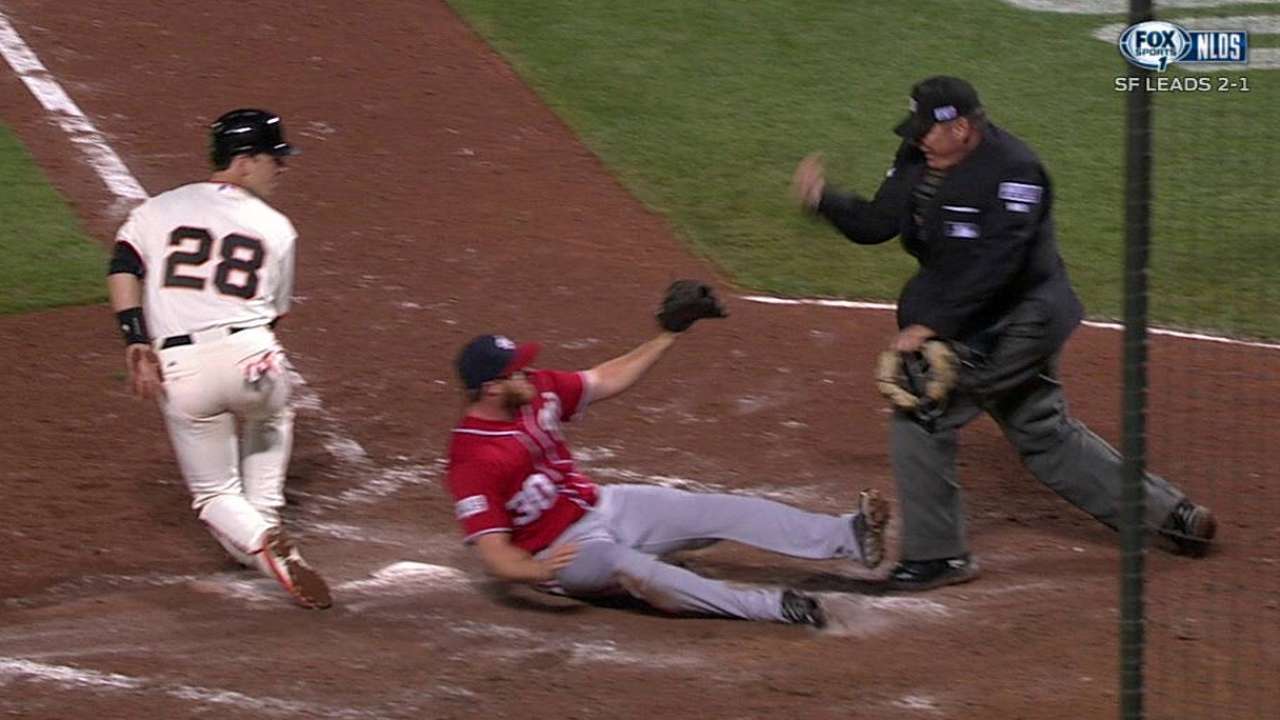 • Video: Call on Posey confirmed
In the act of intentionally walking Pablo Sandoval in the seventh inning of Tuesday's Game 4 of the National League Division Series, which the Giants took from the Nationals, 3-2, Nats reliever Aaron Barrett sailed ball four all the way to the backstop. The result was one of the more bizarre postseason plays in any context. Watching Barrett's mistake from third base, Giants catcher Buster Posey raced home. His counterpart, Wilson Ramos, hustled after the ball, grabbing it after it ricocheted off the wall behind home plate. Then Ramos flipped to Barrett, who tagged Posey while blocking most of the plate with his body. Crew chief Mike Winters called for a review, but the call was confirmed after video replay.
Giants-Cardinals, NLCS Game 1: Out call confirmed after collision at first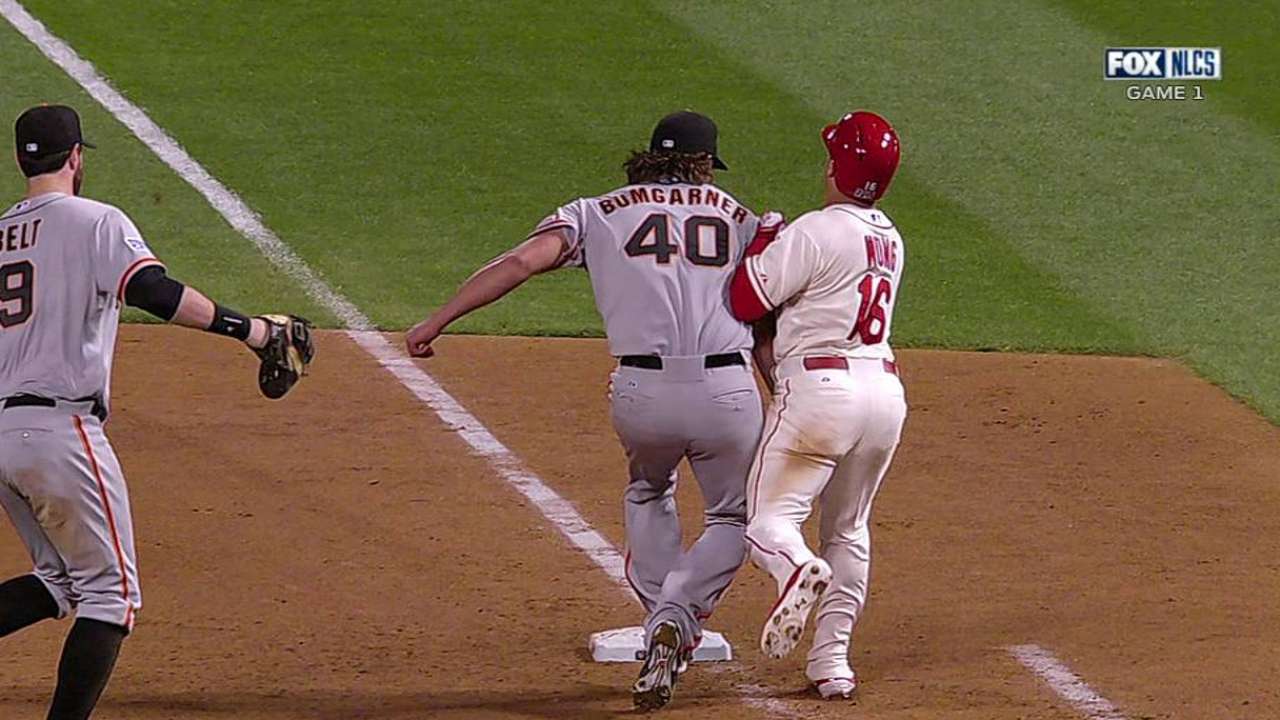 With one out in the seventh inning of what would become a 3-0 Giants win, San Francisco starter Madison Bumgarner and St. Louis second baseman Kolten Wong each converged on first base. Bumgarner was racing over to receive an underhanded toss from Giants first baseman Brandon Belt, and Wong trying to beat out an infield hit. The baseball and Bumgarner arrived first, and in applying a tag, Bumgarner bumped Wong out of the baseline. Saying the play "just didn't look right," Cardinals manager Mike Matheny challenged the out call, which was confirmed after a review of only 52 seconds.
Anthony DiComo is a reporter for MLB.com. Follow him on Twitter @AnthonyDicomo. This story was not subject to the approval of Major League Baseball or its clubs.