Loyalty, patience pay off for Gordon, Butler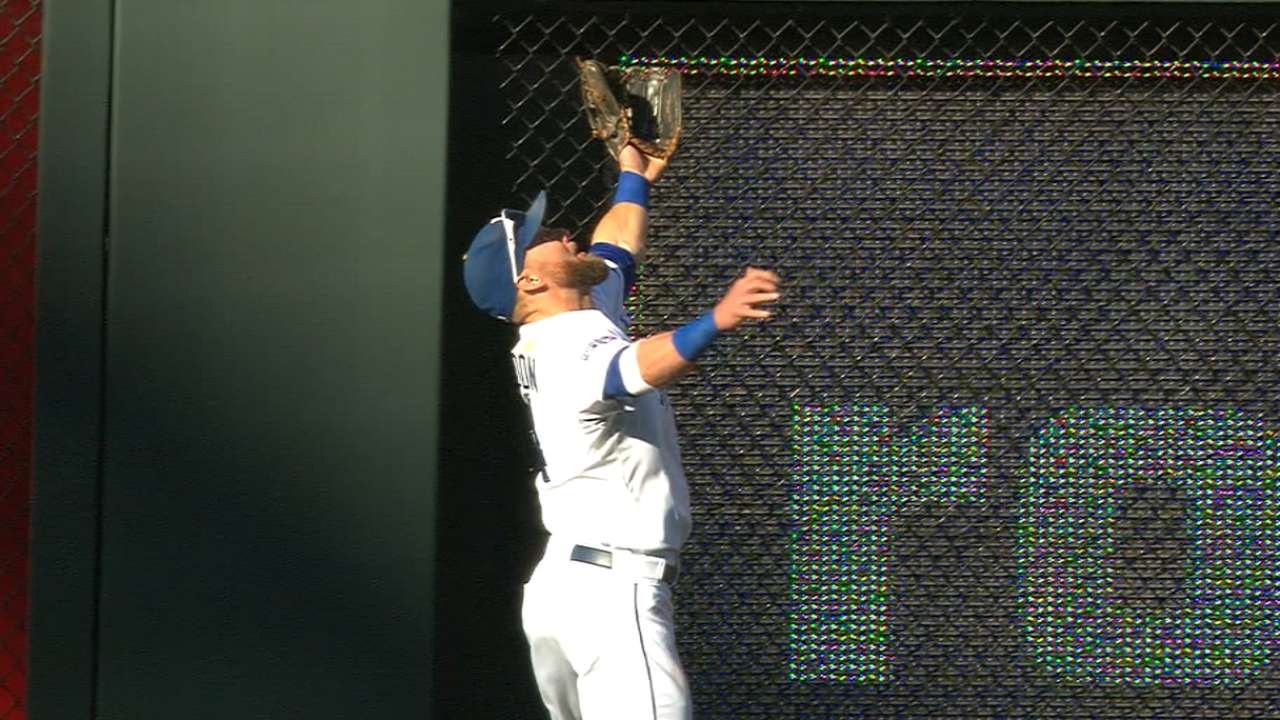 KANSAS CITY -- Mainstays Alex Gordon and Billy Butler endured six consecutive losing seasons in Royals colors, but never did they imagine wearing any others. General manager Dayton Moore had a vision, they knew, and they wanted to see it through. On Wednesday, amid a sea of blue at a blissful Kauffman Stadium, that image came into focus.
The celebration of an American League pennant, Kansas City's first since 1985, commenced, and Gordon and Butler, after spending countless years imagining this moment, couldn't quite believe it.
"The blood pressure's going up, you hear the crowd just roaring," said Butler, the club's 2004 first-round Draft selection. "It took me 10 years to have one of these feelings, but it's been worth the wait. I couldn't be more proud to be here.
"This right here, you can't replicate what's going on. It's incredible. Every man that plays baseball dreams of being at this point, and it feels even better than what you actually imagine it to be in your mind."
"That final out," said Gordon of J.J. Hardy's game-ending groundout to Mike Moustakas, "running in from the outfield, everyone going all crazy, I'm trying to keep that in my head as long as I can and just enjoy it."
Gordon, the organization's first-round Draft pick in 2005, could have bailed long ago on this once struggling franchise. But they could have given up on him, too, when he made the difficult transition from third base to the outfield. He was even sent to the Minors in 2010.
But by 2012 he was signing a four-year, $37.5 million contract.
"Dayton Moore stuck with me, and I thank him for that," said Gordon. "A lot of guys here have experienced those struggles, but we got through it.
"We felt like 2011, 2012 is when we started seeing the turnaround with the talent level, with [Mike] Moustakas and [Eric] Hosmer coming up, [Danny] Duffy, guys like that, joining some of the talent we already had up here. Dayton did a great job of planning this. He dealt with me for a while, the ups and downs, and I felt like I deserved to give him something back."
A three-time and defending AL Gold Glove winner, Gordon was responsible for the Royals' daily web gem in Wednesday's clincher, robbing Hardy of extra bases with a spectacular catch near -- and subsequent crash into -- the left-field wall. He also reached base three times and finished the series with five RBIs.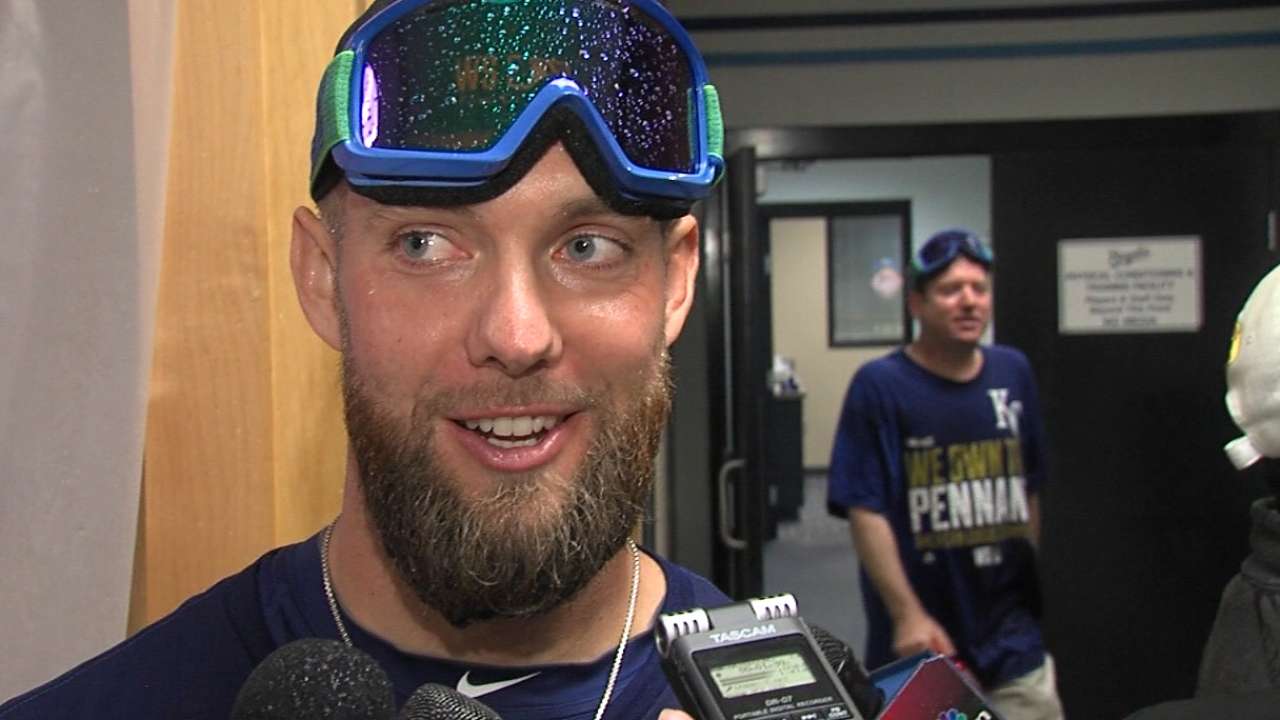 "These guys are willing to play selfless baseball, where all they're concentrated on is winning the game," said manager Ned Yost. "Nobody's looking to be a hero right now, they're just looking to win, and they've done a tremendous job.
"I'm just so happy for our city, for our fans and for our players. I've been here before, but I wanted them to experience this."
That they get to experience it with the only team they've ever known is not lost on Gordon and Butler.
"Being here for seven, eight years and having to endure all the losing seasons, all the struggles with a lot of the guys here, a lot of the coaches and the front office, it means a lot to us," Gordon said. "This is my first time experiencing this, and it's pretty cool. I can't imagine spending it with a better group of guys than we have here."
"The champagne tastes amazing. It tastes even better than I thought it would," said Butler. "My eyes are burning through the goggles. I had expectations of what this crowd was going to be like when we got back here, and they exceeded it. Shows you the type of passion that we have here and the type of love for baseball that this area has. They deserve it more than anyone. They've been loyal throughout. They've waited nearly 30 years for us to get here, and I think everyone feels their excitement."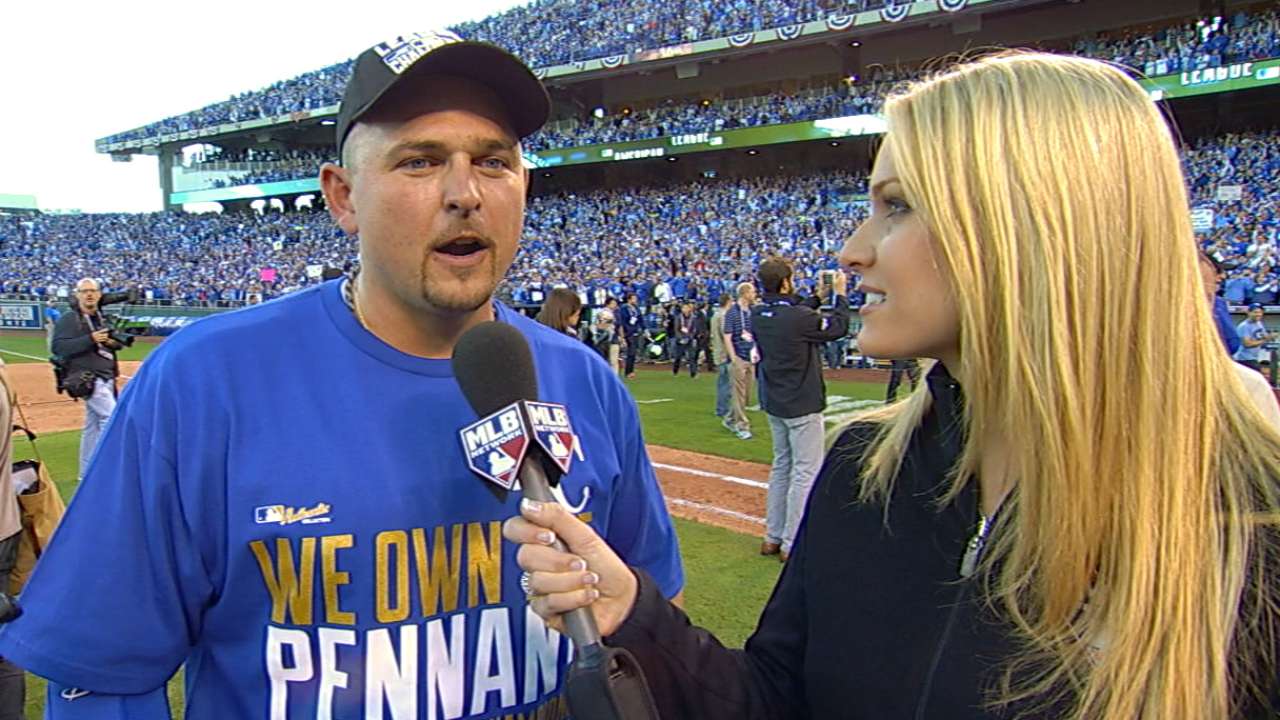 Added Moustakas: "They've been waiting a lot longer than most of us have, and it's an awesome feeling being able to bring this American League championship to Kansas City. Now we have to go out and find a way to win a World Series."
Moustakas was Moore's first official first-round Draft pick, in 2007. First baseman Eric Hosmer was his next, in 2008.
"With what Dayton did, drafting us and putting guys around us, it was awesome," said Moustakas. "He did a fantastic job putting this team together, and I knew this was a great team and that we had a chance of making it to the postseason and going pretty deep. It's just awesome for all of it to happen."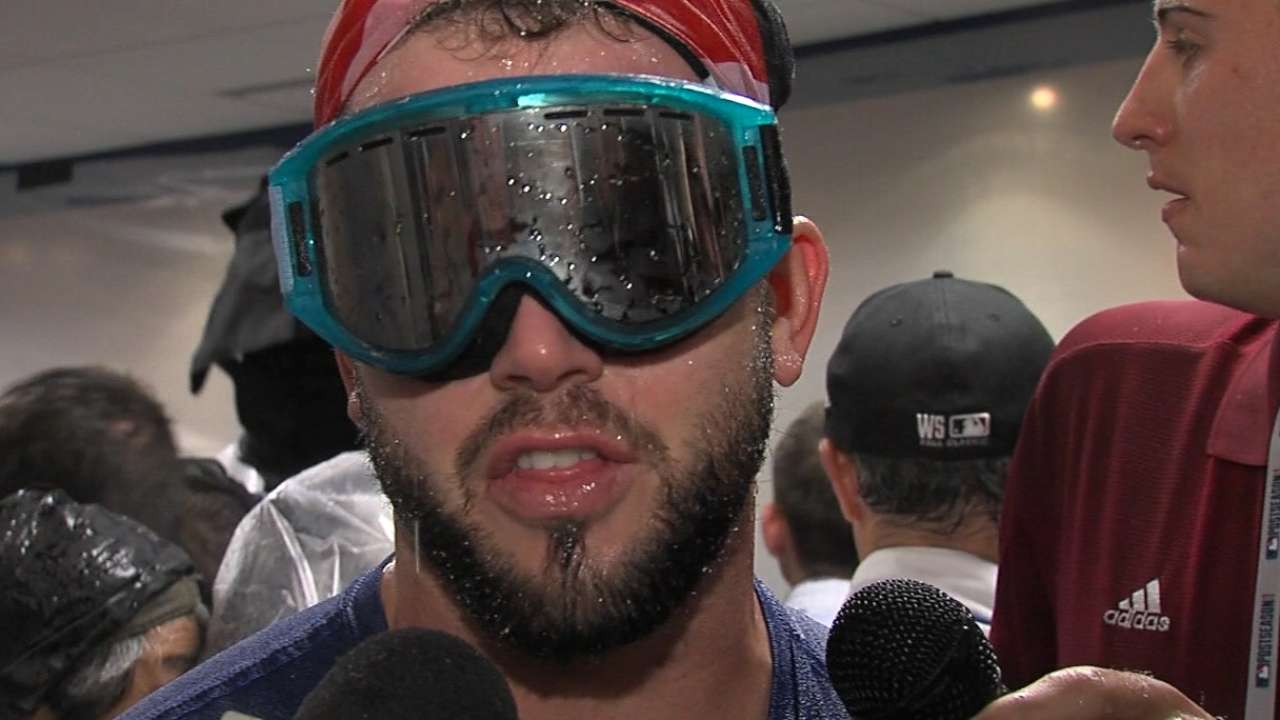 "Look who's behind us," said Hosmer. "All these people out here since Day 1, they've been with us the whole way. We can't thank them enough, it's been awesome. But we're not done. We're not done yet."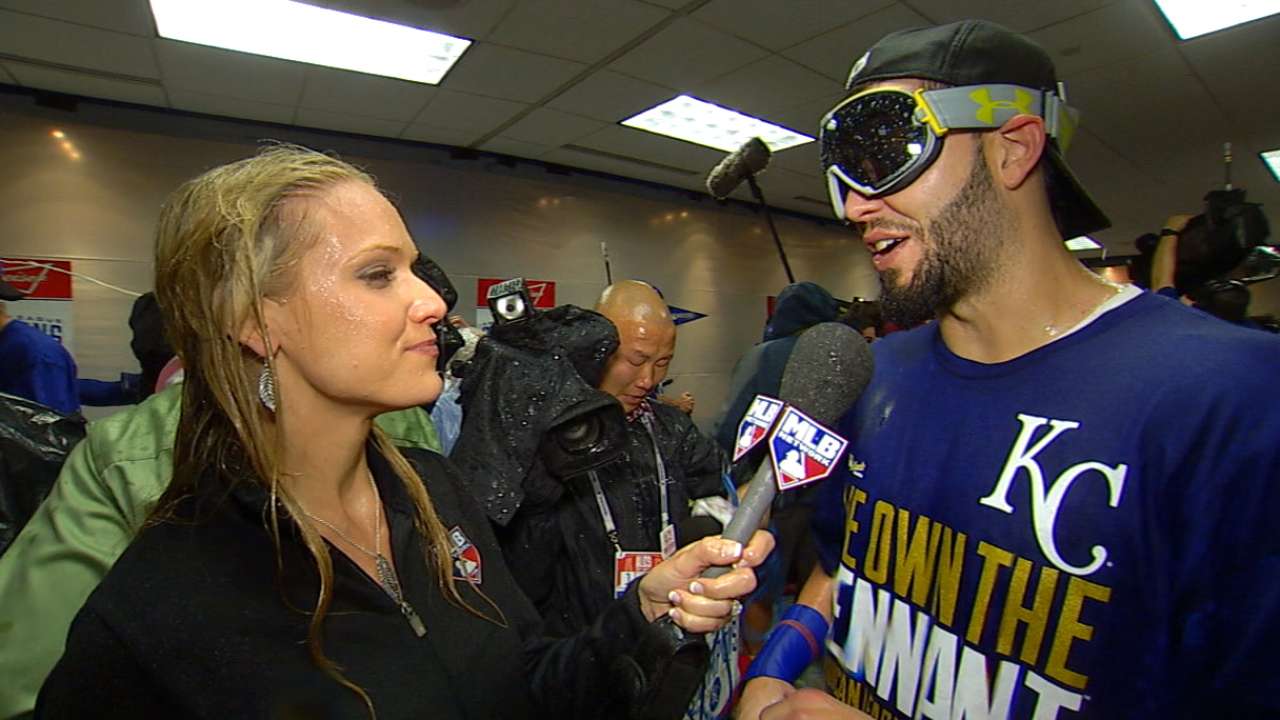 Jane Lee is a reporter for MLB.com. Read her blog, Major Lee-ague, and follow her on Twitter @JaneMLB. This story was not subject to the approval of Major League Baseball or its clubs.