Royals ride unprecedented streak into World Series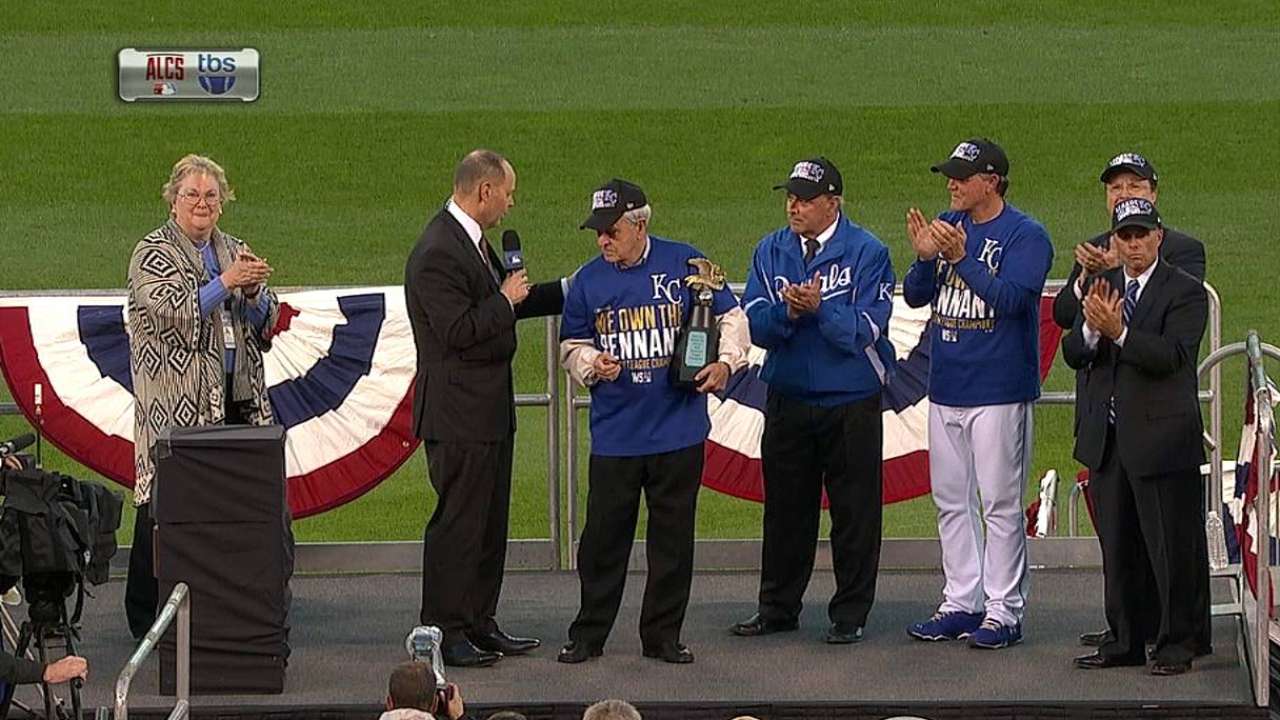 KANSAS CITY -- Ask this Royals team how they've overcome their relative postseason inexperience and they'll tell you that it all disappeared on Sept. 30, because conquering a four-run deficit with six outs left against the Major League leaders in run-differential has a way of strengthening resolve and developing moxie.
But nobody, anywhere, could have foreseen what has taken place since the Royals rallied to tie and win that American League Wild Card Game against the A's -- eight consecutive postseason victories, capped by the 2-1 win that swept the Orioles out of the ALCS on Wednesday.
"It's something else," ALCS Most Valuable Player Lorenzo Cain said. "To go eight straight games and play the way we've been playing all postseason long? Amazing."
Unprecedented, actually.
The Royals -- on this stage for the first time in 29 years -- are the first team in history to start the postseason with eight straight wins, topping the seven amassed by the 1976 Reds and 2007 Rockies. The only other team to win eight straight at any point in a singular postseason was the 2004 Red Sox, who came back from being down 3-0 in the ALCS against the Yankees and then swept the Cardinals in the World Series.
The Royals have won 11 in a row in the postseason if you count the three straight wins by the 1985 World Series-championship team, giving them the second-longest streak in history. The Yankees have notched 12 in a row twice, with three straight World Series sweeps in 1927, '28 and '32, and again during the 1998 and '99 postseasons.
"We're just on a one-track mind to win games," ace James Shields said. "We don't care if we win eight in a row. We don't care how we do it, as long as we win games. That's all that matters."
What's most amazing about the Royals' streak is how many close games they've pulled out. Wednesday's victory was their fourth one-run game in this run, to go along with their four extra-inning games and four games that were tied heading into the ninth inning.
And it all started with that AL Wild Card Game.
"Experience," as Cain said, "went out the window at that point."
The Royals overcame a four-run deficit in the eighth and a one-run deficit in the 12th in front of a sold-out home crowd desperate for their team to spill its season into October for the first time since 1985.
And they never looked back.
"The confidence went through the roof after that," Cain said. "We felt like that was a team that had been hot all year, probably one of the best teams in baseball, and to beat them, after that, we were definitely a confident group. It kind of showed."
It showed in the first two games of the AL Division Series at Angel Stadium, two contests that the Royals -- last in the Major Leagues in home runs during the regular season -- won on 11th-inning homers.
It showed in Game 3 of the ALDS at Kauffman Stadium, with the Royals scoring seven runs in the first four innings to run away with the game.
It showed in Game 1 of the ALCS in Baltimore, decided on 10th-inning homers by Alex Gordon and Mike Moustakas.
It showed in Game 2, decided on ninth-inning hits by Alcides Escobar and Cain.
And it showed in Games 3 and 4 in Kansas City, victories that encapsulated the true identity of this team.
Kansas City turned in some solid starting pitching (Jeremy Guthrie and then Jason Vargas), made a couple of body-sacrificing catches (Moustakas into the dugout suites and Gordon against the left-field wall), received some shutdown bullpen work by their devastating trio (Kelvin Herrera, Wade Davis and Greg Holland) and found ways to manufacture runs (Billy Butler's sac fly and then Cain's sac bunt).
Eight straight wins, by a team that twice found itself three outs from not even winning one.
Imagine that.
"Nobody would have thought we would have done that, but we're doing it," Gordon said. "We're living in the moment, playing good baseball, and 12-0 would sound really nice."
Alden Gonzalez is a reporter for MLB.com. Read his blog, Gonzo and "The Show", and follow him on Twitter @Alden_Gonzalez. This story was not subject to the approval of Major League Baseball or its clubs.