MLB.com Columnist
Anthony Castrovince
Orioles faced wrong team at wrong time
Baltimore had a great season, but Royals are on a magical run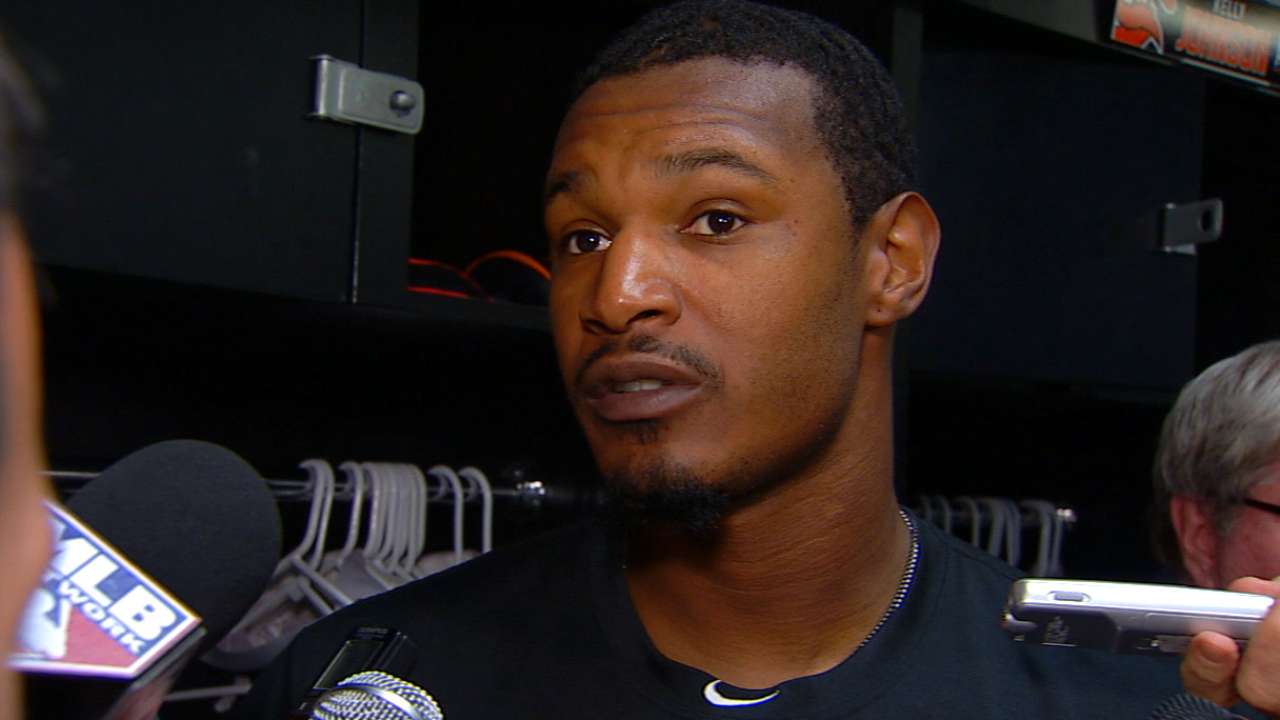 KANSAS CITY -- In the end, they were extras, background artists in this postseason's made-for-Hollywood story. You'll see them in whatever DVD or Blu-ray highlight film comes out of this Royals' ride. They'll be the guys in orange and black, circumvented by circumstance, foiled by flair, mystified by magic.
Don't blame the Orioles for losing this American League Championship Series. Just acknowledge that timing is everything, and they, like the Angels and A's before them, were simply on the wrong side of history.
Four games, decided by a six-run differential. An extra-innings loss in Game 1, a ninth-inning defeat in Game 2 and then 2-1 close calls here at Kauffman Stadium in Games 3 and 4. Along the way, there was Alex Gordon crashing into the wall, Lorenzo Cain diving across the outfield grass, Mike Moustakas crashing into the dugout suites and bloops, blasts and devastating dribblers galore.
Have you ever played a video game at the highest difficulty level, and the machine makes it known that there is absolutely, positively no way you are winning? That's how it felt to be a member of the O's this past week. This organization waited 17 years to get here, only to have the even-longer-suffering Royals steal the show.
"It's not anything we didn't do, it's what they did do," O's center fielder Adam Jones said. "They played flawless baseball. We can't do nothing about that."
Well, maybe not nothing. O's starters Chris Tillman and Bud Norris didn't execute particularly well in Games 1 and 2, and that put a stress on the much-leaned-upon bullpen (the eight freebies -- seven walks and a hit by pitch -- issued by O's pitchers in Game 1 also loomed large). In Games 3 and 4, the change in scenery seemed to have the expected impact on the O's boom-or-bust offense, with the Royals' keep-it-in-the-park pitching staff. Even though the O's free-swinging tendencies are well-established at this point, there were probably multiple at-bats they'd like to have back.
"You need to play a complete game to win a game in the playoffs," O's executive vice president of baseball operations Dan Duquette said. "Good pitching, good defense and timely hitting. That's the combination."
A combination the O's never uncovered in these four games.
Again, though, to watch this series was to see a defensive clinic by these Royals. The very notion of "gap hits" or "hitting it to the hole" was virtually non-existent. There were times in which it seemed the Royals had 18 guys on the field, not nine.
"You saw how close the games were," O's manager Buck Showalter said. "It's more a testament of what they did. And they were playing great defensively."
In the end, it would be understandable, given the details and the deficit, if the O's started to press in Games 3 and 4. The Royals' lone runs in the finale came across on a ground ball to first, for crying out loud. Steve Pearce fired home, only to see the ball pop out of Caleb Joseph's mitt, allowing two runs to streak home. The Royals had set that inning up when Cain bunted the runners over. How often do you see that from a No. 3 hitter? And more to the point, who didn't expect it to work for a Royals team suddenly blessed by the baseball gods?
So really, by the end, there was not much the O's could do, and there was even less they could say. This was their fate, it seemed, and it shouldn't take anything away from the magic they made in front of the members of Birdland this summer and fall.
By now, the storyline -- the overcoming of injuries to Matt Wieters and Manny Machado, as well as the regression and suspension of Chris Davis (who, by the way, still has one more game to serve on that suspension, as a result of the two postseason series sweeps) -- is well-established. If 2012 was the return to relevance for Baltimore baseball, 2014 was the ascendance to elite status. It was well-deserved for a fan base that, when inspired, creates one of the singular atmospheres in the sport.
"We reminded the country what a great baseball city -- and city in general -- Baltimore is," Showalter said. "I feel good about that. Some people kind of know our secret, so to speak. So there's a lot of positive things there."
It might have been a down year for the AL East as a whole, but 96 wins is 96 wins, and the O's -- with a lineup that can mash, a deep and durable pitching staff and a clean defensive effort -- were a team that could match up against anyone at any time.
Just not the Royals in October.
Because in case you haven't noticed, nobody matches up against them.
The O's are in good position to get back to this point. What that'll mean in real time, exactly, is anybody's guess. There are questions hanging over this organization, what with three of their lynchpins -- right fielder Nick Markakis, designated hitter Nelson Cruz and lockdown reliever Andrew Miller -- all possibly entering free agency (the O's have a $17.5 million mutual option on Markakis that could be difficult to justify).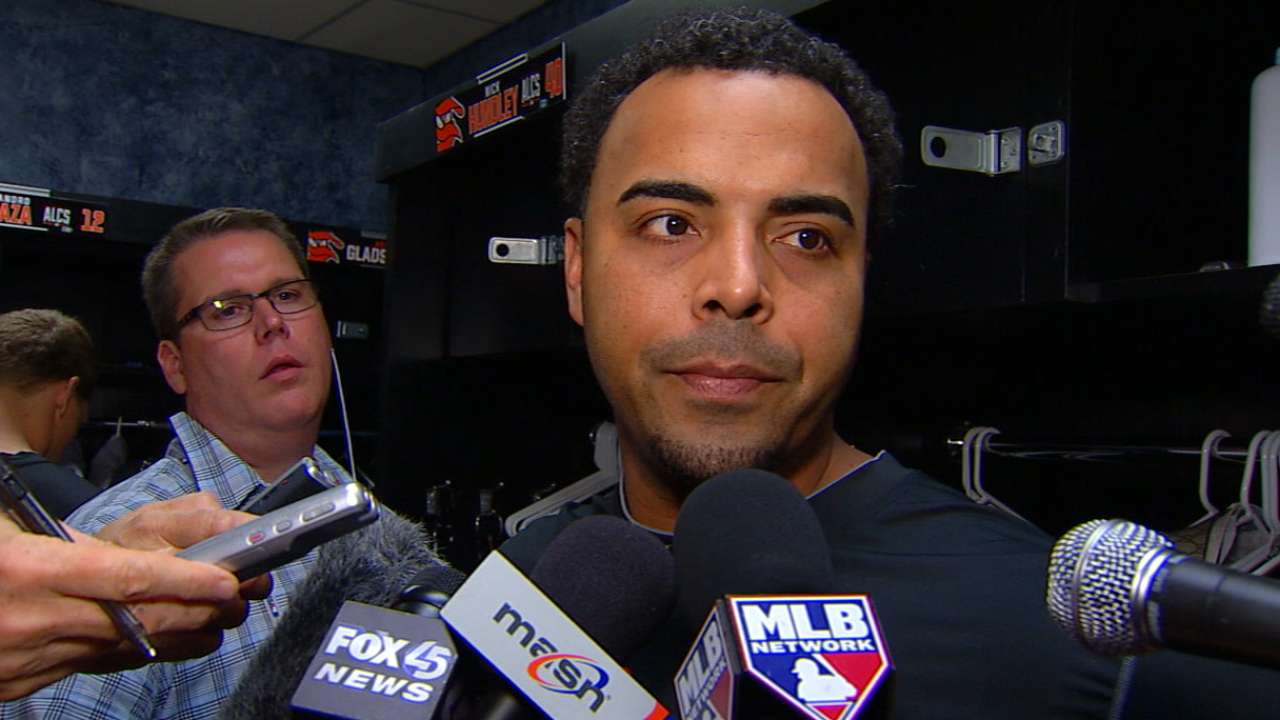 Miller's worth was particularly evident on this postseason stage, as he was a difference-maker out of the Baltimore bullpen with strikeout stuff. Cruz was the only Major Leaguer to hit 40 home runs this season, so it's a safe bet he can command well north of the $8 million discount deal the O's got on him this year, as well as the price of the qualifying offer the O's are sure to extend. And Markakis is valued enough in the clubhouse that Jones -- often pointed to as the face of this franchise -- goes out of his way to call Markakis the real heart and soul of the ballclub.
So we'll see. The business side can be brutal, but the O's already made a wise move in extending J.J. Hardy at a time when productive shortstops are rare currency and the Yankees were sure to come calling.
One other cloud hanging over Baltimore: How well will Wieters recover from a Tommy John procedure that doesn't have nearly as high a success rate with catchers as it does for pitchers.
All of these matters must be considered in the coming months, and the good news there is that Duquette and his staff -- one that blends both the new-school methodologies with the old-school scouting backbone -- have established themselves as some of the best in the business at working both the meat and the margins of a roster.
And then there's Showalter, who is still chasing that elusive World Series prize. This O's team gave him his first postseason series win, which is a milepost of one sort. But the real measure of the man is the way his players respond to him, speak glowingly about him and, most of all, trust him. Showalter has really built something special in that O's clubhouse, and though he'll never lose his famous eye for detail and penchant for preparation, he's old and experienced enough to know how to enjoy the little things.
He enjoyed this O's team as much as any he's been around, and that's really the gist of this story. The O's took no pleasure in being relegated to this background role on the ALCS stage, but the ride to get here was certainly sweet, and the future looks pretty bright, too.
"If you care, like our people care, it hurts," Showalter said. "And that's why I know how much it hurts those guys."
The O's were bit players in what has become the best story in baseball. But even that role beats watching at home.
Anthony Castrovince is a reporter for MLB.com. Read his columns and follow him on Twitter at @Castrovince. This story was not subject to the approval of Major League Baseball or its clubs.