Showalter proud of O's run despite painful ending
Trip to World Series stays on bucket list for longtime manager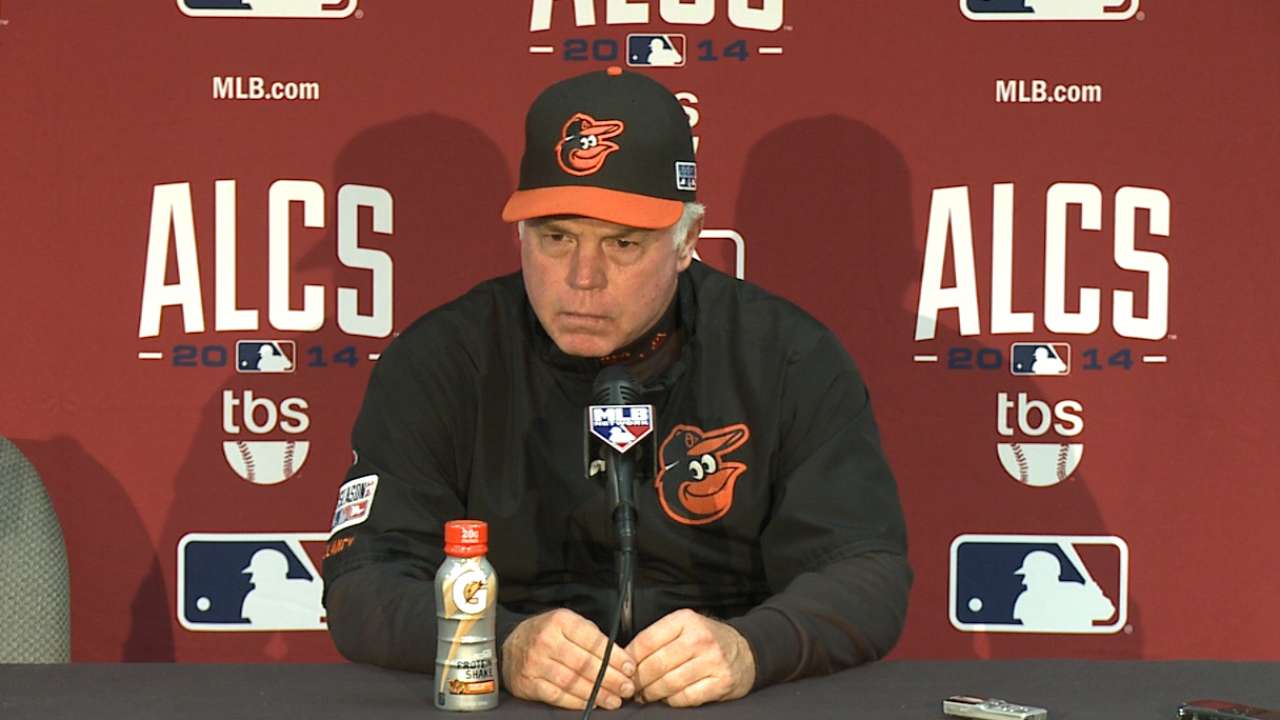 KANSAS CITY -- Buck Showalter left Kauffman Stadium on Wednesday night extremely proud of his team, yet shy of the World Series appearance that has eluded him in all 16 seasons of a fine managerial career.
But Showalter, 58, hardly looked or sounded like a man nearing the end. He is the manager of an Orioles team headed in a clear upward direction, and one that appears fully capable of getting to the World Series in the next few years.
"It's just a testament to what a group of young men can do when everybody is pulling on the same rope," Showalter said. "But my support and my love of our guys is unconditional. They didn't have to win a World Series for me to feel differently about them."
Since coming to Baltimore during the 2010 season, Showalter has had a lot to do with the resurrection of a tradition-laden franchise that had fallen on hard times for a long period.
As his team suffered a fourth straight agonizing loss to bow out of the American League Championship Series, Showalter didn't wish to reflect on the individual sting of missing the World Series. Instead, he selflessly spoke of the regret he felt for his players.
"You know, I'm not saying this because supposedly it's the right thing to say," Showalter said. "My emotion is for the players and the organization and the fans, because I keep thinking about something I or we could have done differently. That's what you think about."
When the Orioles upended the Tigers in the Division Series round, it marked the first postseason series victory of Showalter's career.
"It's surprising, I never knew that he never won a series," said Orioles first baseman Steve Pearce. "But I love Buck as a manager. He makes you give everything you've got there on the field. He's a great manager. It was fun playing for him."
Showalter was all-in with this Baltimore team, marveling at the way they won 96 games despite the loss of key pieces like Manny Machado, Matt Wieters and Chris Davis. His players never made any excuses, and neither did Showalter.
"But if you care, like our people care, it hurts. And that's why I know how much it hurts those guys," Showalter said.
Though he managed in three other communities (New York, Phoenix, Dallas/Arlington) before coming to Baltimore, his connection to his current baseball home is obvious.
"Our fans, they've been there through thick and thin for us in Baltimore," Showalter said. "The support of the ownership has been there. We really feel bad about disappointing them and not being able to get over the hump and roll the dice again."
It can also be said that Showalter didn't quite get over the hump again. He managed the Yankees in 1995 to a 2-0 lead in the Division Series, only to watch Edgar Martinez and Ken Griffey Jr. lead the Mariners in a monumental comeback. Under Joe Torre, New York would win the World Series the following year in what turned out to be the birth of a dynasty.
Showalter also helped put together a winner in Arizona, leading the D-backs in '99, but he was out of the picture by the time Randy Johnson and Curt Schilling led that franchise to glory in '01.
However, Showalter's imprint is all over this Baltimore team, and it's hard to imagine he won't continue being a part of it for the foreseeable future.
"I enjoy playing for him; everyone in here does," said Orioles shortstop J.J. Hardy. "He's a great manager and a great communicator. Everyone respects him. He's fun to play for. We're all happy for him and looking forward to doing it again."
The energetic Showalter expects to regroup within days, and help the front office and ownership plot the next steps that are necessary.
"So we'll start all over again," Showalter said. "I know Dan [Duquette] and I will get ready, get moving to figure out a way to get back here again."
Ian Browne is a reporter for MLB.com. Read his blog, Brownie Points, and follow him on Twitter @IanMBrowne. This story was not subject to the approval of Major League Baseball or its clubs.