Fans, Royals feeling the love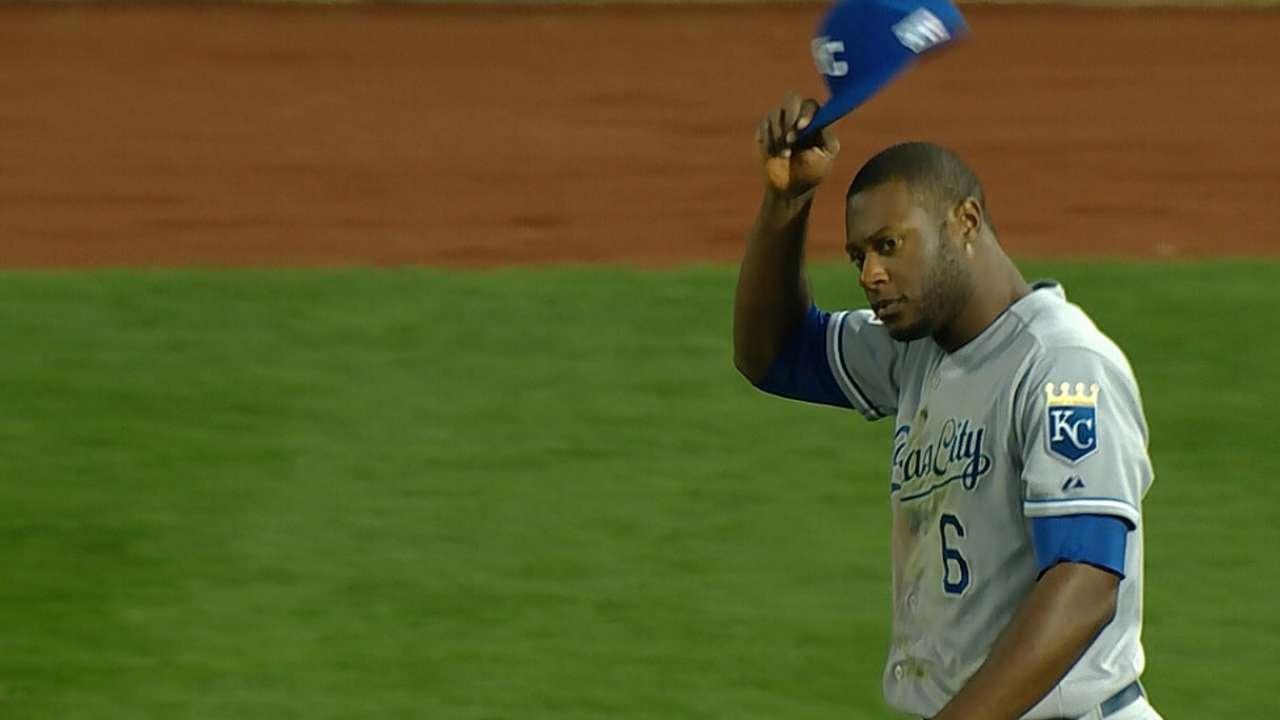 KANSAS CITY -- Maybe it's because this is their first trip through the postseason. Maybe it's because the city has suffered for nearly three decades of empty Octobers. Maybe it's because they're just really nice guys.
Whatever the case, there seems to be something pretty special cooking between the American League-champion Royals and their hometown fans.
When they won the AL Division Series, players hit the town to celebrate among the people. Brandon Finnegan then hooked up a random fan with ALCS tickets through Twitter, just because the fan asked for them and said he was, well, broke.
Even when the celebration following the Royals' 2-1 pennant-clinching win over the Orioles in Game 4 of the AL Championship Series moved inside on Wednesday, players continuously popped out of the clubhouse to boogie with the fans. Salvador Perez threw his cap to the crowd. And his T-shirt. Players ran around the warning track with the trophy, inviting fans to touch it.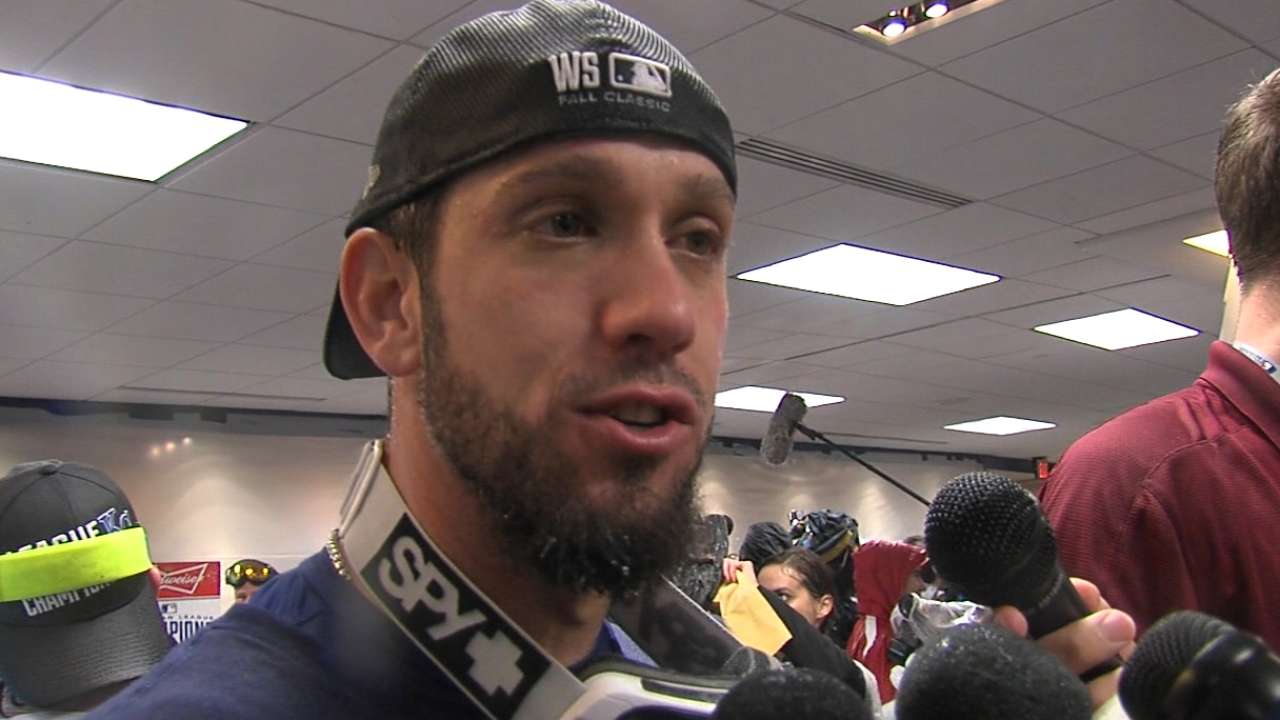 Winning sure does bring the best out in people.
"I knew these fans were amazing, but I didn't know how loud and amazing they really were,"
Mike Moustakas
said. "They came out every day to play just like we did. They deserve this just as much as we do. They've been waiting for a lot longer than most of us have."
Among the tailgaters whooping it up before Games 3 and 4 at The K this week was a camaraderie many fans felt with the 2014 Royals. Several mentioned that if they saw a player in person, they would want to hug him. Or shake his hand. Or buy him a cold beverage.
"The whole city has been behind them," said Kansas City native Patty Parsons, wearing an authentic 1985 World Series championship T-shirt. "It's one big community. It's awesome."
Season-ticket holder Craig Reed has stuck with the Royals through thick and thin, even though there was a lot of thin considering this is Kansas City's first postseason in 29 years.
"I've been watching these guys for a long time," Reed said. "I love all these players, even the ones we got from Milwaukee. All the players seem to fit right in. The chemistry is good, and yea, I feel like I can high five them or have a meal with them, for sure."
During the celebration after the Royals clinched the pennant, manager Ned Yost shifted the focus off of himself and directly onto the people who are most deserving, in his eyes.
"It's not for me," Yost insisted. "This is for these fans, for this city. This is for these players. I've been through it before. I don't do any of this for myself. When this is all said and done, I'm going to go back to my farm and I'm going to lock the gate. I wanted this so bad for this city and our fans to be able to come out and enjoy this, because each and every fan that's here today, will never forget this."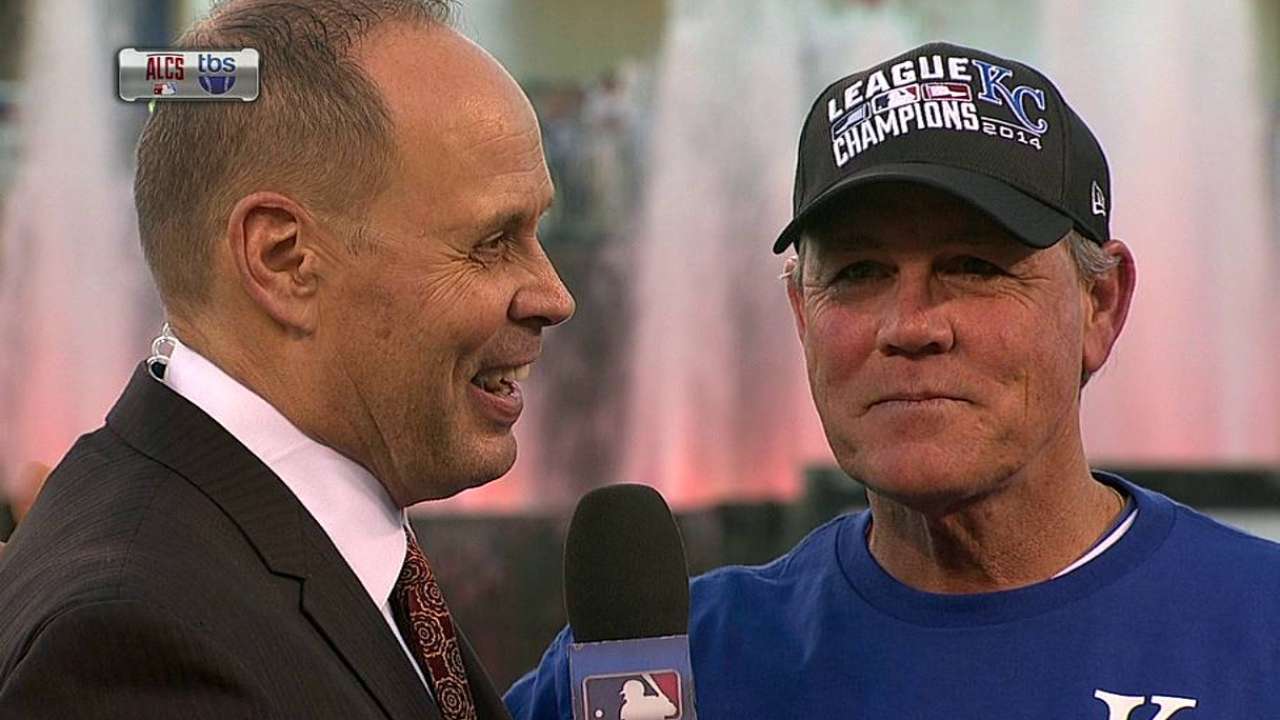 Right again.
"When you look at the dugout, they're all having fun, high-fiving," said superfan Linda Gentile. "I think that's what everybody in Kansas City loves. The boys are our boys, they're having a great time, and they're showing us that great time that they can embrace and enjoy it."
And they're taking all of Kansas City along for the ride.
Alyson Footer is a national correspondent for MLB.com. Follow her on Twitter @alysonfooter. This story was not subject to the approval of Major League Baseball or its clubs.