Royals revel in club's return to World Series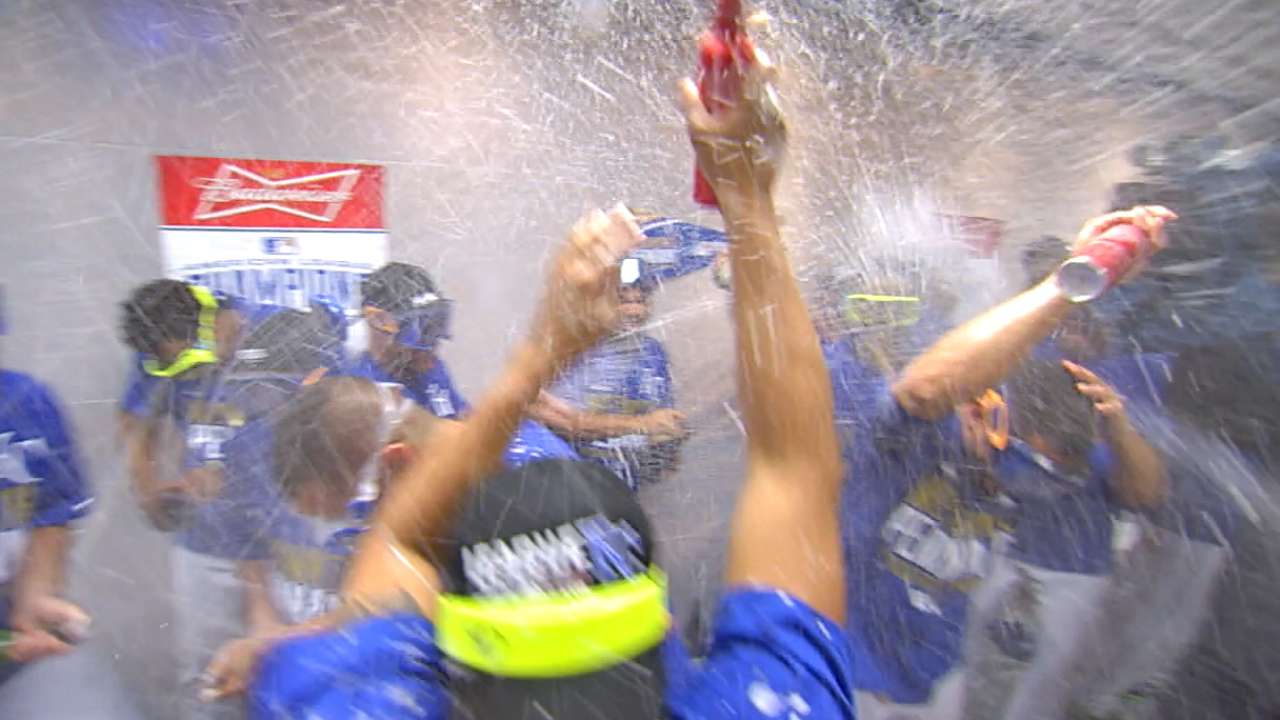 KANSAS CITY -- Ninth inning, up by a run, two down, a 1-2 count, clinging to a one-run lead. Nope, no pressure there.
The Royals have played like this all month, winning by the skin of their teeth with little to no room for error. So why should Game 4 of the American League Championship Series be any different? In that respect, the scenario the Royals found themselves in on Wednesday -- desperately trying to nail down the AL pennant while protecting the narrowest of leads -- was fitting.
As
Greg Holland
faced the Orioles'
J.J. Hardy
, Royals manager Ned Yost stood completely still in his normal perch in the dugout. No swaying, no pacing. He just stood there, strong and sturdy, watching.
"I was a little nervous for it, waiting for it," he admitted.
When it finally happened, there was relief. And then, pandemonium.
Hardy grounded to third baseman Mike Moustakas, who, hearing a nervous crowd chant "Mooooooooose," fired to Eric Hosmer at first base. After a split-second pause, Kauffman Stadium turned into a madhouse. The royal-blue-wearing crowd, 40,468 strong, went bananas.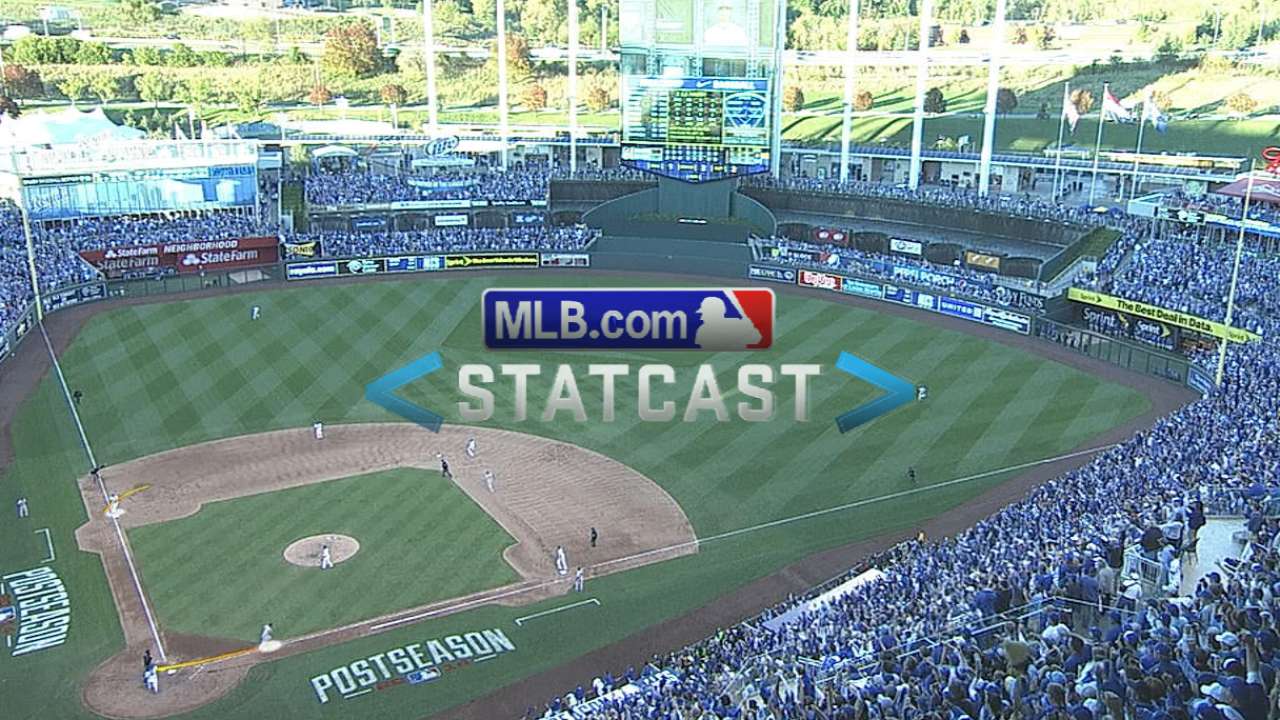 Designated hitter Billy Butler remembered simply trying to stay composed while waiting for that final out.
"A lot of nerves," he said. "The blood pressure's going up. It's exciting more than you can even explain."
Most of the Royals' celebration took place on the field, where players, coaches and front-office staffers rejoiced on the infield and near the home dugout, where they could include the fans in the party.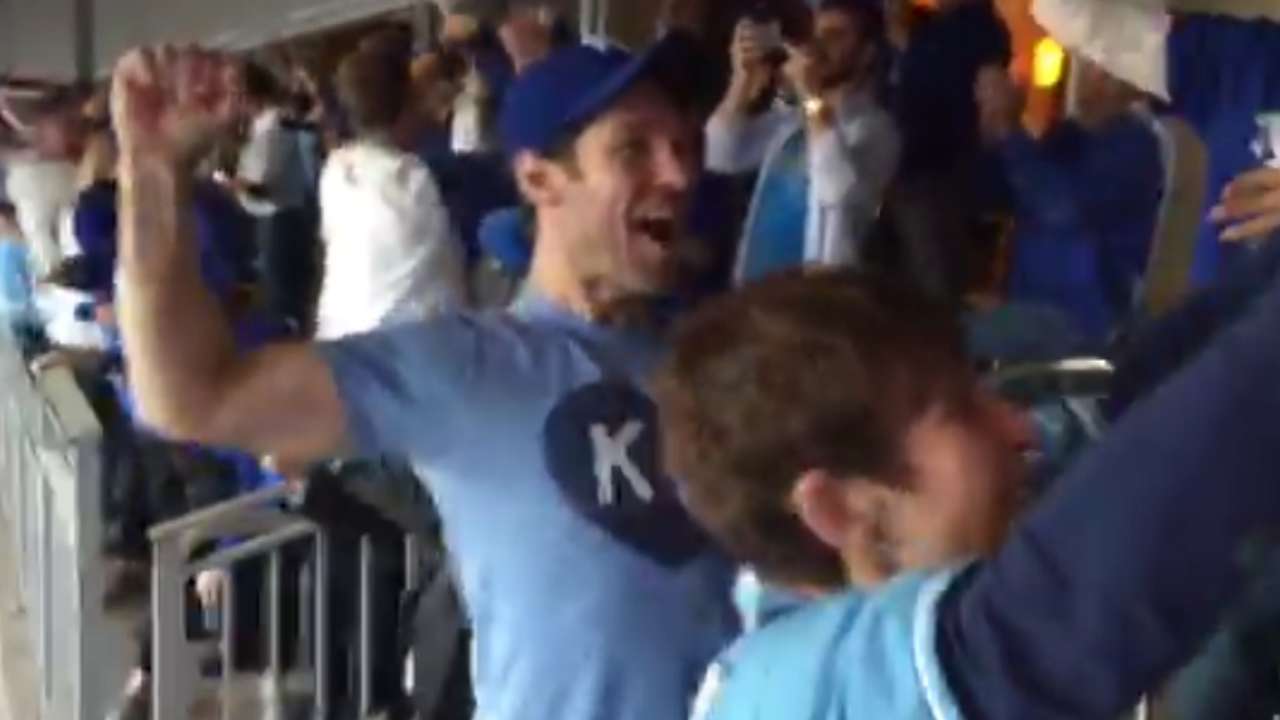 A huge stage rolled out from right field in advance of the AL Championship trophy presentation. Keeping up a long-standing tradition, honorary AL president Jackie Autry handed out the hardware to Yost, Royals owner David Glass, club president Dan Glass and general manager Dayton Moore.
"The special thing about today is each and every one of these guys have worked so hard to bring a championship to our city and to you, our fans," Yost bellowed into the microphone.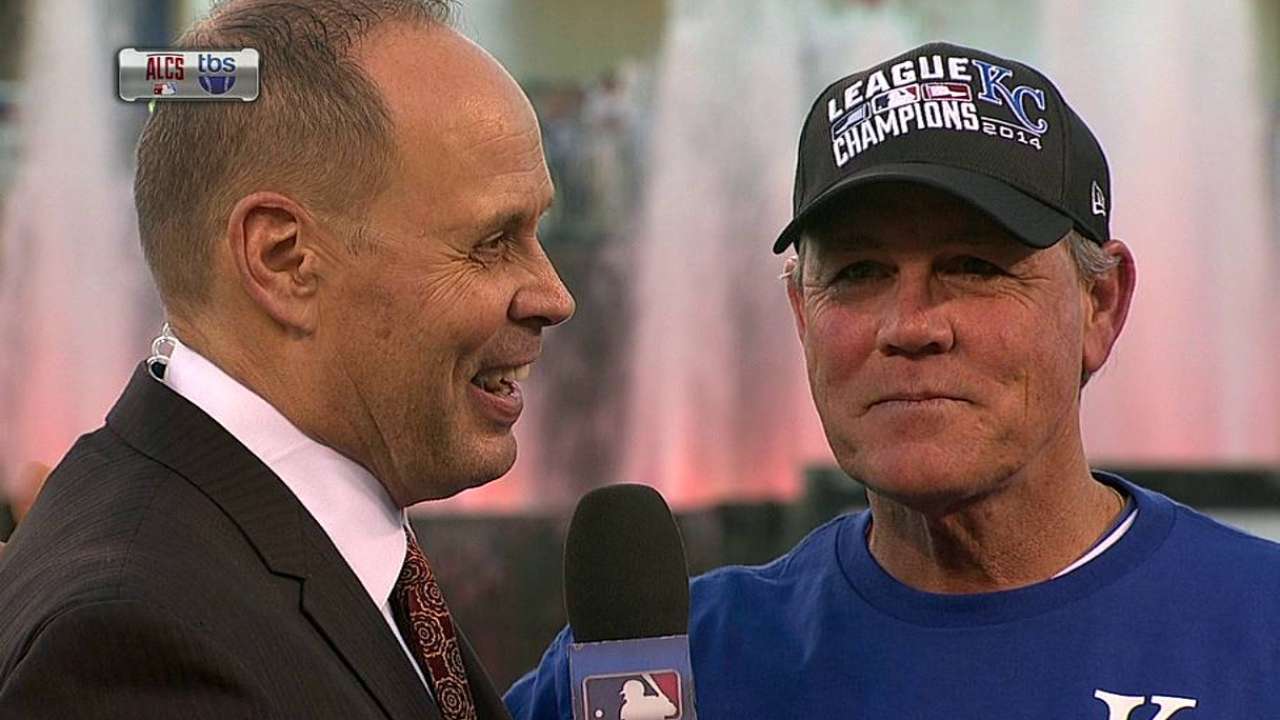 "I tell you what," owner David Glass said, "we waited for this for a while, but it is worth it.
"I couldn't be prouder of that team. On behalf of my family, Dayton, Ned, the coaches, the players, I think I speak for all of us when I say we dedicate this trophy to these fans."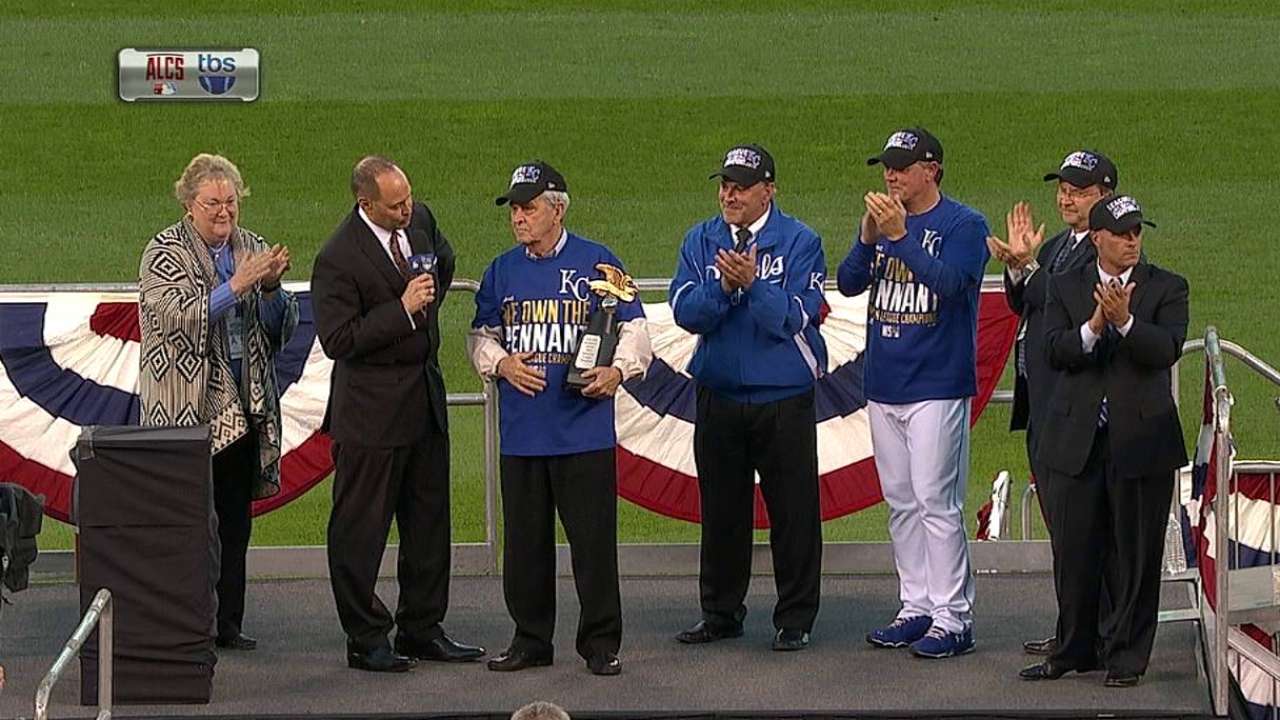 Autry presented the ALCS MVP Award to Lorenzo Cain, who hugged everyone on stage before accepting the trophy.
"I don't think this is a surprise to anybody," Autry said to the crowd. "His defense, his timely hitting, everything. And everybody, I think, in this stadium knew that this man deserves a championship award for the MVP."
Said Cain: "It's an amazing feeling to be here, in this moment, for my teammates and fans. The coaching staff, the owner, Dayton ... an unbelievable feeling."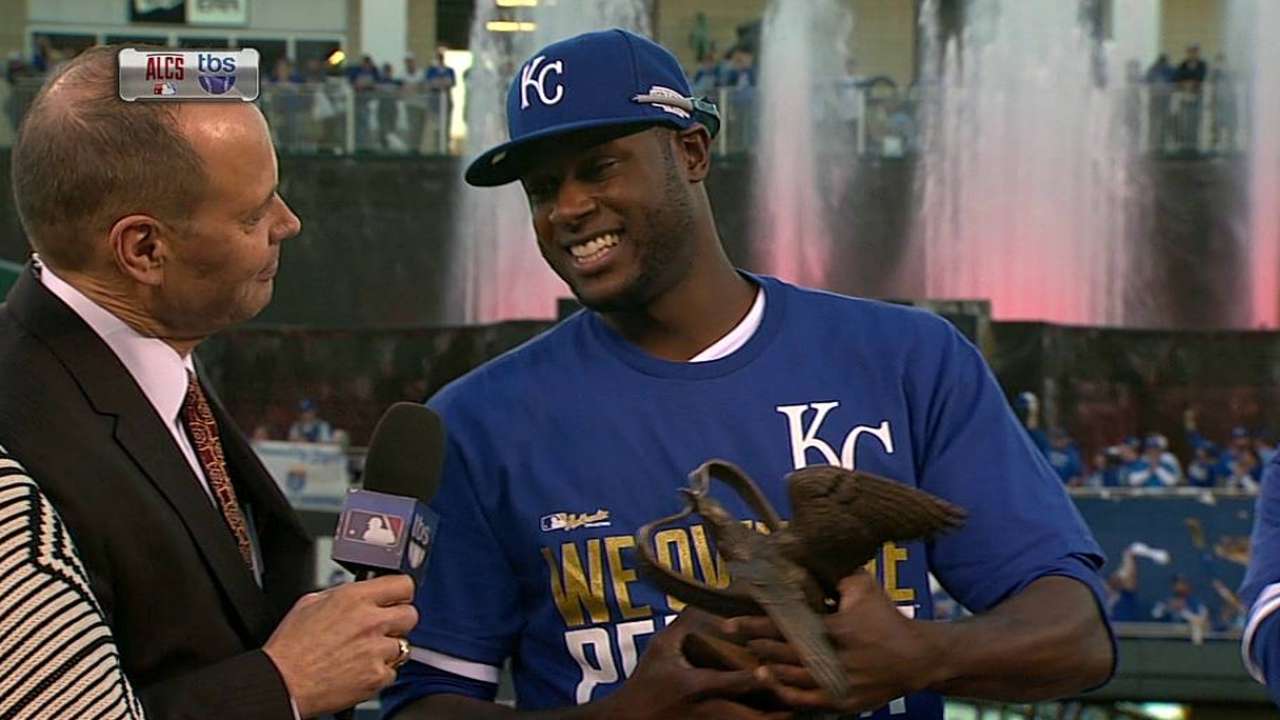 When the official presentation concluded, the party was on. These Royals have gone out of their way to embrace the fans all season, and they weren't about to end the mutual love affair now. Several players ran around the warning track, giving the fans an opportunity to touch the trophy during their trek.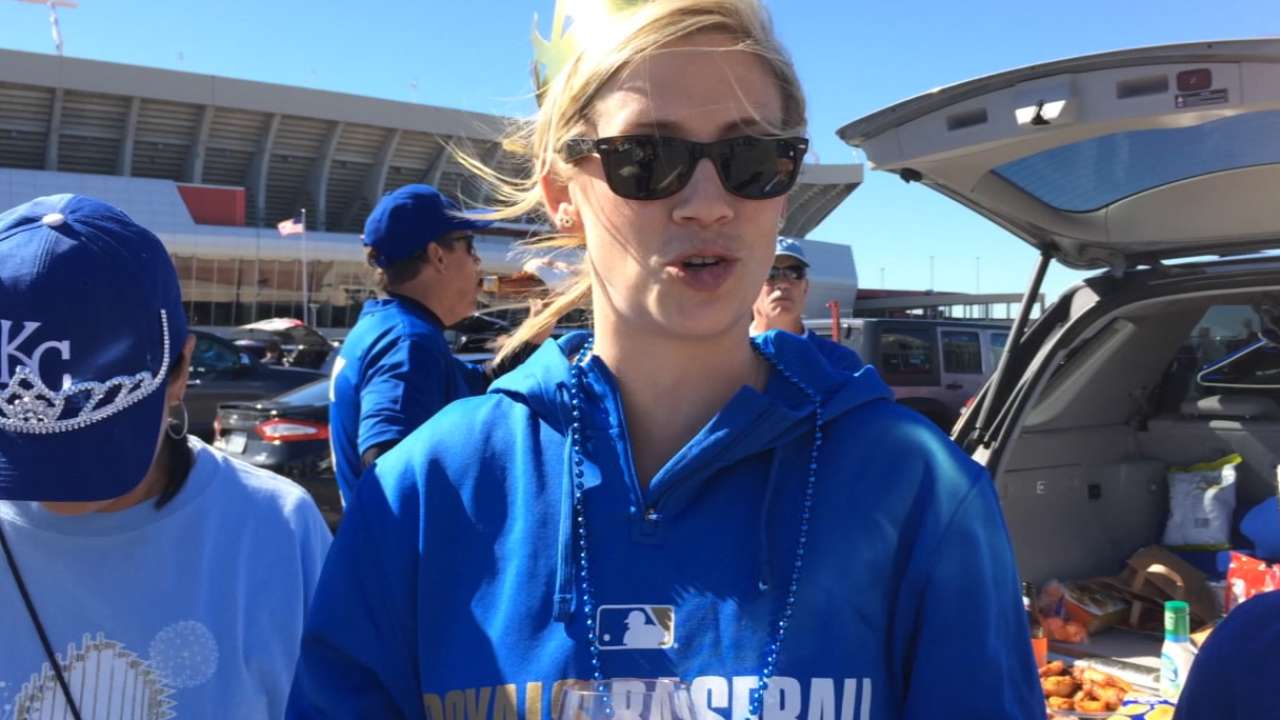 Even when the celebration moved to inside the clubhouse, players kept spilling back out onto the field to share the moment with the fans. Salvador Perez stood on the dugout and threw his cap, and then a champagne soaked t-shirt, into the stands.
Inside the home clubhouse, goggles firmly planted on the happy faces of the AL champs, an endless stream of champagne soaked all involved.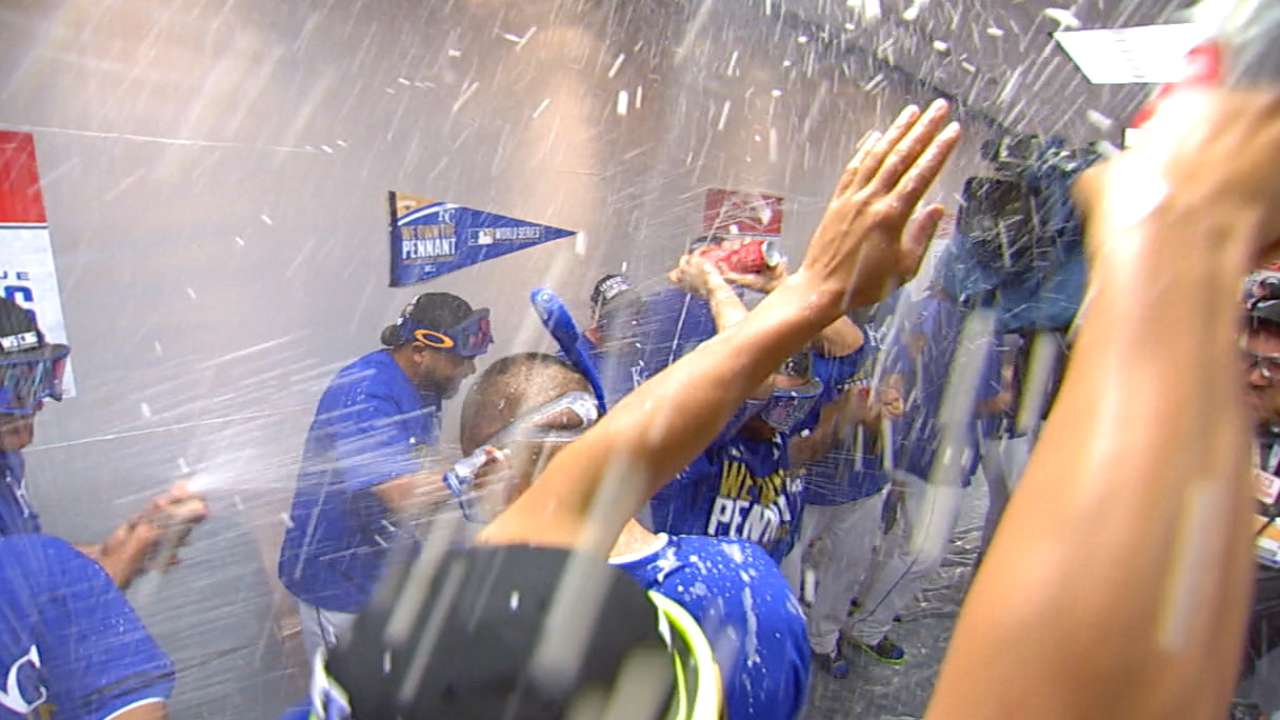 "It really hasn't settled in yet that we are going to the World Series," Moustakas said. "You work in Spring Training, in the offseason, during the year, play 162 games to get to this point ... it's awesome.
"We felt like we've been playing good baseball all year. To come out and play well against a Baltimore team, as good as they are, and beat them, and beat the Angels and beat Oakland in that one-game race, it was unbelievable."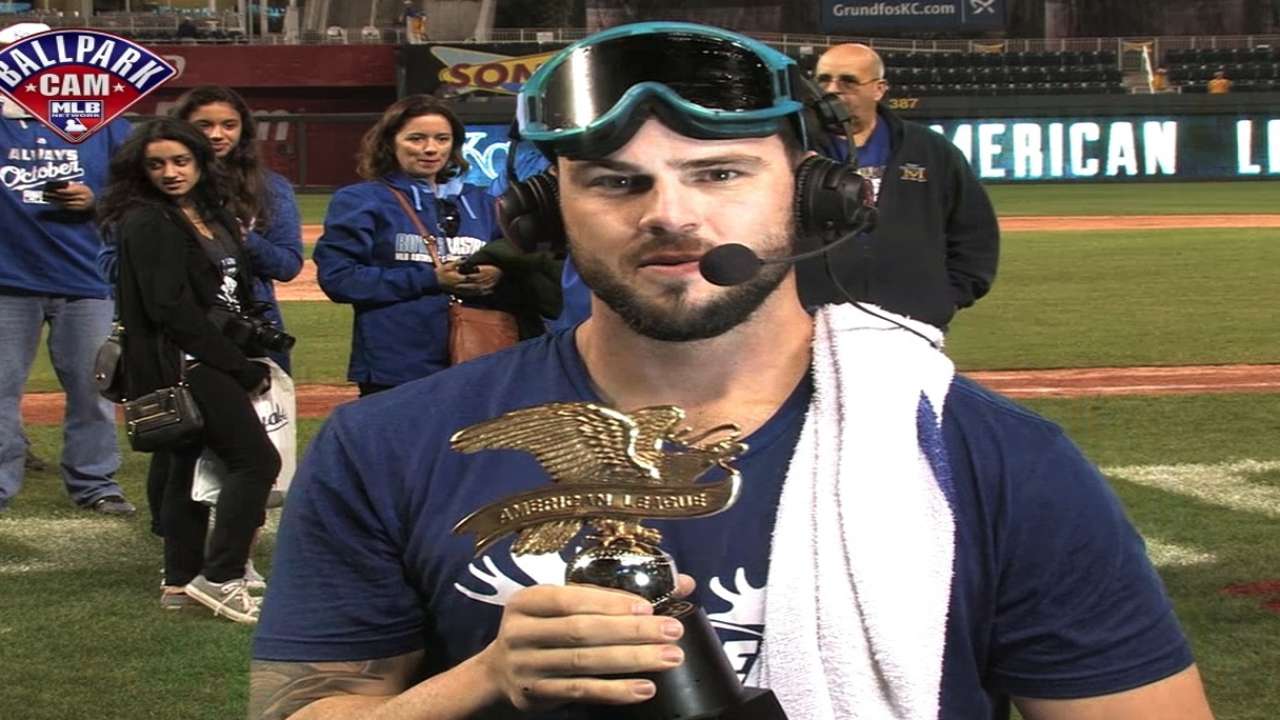 The Royals have strung together an unprecedented eight wins to begin the postseason, and have a chance to do the unthinkable -- sweep through October, from start to finish.
They'll turn their attention to the World Series, and to the National League opponents, soon enough. For now, there's a lot to soak in, from the champagne to the never-say-die attitude of the players to the 29-year postseason drought that has come to a dramatic end with this ALCS sweep.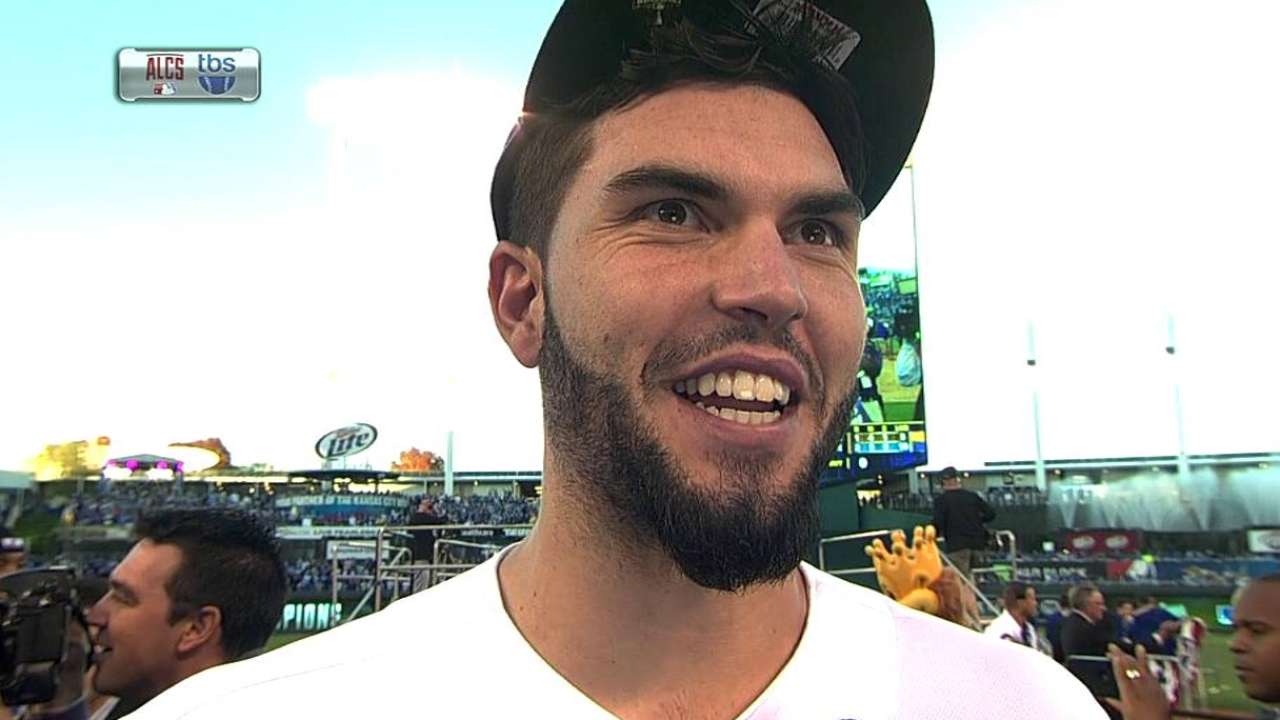 "They're a special group of guys," Yost said. "You could see it from the moment that they were in A-ball, that they were talented, they all had a will to win. They all had great work ethic.
"You knew, over a period of time, if you group them together, give them some time to develop, that they were going to be champions. I've said it numerous times over the years -- today's the day that it came to fruition."
Alyson Footer is a national correspondent for MLB.com. Follow her on Twitter @alysonfooter. This story was not subject to the approval of Major League Baseball or its clubs.