Royals' three-headed 'pen monster devours O's
Herrera, Davis, Holland stick to their winning postseason script in ALCS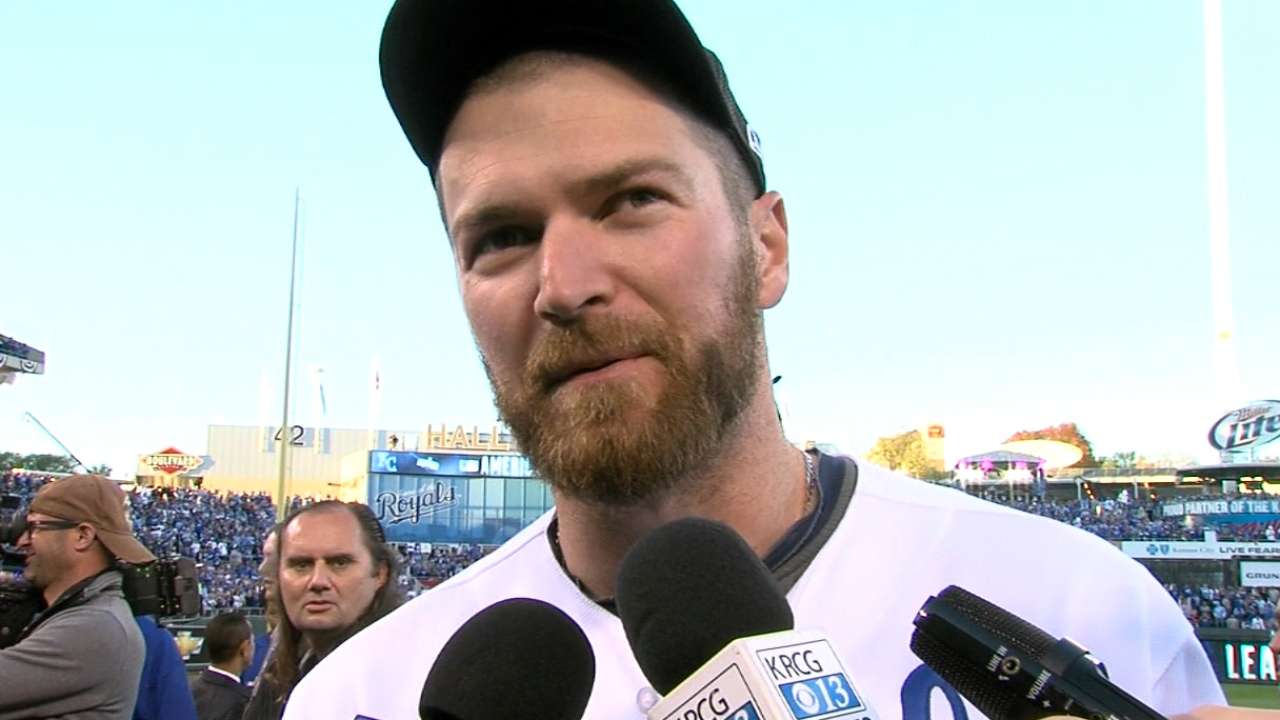 KANSAS CITY -- Each strike was met with a thunderous outburst. Heartbeats were heard from miles away, and there was manger Ned Yost, three outs away from watching his Royals clinch the American League pennant, feeling the nerves, even with his lights-out closer, Greg Holland, on the mound. Holland, too, appeared on edge.
"My leg started shaking a little bit," Yost said, "so I put it down and kind of held it firm on the ground. I don't want Holly looking in and seeing me all fidgety."
Not that it would've mattered. Game 4 of the AL Championship Series was already won in the sixth inning. That's just the way it is with these Royals, when Kelvin Herrera emerges from the bullpen to begin a must-see, three-man show that ends with Holland. Wade Davis, at times the best of the bunch this year, has been sandwiched in the middle.
All three, naturally, had their fingerprints on Wednesday's 2-1 victory over the Orioles at Kauffman Stadium to send this Kansas City club to its first World Series since 1985. Holland, always the last Royals pitcher standing, saved each of them.
"There's a lot of pride in that," Holland said. "There's a lot of pride in our bullpen as a whole, in working and preparing ourselves for those big situations. It's been unbelievable."
In notching a save in all four games of this ALCS, Holland joined Dennis Eckersley (1988, A's) and John Wetteland (1996, Yankees) as the only pitchers with as many in a seven-game series.
No moment has been too big for these three, who have pitched to a 1.06 ERA in 25 1/3 innings this postseason. This year, when leading after six innings, the Royals are 68-4. And when carrying a lead into the eighth? They're 75-1.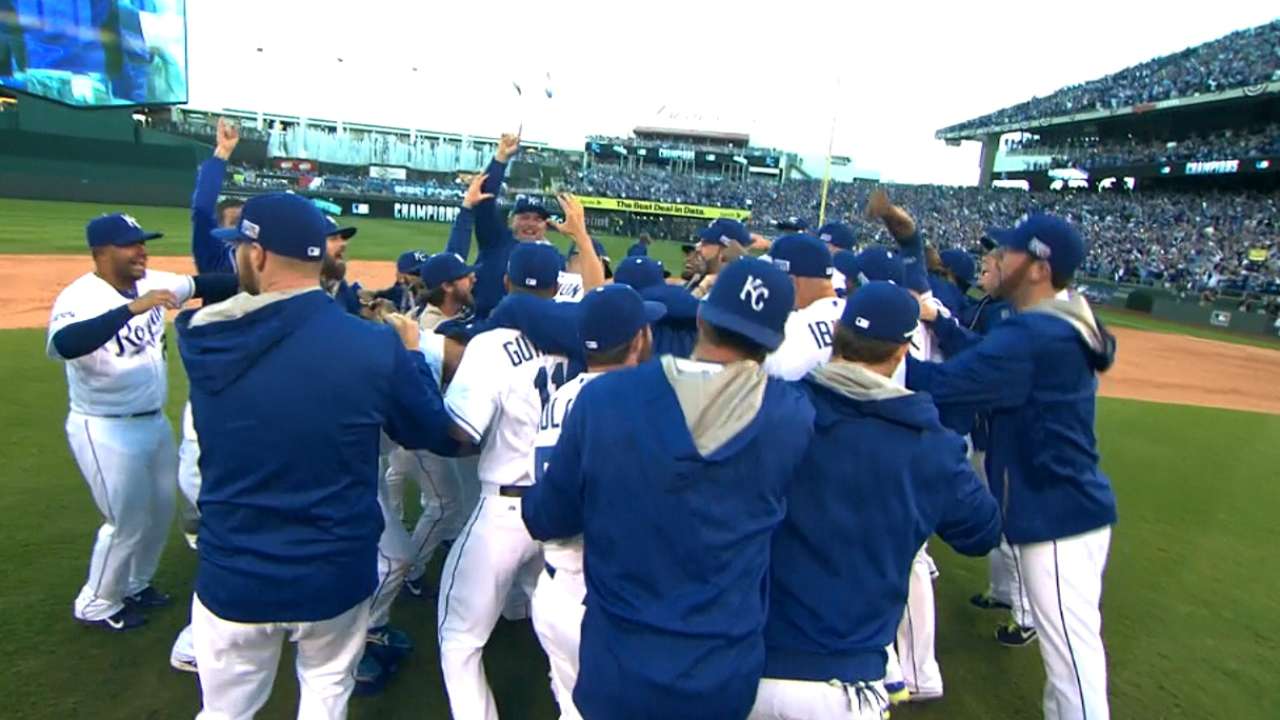 • Video: Holland sends Royals to Series
"It's pretty amazing," All-Star outfielder Alex Gordon said. "They've been great all year, and they were once again today."
Beginning with Herrera's 1 2/3 scoreless innings, following 5 1/3 gritty innings from winning starter Jason Vargas, and continuing with Davis' perfect eighth inning, before he passed the baton to Holland like clockwork, the trio capped a particularly tremendous series. They combined for 14 2/3 of 37 innings, allowing just one run, and only 10 baserunners total, while fanning 14 -- and against an Orioles team that plated 12 runs in the eighth inning against the Tigers in the AL Division Series. Baltimore didn't score once in the eighth in the ALCS.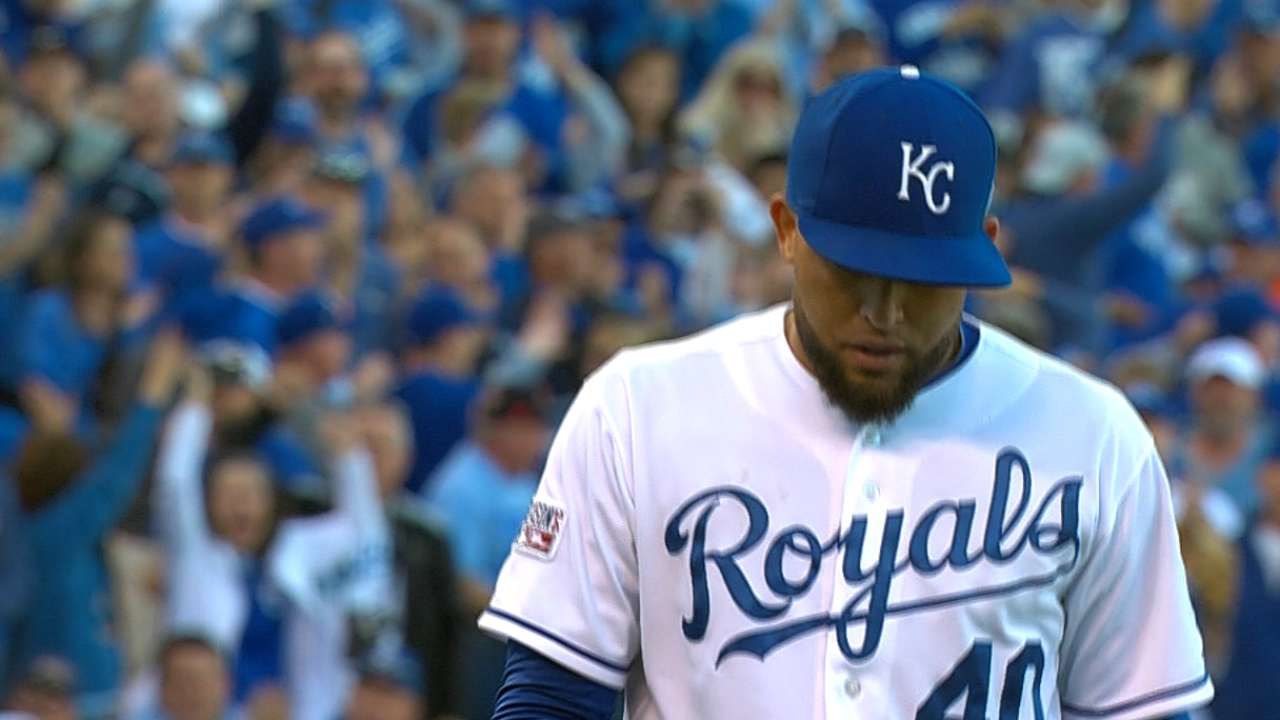 • Video: Herrera shuts down O's
"Those guys are unbelievable," Royals third baseman Mike Moustakas said. "When you can get a one-run lead against a great team like Baltimore, with our guys we have in the bullpen, it feels good. You feel comfortable, real comfortable."
"If you're not comfortable with that bullpen? I mean, I don't know," Royals outfielder Lorenzo Cain said. "Something's wrong with you."
The 21 innings pitched by Kansas City's rotation, which racked up a 4.29 ERA, were fewest all-time by starters of a winning team in a best-of-seven postseason series. The 1988 A's held the previous mark of 21 1/3 innings.
It's a reflection of not only their talent but of Yost's pure confidence in a Royals bullpen that's provided him his biggest weapon, especially during the postseason, when runs are so precious. Four of his club's eight postseason wins this year have been by a one-run margin.
"It used to be, try to get the ball to Holly in the ninth inning," Yost said. "Then Wade came on, and it was find a way to get to the eighth inning, and with Kelvin's emergence this year, it's just, let's just get through six and we're going to be in great shape."
"This is what you dream of as a kid, punch a ticket to the World Series, especially in front of your home crowd," Holland said, "and these fans have been waiting a long time, and they deserve it."
"The fans have been incredible," Davis said. "I think they've helped carry us through this whole thing."
It was Davis who came over with James Shields in the 2011 trade that sent top prospect Wil Myers to Tampa Bay, and there are few players more important, or impacting, than the Royals' reliever. In eight postseason games with the Royals, Davis has allowed one run over nine innings.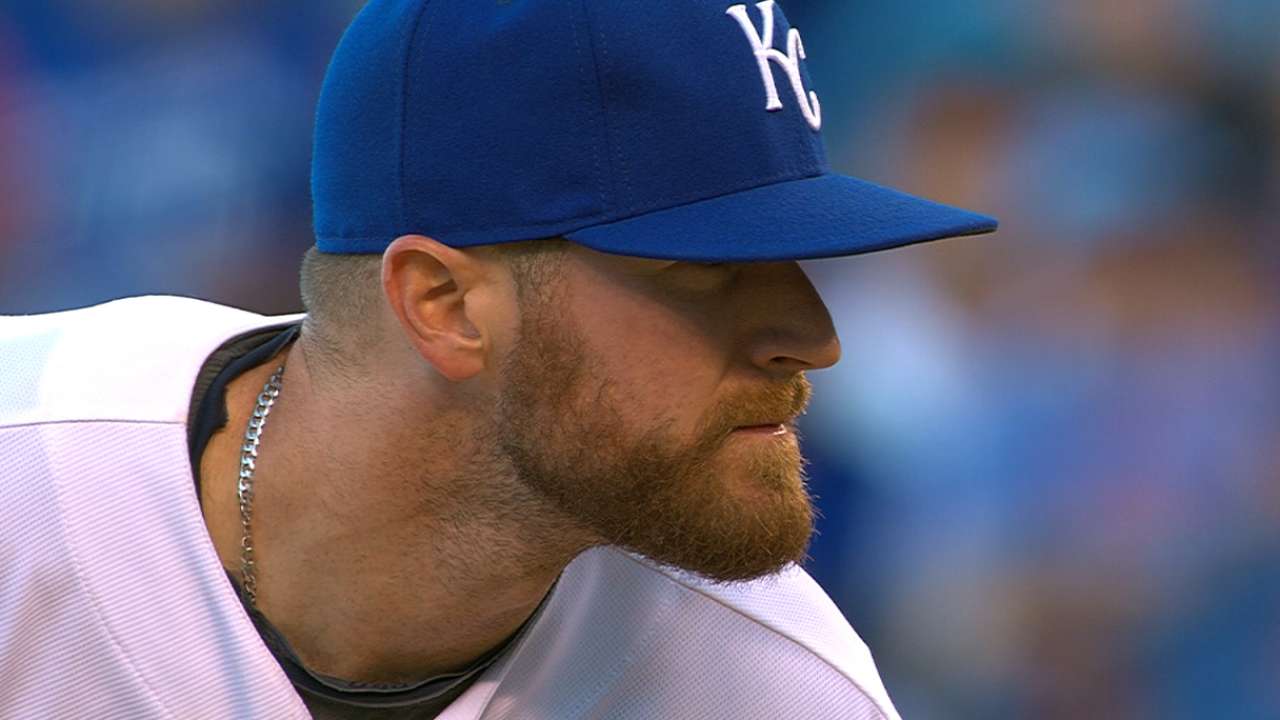 • Video: Davis' shutdown relief
"I've been thoroughly overwhelmed with the influence that I've had on the team, and as far as the emotions go," Davis said, "it hasn't really set in yet. This is just kind of a surreal feeling."
"This is an incredible feeling to be here celebrating with the fans and everyone in Kansas City," said Herrera, who jumped four levels in 2011 to make his Major League debut with the Royals. "We did it together. We're a great combination in that bullpen, and it's always a team effort when we win and now we are going to the World Series.
"Now, we just have one more step to go."
Jane Lee is a reporter for MLB.com. This story was not subject to the approval of Major League Baseball or its clubs.