Royals come up big again playing small ball
Escobar's infield single triggers decisive two-run first inning in Game 4 of ALCS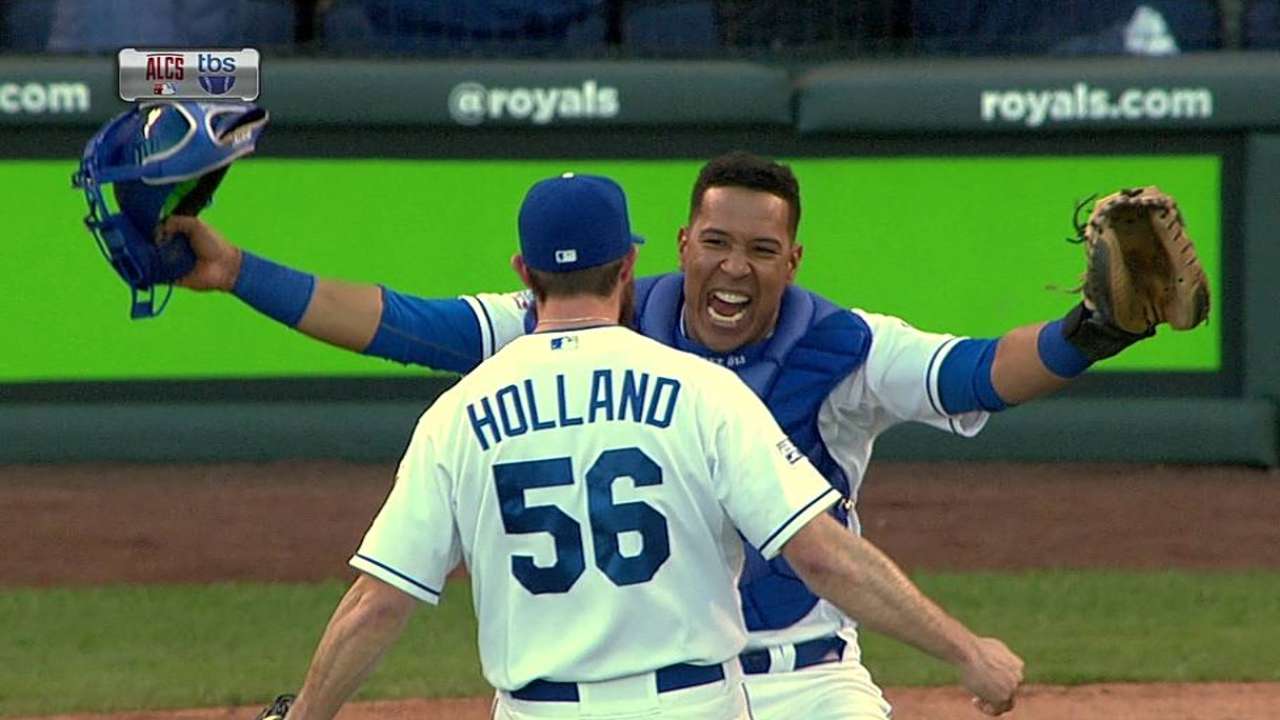 KANSAS CITY -- All season, the Royals' offense relied on a brand of baseball -- antiquated to some -- that didn't emphasize walks and home runs, while putting a premium on contact and speed. So why would the most significant game of the season, thus far, be any different?
In Game 4 of the American League Championship Series on Wednesday, Kansas City squeaked across a pair of runs in the first inning. The frame did not feature booming home runs, gap-splitting doubles, or even a single hard-hit ball; just simple small ball, culminating in the Royals advancing to the World Series with a 2-1 win over the Orioles at Kauffman Stadium.
Within Kansas City's first four hitters in the first, it led, 2-0. The manner in which the runs scored embodied the head-scratching way this team managed to produce runs this season: infield single, hit by pitch, sacrifice bunt and a fielder's choice.
Salvador Perez's flyout to left to end the inning was the only ball that left the infield.
"It wasn't pretty," left fielder Alex Gordon said. "That's all right. We find ways to win. Good teams find ways to win. That's what we did."
It began with a leadoff hit by Alcides Escobar, a play the Royals have grown an affinity for this postseason. Escobar's chopper to shortstop was the team's 13th infield single this postseason and seventh of the ALCS.
Nori Aoki joined him on the basepaths when Orioles starter Miguel Gonzalez plunked the right fielder on the first pitch.
This brought up ALCS Most Valuable Player Lorenzo Cain, who did something against the grain for a man hitting .667 in the ALCS at the time: He dropped down a sacrifice bunt.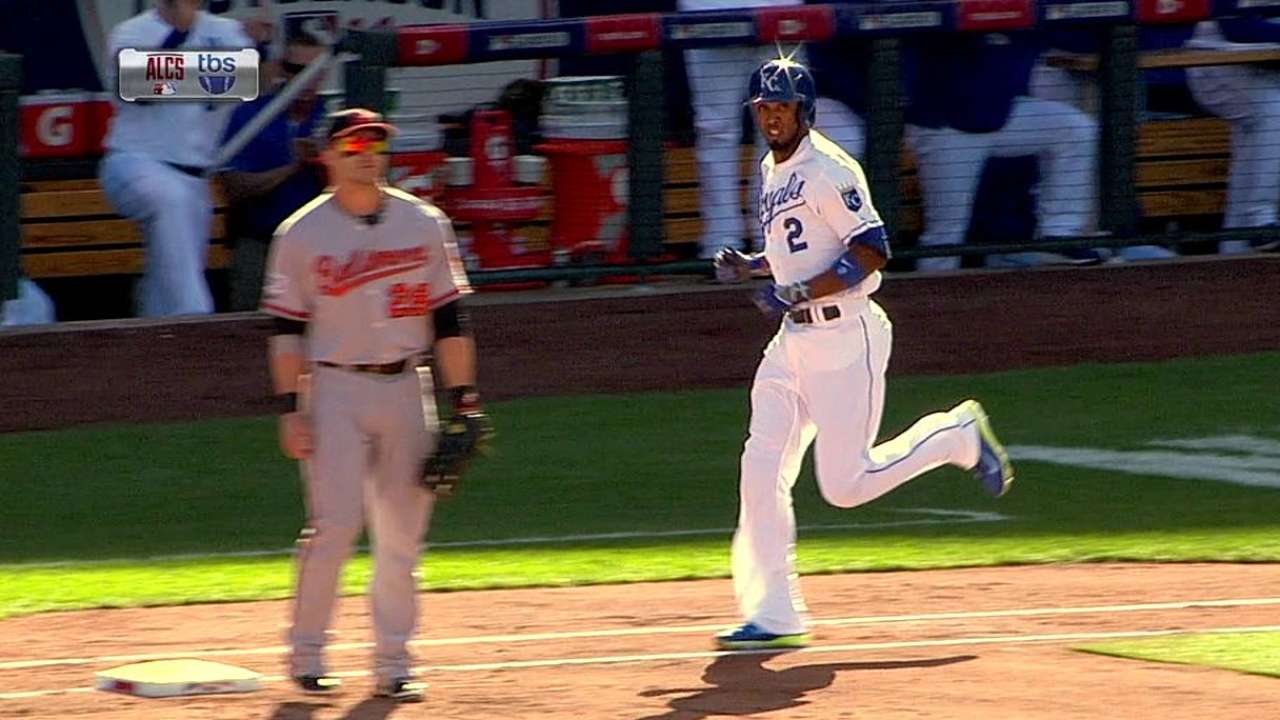 • Video: Escobar's infield single
"I felt like, with Hosmer behind me, he's been swinging a hot bat, and lefty-righty matchup," Cain said. "I felt like I needed to find ways to get guys in scoring position."
In retrospect, it was a move that best explained a Royals team that sometimes goes against the grain. Most teams with the firepower to reach the World Series feature a hulking, power-hitting No. 3 hitter; the type of slugger who seldom drops down sacrifice bunts, particularly in the first inning.
And even at peak unconventionality, it worked.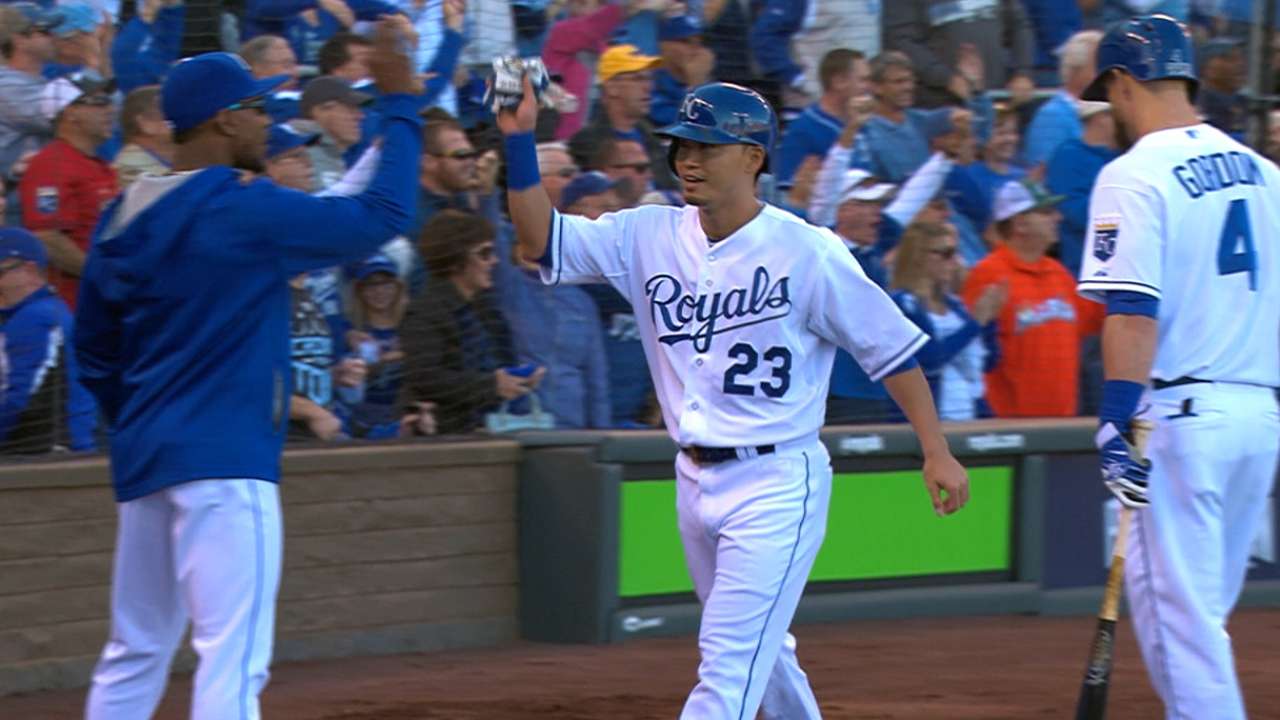 • Video: Royals take an early lead
With runners at second and third, Hosmer smashed a grounder to Steve Pearce. The O's first baseman fielded and fired to home, looking to cut down Escobar at the plate. Pearce's throw arrived ahead of a sliding Escobar, but when catcher Caleb Joseph administered the tag, the ball was missing.
With Escobar's slide deflecting the ball to the backstop, Aoki alertly scampered home from third base to put Kansas City ahead, 2-0.
"Who thought two runs would win the ballgame? So that was huge," Cain said.
It is unknown whether the Royals will be able to claim games like this against the National League representative starting in the Fall Classic on Tuesday.
But the combination of great starting pitching, better relief pitching, and just enough offense worked well enough for Kansas City to claim the AL pennant.
"Hopefully, everyone realizes what kind of baseball we play," said starting pitcher James Shields. "We've got a lot of athletes on this team and I think the last two series proved that."
Jackson Alexander is an associate reporter for MLB.com. This story was not subject to the approval of Major League Baseball or its clubs.