Labor of glove: Royals rack up defensive gems
Gordon adds to KC's highlight reel with wall-crashing grab in ALCS clincher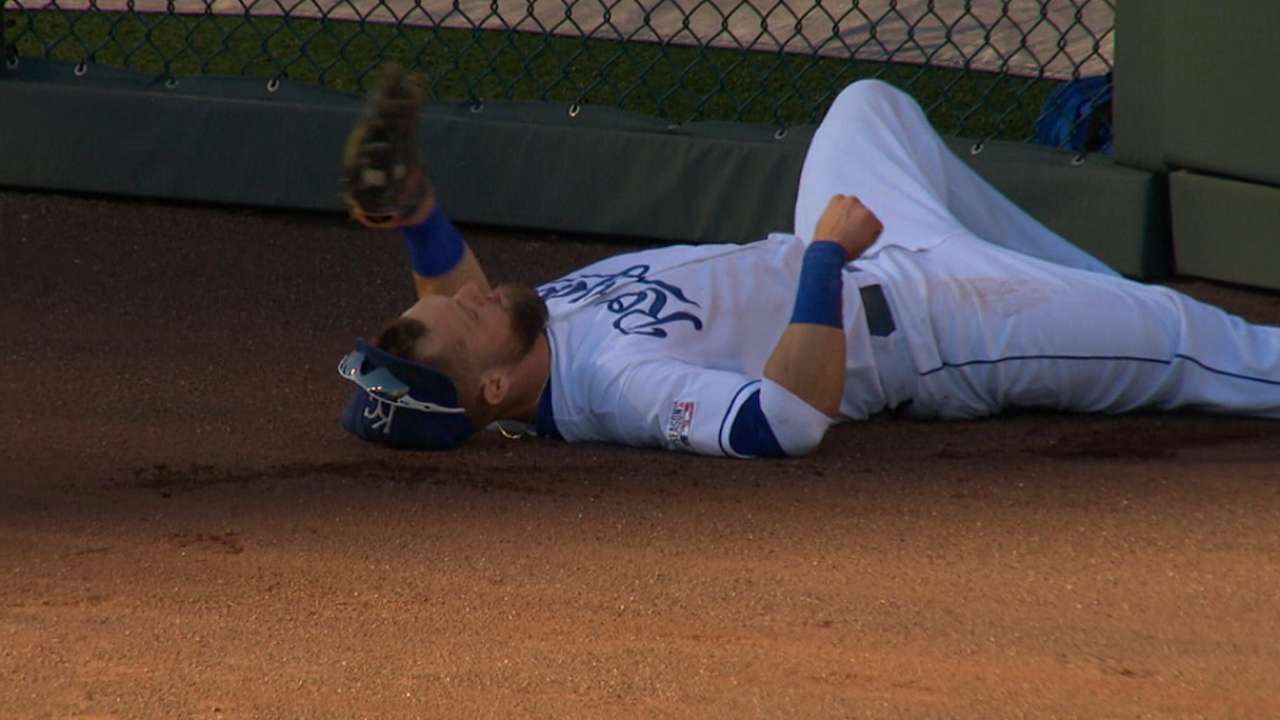 KANSAS CITY -- The 2014 Royals are making defense cool again. They don't just excel at it; they embrace it, revel in it, salivate at the opportunity to take away hits and tell anyone who cares to listen that they're unmatched in that department. They proved it, once again, throughout their American League Championship Series sweep of the Orioles.
Alex Gordon's play in Wednesday's 2-1 clincher, a leaping catch just before crashing into the left-field wall, was only the latest example.
"Just trying to join the crew," Gordon said, smiling on the field in front of a sold-out Kauffman Stadium crowd that stayed to cheer on the AL champs. "They've been doing it the whole series, so I wanted to try to join in on the party."
With none out in the fifth and Kansas City clinging to a 2-1 lead, Gordon raced to deep left field, leaped near the warning track, banged his left side against the chain-linked fence, lay flat on his back and flashed his glove high in the air, with J.J. Hardy's potential extra-base hit tucked neatly inside.
"Amazing catch," ALCS Most Valuable Player Lorenzo Cain said, as he has so many times this month. "Defense, coming through once again."
Gordon -- considered a lock to win his fourth straight Gold Glove Award this season -- stayed on his back for a few seconds, but he wasn't hurt.
"I actually felt pretty good," said Gordon, who earlier made a couple of nice running catches near the left-field line. "We're going to make the plays, no matter what. You can rest in the offseason. That's what it's for. You do whatever you can to make the catch."
Jarrod Dyson made headlines with his brash comments throughout this series, but one of his categorical statements -- "I think we're No. 1 on defense" -- can't really be argued. The Royals were rated as the best defensive team in baseball during the regular season, and their players turned in a signature defensive play -- or two -- in each of their last seven playoff games.
In Game 4 of the ALCS, it was Gordon's wall-crashing play.
In Game 3, it was Mike Moustakas diving full extension to his left to snare a liner from Steve Pearce and then tumbling into the dugout suites to catch a foul popup from Adam Jones.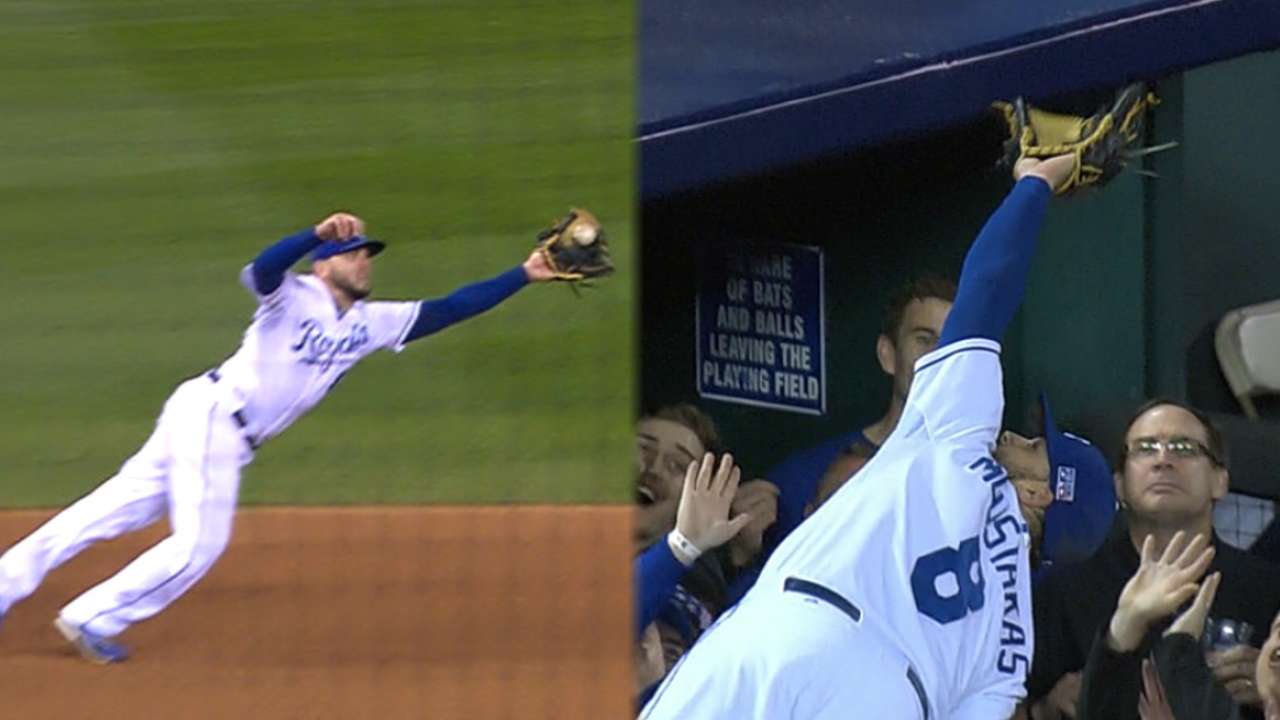 In Game 2, it was Cain robbing Hardy twice from two positions, first with a diving catch in the right-center-field gap and then with a running catch near the right-field line.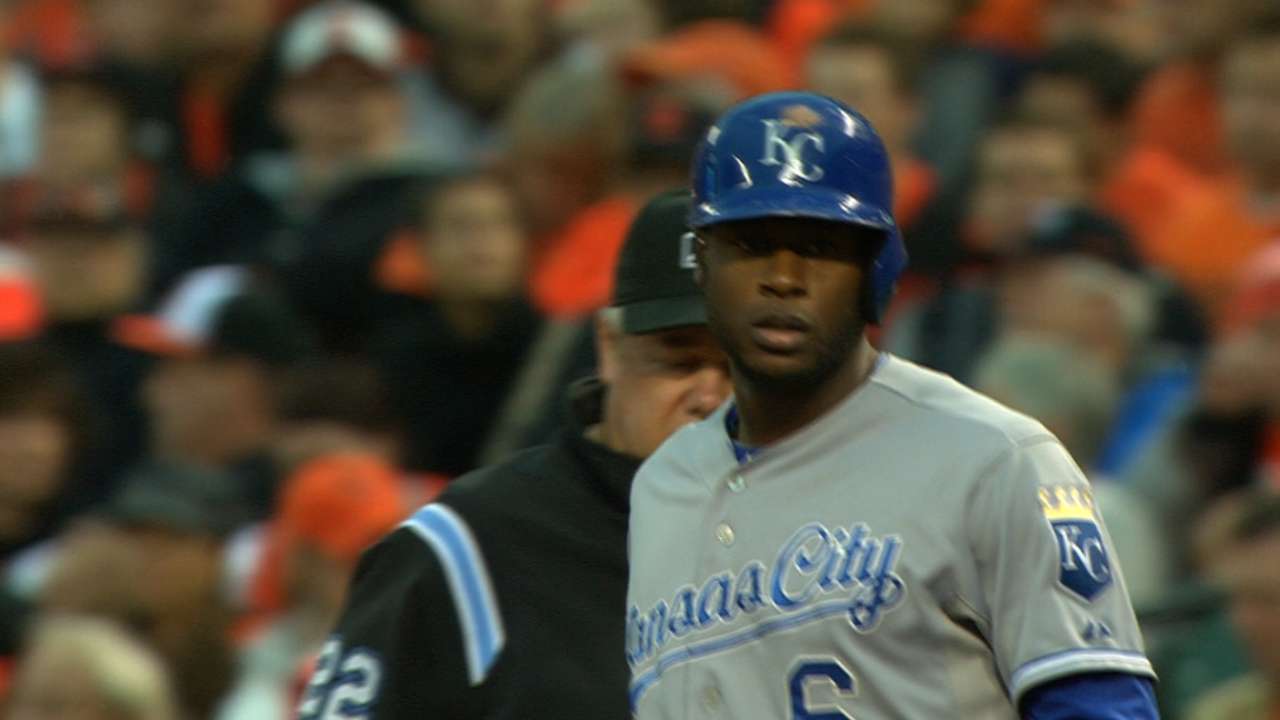 In Game 1, it was Gordon again, this time sprawling in the left-center-field gap to take a double away from Pearce.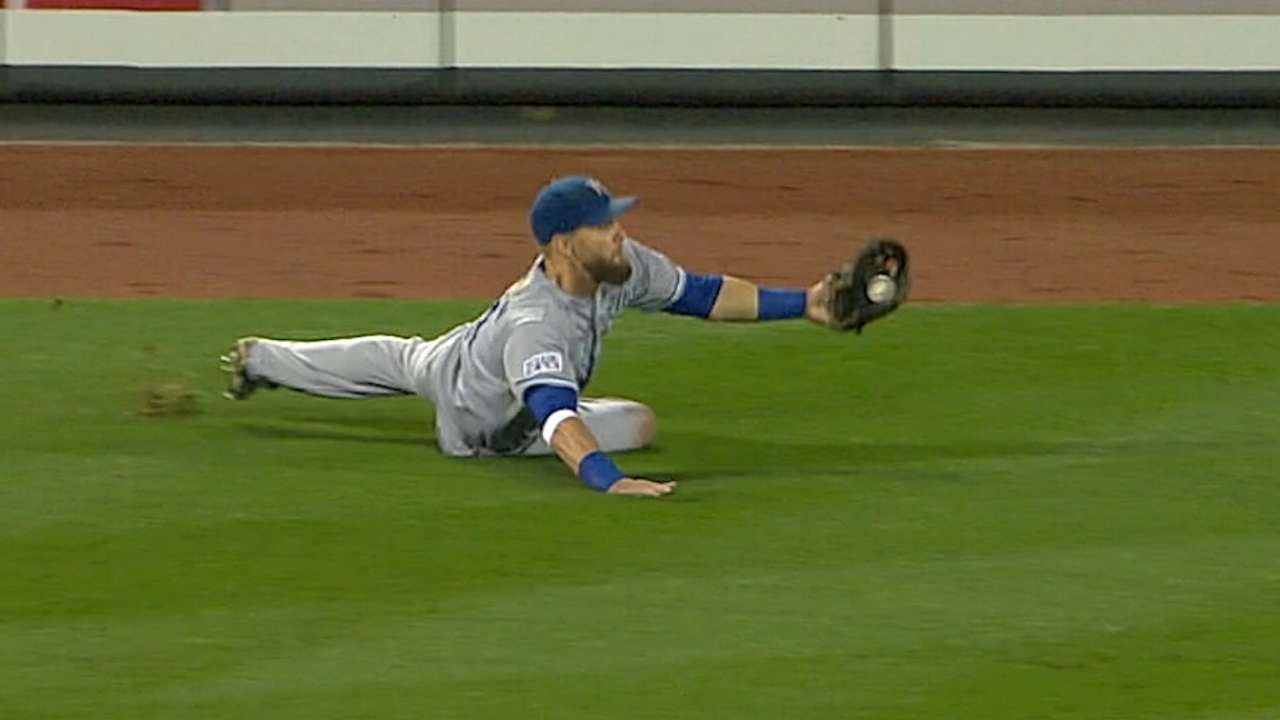 "They didn't do anything wrong," Orioles designated hitter Nelson Cruz said. "They didn't miss any plays."
In Game 3 of the AL Division Series against the Angels, it was Cain making two rally-killing catches with two runners on in the fifth inning, diving in shallow left-center on Albert Pujols' blooper and sliding in shallow center on Howie Kendrick's sinking liner.
In Game 2 of the ALDS, it was Dyson gunning down pinch-runner Collin Cowgill trying to tag up and go to third base, preserving a 1-1 tie in the eighth inning.
And who can forget Nori Aoki, who made the trademark play in ALDS Game 1 by leaping beneath Cain in right-center field, taking his eye off the ball, stabbing his glove against the right-field fence and taking away a potential two-run triple off Kendrick's bat.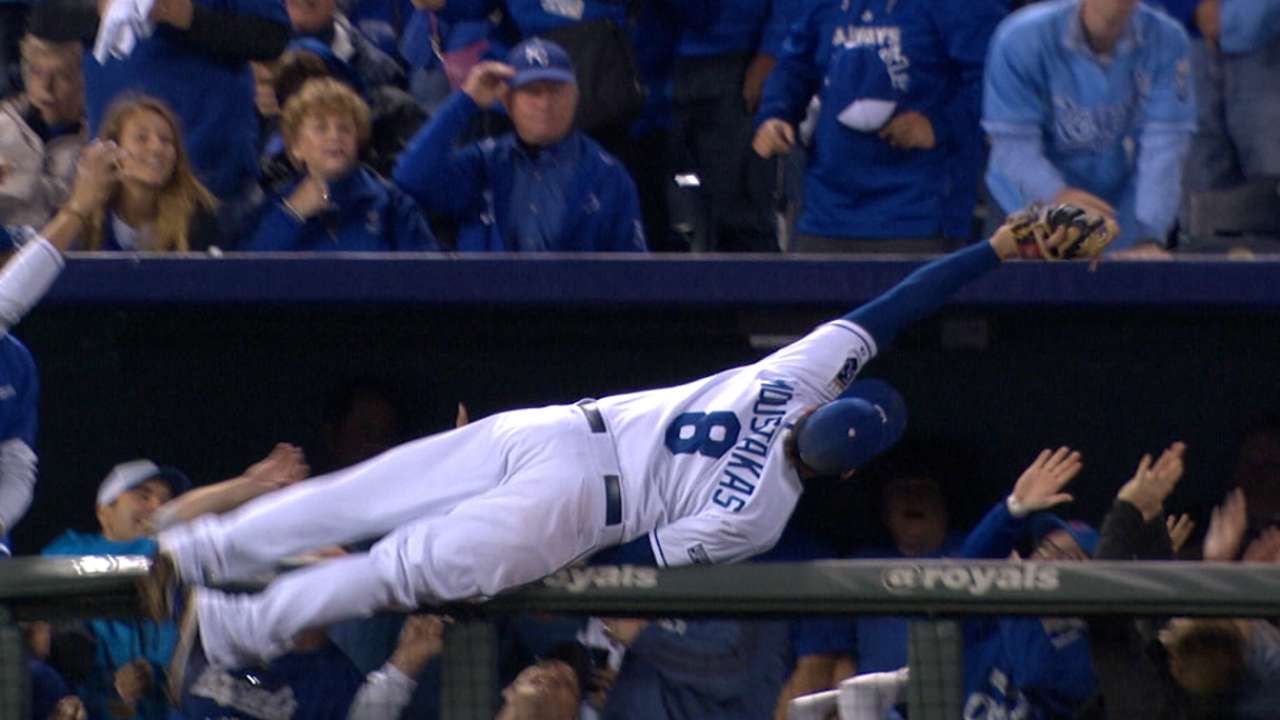 "It's someone new making the play every day," Gordon said. "It's pretty cool to be a part of eight guys out there that are very talented and very good at defense and good at what they do."
"You just feel like you're never going to get a break, because our defensive guys are absolutely everywhere," Royals manager Ned Yost said. "It is a bit deflating."
But it isn't just about the catches that show up on highlight reels; it's about so many others that typically go unnoticed.
Like first baseman Eric Hosmer diving to the bag to record unassisted outs, like he did twice in the ALCS. Or shortstop Alcides Escobar stretching out to catch an errant throw from closer Greg Holland, helping him record a ninth-inning save in the pennant clincher. Or second baseman Omar Infante snaring a hot line drive off Cruz's bat, with runners on the corners and two outs in a one-run game in the sixth. Or Moustakas making a nifty backhand play with one on and two outs in a one-run game in the seventh.
There's no official stat for this, but Royals pitchers probably lead the Majors in tipping their caps.
"This is the best defensive team I've ever seen, in my career," Royals ace James Shields said. "I mean, you look at some of the plays that we've made -- there's not a lot of human beings out there that are making those plays. And it's not just one guy. It's a lot of guys. Our defense is the best in the game, as far as my opinion goes, and I think we've proven that."
Alden Gonzalez is a reporter for MLB.com. Read his blog, Gonzo and "The Show", and follow him on Twitter @Alden_Gonzalez. This story was not subject to the approval of Major League Baseball or its clubs.