On crutches, Bonds a surprise guest for Game 4
Fresh off hip surgery, SF legend slowly gets on field for first pitch, discusses being a fan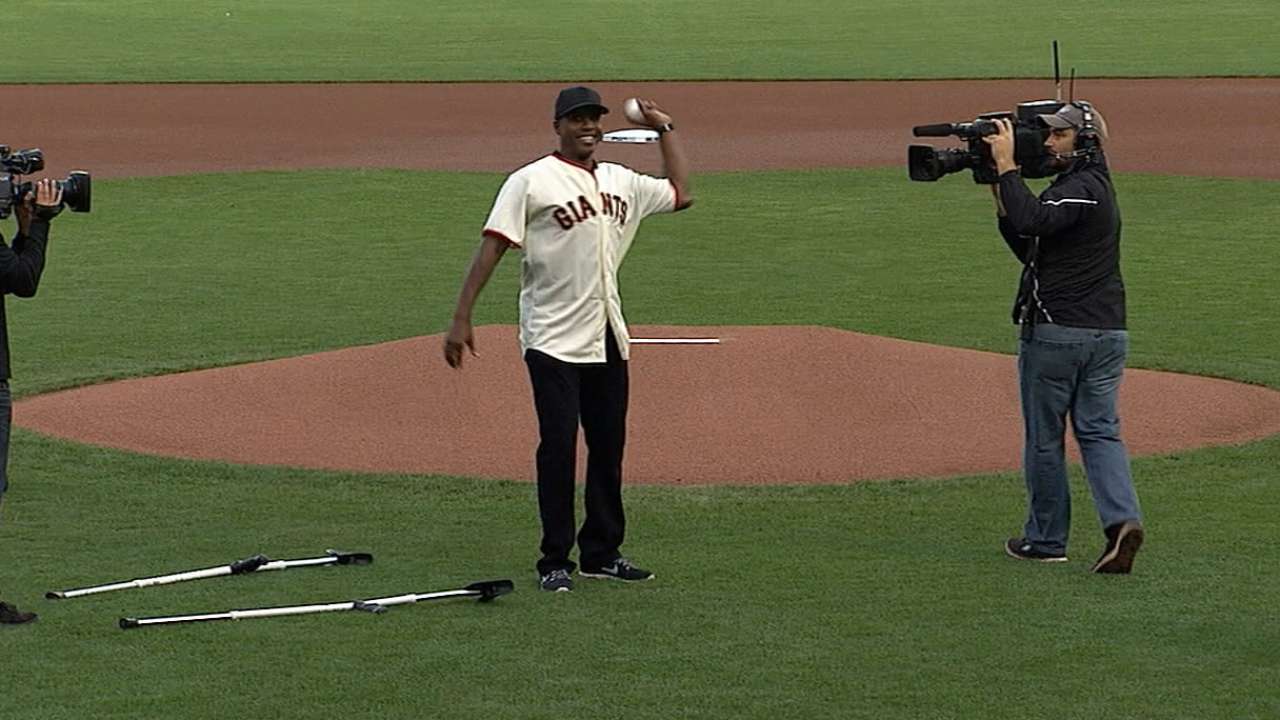 SAN FRANCISCO -- Recent hip surgery wasn't going to keep Barry Bonds from coming to AT&T Park on Wednesday, where he threw out the first pitch before Game 4 of the National League Championship Series.
Bonds entered the ballpark by golf cart from the left-field line, and he needed his crutches to get to the area in front of the mound. There, Bonds dropped the crutches and fired off his pitch to the delight of the sold-out crowd.
"San Francisco, city of love," Bonds said smiling. "I love it. It's awesome."
Bonds has thrown out the first pitch before at AT&T Park, but for the first time on Wednesday -- and this is probably because he feels far enough removed from his last season as a player (2007) -- he felt more like a fan.
Not just any fan, a Giants fan.
"Now that I'm a fan and not a player, I know what it's like to be a fan of the Giants," Bonds said. "As a fan ... I'm enjoying every second of it."
Bonds, 50, was at AT&T Park before Game 3 on Tuesday with the aid of crutches, a necessity following Oct. 8 surgery on his left hip that included the removal of a large bone fragment.
Bonds returned Wednesday, though the Giants kept him a surprise until he entered through the opening in the left-field fence from the players' parking lot. He left as he came, to the cheers of the sold-out crowd.
Bonds has long been a hit here. He hit 586 of his 762 home runs over 15 seasons with the Giants, a career that culminated in '07. Bonds spent a week with the Giants in Spring Training as a guest instructor, working with several of the team's hitters.
"I want them to win," Bonds said. "They always come through in October."
The national anthem was performed by Ray Green, the lead singer for the R&B band Tower of Power. Vocalist Tony Lindsey of Santana was scheduled to sing "God Bless America."
Corey Brock is a reporter for MLB.com. Keep track of @FollowThePadres on Twitter. This story was not subject to the approval of Major League Baseball or its clubs.