Giants turn to Bumgarner with NL pennant within reach
Lefty brings dominant postseason run to Game 5 start vs. Cardinals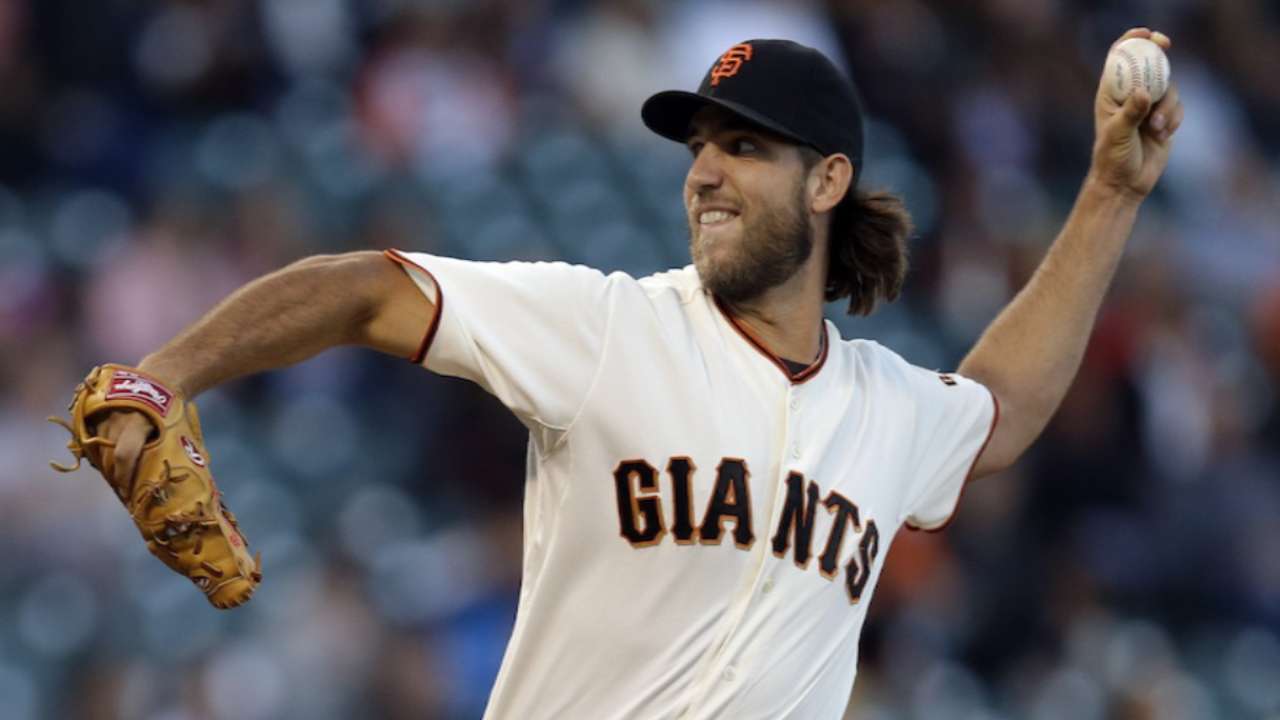 SAN FRANCISCO -- Here's the scary thing about Madison Bumgarner, who at age 25 has already established himself as one of the best postseason starting pitchers in history: He's still getting better.
"I feel like I'm still developing," said Bumgarner, who will start National League Championship Series Game 5 tonight (5 PT, FOX Sports 1), looking to send the Giants, up 3-1 in the series, to their third NL pennant in the past five seasons. "I don't feel like I've hit a plateau. I feel like there are a lot of places to improve and be more consistent."
On paper, that seems ludicrous. Bumgarner's 2.58 career postseason ERA ranks 12th all-time among pitchers with at least nine starts, ahead of Hall of Famers Jim Palmer, Whitey Ford and others. Dating back to the 2012 World Series, the left-hander's playoff ERA stands at 0.59, with 31 strikeouts and just five walks. Opposing batters are hitting .152 off him over that stretch. In three starts this month, Bumgarner has given up a total of one hit on an offspeed pitch. One.
Bumgarner has been, as one reporter noted prior to his Game 5 start, the game's best postseason pitcher in 2014.
"That's an awfully big compliment, but no, I don't think about any of that," Bumgarner said. "I'm just here with the guys trying to win games."
Thursday, with the Giants one win shy of yet another World Series, Bumgarner will be trying to win one of the biggest games of his career. To do so, he will rely on the same fastball-cutter-breaking ball combination that resulted in a four-hit shutout in the NL Wild Card Game in Pittsburgh, seven innings of three-run ball in the NL Division Series against the Nationals, and 7 2/3 scoreless innings last time out in St. Louis in NLCS Game 1.
After giving up a leadoff single to Matt Carpenter on that night, Bumgarner retired five in a row and 10 of his next 11, cruising into the eighth inning without issue. He easily outdueled Cardinals starter Adam Wainwright, who will look to right his own postseason struggles -- eight earned runs over his first nine innings -- in a Game 5 rematch with Bumgarner at AT&T Park.
"Nobody else we'd rather have on the mound," Cardinals manager Mike Matheny said. "We can control [tonight], and Adam Wainwright is going to set the tone for us. Everybody's got to follow suit and jump in, and figure out a way to make it happen."
That has always been a specialty of Bumgarner, who does not operate like a power pitcher, sitting in the low-90s with a four-seam fastball that he throws only about a quarter of the time. The left-hander is an expert at commanding his offerings to all quadrants of the strike zone, forcing hitters to chase his best pitches.
"I think without question, he's better [than he used to be]," Giants manager Bruce Bochy said. "In this game, you never arrive. You never stop trying to improve as a player, and that's who he is. You look at his pitches, he has a better changeup, a better breaking ball. I think he's commanding his fastball better. I think he's smarter out there.
"I mean, he was really good when he came up. He did a great job for us. But if you ask me now, sure, I think he's improved overall as a pitcher, the way he holds runners, swings the bat. He had a good year offensively. All these things make you a better player."
It may be cliche, but Bumgarner has also proven his mettle as a competitor. During NLDS Game 4, a day after throwing 92 pitches, Bumgarner twice told Bochy he was prepared to face a left-handed batter in relief if the Giants found themselves in a tough spot. They did not, and Bumgarner remained idle, waiting for his chance to make an impact.
Said Bochy, with a smile: "It's always good to have your ace waiting in the wings."
Anthony DiComo is a reporter for MLB.com. Follow him on Twitter @AnthonyDicomo. This story was not subject to the approval of Major League Baseball or its clubs.