Oct. 15: Lorenzo Cain postgame interview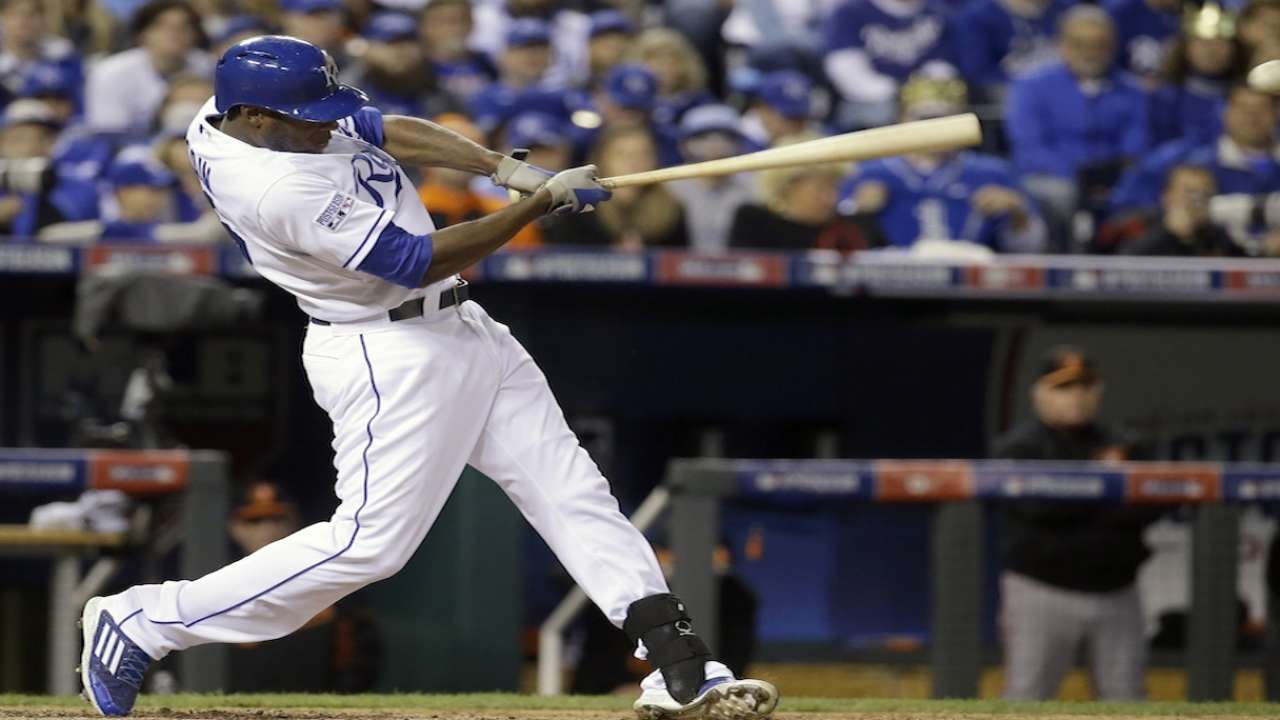 Q. You might have the most unusual background of any postseason MVP ever. Just what it means, given how short ago it was you started playing the game.
LORENZO CAIN: Yeah, definitely, definitely started playing a lot later than a lot of guys on our team or anybody.
But I was determined to be a great ballplayer. And a lot of hard work, a lot of great coaches and family also to push me to be the player that I'm becoming. It's been a lot of fun. The hard work has definitely paid off.
Q. I know you had a great series, a very worthy MVP. It seemed like there were a lot of different guys that were candidates for that award in this series. Can you speak about how well guys played in this series?
LORENZO CAIN: A lot of guys stepped up. Our entire bullpen, lights out the entire postseason. Moose, Hos, Billy, a lot guys stepped up. Any of those guys or even the entire bullpen is definitely deserving. Luckily I got it.
And like I say, I'm just trying to do whatever it takes, get on base. Whatever it takes to find a way to help this team win ballgames. I'm just going to try to continue to do that throughout the World Series, as well.
Q. It seems like patience is kind of a by word about the Royals, watching players grow. And it seems like Ned Yost has been patient with a lot of the players, too. What is it like having him there with you when you win it?
LORENZO CAIN: It's huge. Like I say, he's definitely stuck by us when some people might not have ‑‑ given up on us. But like I say, he's allowed us to be ourselves and go out and play the game and have fun.
We definitely had our ups and downs throughout the season. But he didn't give up on us, stuck with us guys. It paid off in the end.
At the end of the day, we're going to the World Series and it's a great feeling.
Q. These games were all pretty tight. They could have gone either way. What do you think are the biggest reasons you guys are moving on?
LORENZO CAIN: Guys stepping up with clutch hits. Definitely one of our strengths is defense and pitching. That's the thing that kept us in ballgames and allowed us to keep games close throughout the entire postseason. Guys stepped up. Moose, Hos, big homers as of late and guys playing solid defense, like we have been all year long.
Q. You're playing at the most difficult time of the year against the best competition. You've won eight in a row. How does that happen? This doesn't work that way this October, usually.
LORENZO CAIN: I would agree. It's hard for me to explain. To play Oakland and then the Angels and Baltimore, three really, really good teams. I mean, guys ‑‑ teams that can really swing the bat. For us to go in and compete right along with those guys, score runs and the last two games for our bullpen to come in and just shut guys down. Guys just stepped up.
And like I say, we're just clicking at the right moment now.