Orioles give their best in being bested by Royals
Baltimore battles tooth and nail, but comes up short in four-game ALCS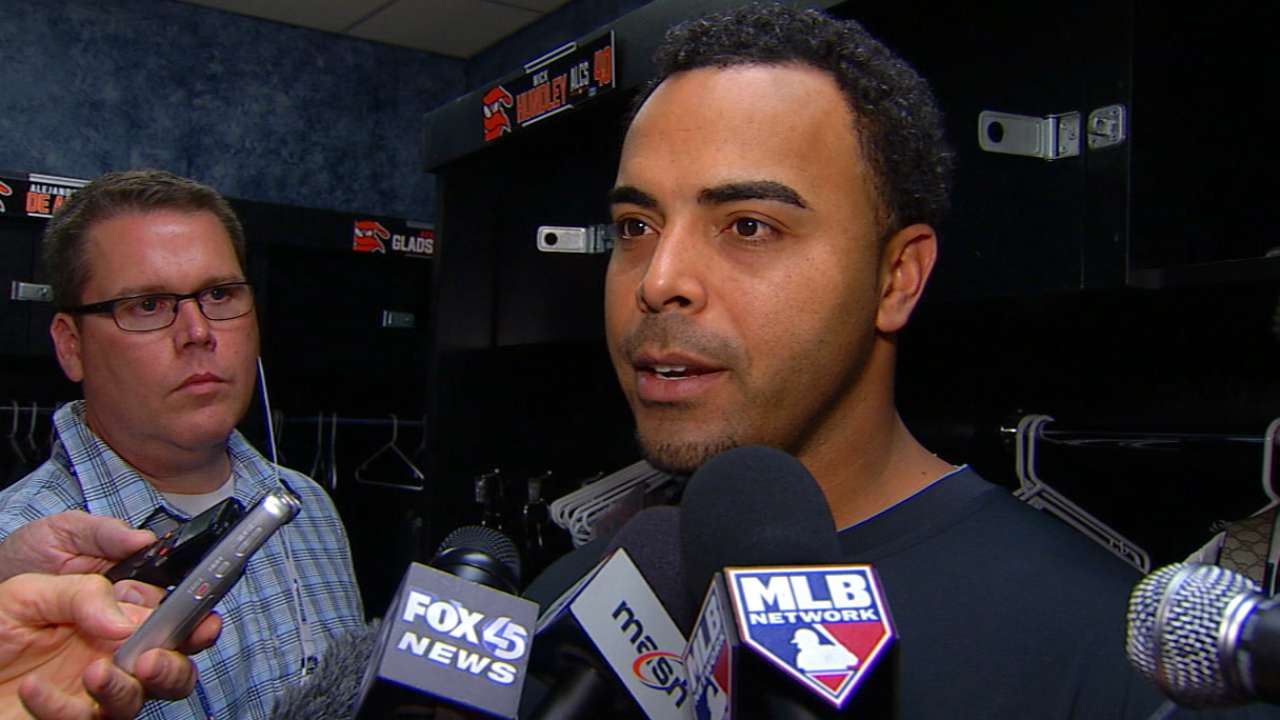 KANSAS CITY -- A sweep in a postseason series typically means that one team dominated another. Then there was the 2014 American League Championship Series, in which all four games hung in the balance until the final pitch.
It is no exaggeration to say that Baltimore came "O" so close to winning all four games, only to lose them all to the World Series-bound Royals.
The Orioles were hardly outclassed. They went toe to toe with the Royals in all four games, only to come up short to a team that is the first ever to start a postseason with eight straight wins.
"It's not like something we didn't do; it was more of what they did," Orioles manager Buck Showalter said. "And it wasn't like somebody wanted it more than somebody else. It's just you saw how close the games were. And it's more a testament of what they did. And they were playing great defensively."
Here were the final scores: Game 1, Royals 8, Orioles 6 (10 innings); Game 2, Royals 6, Orioles 4 (tied going into the ninth); Game 3, Royals 2, Orioles 1; Game 4, Royals 2, Orioles 1.
"They played good baseball," Orioles center fielder Adam Jones said. "You can't surgarcoat what they did. They played really, really good baseball and they deserved to go to the World Series. I'm not saying we don't. We just didn't win. This team that we have is unbelievable. It's been an unbelievable year."
If only the Orioles could have gotten the elusive big hit in one or two of the games, a classic LCS could have emerged.
Instead, it turned into a frustrating one for a Baltimore team that won 96 games to win the AL East by 12 games, and then swept a perennial contending Tigers squad in the Division Series.
The breaks of the game usually even out over a long season. But not always over a short series in the postseason, as the Orioles found out all too cruelly.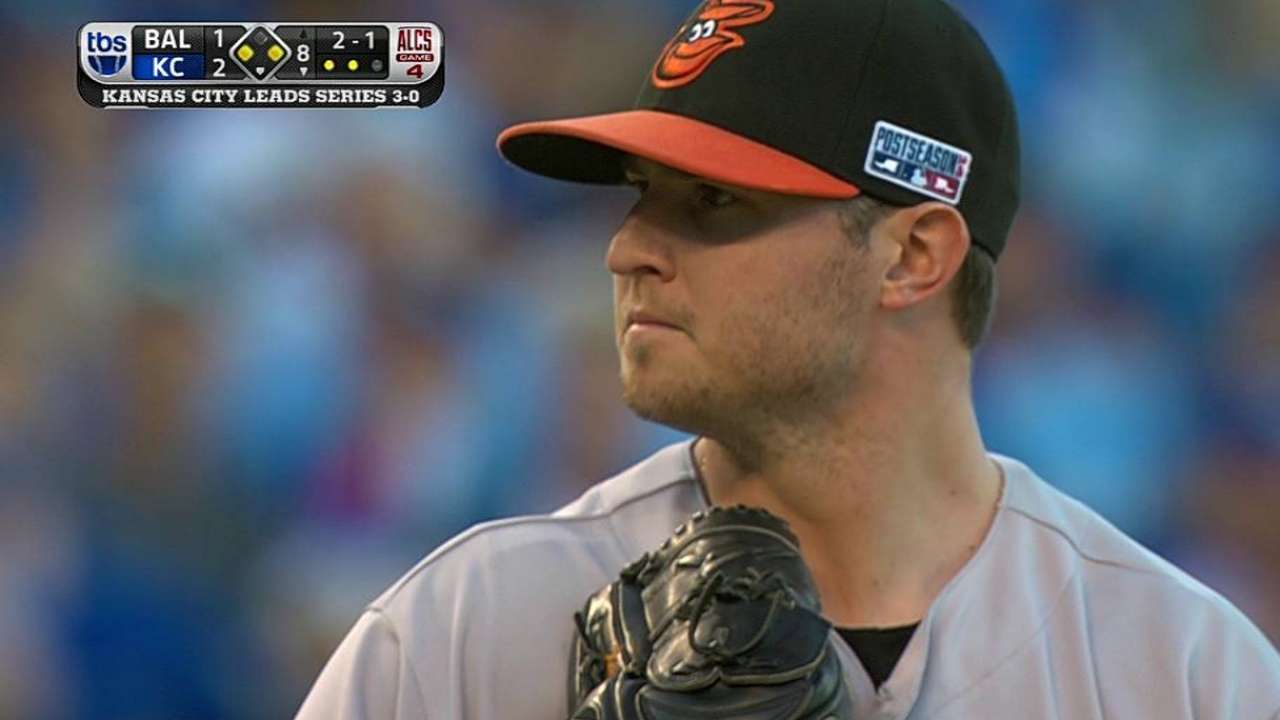 "Maybe we get a broken bat here or we make a pitch and one of those balls, instead of landing in no man's land, it's hit a little bit harder at somebody. That's the reality," O's lefty reliever Andrew Miller said. "That's baseball. They won four games. A seven-game series is supposed to even out that kind of thing. I feel like we played our tails off, but they beat us four games. That's the way it goes."
That doesn't make it any less agonizing.
"It could have been totally different," Orioles shortstop J.J. Hardy said. "They played good. Like I said earlier, We didn't play bad. They played better. The games were close."
The last one held true to form, as the Royals scored two runs on one infield grounder, when Steve Pearce's throw home couldn't be handled by catcher Caleb Joseph.
Back came the Orioles on a solo shot by Ryan Flaherty.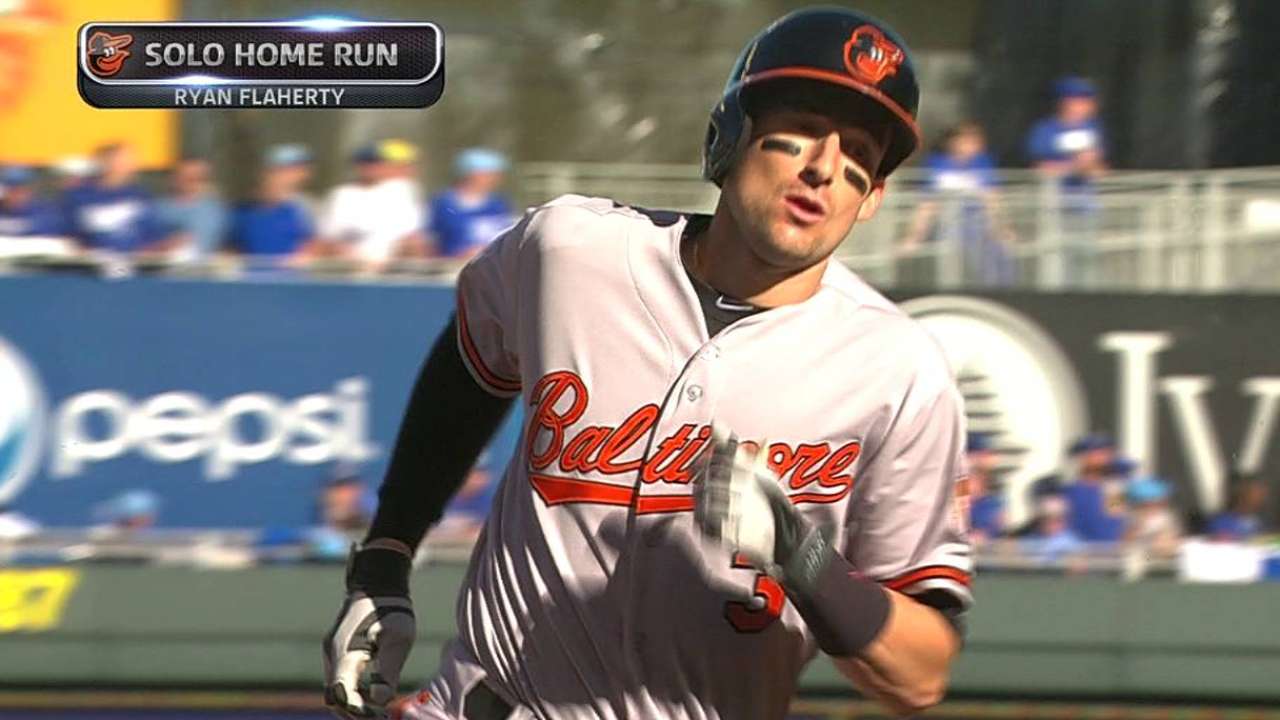 • Video: Flaherty's solo homer
Baltimore seemed on the cusp of a comeback numerous times, but never more than when it put two on with two out in the sixth with the ever-dangerous Nelson Cruz at the plate.
Facing Kelvin Herrera, Cruz hit a bullet that would have been a game-tying single if it had gone two to three feet to the left or right. Instead, it was right in a spot where second baseman Omar Infante could snare it on one knee.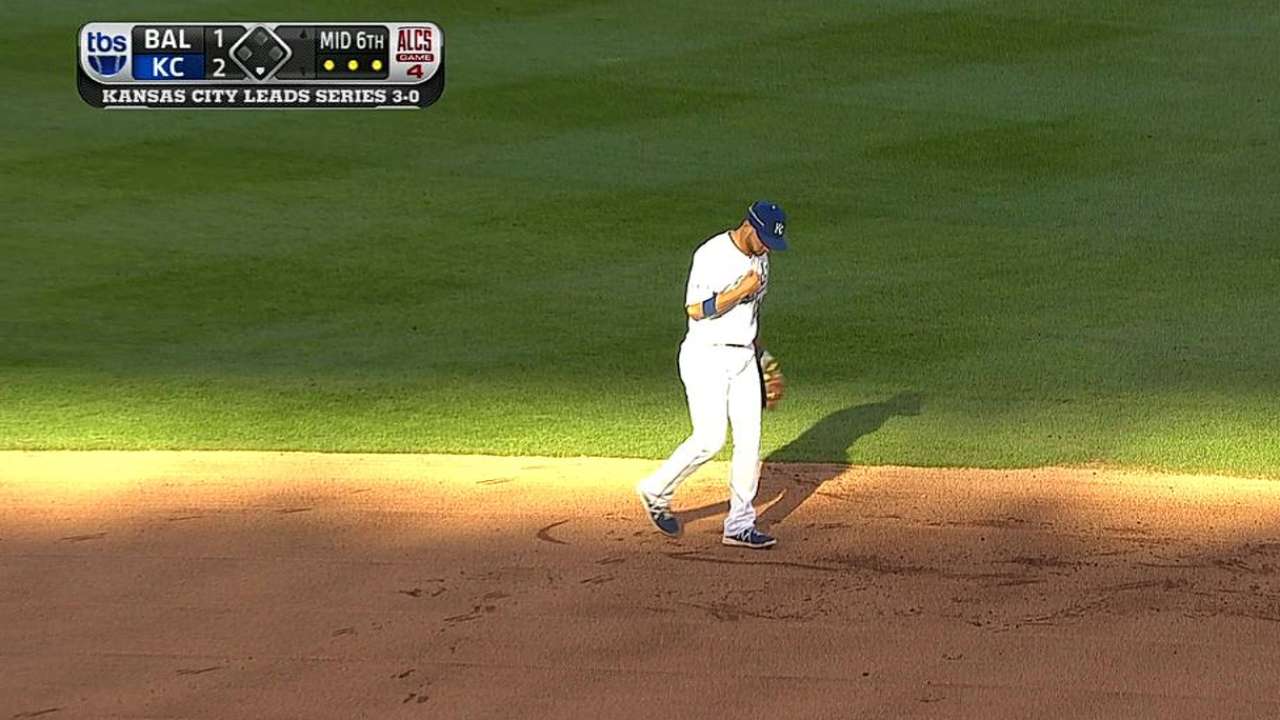 "I hit it pretty good," Cruz said. "It was right at Infante. That's baseball. Sometimes it goes your way; sometimes it doesn't."
At the moment, everything is going the Royals' way, and now the Orioles will have to watch the World Series on television.
"Every game was close," Cruz said. "They don't do anything wrong. They don't miss any plays. Everything they did was right."
Forgive the Orioles if they will see web gems in their sleep over the first few nights of the offseason. Alex Gordon made the spectacular play in Game 4, lunging at the wall to rob Hardy at the start of the fifth inning.
"All the games were close and all the games were good," Jones said. "That's the beauty of baseball. Just, we fell a little bit short. It wasn't from the lack of effort. The Royals played a little better baseball. It's not anything we didn't do. It's what they did do.
"They played flawless baseball. They pitched, they played defense and they had their timely hits. You tip your cap. It's the game of baseball. You have to respect the due process of the game. If you don't, you probably won't be here too long."
Ian Browne is a reporter for MLB.com. Read his blog, Brownie Points, and follow him on Twitter @IanMBrowne. This story was not subject to the approval of Major League Baseball or its clubs.