Royal Cain: Outfielder named ALCS MVP
Goes 8-for-15 at the plate and plays stellar defense in outfield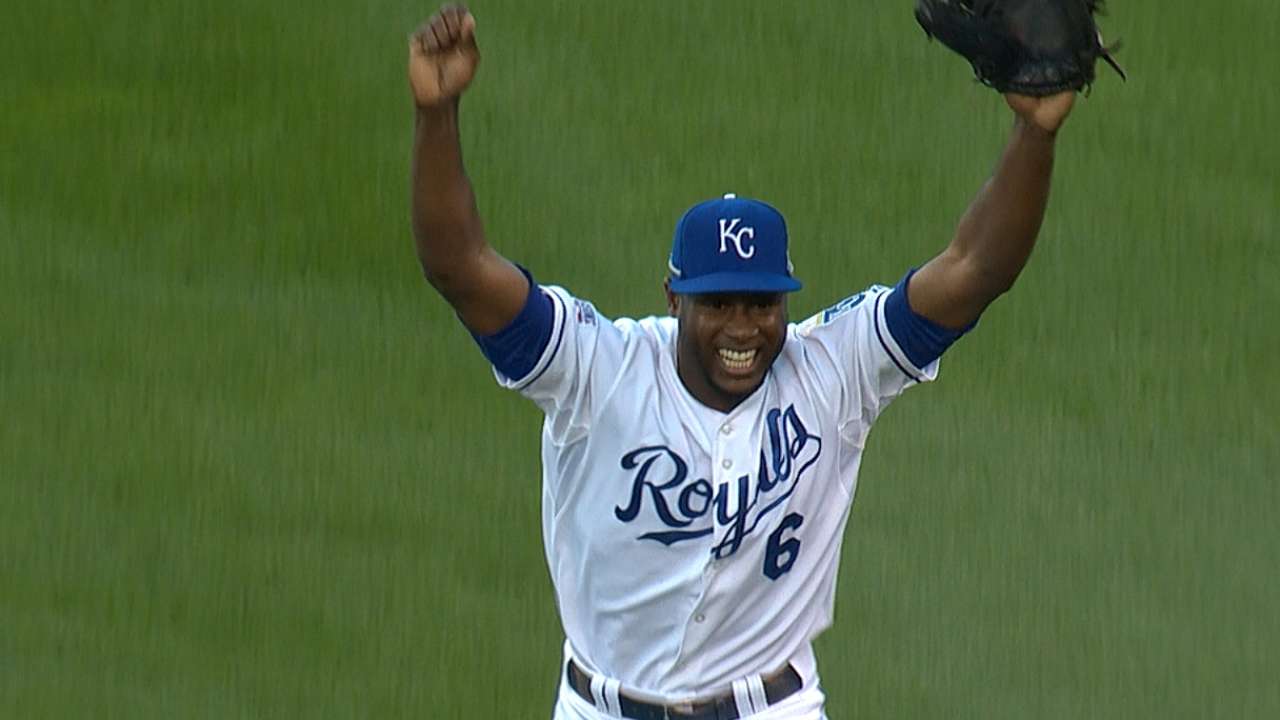 KANSAS CITY -- There were many deserving contributors who helped the Royals advance to the World Series, punching their ticket to that promised land with an American League Championship Series sweep of the Orioles, but Lorenzo Cain repeatedly stood out at the plate, on the bases and in the outfield and, as a result, is the one taking home the hardware.
Cain's sizzling bat and stellar defense helped to earn the Kansas City outfielder honors as the 2014 ALCS Most Valuable Player, an announcement that was made shortly after the Royals' 2-1 victory over Baltimore on Wednesday at Kauffman Stadium.
"I'm just trying to do whatever it takes, get on base, whatever it takes to find a way to help this team win ballgames," Cain said. "I'm just going to try to continue to do that throughout the World Series as well."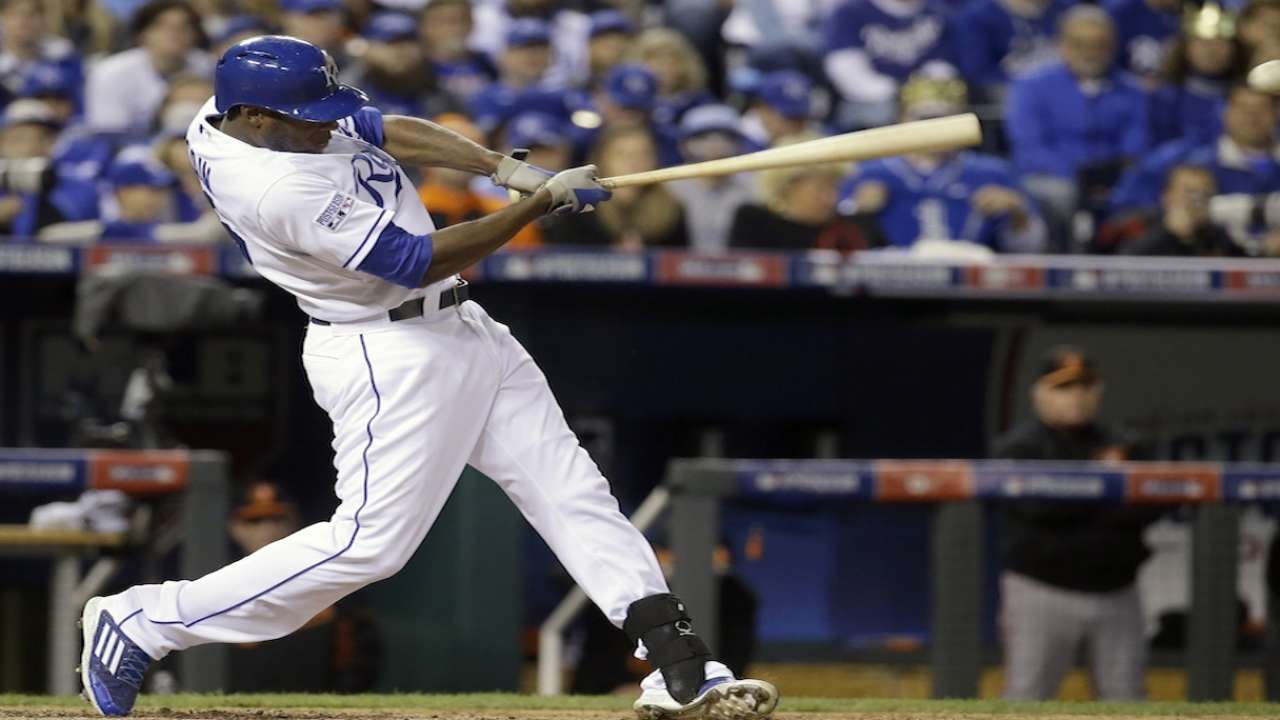 Cain said that getting the Royals through a gauntlet of 37 innings of ALCS action against Baltimore was a true team effort, crediting the bullpen while mentioning third baseman
Mike Moustakas
, first baseman
Eric Hosmer
and designated hitter
Billy Butler
by name.
"A lot of guys stepped up," Cain said. "Any of those guys, or even the entire bullpen, is definitely deserving. Luckily, I got it."
Cain batted .533 (8-for-15) with two doubles, two walks and a stolen base in the series, patrolling center field and right field with aplomb.
"I don't think this is a surprise to anybody," said Jackie Autry, who presented Cain with the award. "His defense, his timely hitting, everything and everybody I think in this stadium knew that this man deserved the Lee MacPhail championship award for the MVP."
A late bloomer of sorts, the 28-year-old Cain represents an inspirational reminder for fans of all ages, proving that it is never too late for a new beginning.
Cut by the basketball team as a freshman at Madison County (Fla.) High, Cain started with only the most rudimentary skills -- he did not even know how to properly hold a bat -- and yet still was able to make it to the game's biggest stage.
"I definitely started playing a lot later than a lot of guys on our team or anybody," Cain said. "But I was determined to be a great ballplayer. A lot of hard work, a lot of great coaches and family pushed me to be the player that I'm becoming. It's been a lot of fun. The hard work has definitely paid off."
Manager Ned Yost said that the ALCS stage has allowed the country to see what the Royals already had experienced on a nightly basis with players like Cain, who matched Willie Wilson's 1985 franchise record with eight ALCS hits.
"This is a wonderful time for America to watch our team, and I think what they've done is they've fallen in love with our team," Yost said. "They love our athleticism. They love our energy."
Cain was among a handful of Royals who flashed eye-popping leather throughout the series, contributing two key catches in Game 2.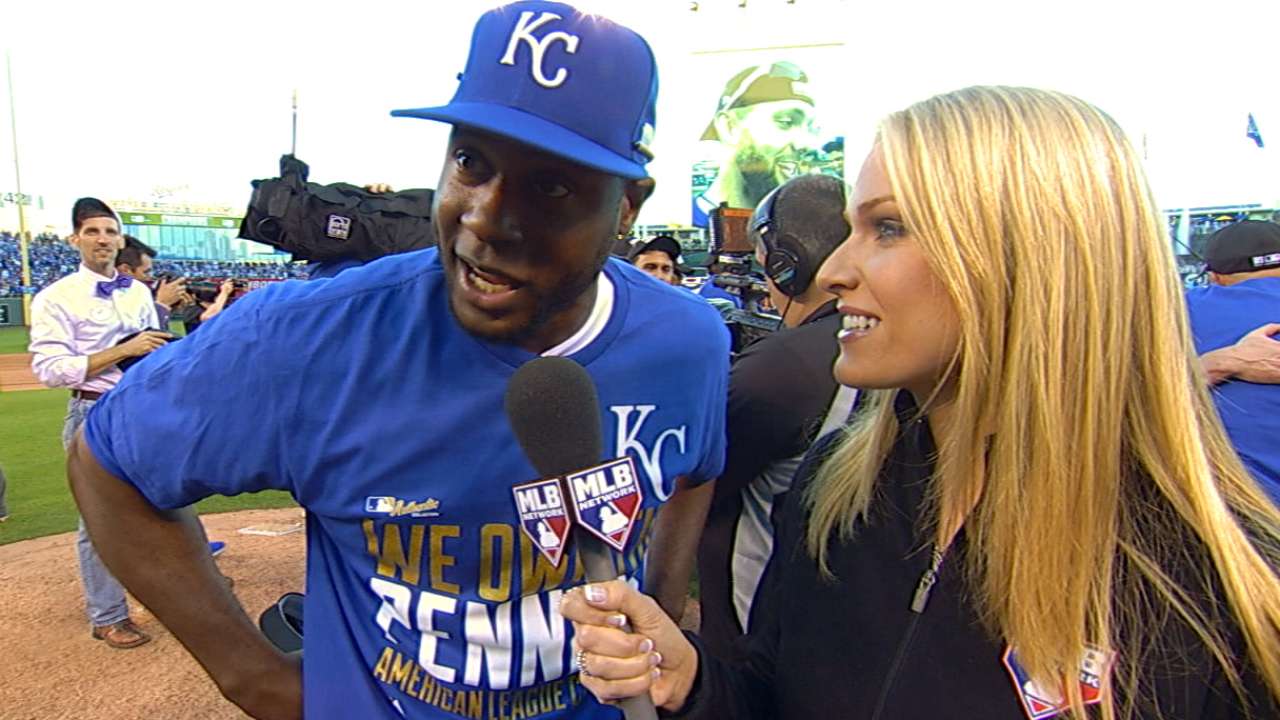 "You really get spoiled with the outfield out there," Hosmer said. "Every ball that's up in the air, you think it's just going to get caught. ... The way he's playing defense and the way he's playing offense, he's stepping up big time."
Cain equaled a Royals record with four hits in Game 2, becoming the first player with four or more hits, two or more runs scored and a stolen base in the same postseason game since Tampa Bay's Carl Crawford in Game 4 of the 2008 ALCS.
He scored Kansas City's first run in Game 3, and showed his versatility by laying down the first sacrifice bunt of his career in the first inning of Game 4. That advanced the only two runs Kansas City would need to claim the pennant.
"For us to go in and compete right along with those guys, score runs and the last two games for our bullpen to come in and just shut guys down, guys just stepped up," Cain said. "We're just clicking at the right moment now."
Bryan Hoch is a reporter for MLB.com. Follow him on Twitter @bryanhoch and read his MLBlog, Bombers Beat. This story was not subject to the approval of Major League Baseball or its clubs.