Oct. 15 Buck Showalter postgame interview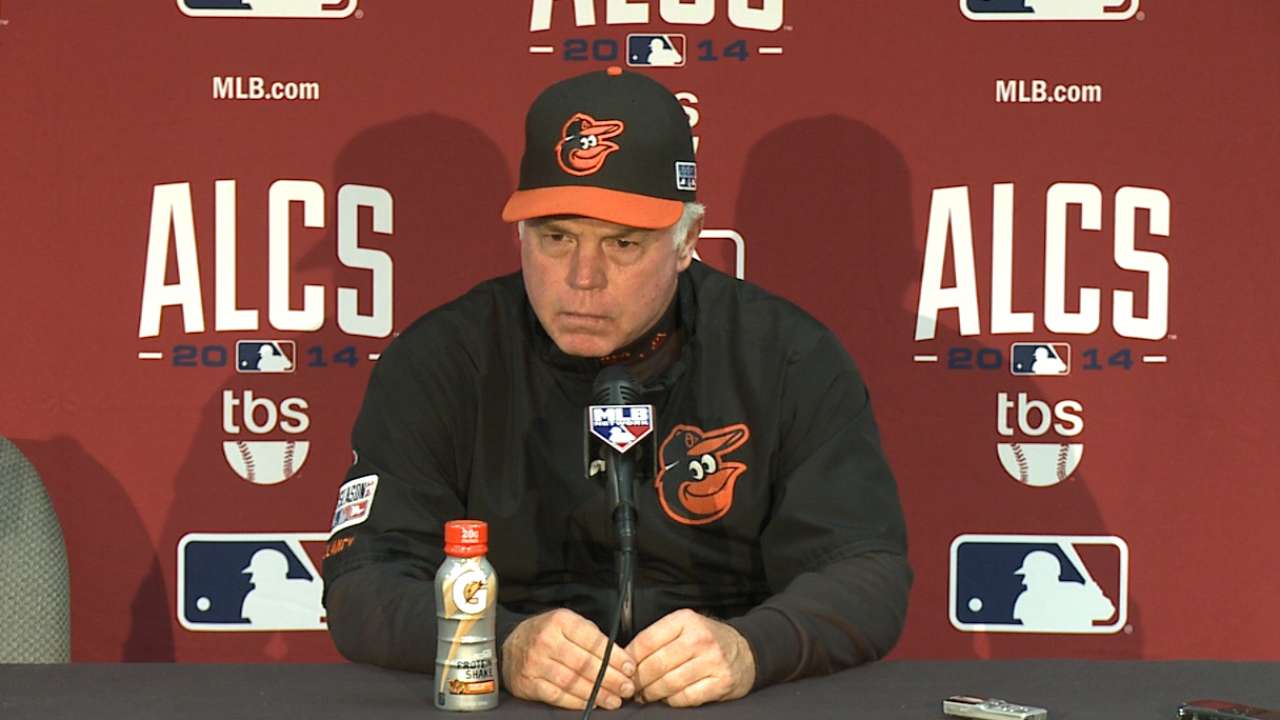 Q. How long does it take for the disappointment to kind of fade for you to be able to sit back and appreciate what you guys accomplished this year?
BUCK SHOWALTER: Probably, I don't know, I'll let you know when it fades. What do you think? I don't know. It's disappointing and frustrating ‑‑ not frustrating, but disappointing for our guys and our fans. It's not something ‑‑ it's not like something we didn't do; it was more of what they did. And it wasn't like somebody wanted it more than somebody else.
It's just ‑‑ you saw how close the games were. And it's more a testament of what they did. And they were playing great defensively. I congratulate them. Ned did a great job, and the whole organization. They get a chance to represent the American League in the World Series, and we wish them well.
But through it we got some good things done. We reminded the country what a great baseball city and city in general Baltimore is. I feel good about that. Some people kind of know our secret, so to speak. So there's a lot of positive things there.
But it's kind of shallow. There's so many things that during the year, it's just an unspoken word, a look at each other, there's a real respect for each other. And like I just told them, the game's not always fair. Someone's going to be extremely disappointed. It's our guys. When you put that much time and effort into something, then it's done, so close.
I guarantee you, we'll do everything possible to try to give them and the organization and our fans this opportunity again. I can promise you that.
Q. How tough is it to digest, like you said, the fact that all these games were close, that all of them were decided by two or fewer runs?
BUCK SHOWALTER: That's part of it. But whether it's one or a hundred, it still has the same sting. And just like Detroit felt, just like Oakland felt.
I mean, this is ‑‑ like I said, there's going to be 29 disappointed teams when this season is over. And that's what makes it ‑‑ the emotion is there, like you all saw. I didn't wait around to see it. I knew what it was going to be for them, to accomplish, a team, a city, a group of fans and an organization's hopes.
It's just a testament to what a group of young men can do when everybody is pulling on the same rope. But ‑‑ my support and my love of our guys is unconditional. They didn't have to win a World Series for me to feel differently about them.
Q. You're always good about talking about your feelings for your players, city, fans, organization. How do you feel right now? You've pursued trying to get to this point and further a whole professional life.
BUCK SHOWALTER: You know, I'm not saying this because supposedly it's the right thing to say. My emotion is for the players and the organization and the fans, because I keep thinking about something I or we could have done differently. That's what you think about.
But if you care, like our people care, it hurts. And that's why I know how much it hurts those guys. And our fans. They've been there through thick and thin for us in Baltimore. The support of the ownership has been there. Really feel bad about disappointing them, and not be able to get over the hump and roll the dice again.
You see how close the margin is. We pitched so well again today. Miggy was solid, Darren got a big out, Andrew and Zach, just the two runs they scored, they hit a ball out of the infield. Some of that was self‑inflicted. Steve made a good choice, because where Caleb has to set up nowadays, it makes it tougher to tag outs.
Q. Can anything your team went through in the series help you guys get back to this point?
BUCK SHOWALTER: You know, there's so many roads to cross to get here. And it's not always ‑‑ it's not always health. The things that we overcame on paper, we didn't look at it like that. We said, Okay, this is why we do this.
And to answer your question, it can't hurt. But it's about players and talent and it's not ‑‑ it's about players, and doing the right thing consistently over a long period of time. And holding themselves to a high standard on and off the field. There's so many things that have to happen for you to get a chance at this.
So we'll start all over again. I know Dan and I will get ready, get moving to figure out a way to get back here again.