Adjustments made, Waino looks to keep Cards alive
Confident in health of right elbow, ace expecting better results in Game 5 with club down 3-1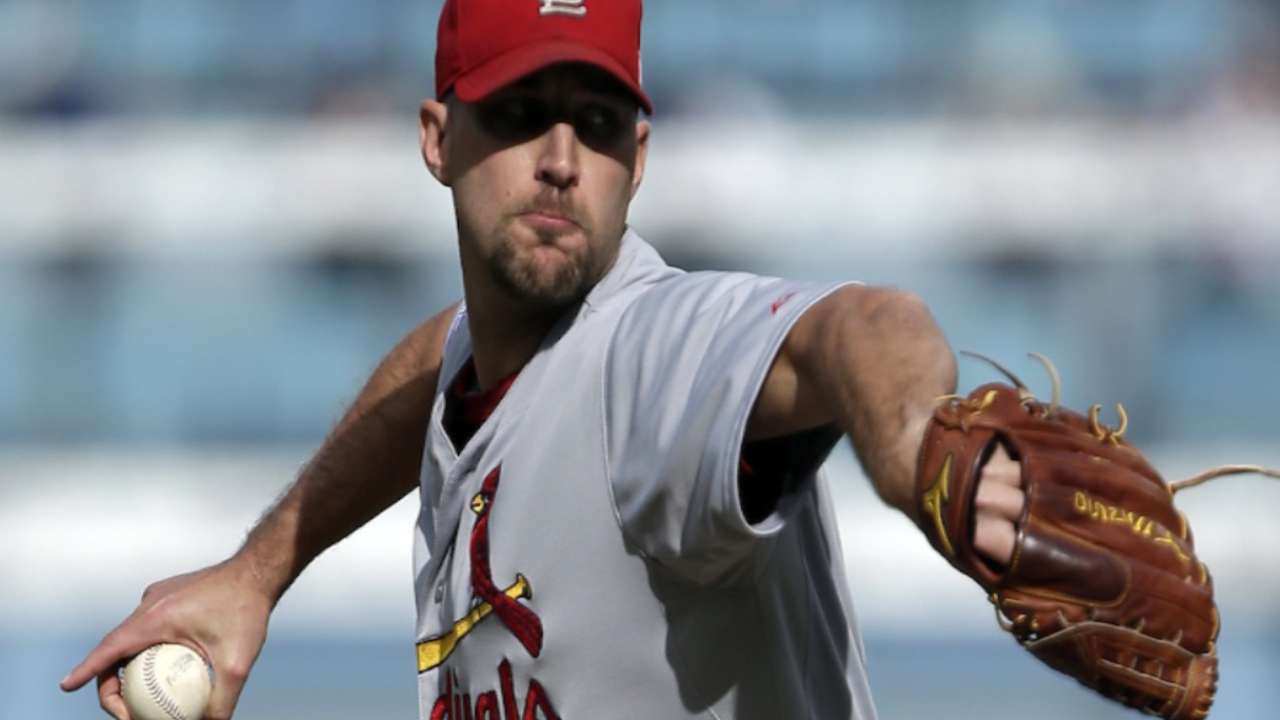 SAN FRANCISCO -- After spending the better part of a week addressing the problems that have plagued his postseason, Adam Wainwright expressed confidence he'd be back to form for Game 5 of the National League Championship Series. That would be good news for his Cardinals, who will be on the brink of elimination against the Giants tonight at AT&T Park (7 p.m. CT on FOX Sports 1).
Trailing in the best-of-seven series, 3-1, it will be up to the Cardinals' ace to extend the season.

"You know, until last year's NLCS, I was undefeated in the postseason, and I just don't want to get a bad rap for not being a good playoff pitcher," Wainwright said on the eve of his start. "That's the time I want to shine the most. That's the time that every pitcher wants to shine the most. I know I'm capable of doing that."
The Cardinals need that more than ever.
"Nobody else we'd rather have on the mound," Cardinals manager Mike Matheny said. "We don't look at it in series. We haven't done that all season. We look at it as a game. They are letting us play again tomorrow. We can control tomorrow, and Adam Wainwright is going to set the tone for us. Everybody's got to follow suit and jump in and figure out a way to make it happen."
Wainwright hopes his fortunes change following a bullpen session at AT&T Park this week. Bothered against the Dodgers in the NL Division Series by discomfort at the back of his right elbow, and against the Giants in Game 1 of the NLCS by messed-up mechanics, Wainwright worked on the AT&T Park bullpen mound Monday on adjustments related to his arm action and his stride. It was his first such session before a start since August, when a dead-arm phase demanded an altered routine.
Even without those practice sessions, Wainwright was terrific in his final four regular-season starts, but he has not carried that success into October. Twice, Wainwright has been unable to finish the fifth inning. He has needed 200 total pitches for nine innings of work. Twenty-two batters have reached safely against him, including 17 on hits. He has topped 22 pitches per inning, a significant jump from a per-inning average of 14.4 during the regular season, when Wainwright was baseball's fourth-most-efficient qualifying pitcher.
A man who built his reputation by going 4-0 with four saves and a 2.03 ERA in his first 15 postseason appearances has now lost four straight decisions. Wainwright will aim to snap that streak tonight.
"This guy demands and expects more of himself than maybe anybody in the game," said Matheny. "That fact alone, you should know [the recent struggles aren't] something that he just blows off. But I think he's honest, too, knowing when he has everything feeling right. When he's locked in, he knows he can match up with anybody. There are other days, he has to fight his way through."
This month, Wainwright has been dealing with those days.
"I have not been very proud of my starts this year in the postseason so far," he said. "I also know that I was doing my very best. There was no point in time where I wasn't as prepared as I've ever been for a start, and my arm just didn't respond like I wanted it to.
"But I'm very confident going forward."
He was aware of mechanical problems even before the end of the Giants' 3-0 win in Game 1 of this NLCS, after Wainwright and Cardinals catcher A.J. Pierzynski examined video of his outing and compared it to previous ones.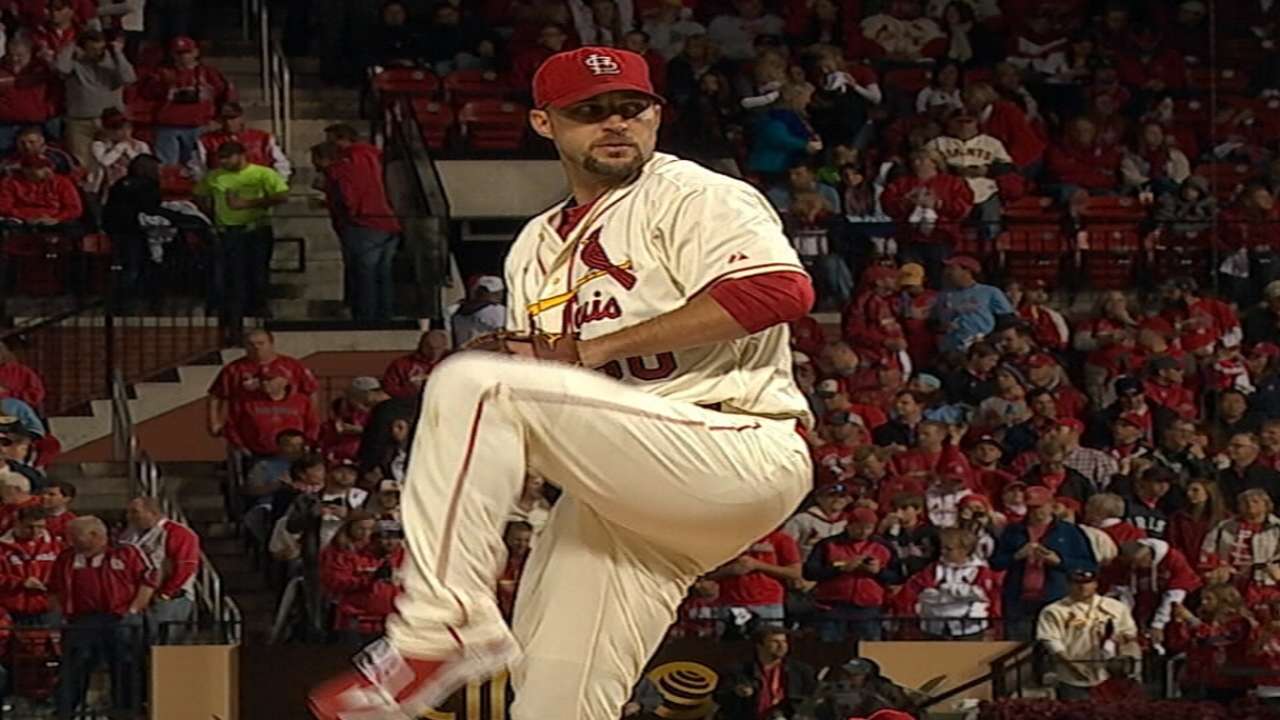 • Video: Wainwright's NLCS Game 1 start
According to Wainwright that night, he was "dramatically late" in removing the baseball from his glove, and at the same time was striding "about a foot shorter" than normal toward home plate. The result, Wainwright said, was that his arm never reached the proper release point.
Matheny, who was on the receiving end of many such sessions during his career as a catcher, knows well the challenge of making adjustments in the midst of competition, much less in the middle of a postseason.
"I think it's real difficult for most guys, but not for him," Matheny said. "He has just impressed us so much how he can make those minor alterations and just how aware he is of himself and his own mechanics and what it feels like. He's been the kind of example that you need, especially for such a young staff. We have all these young starters coming up through to watch how he's always making just these little minor changes, and they are seeing it turn into big results."

Just as big: Wainwright has been expressing confidence about the health of his balky elbow.
"I could have pitched as good or better the next day that I did the day I pitched [against the Giants], as weird as that sounds," Wainwright said. "It's just a very interesting thing I've been going through. You know, I came out of it in September, I pitched very well, and I expect to do that in October.
"When your arm doesn't feel the best, you need everything else to be locked in and your delivery to be sharp. My delivery was not sharp. My arm didn't feel great the last few times out. Now my arm feels better, and my delivery should be much sharper going forward, so it should be a much more polished pitcher you see on the mound."
Adam McCalvy is a reporter for MLB.com. Read his blog, Brew Beat, and follow him on Twitter at @AdamMcCalvy. This story was not subject to the approval of Major League Baseball or its clubs.