Shaky sixth sinks Cardinals into 3-1 NLCS hole
Defensive miscues, Miller's short start help surrender early lead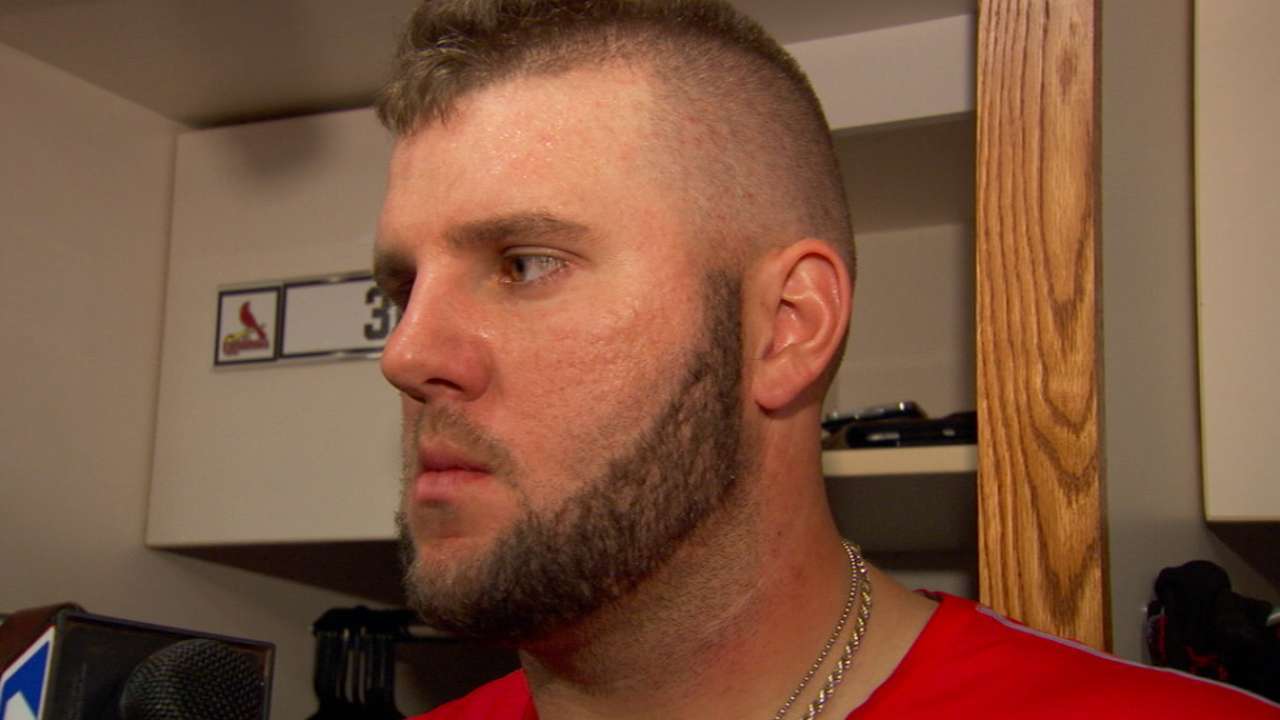 SAN FRANCISCO -- Few teams played better defense than the Cardinals this season, yet it is a continuum of defensive mishaps by the club through the first four games of this National League Championship Series that has the defending NL champs on the precipice of having to hand over their crown.
Again undone by plays not made and hampered by a short Shelby Miller start and a generous 'pen, the Cardinals surrendered a three-run lead to the Giants, who scored five unanswered runs to steal a 6-4 Game 4 win on Wednesday night. The victory, which came in a packed AT&T Park, moves San Francisco a win away from knocking the Cardinals out of the NLCS for the second time in three years.
"It's the postseason. Everything is magnified," manager Mike Matheny said. "Free bases and extra outs, those hurt in a series like this, with two, at least I believe, evenly matched and similar teams that capitalize on free bases and extra outs."
The Cardinals held that same 3-1 NLCS lead over the Giants in 2012, only to watch the Giants become the fifth NL team in history to erase it. San Francisco outscored the Cardinals 20-1 over those final three games.
"It would be nice to repay the favor," Kolten Wong said.
"That's something we have in the back of our heads," Giants first baseman Brandon Belt said from the other clubhouse. "If we don't come out and play good baseball, they're going to take advantage of that, and they can definitely get back in the series."
This will be the fifth 3-1 hole the franchise has faced in postseason history, and none of the previous four made it to a Game 7. With an all-Missouri World Series at stake, the Cardinals must win behind Adam Wainwright in San Francisco, where the Cardinals have lost their last five NLCS games and are now 3-9 overall.
WHAT WENT WRONG
Despite knocking postseason stalwart Ryan Vogelsong out after three innings, the Cardinals could not get shutdown innings from their own starter. Miller exited in the fourth, with the Cardinals clinging to a one-run lead. The first three relievers out of the 'pen walked four of the first seven batters they faced, and that fourth walk, issued by Marco Gonzales, would jump-start the Giants' three-run sixth.
San Francisco tied the game as Juan Perez slid home on a poor throw by first baseman Matt Adams, who was pulled in as part of the Cardinals' drawn-in infield with two on and one out. One play later, Adams further compounded the inning by not looking Brandon Crawford back to third before trying to complete an inning-ending double play.
"I touched first base, and I should have checked [the runner]," said a soft-spoken Adams afterward. "It just didn't happen. That's what good teams do. They capitalize on mistakes."
Buster Posey's RBI single would add an insurance run, more than enough for the Giants, who got six shutout innings from the bullpen. The Cardinals, who have yet to take a lead into the seventh inning this postseason, brought the potential tying run to the plate in each of the final three frames but had no success pulling closer on the scoreboard.
Mistakes in the field by the Cardinals have contributed to all three NLCS losses, part of the reason that the Giants have been able to score eight of their 18 runs without the benefit of a hit. San Francisco's first run on Wednesday was also assisted by the St. Louis defense, as Jon Jay had a ball glance off his glove in center.
"They're just a good team. They're hot right now," Gonzales said. "We're trying to keep up with them. You just have to roll with the punches and punch back. Unfortunately, we couldn't do that."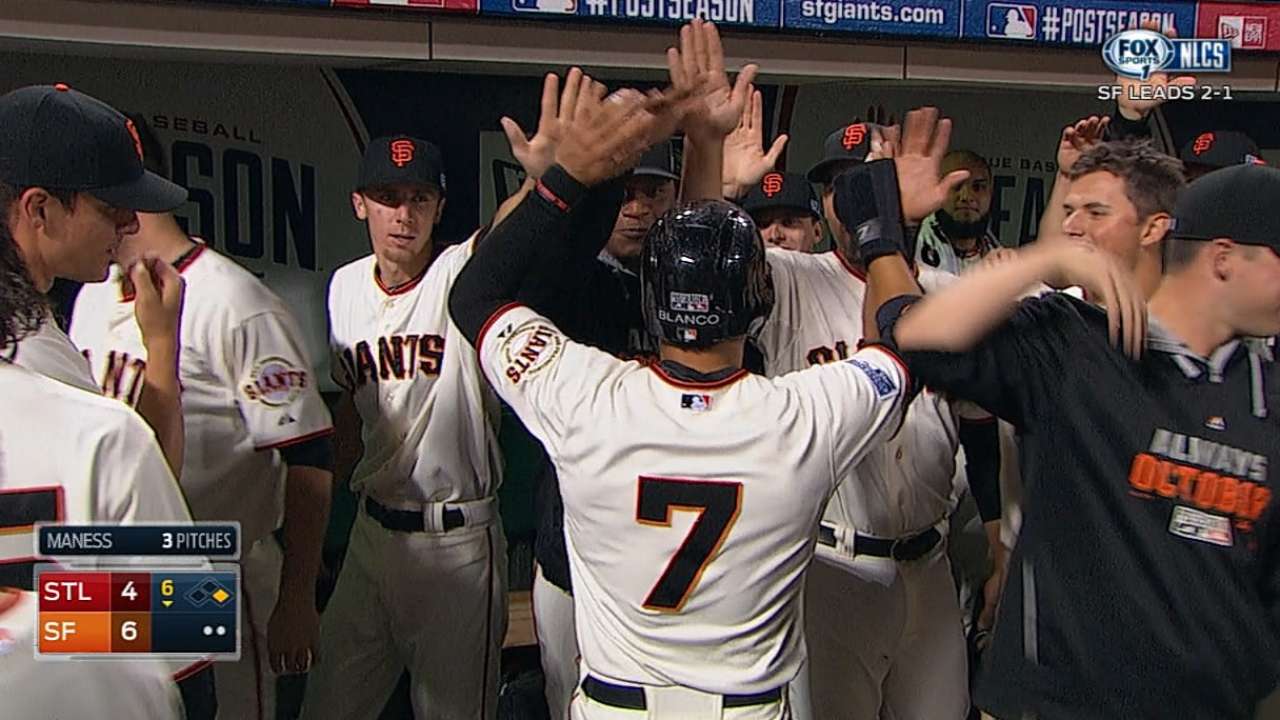 THE MOMENTS THAT MATTERED
Twin-killing rally killers: Twenty-one pitches into his start, Vogelsong had already allowed one run and was dealing with two more runners on the bases while Jhonny Peralta batted with one out. For a Cardinals team that had scored just eight of its 27 postseason runs before the seventh, this was its chance for a breakout inning.
But Vogelsong stalled it by getting Peralta to ground into a double play. Peralta would hit into another to snuff out momentum in the third. The Cardinals may have scored as many runs off Vogelsong on Wednesday (four) as he had allowed in his previous five postseason starts, but there was opportunity for more. Peralta fell to 5-for-27 with one extra-base hit and one RBI this month.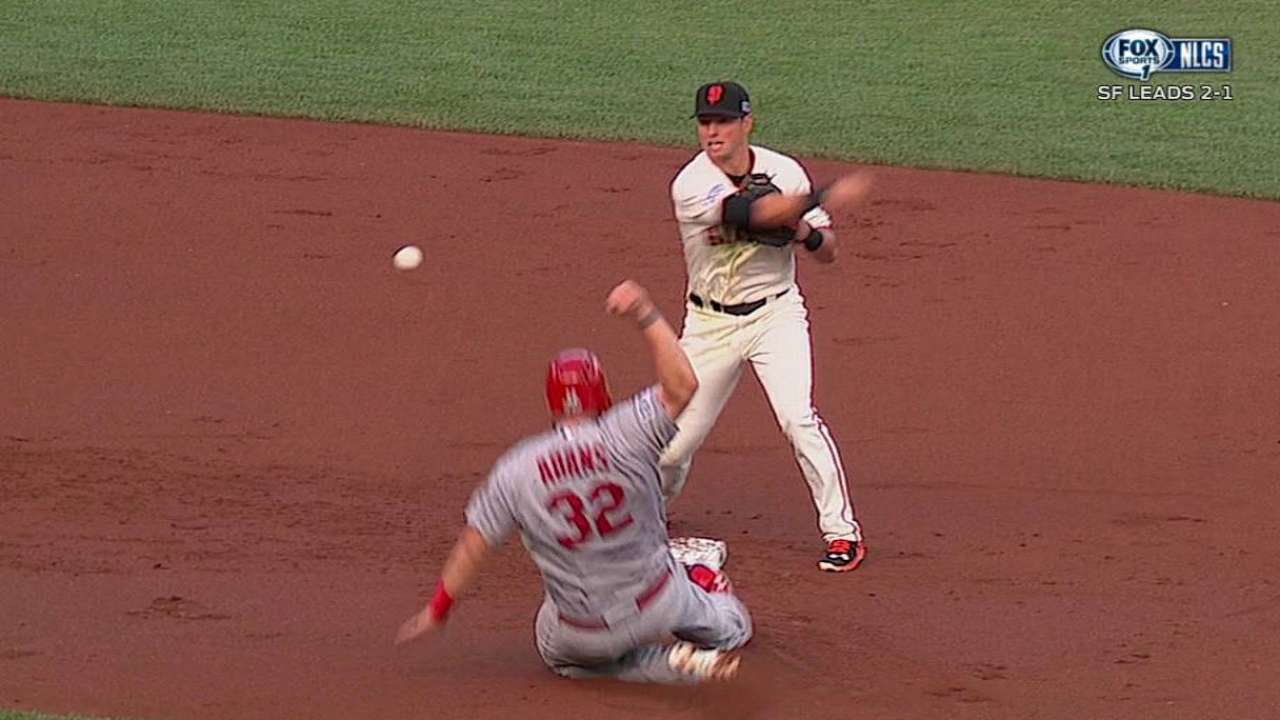 "We had a couple opportunities where we had some pressure put on them," Matheny said. "But they made the plays when they needed to, and we couldn't get that big hit after early [on.]"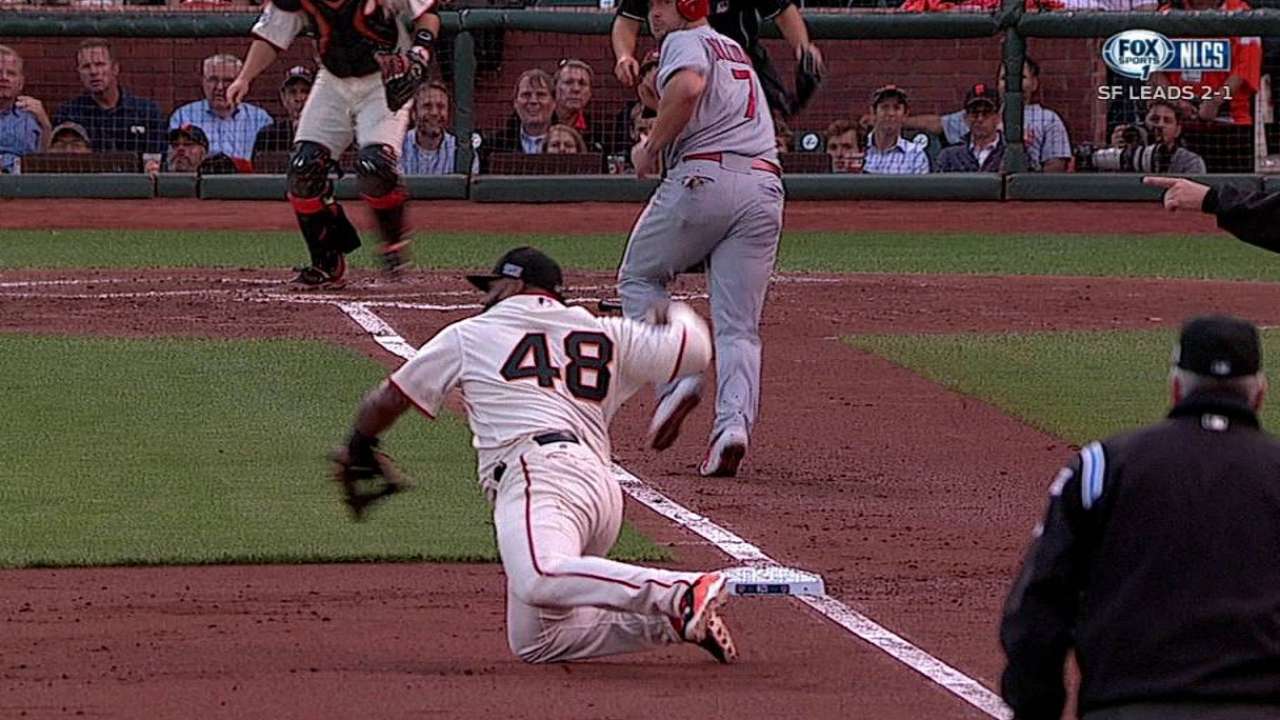 Off the glove: While it was right field that gave defenders fits in Game 3, center field proved to be the issue for both clubs in Game 4. Jay helped the Giants to a first-inning run when he allowed Gregor Blanco's fly ball to nick off his glove for a leadoff double. Though Blanco was credited with a hit, the play was one Jay should have made.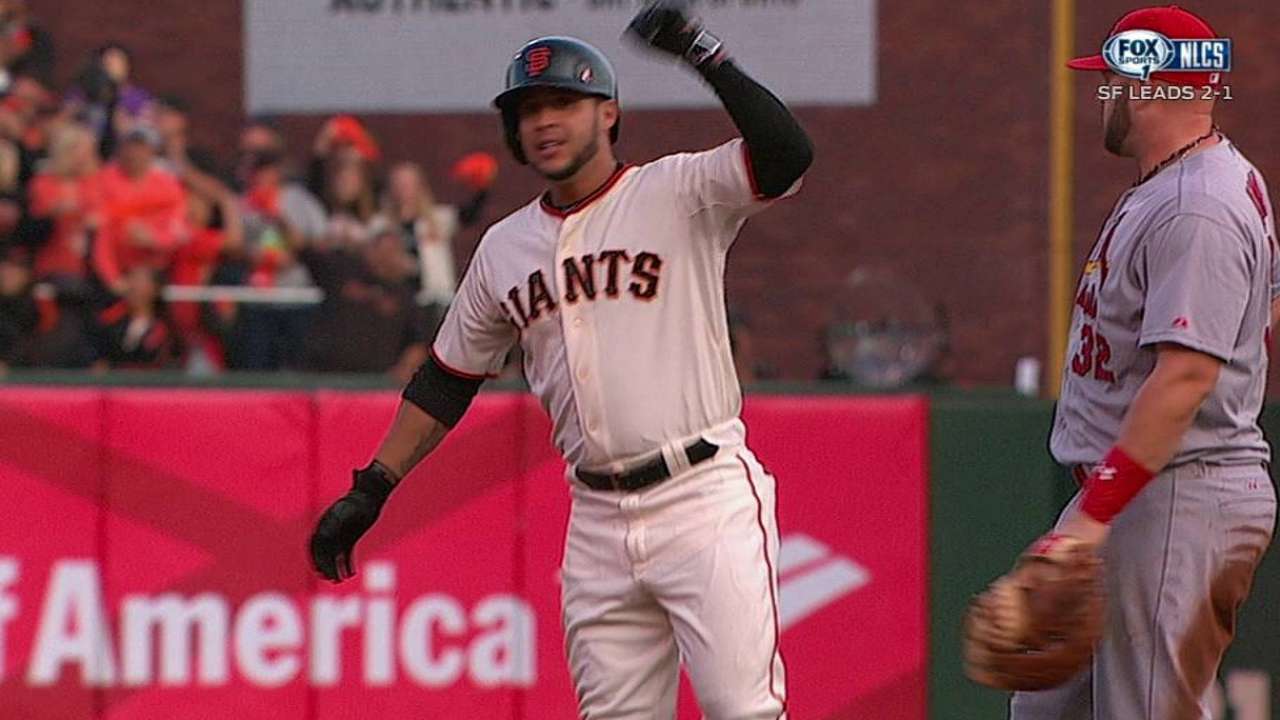 A hit from Joe Panik moved Blanco up, and a Posey sacrifice fly pushed him home. It was the first of three RBIs for the Giants catcher.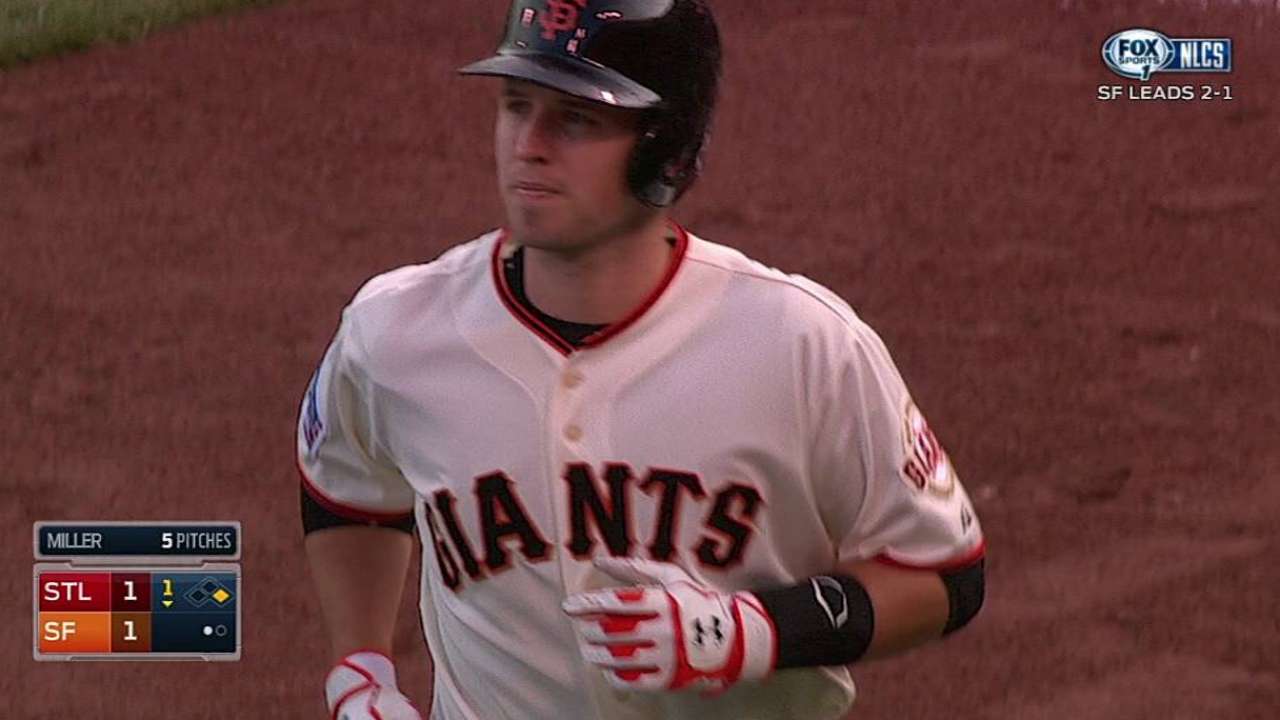 "It's definitely frustrating seeing them score runs, no matter if it's the home run or what they've been doing," Wong said. "It's been tough. Eventually, something has to come our way, I think."
Oddly enough, Blanco was involved in almost the exact same play an inning later when a ball hit off his glove in center for a Wong leadoff double.
Aloha means goodbye: Wong's postseason coming-out party continued in Game 4, as he set an NL rookie second baseman record with his sixth and seventh extra-base hits of the postseason. Wong doubled and scored in the second before blasting his third home run in six games to build the Cardinals' lead to 4-1 in the third.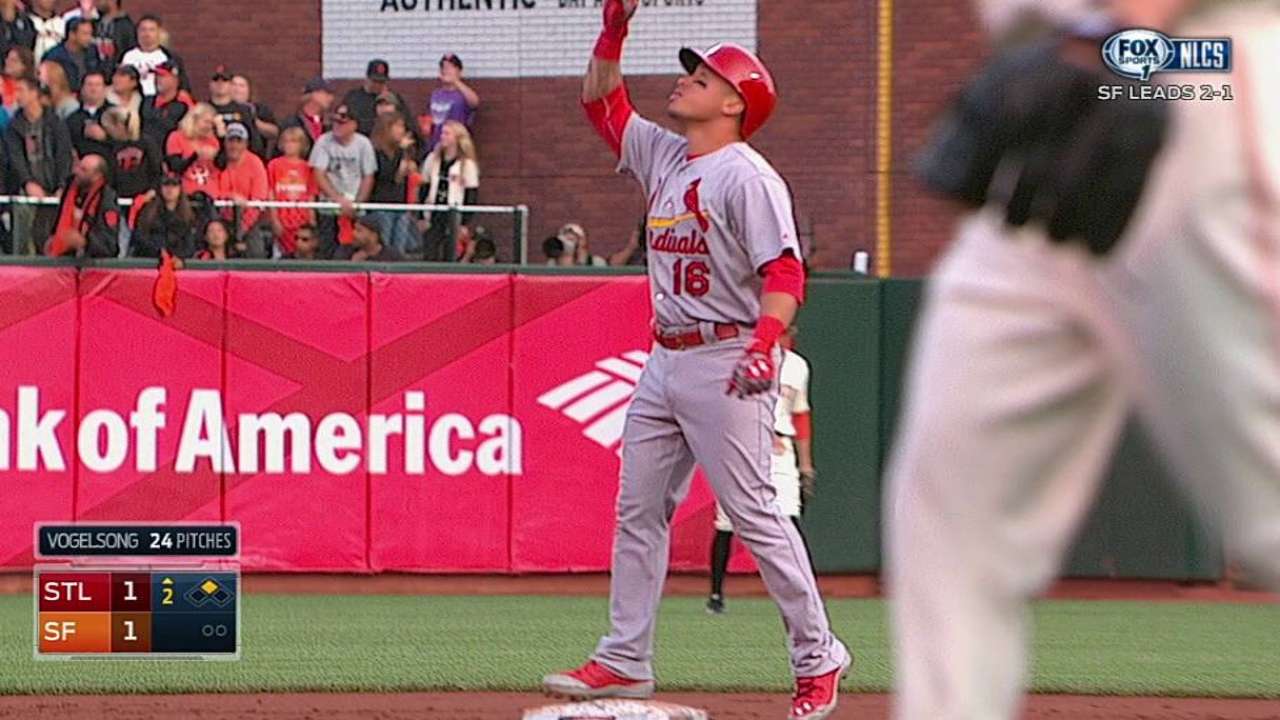 With the seven extra-base hits, Wong ties Tom Herr (1985) for the most by a Cardinals second baseman in a single postseason. He also tied Shane Victorino (2009) for most home runs in a postseason by a Hawaiian-born player.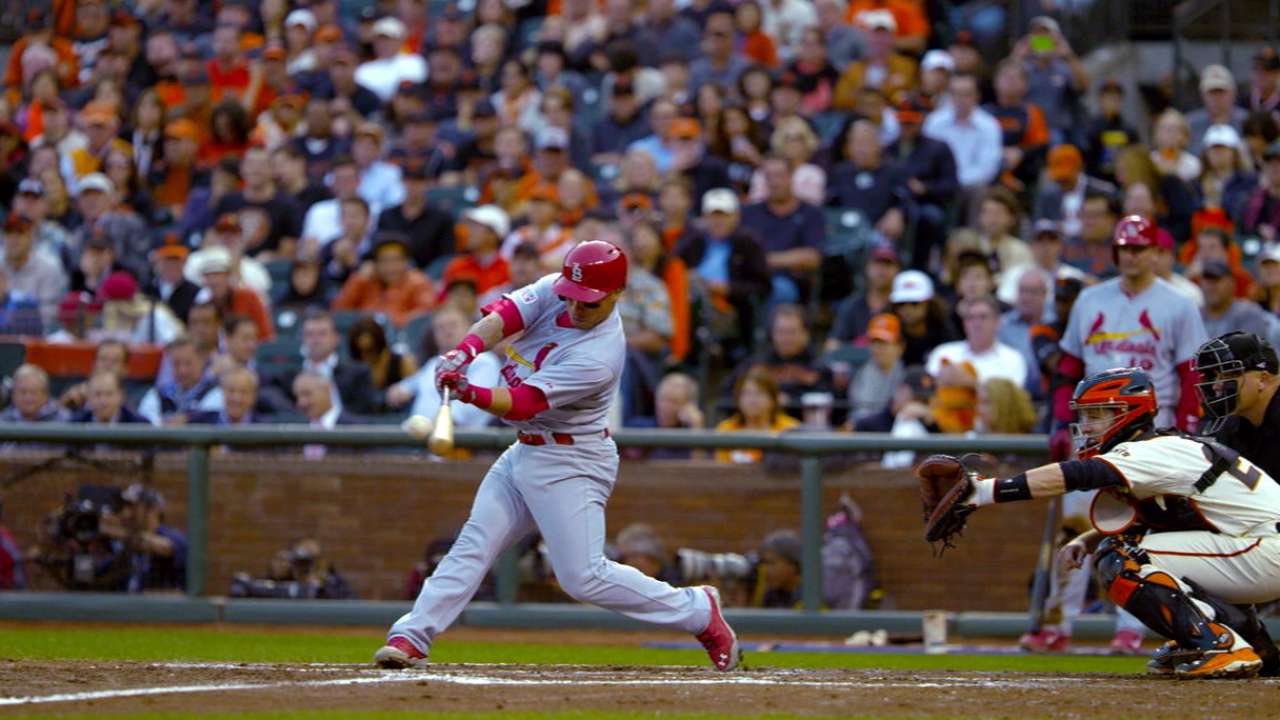 Adams' mental mistake: Only one NL first baseman (Adrian Gonzalez) was credited with more defensive runs saved this season than Adams. Yet, Adams helped the Giants to three in Game 4. After an off-target throw home allowed the Giants to tie the game, Adams made a splendid pick on Panik's grounder down the line. His momentum took him to first for the second out of the inning, but instead of staring Crawford back at third, Adams threw errantly to Peralta, trying to get the runner headed to second.
His throw was too far off the mark for any play, and Crawford, who hadn't been running on contact, scored the go-ahead run.
"Get the out and then be ready to throw home," Matheny said. "That's the play."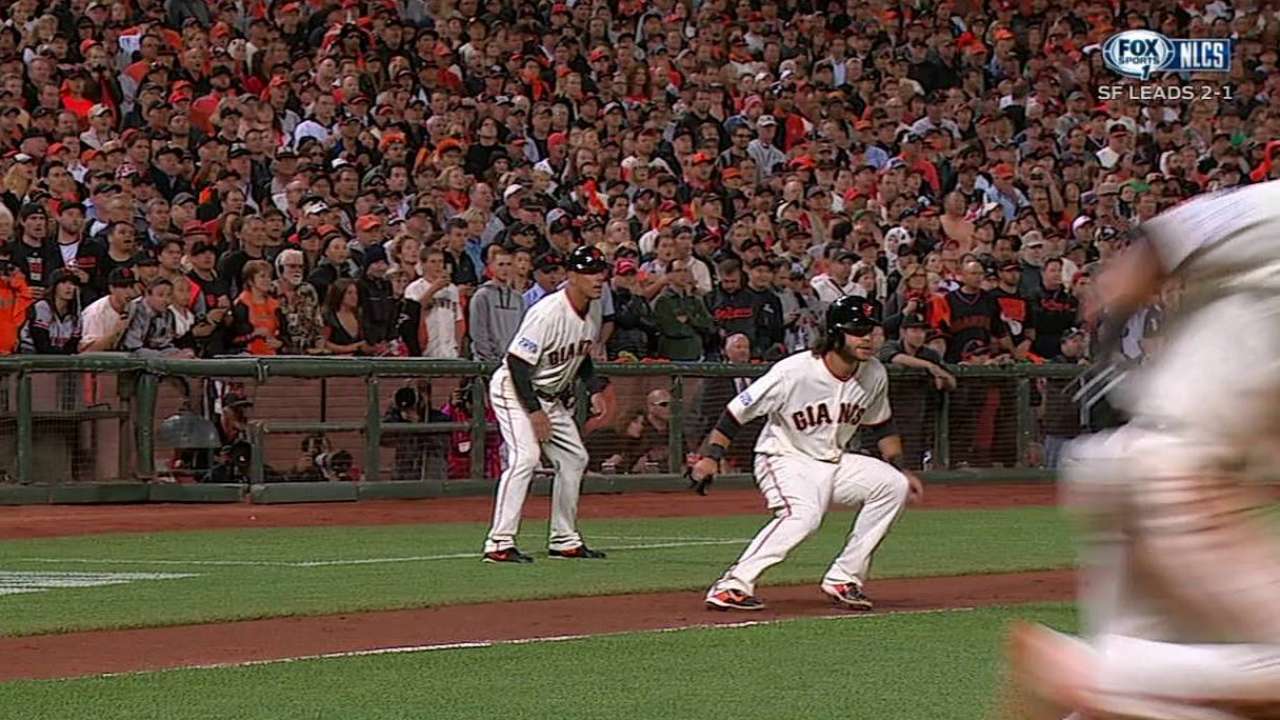 No redemption found: Adams had a chance to atone for his pair of sixth-inning blunders when he came to the plate in the seventh with two on, two out and the Cardinals trailing by two. Giants manager Bruce Bochy summoned lefty reliever Javier Lopez for the matchup, and Adams worked into a 3-0 count. After a called strike and a foul ball, Adams grounded out weakly.
"I just knew I had to keep the ball down, and I had a decent chance of getting a ground ball," Lopez said. "I was fortunate to get one to Panik to get out of the inning."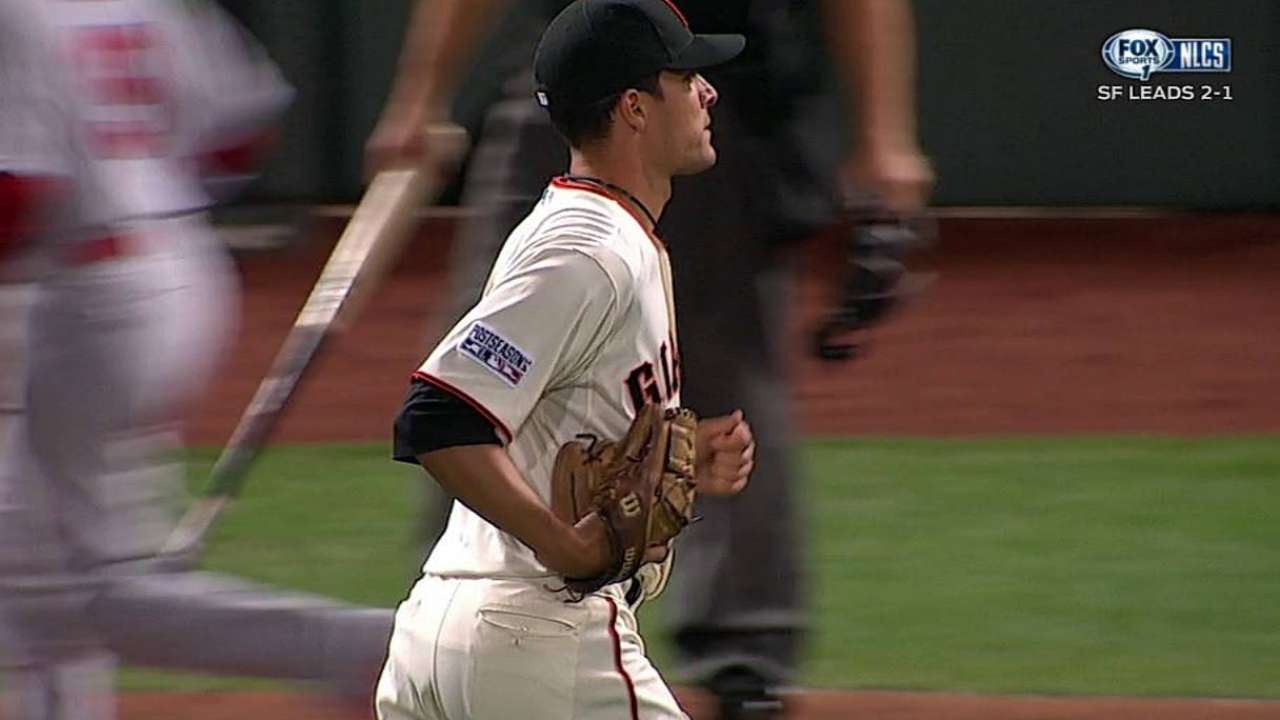 SILVER LININGS
Matt Holliday: Just 1-for-13 through the first three NLCS games, Holliday produced his fifth career postseason three-hit game on Wednesday. His leadoff double in the third led to a run. His 66 career postseason hits rank fifth-most among all active players. Only three (Albert Pujols, Yadier Molina and David Ortiz) have more three-hit performances in the postseason than the Cardinals' left fielder.
KEY MANAGERIAL DECISION
It took 30 pitches for Miller to get through the third, an inning in which the Giants scored twice. But Matheny stuck with his starter not only through that inning but also through three batters in the fourth. Asked why he wasn't quicker to go to his bullpen, Matheny explained that he felt he had no better right-handed option there to combat the trouble that Miller was in while facing the right-handed-heavy part of the Giants' order.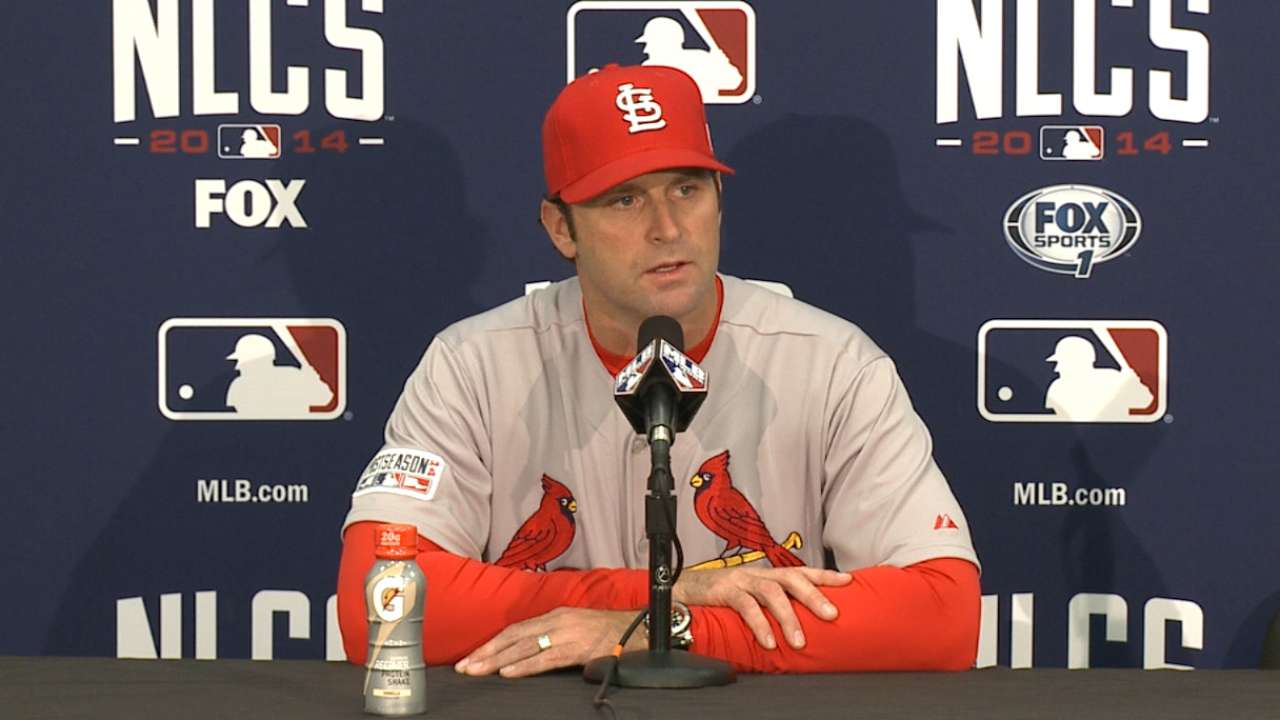 Seth Maness, Carlos Martinez, Pat Neshek and Trevor Rosenthal have all been earmarked for later-game roles. Matheny said he was hesitant to go to the other available right-hander, Michael Wacha, because that would have left him with no safety net should a long reliever have been needed later.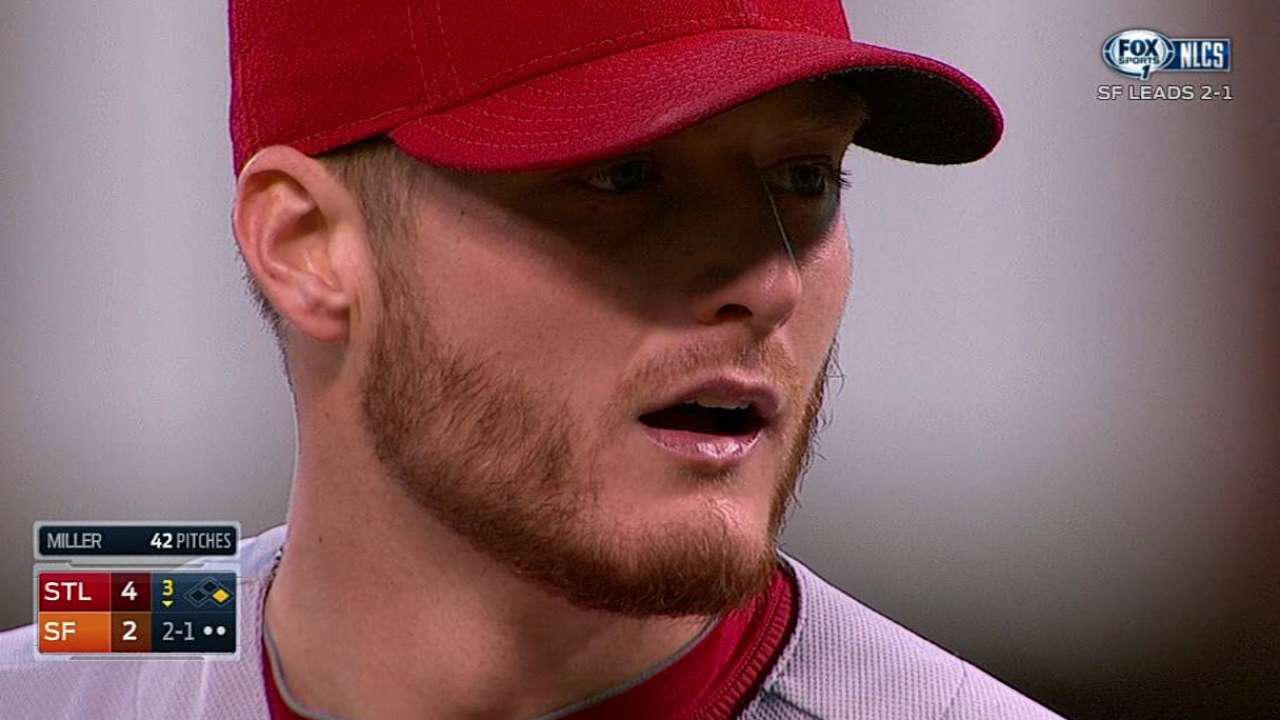 SOUND SMART WITH YOUR FRIENDS
• Wong became the 18th player with at least three homers, three doubles and one triple in one postseason. Four of those 18 (Wong, 2014; Holliday, 2013; David Freese, 2011; Larry Walker, 2004) are Cardinals.
• With doubles by Matt Carpenter, Wong and Holliday, the Cardinals became the first team to start a postseason game with leadoff doubles in three straight innings.
• The Cardinals have six home runs from their rookies this postseason, matching the Major League record set by the Rays in 2008.
• Carpenter collected his eighth extra-base hit of the postseason in Game 4, tying him with Rickey Henderson (1989), Lenny Dykstra (1993) and Derek Jeter (2009) for the most in a single postseason by a leadoff hitter.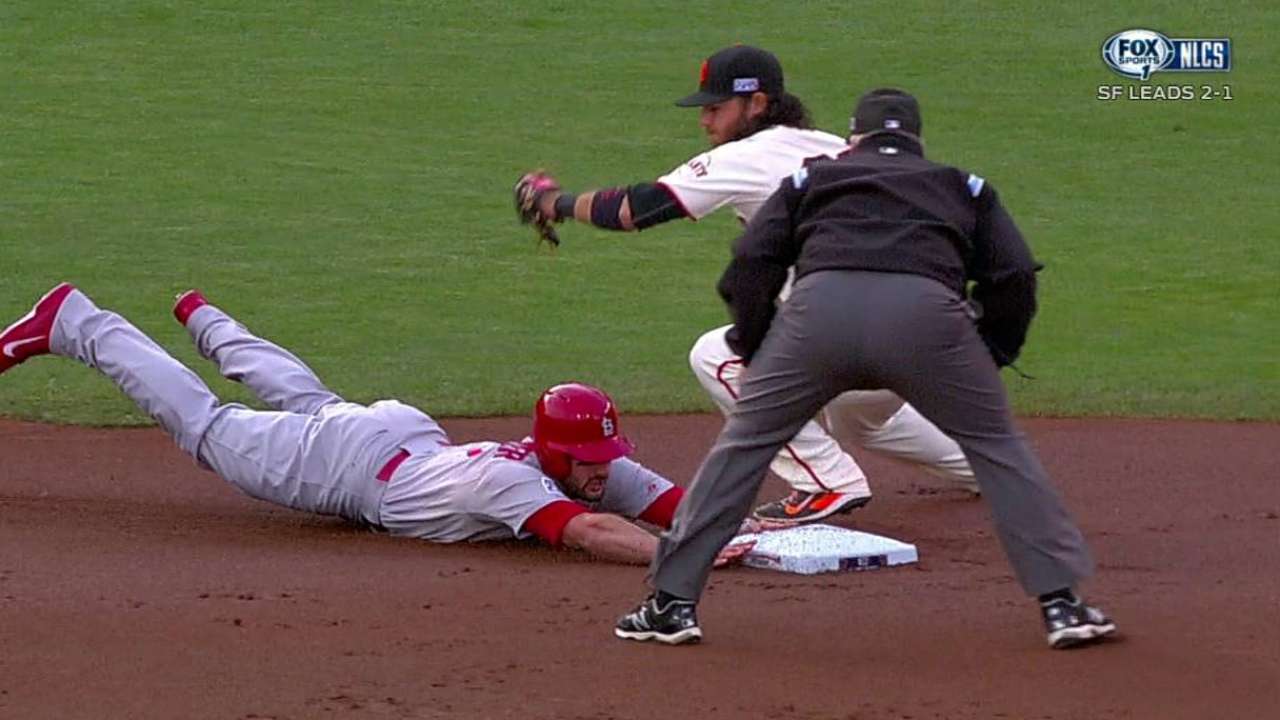 NEXT GAME
Playing the final NLCS game at AT&T Park, the Cardinals and Giants will meet in Game 5 on Thursday (7 p.m. CT on FOX Sports 1). It will feature a pitching rematch between aces Wainwright and Madison Bumgarner, who met in the NLCS opener.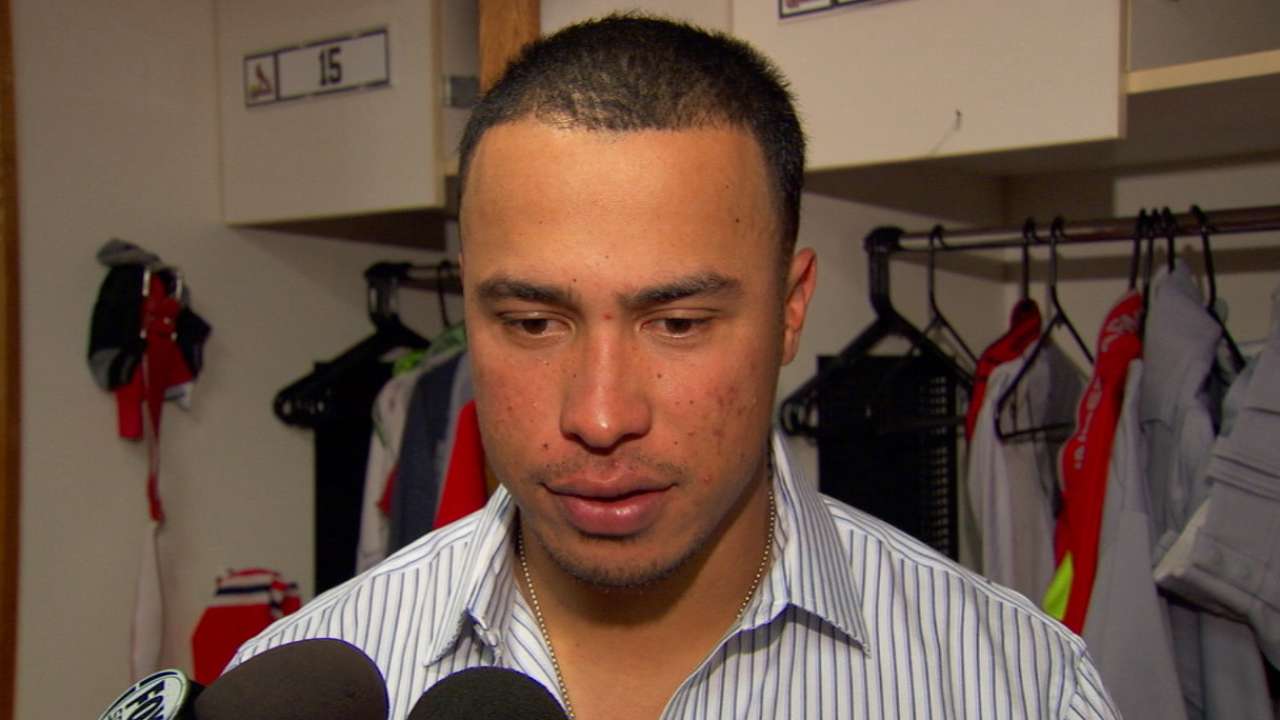 Jenifer Langosch is a reporter for MLB.com. Read her blog, By Gosh, It's Langosch, and follow her on Twitter @LangoschMLB. This story was not subject to the approval of Major League Baseball or its clubs.