Brothers travel around the world to see Royals
Despite living in Israel, bond with hometown team stronger than ever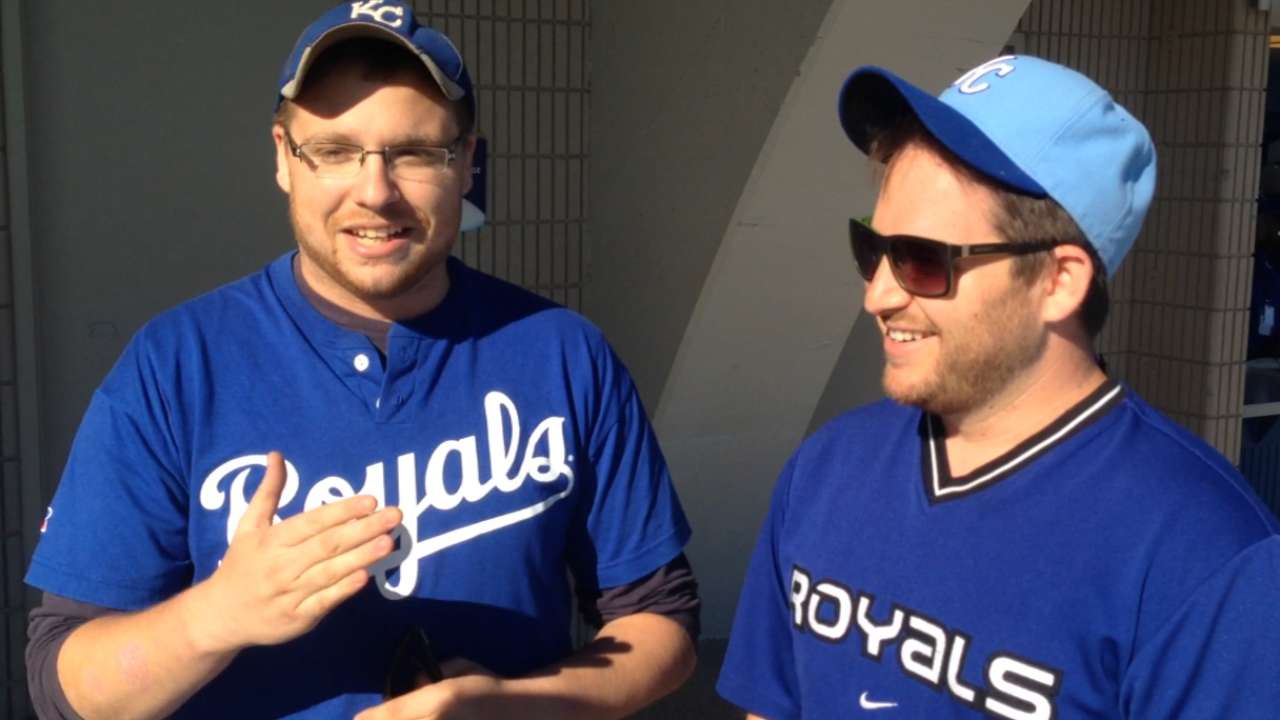 KANSAS CITY -- They had to be here. This much was indisputable, undeniable. Once their beloved Royals -- their hometown team -- had advanced to the American League Championship Series, there was simply no way Naftali and Yoni Schwartz were going to miss Games 3 and 4 at Kauffman Stadium.
One problem, though: The two brothers now live in Israel, and the trek from Hashmonaim to Missouri was more than their budget could handle. But with a little help from some friends -- and quite a few anonymous strangers via an online crowdsourcing program -- here they were Wednesday afternoon. Section 437, Row BB. The top of the ballpark, and the top of the world.
"We're speechless," Yoni said before the Royals wrapped up a 2-1 Game 4 victory. "I never, in a million years, thought this would happen."
Well, obviously, many Royals fans share that overall sentiment at the moment. For this club to be headed to the World Series after a 29-year postseason drought must feel like some wild fever dream.
But the Schwartz brothers have a particularly keen understanding of how long and winding the road to this stage can be. Naftali is 27, Yoni is 25. They were born in the United States and moved to Kansas City when they were very young. They spent 10 formative years here -- their father, Maury, was a rabbi at a local synagogue -- before their parents decided to move the family to Israel.
So they left Kansas City, but they didn't leave the Royals. Something about falling to sleep to the sound of Denny Matthews calling the games on the radio stuck with them as they grew older, and the team's successes and failures remained their daily source of entertainment and intrigue.
"We just loved baseball," Yoni said. "As we got older, living in Israel, we just kept following and got more and more involved into it. Buying MLB.TV every year, waking up at 3 a.m. almost every night to watch the games. Going to work the next day or school the next day, it didn't matter. Even in the seasons when most people in Kansas City gave up, we didn't. We can't explain why. It was a love and passion for the sport and a love and passion for the Royals."
So there they were in September, watching the Royals take the Tigers down to the wire in the AL Central. And there they were the night -- or, rather, the morning -- of the AL Wild Card Game against the A's, glued to every pitch of what Naftali called "the greatest game we've ever seen."
"The game started at 3 a.m., and my daughter, who is 2 years old, wakes up at 4:30 and says, 'What's going on?'" Naftali said. "So then she was watching with us. We have pictures of it. And then I have to take her to kindergarten. I get back, and that's when [Eric] Hosmer hits the triple!"
It was at the conclusion of the Division Series sweep of the Angels when the two brothers looked at each other and asked the question that had been hanging in the air.
"Can we let this go by?" Yoni said. "Because who knows when we'll get the chance again? We're both married, we're both expecting a child soon. We have to be there."
To resolve the funding issue, a friend suggested they try GoFundMe, a web site that helps people raise money for life events and personal causes. The Schwartz brothers launched their page, titled "Our Royal Dream Come True," just after the Division Series ended. Some friends shared it via social networking, and their friends shared it and their friends shared it. By week's end, the brothers had raised more than $1,700, or about half of their goal. Some friends and family members from Israel and around the world pitched in to help offset the rest.
Yoni looked at Naftali last Friday and said, "Brother, we're doing this!" They each bought a $1,500 plane ticket, they made a hotel reservation and they bought tickets to Games 3 and 4 on StubHub.
"I was so skeptical that this would work," Yoni said. "I was just doing it for fun. We had anonymous donations of hundreds of dollars. We appreciate every dollar we've got."
On Tuesday night, they were in Section 208, just down the line from where Mike Moustakas made that amazing, over-the-rail catch. They held a sign that said, "We Traveled 10,620 km to See Our Boys in Blue." When the Game 3 victory was complete, the brothers were in shock. They had been to The K before, but they had never seen it like this.
"I had chills the whole game," Naftali said.
Added Yoni: "I think I high-fived 300 people I've never met before."
They were in the upper deck for Game 4, a sun-splashed day on which the Royals punched their ticket to the Fall Classic. It has been a season of dreams for Royals fans. And for two brothers, in particular, watching it unfold with their fellow faithful was both a dream come true and a community effort.
Anthony Castrovince is a reporter for MLB.com. Read his columns and follow him on Twitter at @Castrovince. This story was not subject to the approval of Major League Baseball or its clubs.