Giants ride sixth-inning rally to 3-1 NLCS edge
Three-run frame completes comeback, puts SF on verge of pennant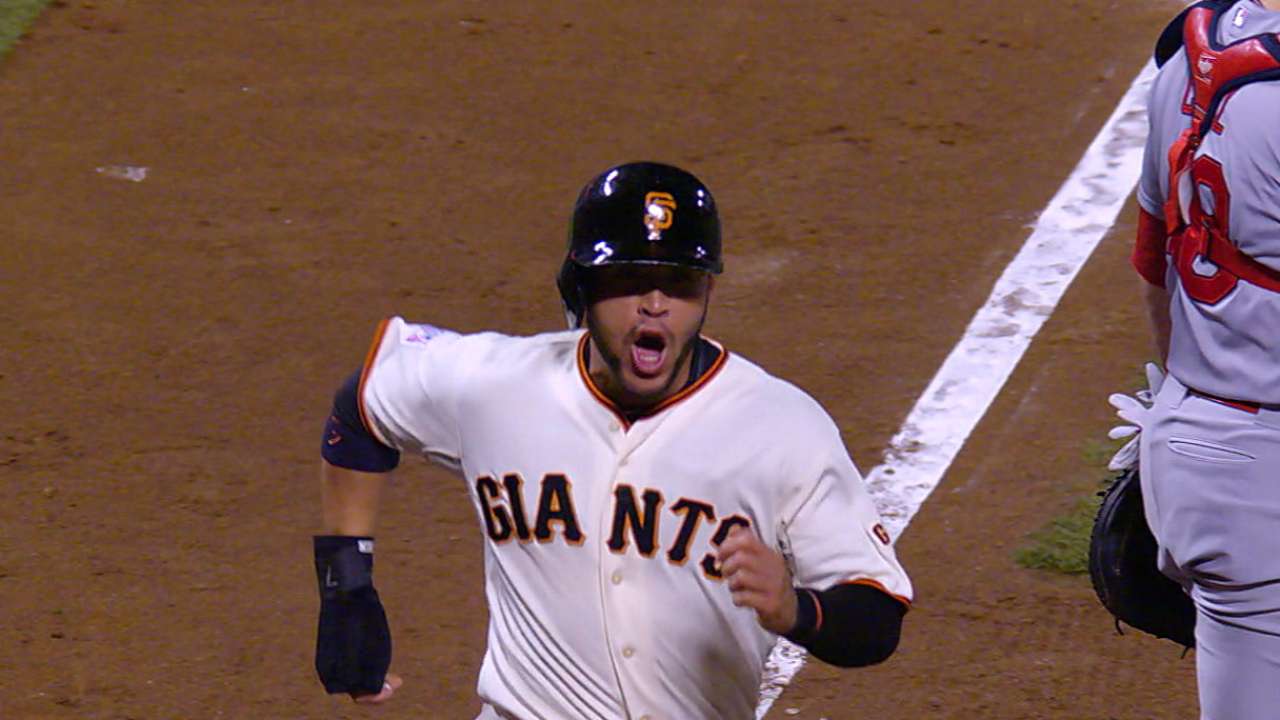 SAN FRANCISCO -- Ryan Vogelsong called it "Giants karma." Pablo Sandoval referred to it as "the small game." By any term, the force that drove the Giants to their 6-4 victory over the St. Louis Cardinals in Wednesday night's Game 5 of the National League Championship Series materialized in the sixth inning. That's when the Giants vaulted ahead with three runs, combining opportunistic offense with St. Louis' defensive lapses.
The Giants lead the series, 3-1, and can clinch their third trip to the World Series in five seasons by defeating the Cardinals in Thursday night's Game 5 at AT&T Park. The Giants won the Series in 2010 and 2012.
San Francisco continued its postseason pattern by scoring twice in that sixth inning without benefit of hits. Buster Posey drove in the other run with his second two-out single of the evening that completed a three-RBI output.
The Giants haven't homered in 135 at-bats during the NLCS and have mustered just two homers all postseason. Moreover, they amassed 12 of the 22 runs they scored in their last six postseason games when the batter did not record a hit.
"I think it's just having good at-bats, and when you have good at-bats you wear the other team down a little bit," said Giants first baseman Brandon Belt, who delivered the Giants' last homer way back in the 18th inning of Game 2 in the Division Series at Washington. "You start getting people on base and you put pressure on the other team. You put the ball in play and stuff happens and that's what we've been doing."
HOW THE GIANTS WON
The Giants trailed, 4-3, as pinch-hitter Juan Perez began their big sixth by drawing a leadoff walk from left-hander Marco Gonzales. Brandon Crawford, a left-handed batter who defied the percentages by hitting .320 off lefties in the regular season, lashed a single.
After pinch-hitter Matt Duffy's sacrifice bunt advanced the runners. Gregor Blanco topped a grounder toward first baseman Matt Adams, who charged the ball aggressively but short-hopped his throw home. Catcher Tony Cruz never had control of the ball as Perez slid headfirst with the tying run.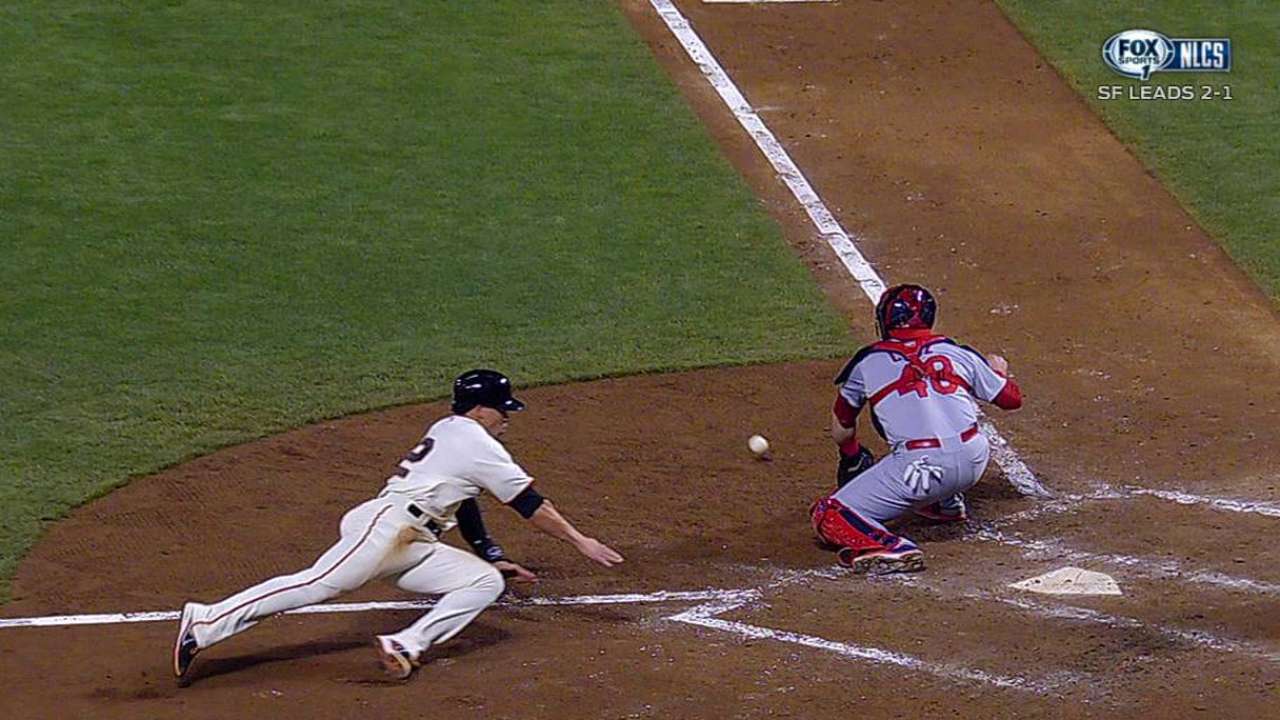 "Fast runner right there, and I was going in on the ball and threw on the run. I should have made the throw," Adams said. However, television replays indicated that Perez, who brushed the plate with his left hand, would have been safe even if the play was cleanly handled.
Joe Panik hit another grounder to Adams, who stepped on the bag for the inning's second out. But Adams never checked Crawford, the runner on third. He didn't break for the plate until Adams threw wide to second base in an attempt to retire Blanco.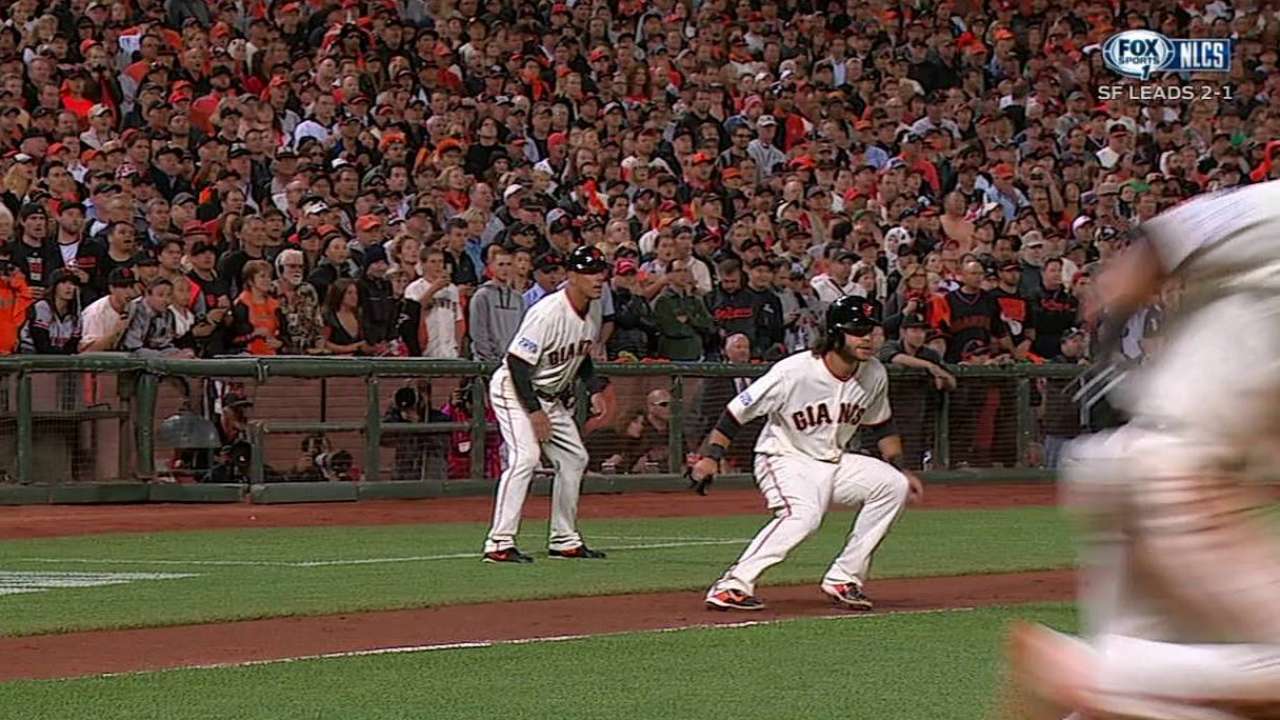 "We had talked about it at third base, me and [third-base coach Tim] Flannery," Crawford said. "So just in case it happened, I was ready. He told me to get down the line a little bit and if [Blanco] happens to get to second then keep going. And fortunately he did."
Right-hander Seth Maness relieved Gonzales and forged ahead on the count to Posey, 0-2. Unruffled, Posey lined the next pitch into left-center field to score Blanco.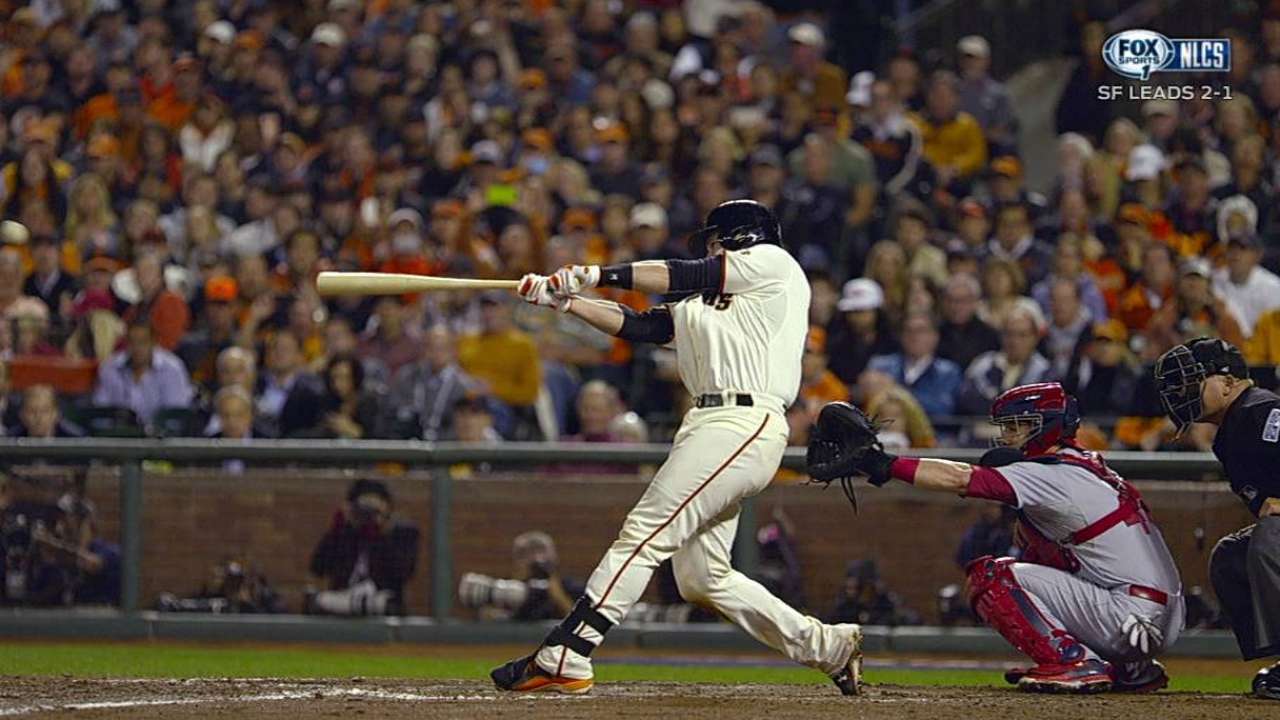 MOMENTS THAT MATTERED
Preventing a rout: Vogelsong lasted three innings and surrendered four runs, matching the total he allowed in his previous five postseason starts. But he coaxed double-play grounders from Jhonny Peralta in the first and third innings, denying St. Louis the opportunity to generate big innings.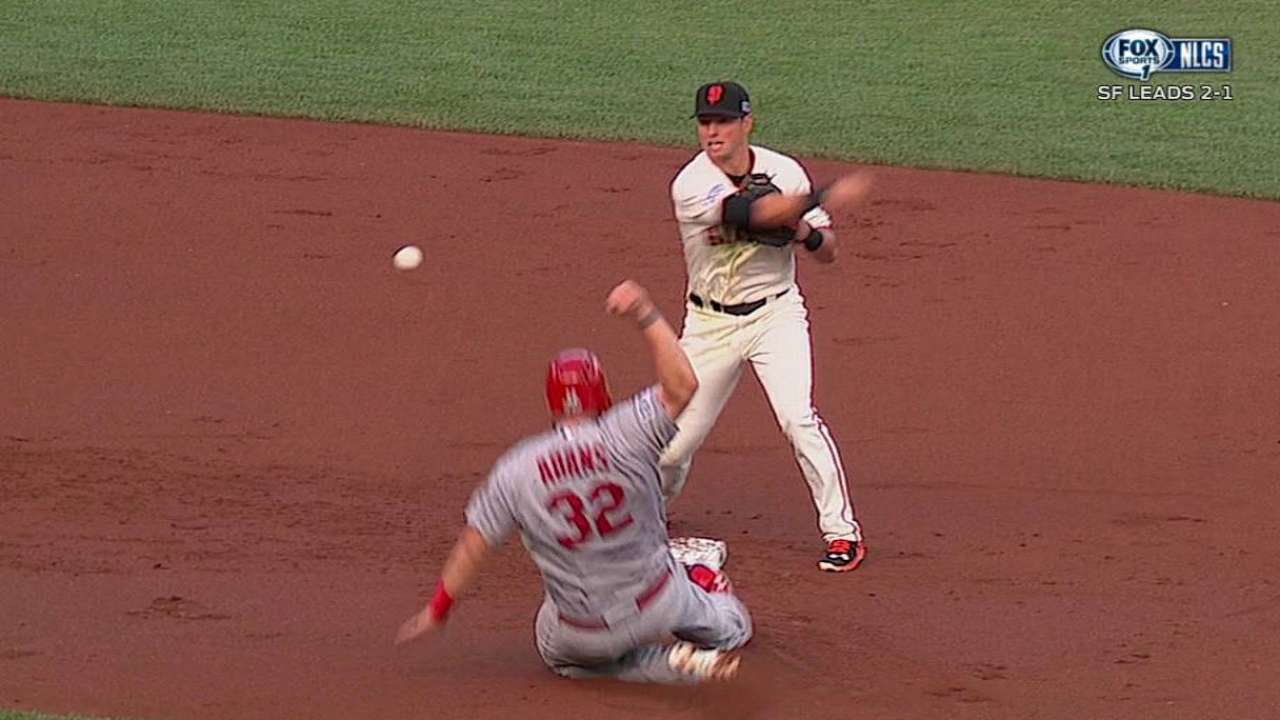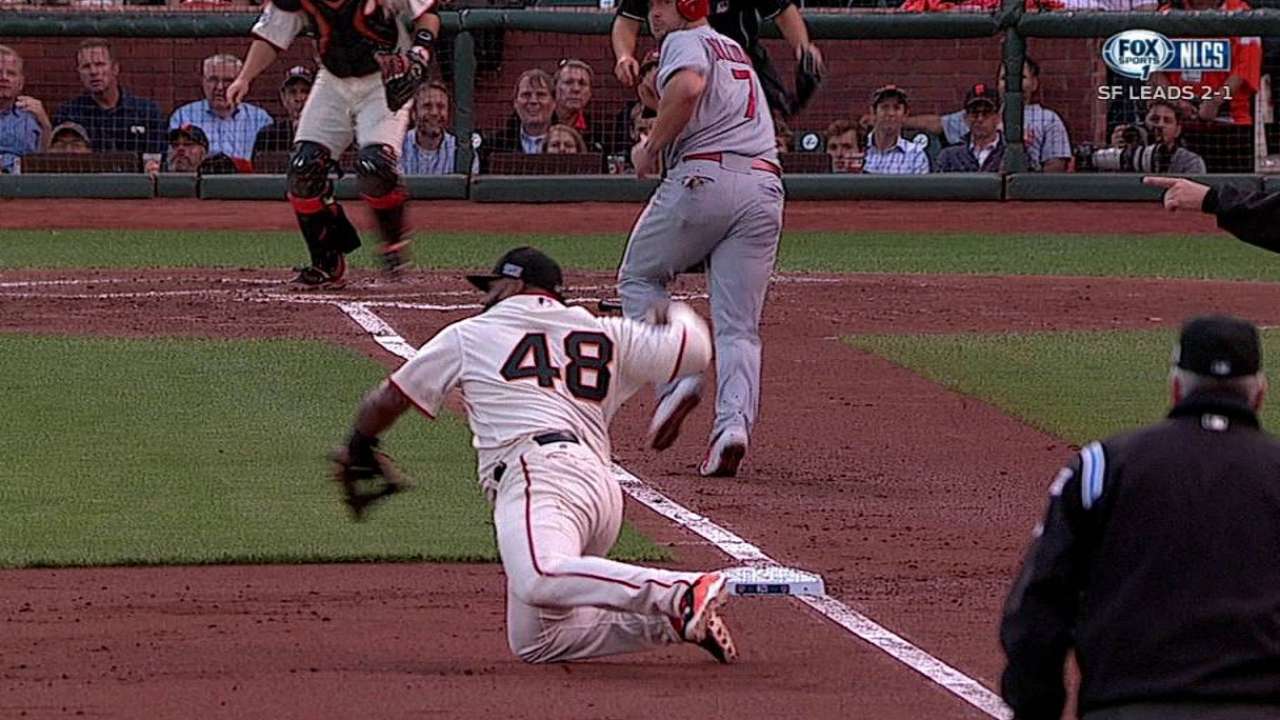 "It could have been a lot worse," Vogelsong said.
Vogelsong might have fared better had Blanco managed to hold on to Matt Carpenter's first-inning drive to deep center field. Instead, Blanco couldn't quite make the grab. That resulted in the first of three consecutive leadoff doubles, a Major League record for the postseason. Carpenter ultimately scored the game's first run.
Petit looms large: After the Giants scored twice in the third inning to narrow St. Louis' lead to 4-3, Yusmeiro Petit replaced Vogelsong and sustained San Francisco's momentum. Petit established control by striking out the side on 15 pitches in the fourth inning, the first of three shutout innings he threw. The right-hander allowed one hit and walked one batter.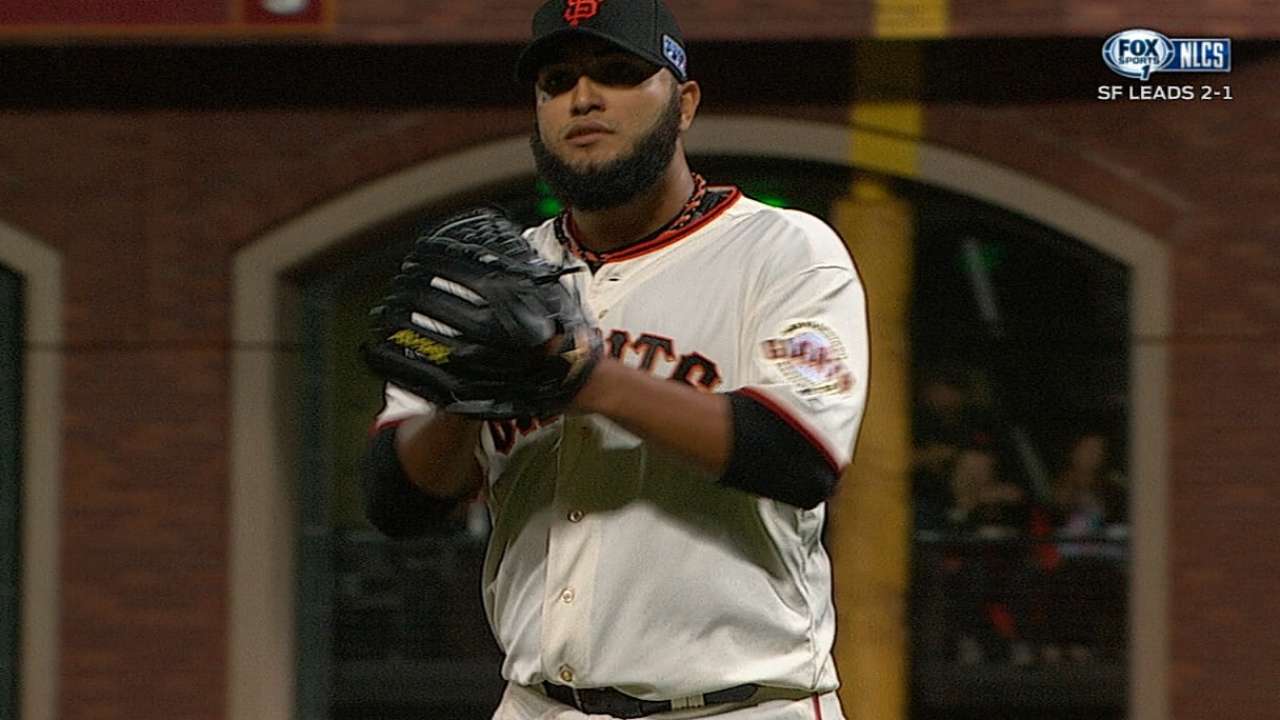 Giants manager Bruce Bochy said that his club's comeback "all starts with Petit."
Petit's effort recalled his excellence in Game 2 of the Division Series, when he blanked Washington for six innings as the Giants won an 18-inning standoff.
Lopez gets his man: Javier Lopez notched only one out in the six shutout innings that San Francisco relievers accumulated. But it was an essential one. Lopez induced an inning-ending groundout in the seventh from Adams, who represented the potential go-ahead run with two runners aboard.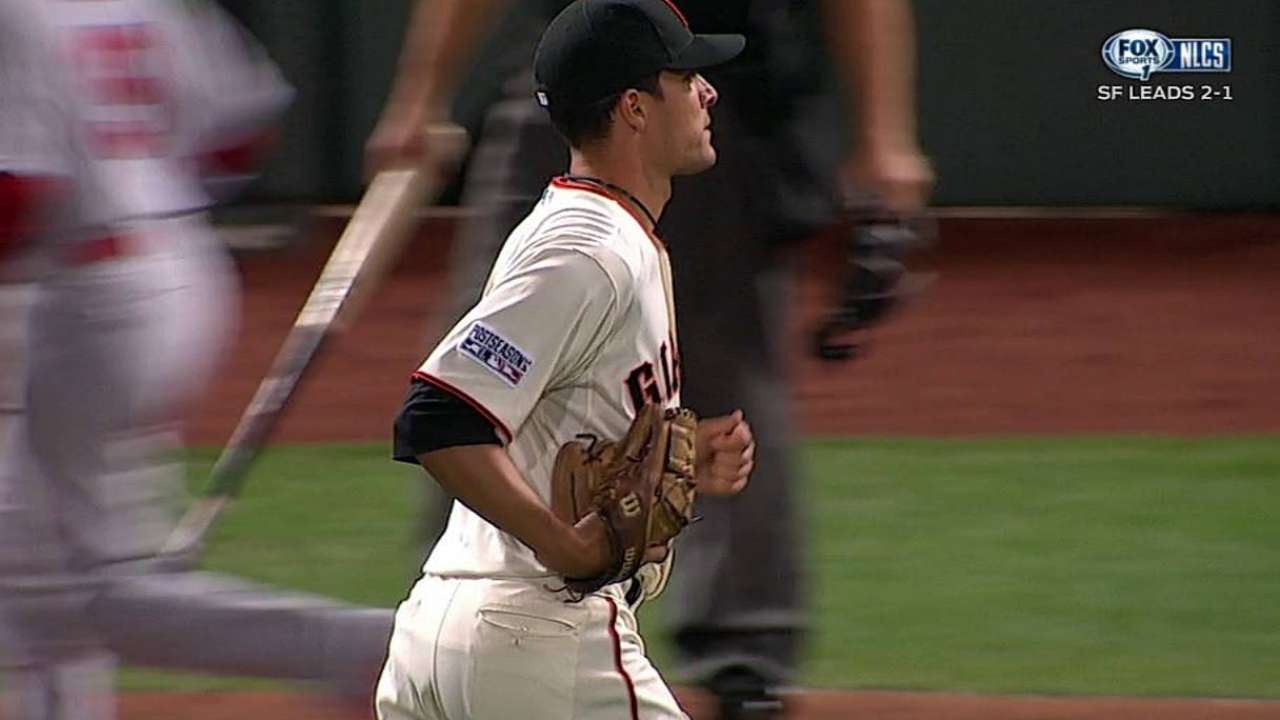 Lopez, San Francisco's specialist against left-handed batters such as Adams, fell behind on the count 3-0. Then Lopez slipped in a called strike and coaxed a foul ball from Adams before the cleanup hitter hit a routine grounder to second baseman Panik, who was stationed in shallow right field.
"It's not how you draw it up, obviously, falling behind 3-0," Lopez said. "I just wanted to be careful with Adams. I know he's got power. All the lefties in that lineup have been swinging really well against lefties. ... I just tried to stay aggressive down in the zone."
QUOTABLE
Never assume: The Giants weren't crowing about their 3-1 series lead over St. Louis. The situation was reversed in 2012, when the Giants rallied past the Cardinals to become the fifth team in NLCS history to overcome a 3-1 deficit.
"That's something we have in the back of our heads," Belt said. "If we don't come out and play good baseball, they're going to take advantage of that and they can definitely get back in the series."
"Every game's going to be tough with these guys," Crawford said. "They're very similar to us in that sense. I'm sure it's going to be a dogfight."
SOUND SMART WITH YOUR FRIENDS
• Left-hander Jeremy Affeldt has made 17 consecutive scoreless postseason appearances, tied for the fourth-longest in Major League history. The only streaks longer than Affeldt's belong to Mariano Rivera (23), Chad Bradford (19) and Dennis Cook (19).
• Posey hiked his postseason RBI total to 19, the second-highest in franchise history. Barry Bonds, who threw Wednesday's ceremonial first pitch, had 21.
• The Giants improved their Major League-best home record in NLCS play to 15-5. That includes a current five-game winning streak.
NEXT GAME
The Giants finish their NLCS "homestand" against the Cardinals with Thursday's Game 5. It'll be a rematch of the Game 1 aces, with San Francisco's Madison Bumgarner opposing St. Louis' Adam Wainwright. FOX Sports 1 will televise the 5 p.m. PT encounter.
Chris Haft is a reporter for MLB.com. Read his blog, Haft-Baked Ideas, and follow him on Twitter at @sfgiantsbeat. This story was not subject to the approval of Major League Baseball or its clubs.