Team president Auld 'thrilled' with new position
Friedman's move to Dodgers led to transitions within organization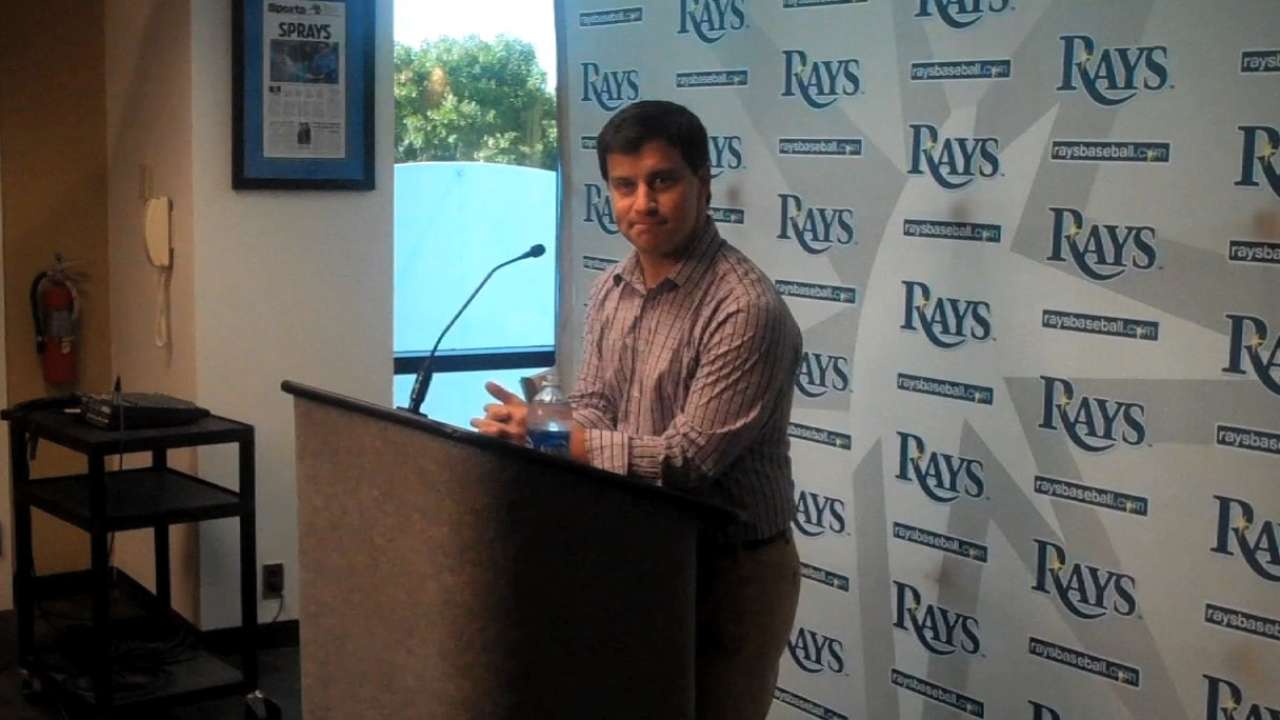 ST. PETERSBURG -- The "new" guy isn't exactly a new guy within the Rays organization, but team president Brian Auld felt like a new guy around the media on Wednesday.
"It's been significantly more media to this point than I've done the last 10 years," said Auld of his first day on the job. "Other than that, it's been a lot of the same old, same old."
The announcement was made on Tuesday that Andrew Friedman, Rays executive vice president of baseball operations, would be moving to the Dodgers to assume a newly created position as president, baseball operations.
Friedman's move triggered a series of executive leadership changes within the organization.
Former team president Matt Silverman will now serve as president of baseball operations, and Auld, who was senior vice president of business operations, became team president.
When asked about his initial priority, Auld, 37, said he believes "it's really important to reassure everybody on our staff and our fans that we're in great shape."
Auld joined the organization in June of 2005 at the urging of Silverman, his high school friend from Dallas. Auld has an MBA from Harvard Business School, a bachelor's in economics and a master's in education from Stanford. When the Rays hired him, he was working as a fourth grade teacher at Palo Alto (Calif.) Charter School. Upon joining the Rays, he became the director of planning and development, assisting Silverman.
"It's absolutely incredible," said Auld, acknowledging the amazing journey Friedman, Silverman and he have traveled. "And I want to stress that I appreciate as much as one can how fortunate I've been to be in the position I'm in."
Auld's teaching experience taught him to come to work every day ready to be his best.
"You can't show up in a classroom of 25 9-year-olds unprepared," Auld said. "... The other is to learn to rely on the support staff around you to every degree possible. You need help. ... So I've gotten very comfortable delegating over the years and trusting really, really confident people to do their jobs well."
Auld spoke about the mission statement that he, and others, helped create once principal owner Stuart Sternberg took control of the organization following the 2005 season. The gist of the statement "was to energize our community through the magic of Major League Baseball."
"And at the end of the day that drives almost everything we do," Auld said. "We really want people to get everything they can out of a Major League Baseball team. And they can. It's special.
"We are stewards of a very important community asset. And it's our responsibility, and now my responsibility as a leader, to make sure that that asset is as efficiently run as possible and does as much good as it possibly can."
Auld is proud of the team's growing fan base, which he said is "night and day" since Sternberg took control.
"When we first got here, we initiated a program to give free tickets to anyone we saw wearing Rays gear," said Auld with a chuckle. "And we can't afford to do that anymore, I'm pleased to say. You can't walk around town without running into Rays gear.
"And people wear it with pride and the brand stands for excellence, and the brand stands for great affinity. And we have a Rays republic now, and I can't say we had that when we got here. And the creation of that fan base is probably what we're most proud of. We have succeeded in energizing our community."
Based on the popularity the Rays appear to have achieved, and how the brand has been built, Auld noted that the organization is "bewildered" about the low attendance at Tropicana Field. But he was quick to point out that he likes to focus on how much better the attendance is than it once had been.
"We've made really significant strides," Auld said. "... Obviously, we're not satisfied with where we are, so we're doubling down on the challenge and we'll continue to work on it.
"But part of being the Tampa Bay Rays is embracing the challenge. It's enjoying the underdog effort and knowing that while the odds are stacked against us, we're going to figure out a way to make it work."
As for the ongoing pursuit of a new stadium, Auld said he's "ridden sidecar on the stadium situation" since it first became a talked about issue in 2007.
"I'm optimistic," Auld said. "I think that things are going pretty well with the Mayor [of St. Petersburg]. I think that we're having productive talks, and I really look forward to seeing what the future brings. Obviously, we need to figure it out.
"We understand that our incentives and the community's incentives are perfectly aligned. Figuring out exactly what that is and where the stadium should go is going to be very challenging. But it needs to go in the best place for the Rays and the best place for the community."
Clearly, Auld is equipped for the job, and his enthusiasm for his new position is evident.
"I'm thrilled to take this job," Auld said. "But I would have been very happy in my other job for the rest of time too. This is a really great place for me and I think it's helped bring out some of the best things in me, and I just look forward to seeing what comes next."
Bill Chastain is a reporter for MLB.com. This story was not subject to the approval of Major League Baseball or its clubs.