Orioles swept in ALCS by relentless Royals
Kansas City takes lead in first, then rides pitching, defense to victory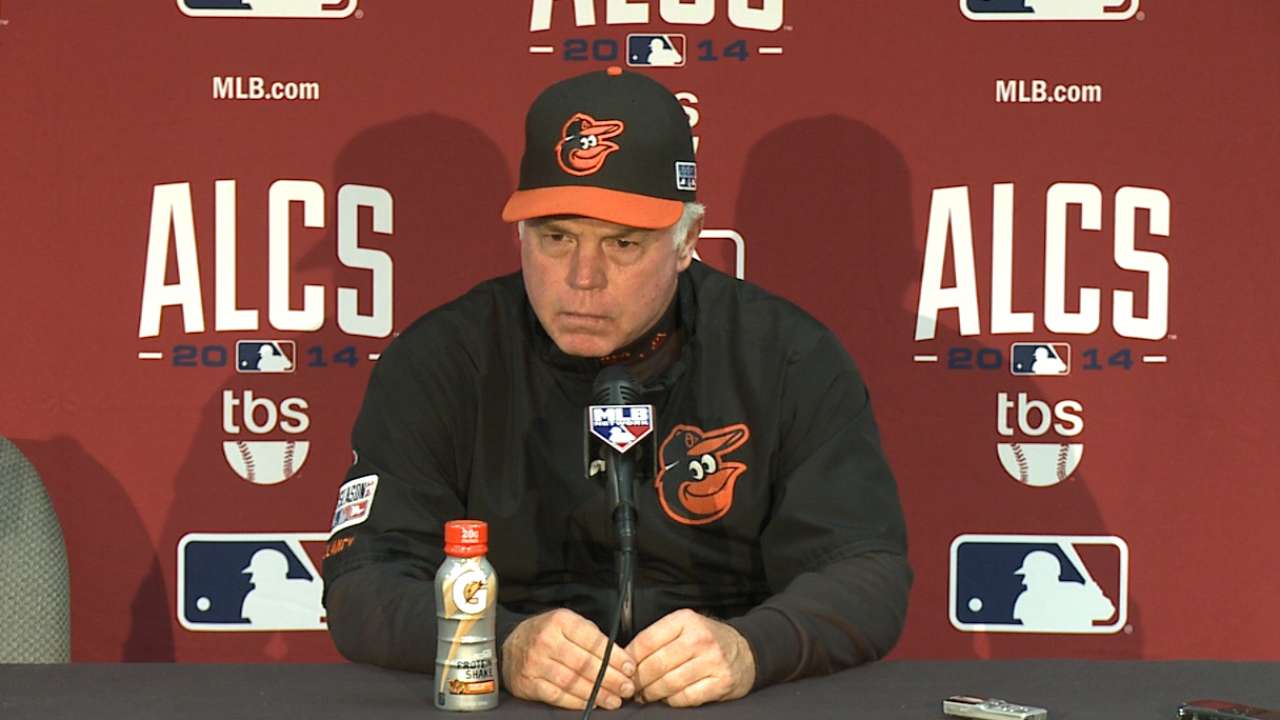 KANSAS CITY -- It was hard to absorb in the immediacy of the moment, the finality of the Orioles' season on Wednesday afternoon making it difficult to appreciate the team's whimsical -- and improbable -- run to the American League East title and AL Championship Series while missing a trio of All-Star players.
The Orioles had clung to the belief all series -- all season, really -- that they could defy the odds, and Wednesday's 2-1 loss to the Royals in Game 4 of the ALCS was a stinging end to that mantra as the royal blue-clad crowd celebrated Kansas City's first trip to the World Series since 1985.
"As a team, we played our [butts] off to get in this position," center fielder Adam Jones said of an Orioles club that went 96-66 in the regular season. "We weren't expected to. According to Sports Illustrated, we were supposed to be out of it by June. We've been playing with house money for a long time.
"All the games were close and all the games were good. That's the beauty of baseball. Just, we fell a little bit short. It wasn't from the lack of effort."
A club that cruised past the Tigers in a three-game AL Division Series sweep had no answer for a red-hot Royals team that has yet to lose in eight postseason games. The O's bats -- held to one run on three hits in Tuesday's Game 3 loss -- were challenged again by Royals starter Jason Vargas, who allowed one run on two hits over 5 1/3 innings before Kansas City's lockdown relief corps took over. And the Royals' defense sparkled yet again, as it did all series.
Orioles starter Miguel Gonzalez gave a gutsy 5 2/3-innings effort, but the Royals were able to squeak out two first-inning runs without a ball leaving the infield, epitomizing the way the series went for both clubs. The O's lost all four of the ALCS games by a total of six runs, as a speedy Royals club that has more infield hits this postseason than the rest of the teams combined continually put the ball in play and could seemingly do no wrong.
"My emotion is for the players and the organization and the fans, because I keep thinking about something I or we could have done differently. That's what you think about," Orioles manager Buck Showalter said of the somber end to his club's great run, which included his first managerial postseason series victory in the ALDS.
"But through it we got some good things done. We reminded the country what a great baseball city and city in general Baltimore is. ... I guarantee you, we'll do everything possible to try to give them and the organization and our fans this opportunity again. I can promise you that."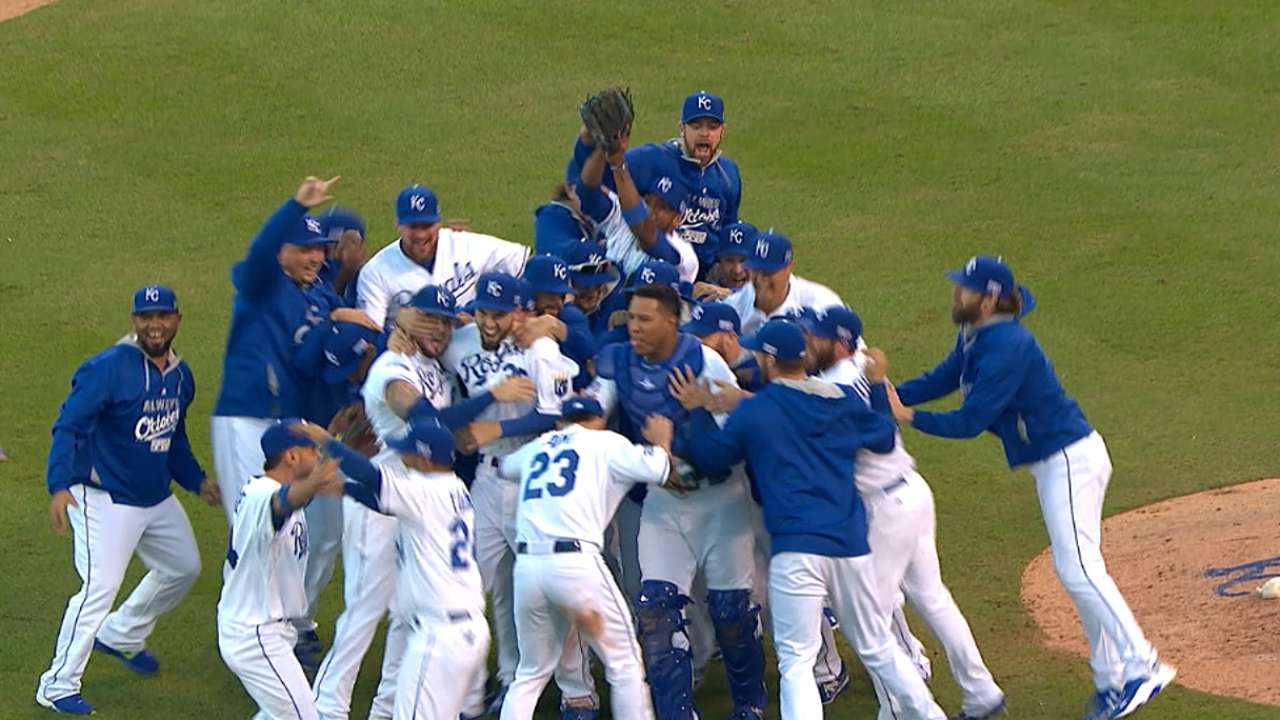 HOW IT HAPPENED
After Alcides Escobar reached on a first-inning infield single that took a bad hop on second baseman Jonathan Schoop, Gonzalez hit Nori Aoki with a pitch, and No. 3 hitter Lorenzo Cain shockingly dropped down the first sacrifice bunt of his career. It worked, with the runners advancing and Eric Hosmer then hitting into a fielder's choice that first baseman Steve Pearce fired home to try to get Escobar. But the ball got away from catcher Caleb Joseph and no one covered home plate, allowing both Escobar and Aoki to score to put the O's behind immediately.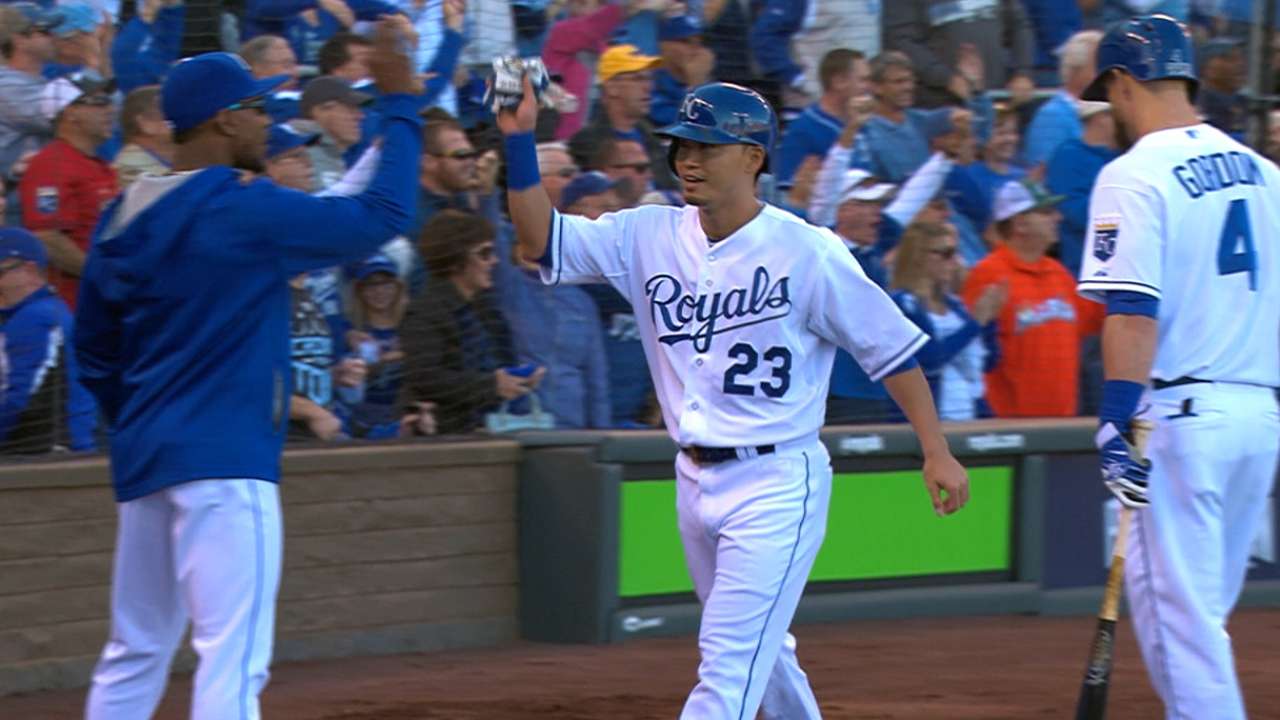 THE MOMENTS THAT MATTERED
Sixth inning slips away
The Orioles brought the tying run within 90 feet, but couldn't push Schoop across as Royals reliever Kelvin Herrera did what Kansas City's bullpen has done all October: shut opponents down.
Schoop worked a leadoff walk, and Vargas exited in favor of Herrera after Nick Markakis' strikeout. Herrera retired Pearce on a popout, then Jones muscled a single into right field to put runners on the corners, but Nelson Cruz lined a ball at second baseman Omar Infante.
"They don't do anything wrong," Cruz said of the Royals' fantastic defense the whole series. "They don't miss any plays. Everything they did was right."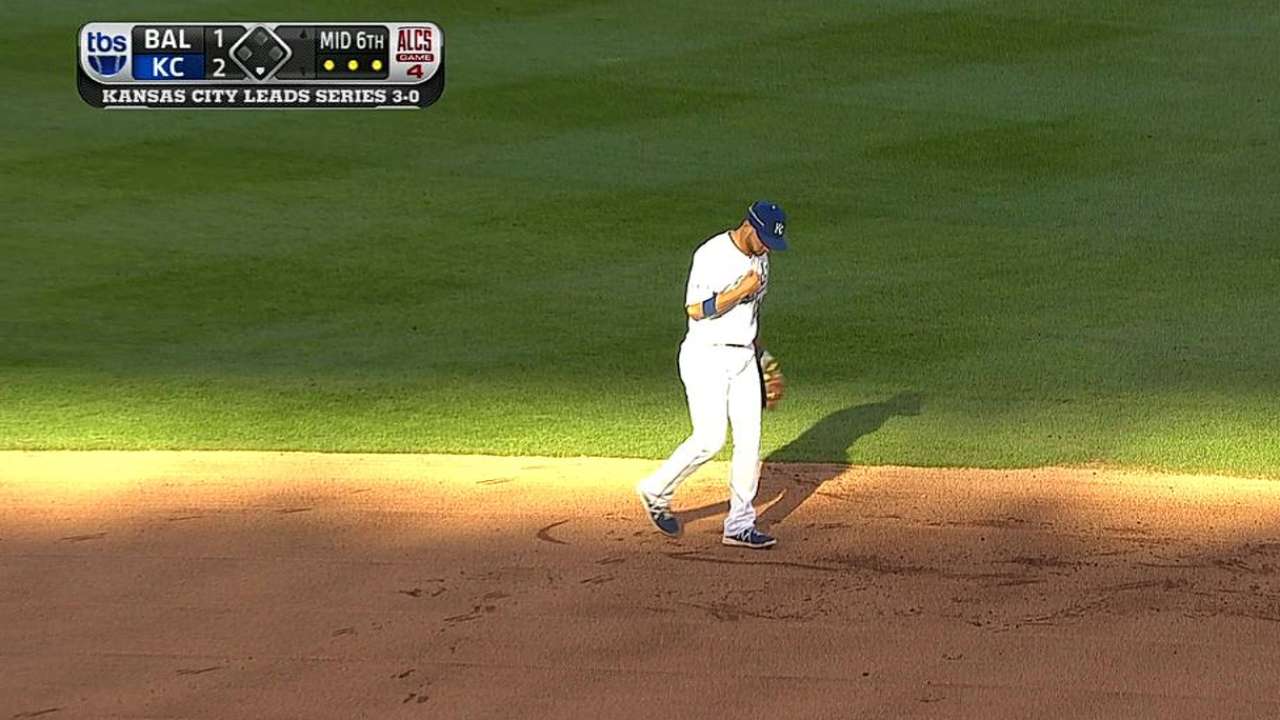 Gonzalez does his part
The right-hander, who hadn't pitched in a game since Sept. 28, gave the Orioles their best start of the series. Gonzalez held the Royals to two runs, one earned, on four hits over 5 2/3 innings, exiting in favor of right-hander Darren O'Day after striking out Mike Moustakas.
Gonzalez, who struck out four, battled all afternoon and kept the Royals off the board after the first.
"It's really tough to swallow, honestly," Gonzalez said of taking the Orioles' final loss. "It could have gone either way. We could have had a couple wins, but we didn't. Everything, they did the little things. It just went their way."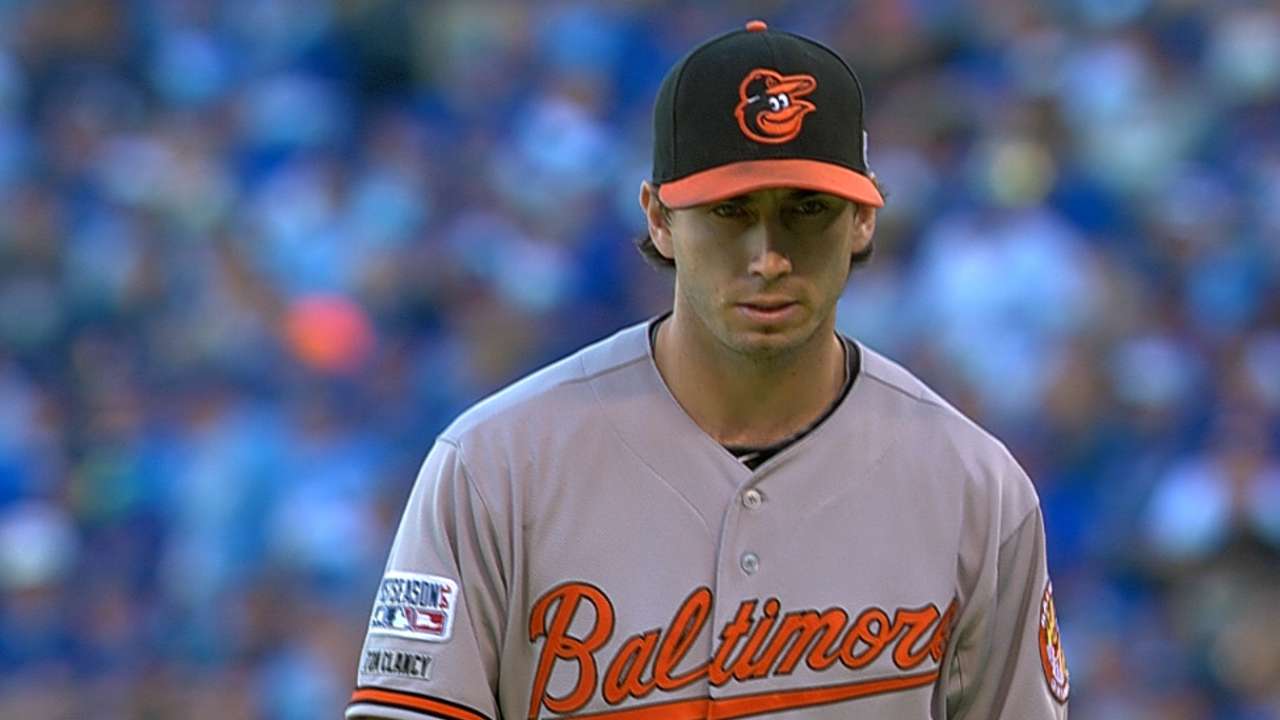 Flash goes yard
Ryan Flaherty halved the deficit, sending a shot hugging the right-field line for a homer to lead off the third inning.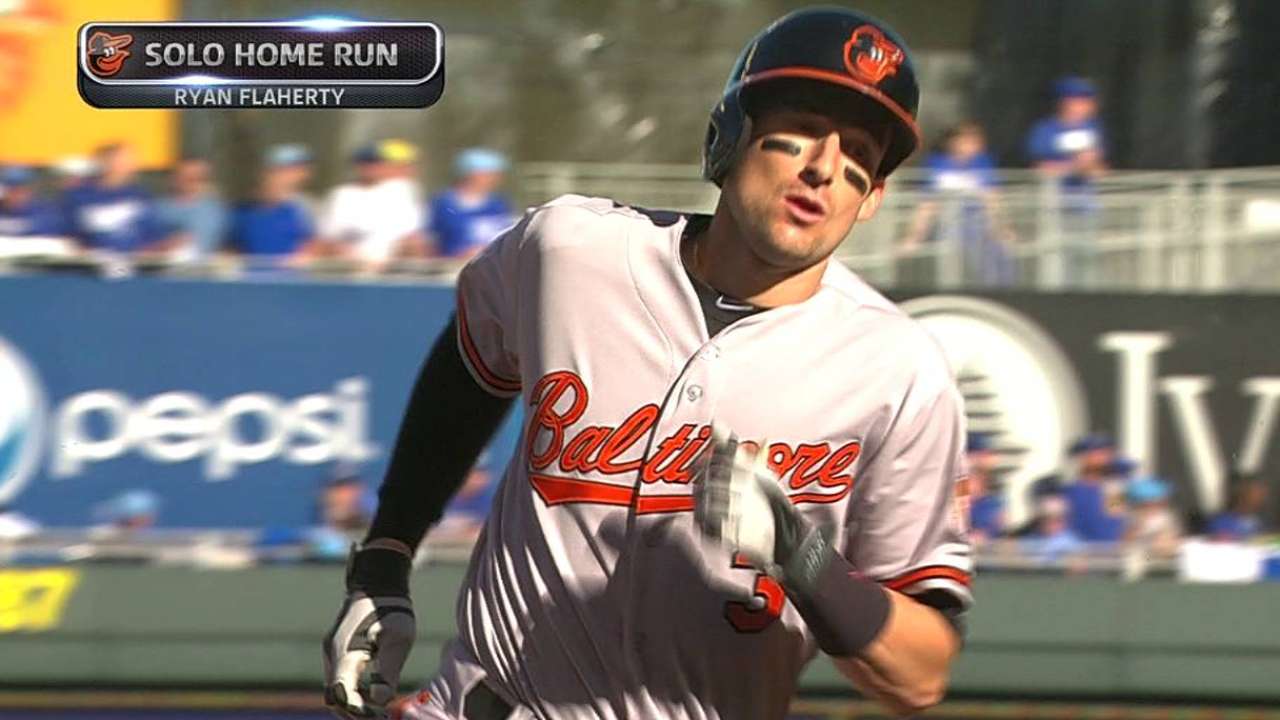 SOUND SMART WITH YOUR FRIENDS
The Orioles had gone 20 straight postseason series without being swept, including the 1944 World Series appearance by the Orioles' franchise predecessor, the St. Louis Browns.
The Royals are the first team to start a single postseason with eight straight wins. The 1976 Reds and 2007 Rockies held the previous record with seven straight wins to start a postseason (the Reds needed only seven victories to win the World Series).
Gonzalez certainly pitched well enough to win. Baltimore was 67-18 this year when any starter allowed two or fewer runs and 2-0 in the postseason before the ALCS Game 3 and 4 losses to the Royals.
Brittany Ghiroli is a reporter for MLB.com. Read her blog, Britt's Bird Watch, and follow her on Facebook and Twitter @britt_ghiroli. This story was not subject to the approval of Major League Baseball or its clubs.