Dyson not concerned over Flaherty incident ahead of Game 4
Royals outfielder downplays comments made after Game 3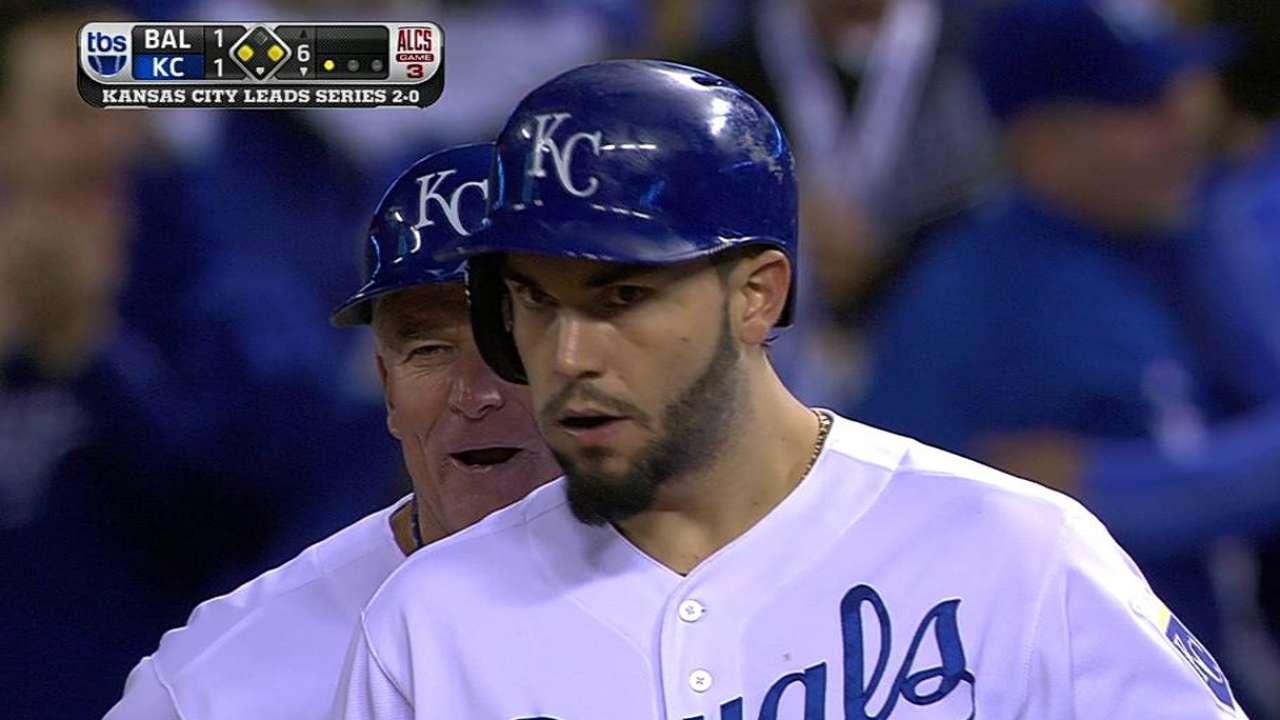 KANSAS CITY -- Jarrod Dyson's mouth often runs as fast as his legs, so his comments regarding Orioles third baseman Ryan Flaherty's supposed knee drop in Tuesday's Game 3 remained a hot topic Wednesday, though he downplayed them when asked about the incident again.
"I don't know what he was doing, I guess he was just playing baseball," Dyson said of Flaherty on Wednesday. "I ain't worried about it."
The episode occurred in the sixth inning of Kansas City's 2-1 victory in Game 3 of the American League Championship Series, right before Dyson scurried home on Billy Butler's go-ahead sacrifice fly.
The Royals' pinch-runner was seen diving back to third base on a pickoff attempt and, after the game, told CBSSports.com that he believed Flaherty deliberately "put a knee down" on him while attempting the tag.
Moreover, he suggested to the website that perhaps the move was retaliation for his earlier remarks stating he didn't think the series would return to Baltimore for a Game 6.
But Dyson was none too concerned by it Wednesday, before the start of a potential series-clinching Game 4.
"I guess he was just trying to block me out right there," Dyson said. "If he beat me to the bag, he had every right to drop the knee, I guess. It's baseball, I wasn't mad about it."
Orioles manager Buck Showalter confirmed what was speculated, that nothing was intentional.
"So intentionally drawn up that way, let's have a meeting and say we're going to do that? Of course not," Showalter said. "No, it's not that consequential. It's funny how imagination runs rampant this time of year."
Jane Lee is a reporter for MLB.com. Read her blog, Major Lee-ague, and follow her on Twitter @JaneMLB. This story was not subject to the approval of Major League Baseball or its clubs.