Guthrie apologizes to Orioles, fans for T-shirt
After Game 3 win, Royals righty wore shirt that read 'These O's Ain't Royal'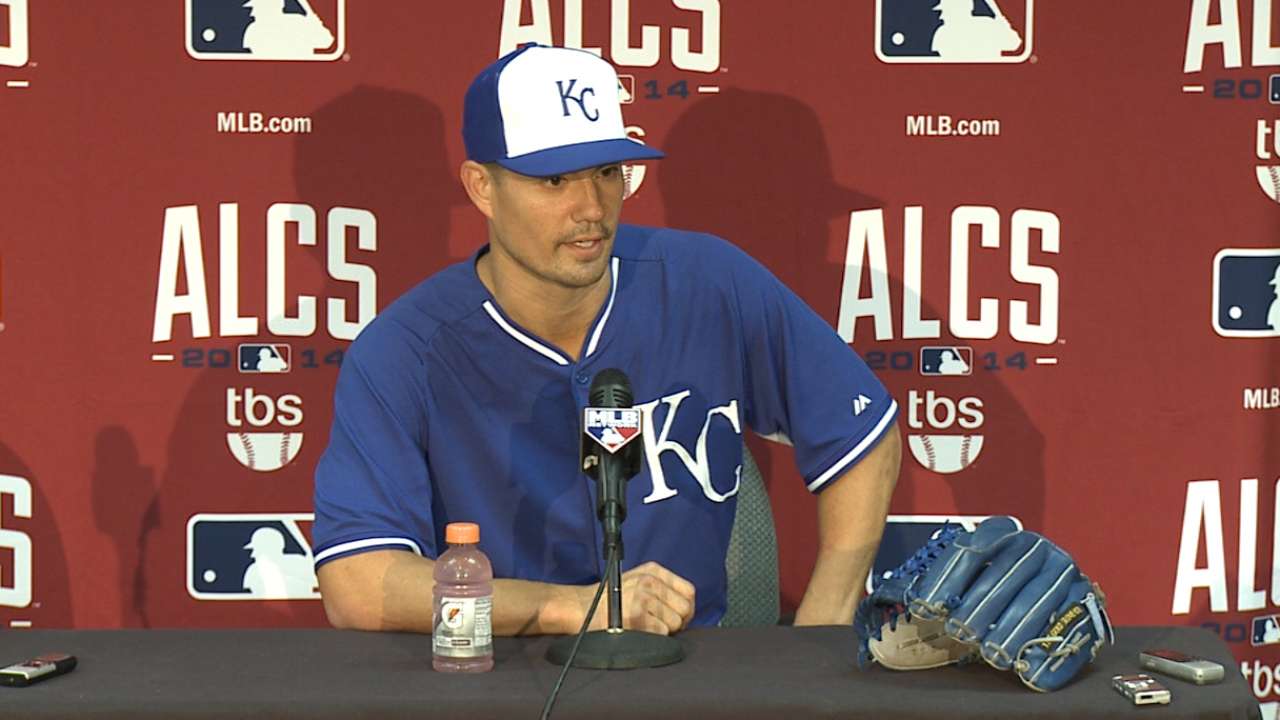 KANSAS CITY -- Royals starter Jeremy Guthrie made a surprise appearance in the interview room on Wednesday afternoon, a few hours before Game 4 of the American League Championship Series from Kauffman Stadium, to apologize for the T-shirt he wore on the same dais about 14 hours earlier.
After the Royals' Game 3 win on Tuesday night, Guthrie donned a shirt that read "These O's Ain't Royal," a reference to a provocative hip-hop song and a statement that angered fans of an Orioles team down 3-0 in the best-of-seven series.
Guthrie, who pitched for the Orioles from 2007-11, said the shirt was sent by a fan and he "used a lack of judgment in putting that shirt on after the game."
"So I wanted to apologize," Guthrie added. "I've already apologized to a number of people, because there's no intention on my part ever to offend. If you know me, I'm not a person that likes confrontation. I'm not a person that wants to go out there and get anybody angry with me or my squad."
Guthrie said the shirt "will be sent to the garbage, because that's probably where it belongs at this point."
The 35-year-old right-hander pitched five innings of one-run ball in his postseason debut in Game 3, then put the shirt on postgame, never changed and went into the interview room "with no incentive of inciting anything."
"There was no intention to call the attention to the other team, friends and former teammates, certainly not the organization and most definitely not their fans," Guthrie said, adding that he was "pretty unaware" the shirt was in reference to a song by rapper Chris Brown entitled "Loyal."
"I know there's a rhyme and that's where the shirt came from," Guthrie said. "That's what looked to me, quote-unquote, clever. And unfortunately, clever is not a good situation here."
Orioles manager Buck Showalter dismissed it while addressing Orioles beat reporters, saying, "It's not a topic of conversation. I would have picked a better song, though."
Guthrie also apologized via his Twitter account, @TheRealJGuts, and said he reached out to some of his close friends on the Orioles, though he didn't provide names.
"They accepted," Guthrie said.
Orioles starter Chris Tillman, who received an apologetic text from Guthrie on Wednesday morning, said "we've got more important things to worry about than the fashion of the other team. I think we've got to focus on winning, and that's first and foremost right now."
Guthrie established himself as a fan favorite in his four-year stint in Baltimore, winning 47 games and posting a 4.12 ERA on teams that didn't reach 70 victories. On Tuesday night and Wednesday morning, several of those same fans reached out via Twitter and were "very upset," Guthrie said.
"If you see a Jeremy Guthrie interview, I'm always wearing some shirt, whether it's 'The Hunt For Blue October,' a Facebook thumbs up, Stark Industries, a number of shirts that are just sent to us," Guthrie added. "I find them fun, and [Tuesday] I was blinded to the fact that what I thought was fun was going to be offensive."
Alden Gonzalez is a reporter for MLB.com. Read his blog, Gonzo and "The Show", and follow him on Twitter @Alden_Gonzalez. This story was not subject to the approval of Major League Baseball or its clubs.