KC's playoff run captures Royals great White's attention
Alum of 1985 championship club impressed by dominant postseason showing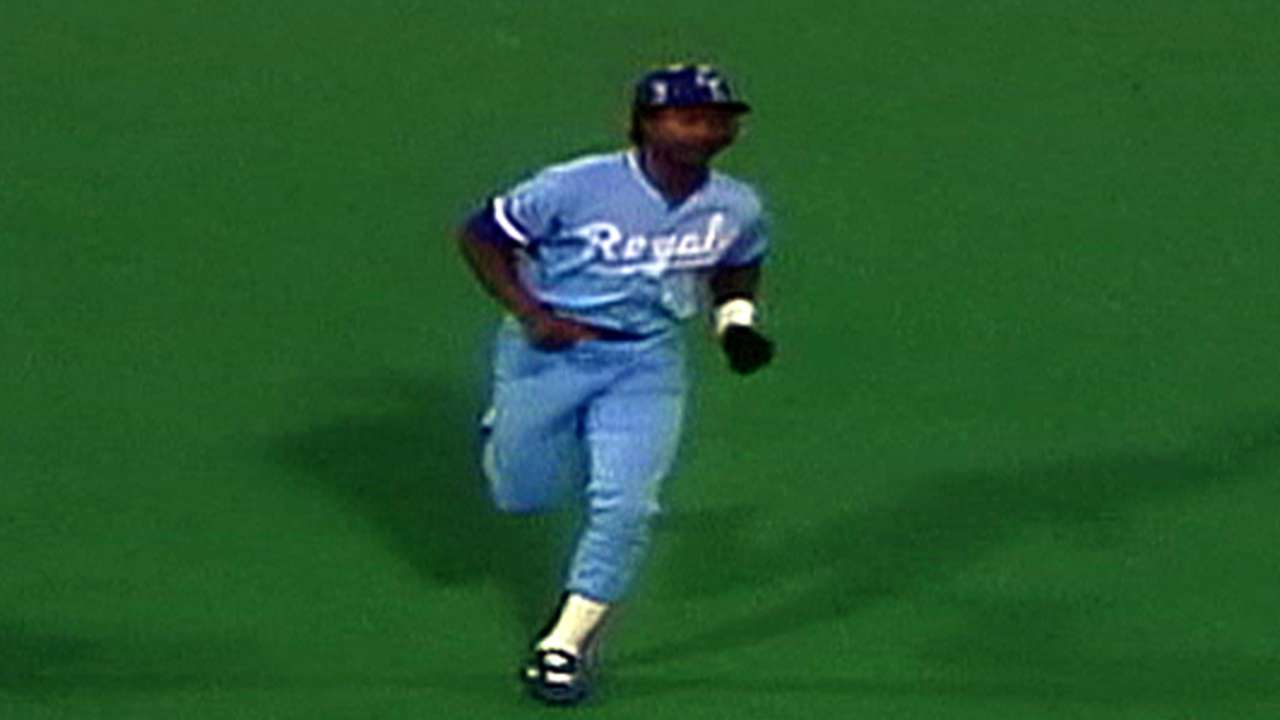 KANSAS CITY -- Royals Hall of Fame member Frank White likes what he sees from the team that's been rampaging through the postseason.
"I've never seen a season like this," White said before Wednesday's game. "I've never seen a team coming around so fast and just walking through everybody like they've done. It's just unbelievable, it just doesn't happen in baseball, especially at the playoff level. I picked the Royals in six games, but they're defying all the odds right now."
White, whose No. 20 is retired and whose statue stands at Kauffman Stadium, was a key force on Kansas City's 1980 and '85 World Series teams. The '85 team won it all, and no Royals team had been in the postseason again until this year.
"It wasn't just '85 -- it was all the great years leading up to '85. It was not like a flash in the pan. It was a combination of a lot of great years and a lot of great players," he said.
White attended Wednesday's American League Championship Series Game 4 with wife Teresa. He and the club have been at odds since 2011 after his departure as a television commentator. But he came to a game on Sept. 19 against Detroit and also attended the AL Wild Card game against Oakland on Sept. 30.
"It was one of the wildest games I've ever seen," he said.
White has worked for a roofing company, coached for the Kansas City T-Bones and is currently busy running for the Jackson County Legislature, with the election ahead on Nov. 4.
"I'm just being a fan, coming out on my own and just having a good time with the fans. That Wild Card game, I got patted on the back so many times, I felt like I had another back the next morning when I got up. They were all excited about the game and I assume it's going to be the same today," he said.
"But you're running for public office and I don't mind being around people, and it's kind of neat to get that experience from their perspective."
As a former coach and Minor League manager, White knows several of the current Royals.
"I managed some of these guys, I've coached some of these guys in Spring Training and I've just watched them achieve their goal and achieve their dream of being in a playoffs," he said. "That's what it was all about to me. It's just really letting them know I'm still supporting them, pulling for them and rooting for them."
White shares the community's fervor for the Royals.
"I'm just glad that these fans are getting what they've deserved for a long time. I'm glad that the players are writing their own history ... and hope it's not another 29 years before it happens again," he said.
Dick Kaegel is a reporter for MLB.com. This story was not subject to the approval of Major League Baseball or its clubs.