Miggy may not need surgery on bone spur in ankle
Potential procedure would likely involve 4-6 weeks of recovery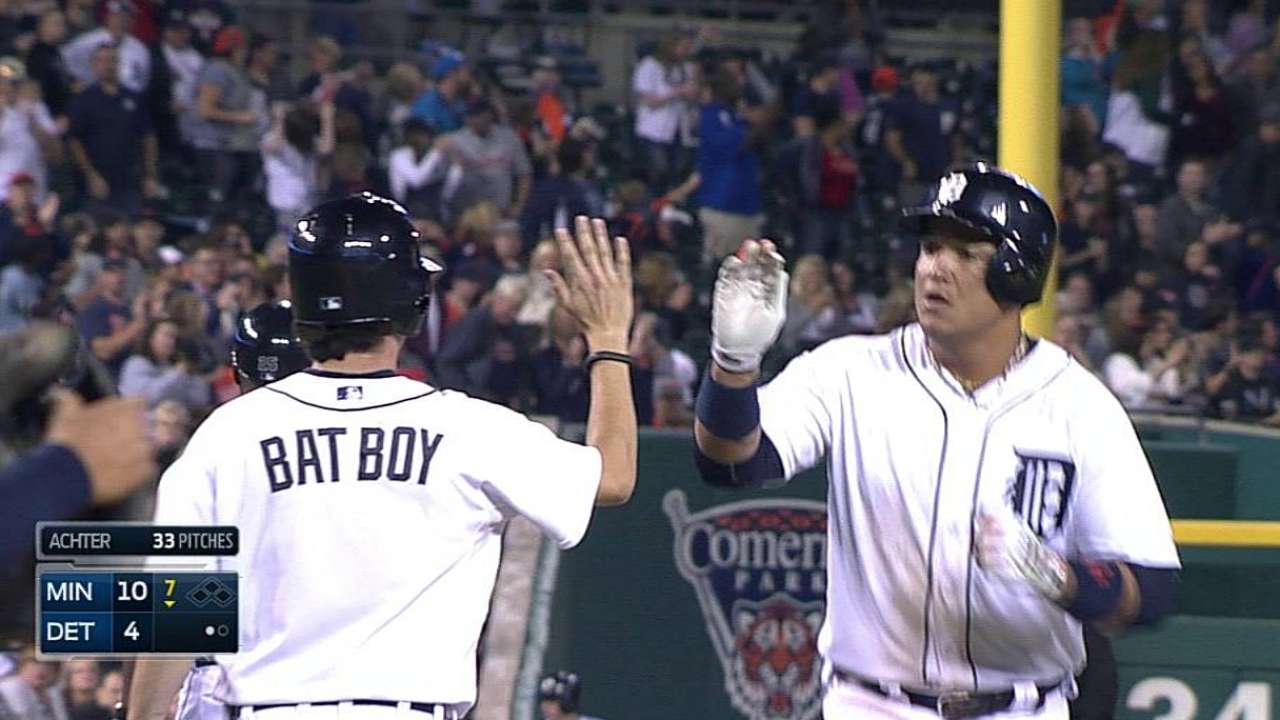 DETROIT -- What looked like a second consecutive offseason surgery -- and a second consecutive injury-shortened training regimen -- for Miguel Cabrera is now less certain. At this point, it's unclear whether the Tigers slugger will need surgery to remove a bone spur in his right ankle.
"We're checking him out, from a physical perspective," team president/general manager Dave Dombrowski said Tuesday. "We've already done some of the work on that, and we'll do some more this week, and then we'll determine what we're going to do beyond that. That'll be more of a doctor's decision.
"Is it a possibility? I'd say it is a possibility. I don't know if it's going to happen or not. But is it a possibility? Sure. There's a spur in there, and people that have looked at him so far tell me that if it has to be removed, it's a relatively easy -- for them -- procedure. But I don't want to draw any conclusions yet, because he's not done with that whole process."
Cabrera dealt with a bad ankle for most of the season's second half. He seemed to play through it more effectively near season's end, earning American League Player of the Month honors for September while batting .379 (39-for-103) with eight home runs and 18 RBIs.
Even so, he was clearly slowed, and his unsuccessful effort to beat out a double-play ball during their Division Series loss to Baltimore was a reminder of it. Though his home run rate improved after the All-Star break, salvaging a 25-homer season, his doubles rate declined, despite finishing with a career-high and league-best total of 52. His ratio of extra bases taken to baserunning opportunities, while improved from his injury-hobbled 2013, did not rebound to '12 levels.
"There's no question that that ankle started to bother him at times, based upon a couple of instances, probably more sliding at more various times, in which he was affected," Dombrowski said. "But I think the difference was, where in 2013, where [the core muscle injury] hurt him all the time, in 2014 here ... it hurt him at [some] times worse than others. Because it was there, and he would do something to jar it, and it would hurt him."
If Cabrera has the surgery, he'll have plenty of time to be ready for Spring Training. A normal recovery period lasts 4-6 weeks, though a minor procedure could lead to a quicker recovery than that. The real impact would be on his offseason workouts, kind of like last winter.
Though Cabrera recovered from last year's core muscle surgery in time for a full Spring Training, he didn't have his usual workout program, which has been described by teammates, peers and trainers as intensive. That seemed to affect him as much as the recovery.
Team officials have hoped that a healthy offseason of workouts would help Cabrera recapture the power swing that helped him post back-to-back 44-homer seasons in 2012 and '13.
Jason Beck is a reporter for MLB.com. Read Beck's Blog and follow him on Twitter @beckjason. This story was not subject to the approval of Major League Baseball or its clubs.