Catching prospect Diaz could be in Pirates' plans for 2015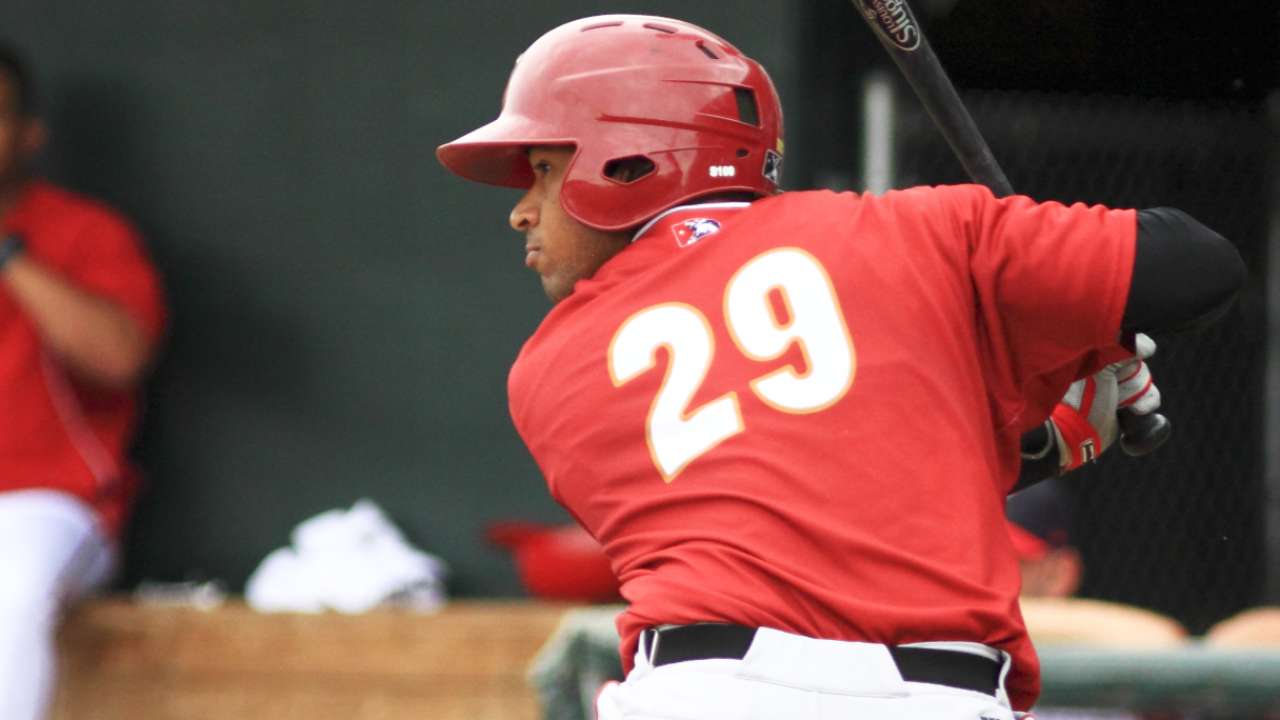 SCOTTSDALE, Ariz. -- It's the eighth inning of a recent Arizona Fall League game, and Scottsdale's 2-1 lead is in jeopardy as Mesa loads the bases with two outs. Right-hander Colton Murray's pitch to the lefty hitting Jacob Hannemann sails way outside, forcing catcher Elias Diaz to quickly shift both his feet and hands to backhand the ball.
From that twisted receiving position, Diaz uncoils and unloads a throw to second that almost picks off the runner, Dan Robertson.
The "almost" doesn't even matter. The audacious play says everything about the mobility, arm and confidence of a young catcher who has zoomed his way into the Pirates' plans.
As the 2014 Minor League season progressed, manager Clint Hurdle and GM Neal Huntington both went out of their way to heap props on Diaz, so he was known by reputation. But this was a first opportunity to see him in action.
Diaz is popularly labeled the Bucs' "Plan B" behind the plate, with the team and its fans holding out hope for being able to retain free agent Russell Martin. Reality, however, graduates Diaz to "Plan A."
The 23-year-old Venezuelan hasn't yet been in Pirate City for the Major League Spring Training camp -- that will change in February -- so he can't think about getting to Pittsburgh.
"I don't hear anything," Diaz said about any awareness of how he had grabbed team leaders' attention. "I try to give it the best I can every day, keep getting better. That's all I can do."
He has quick feet, sure hands. In Monday night's game against Mesa, Scottsdale pitchers typically buried numerous breaking pitches in the dirt. None got past Diaz's blocks. The fans sitting behind home plate in Scottsdale Stadium still do not know what Diaz looks like: Not once did he have to straighten and turn to run toward them to chase down a pitch.
As for the arm, Diaz should have to register it.
"He's got a cannon," said Tyler Glasnow, the righty who is the Pirates' No. 1 prospect and is here pitching to Diaz for the first time.
There's no mystery why the publication Baseball America ranked Diaz as "Best Defensive Catcher" in the Double-A Eastern League. Significantly -- because the Pirates have this resistance to having anyone skip a Minor League rung -- Diaz was promoted to Triple-A Indianapolis for the final two weeks of the season. When he left Altoona, he was third in batting in the Eastern League with a .328 average and was riding a 16-game hitting streak.
Going off reports he had gotten, Hurdle then chose a prophetic way to laud Diaz's bat work.
"He's been having at-bats like Russell Martin is," Hurdle had said. "Grinding them out in a blue-collar way."
When Diaz got to Indianapolis, former first-round Draft pick Tony Sanchez was issued a first baseman's glove.
Indianapolis manager Dean Treanor at the time said that directive "came from the top." Frank Kremblas, a top lieutenant in the Bucs' Minor League operations who is here managing Scottsdale, said, "Yeah, absolutely," when asked whether Diaz had leapfrogged Sanchez as the organization's top catching prospect.
"He has gotten really comfortable at the position," Kremblas said of Diaz. "A few years ago, he would rush everything back there and throw the ball all over the place. But all his hard work has been paying off."
Ironically, Diaz's bat put him on the Pirates' map. His Altoona breakout came after he'd hit .279 at Class A Advanced Bradenton in '13, and .208 at Class A West Virginia in '12.
Ironic, because Diaz had always felt more confident in his offense than in his defense.
"I've been more focused on defense. I knew the hitting would come," Diaz said. "I work on both the same every day. Now, in the game, I'm mostly focused on helping my pitcher."
"He's a phenomenal catcher," Glasnow said. "Everything is so soft when he catches it. It's definitely a confidence boost to know he's behind the plate. He gets you some outs with that arm."
Since being taken in the fifth round of the 2011 First-Year Player Draft, Glasnow has always been one Minor League rung behind Diaz. They've caught up to each other in the AFL to form a battery for the first time. It is an act that could soon move to PNC Park.
"Diaz has the best throwing arm in our system," Huntington said, "and his receiving, game-calling and blocking have all advanced."
"He is a guy we'll have more conversations about over the winter," Hurdle had said as the season was winding down, obviously already anticipating his own first in-person look at his possible next catcher.
Tom Singer is a reporter for MLB.com and writes an MLBlog Change for a Nickel. He can also be found on Twitter @Tom_Singer. This story was not subject to the approval of Major League Baseball or its clubs.