Inbox: When will Stanton talks begin?
Beat reporter Joe Frisaro answers Marlins fans' questions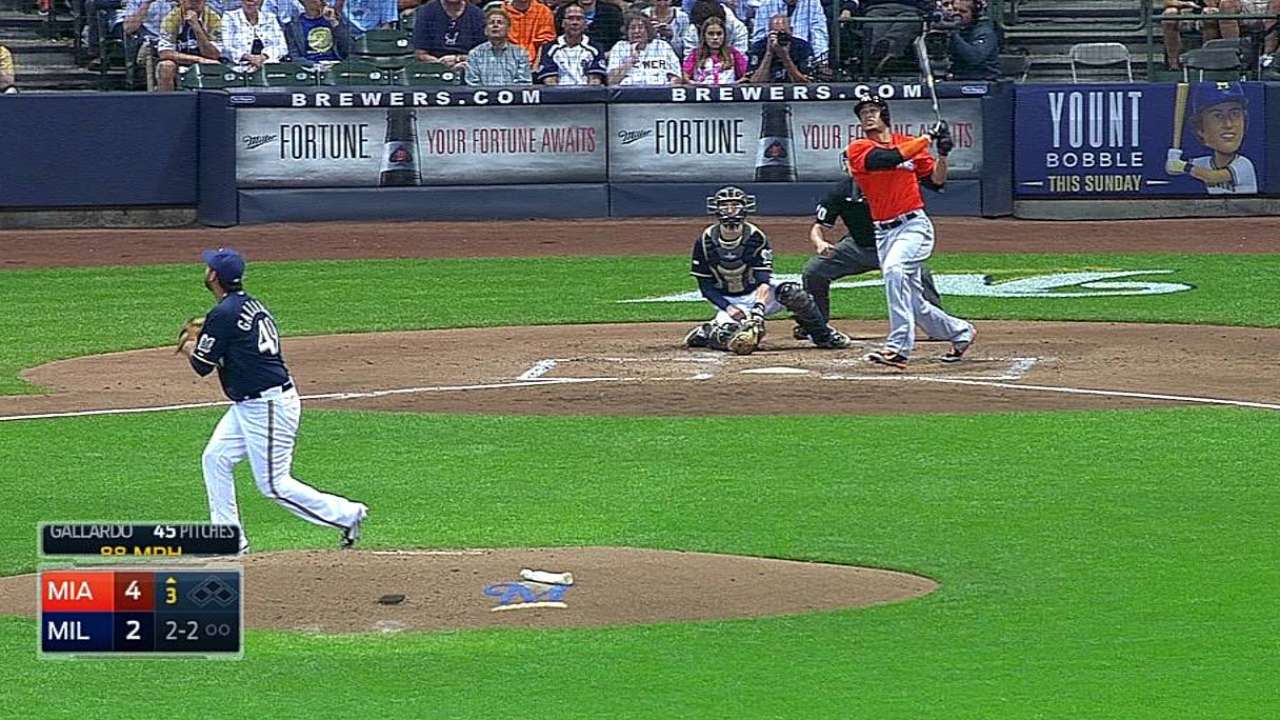 When do you think the Marlins will start negotiations with Giancarlo Stanton? Do you think a deal will get done? -- Eddie C., Orlando, Fla.
How the Stanton saga plays out will be one of the most followed stories of the Hot Stove season. In the next week or two, Miami's management team will get together for their annual offseason meetings. They will set the budget for 2015 (expected to be around $60 million), and put together their offseason plan.
Stanton is at the top of their priority list. My guess is talks will heat up around the time the General Managers Meetings in Phoenix get underway in mid-November. Money and organizational commitment will be two important factors. The front office has made it clear they want to build around Stanton. Now, they have to sell the two-time All-Star that Miami is a place to commit to for the next five or six years.
For a deal to get done, I think the Marlins will have to make a creative offer. The team already appears willing to bend its no-trade clause policy. They may also have to agree to move in the fences over the length of the contract, and commit to beefing up payroll to remain competitive. Stanton wants to be part of a contender, and the team has to show it is on the verge of playing in October.
I see Jose Fernandez is throwing again. When is the earliest he might return? -- Martin S., Tampa, Fla.
Fernandez started his throwing program on Oct. 1, and he is tossing on flat ground three times a week. There is no set time to throw off the mound, but it could be in January.
The hope is he will rejoin the Marlins around the All-Star Break, or 14 months removed from the Tommy John surgery he underwent in May. Fernandez seems willing to show patience. He wants everything to heal properly, and not risk a setback.
Whenever he does come back, look for Fernandez to be on a pitch and/or innings limit. He will still be handled carefully.
Casey McGehee did a wonderful job this year, but is he part of the plans for the Marlins in 2015? -- Ann F., Hollywood, Fla.
McGehee is arbitration-eligible, and the Marlins are planning on retaining the veteran for at least one more year. He is such a big part of the team, impressing with his leadership and clutch hitting. Now 32 years old, he did wear down at the end of the season.
Next year, look for McGehee to get some more days off in hopes of keeping him fresh for the entire season.
What are the Marlins' priorities in trades and free agency? -- Steve D., Kendall, Fla.
A frontline starting pitcher is a very high priority, if not the highest. You are seeing the importance of pitching and defense in these playoffs, and the Marlins would like to follow that model.
Miami has the makings of a strong rotation, especially when Fernandez returns. Adding a top-of-the-rotation arm will help bridge the gap until Fernandez is back. Free agent James Shields is an ideal candidate. But the free-agent market for Shields, Jon Lester and Max Scherzer will be very costly. Justin Masterson could be worth watching.
To attract the type of starter the Marlins are seeking, they may have to make a trade.
Stanton led the National League in home runs, but McGehee ended up with four. What options do the Marlins have to hit cleanup, behind Stanton? -- Gordon M., Miami.
In free agency, look for the Marlins to express interest in Michael Cuddyer, who dealt with hamstring issues with the Rockies in '14. The 35-year-old was an All-Star and National League batting champ in '13 when he hit .332 and hit 20 homers.
Cuddyer is an option to play first base and provide some more protection behind Stanton. The Marlins feel they can lengthen their lineup with McGehee hitting fifth or sixth.
Joe Frisaro is a reporter for MLB.com. He writes a blog, called The Fish Pond. Follow him on Twitter @JoeFrisaro. This story was not subject to the approval of Major League Baseball or its clubs.