Lineup breakdown: Orioles vs. Royals, Game 4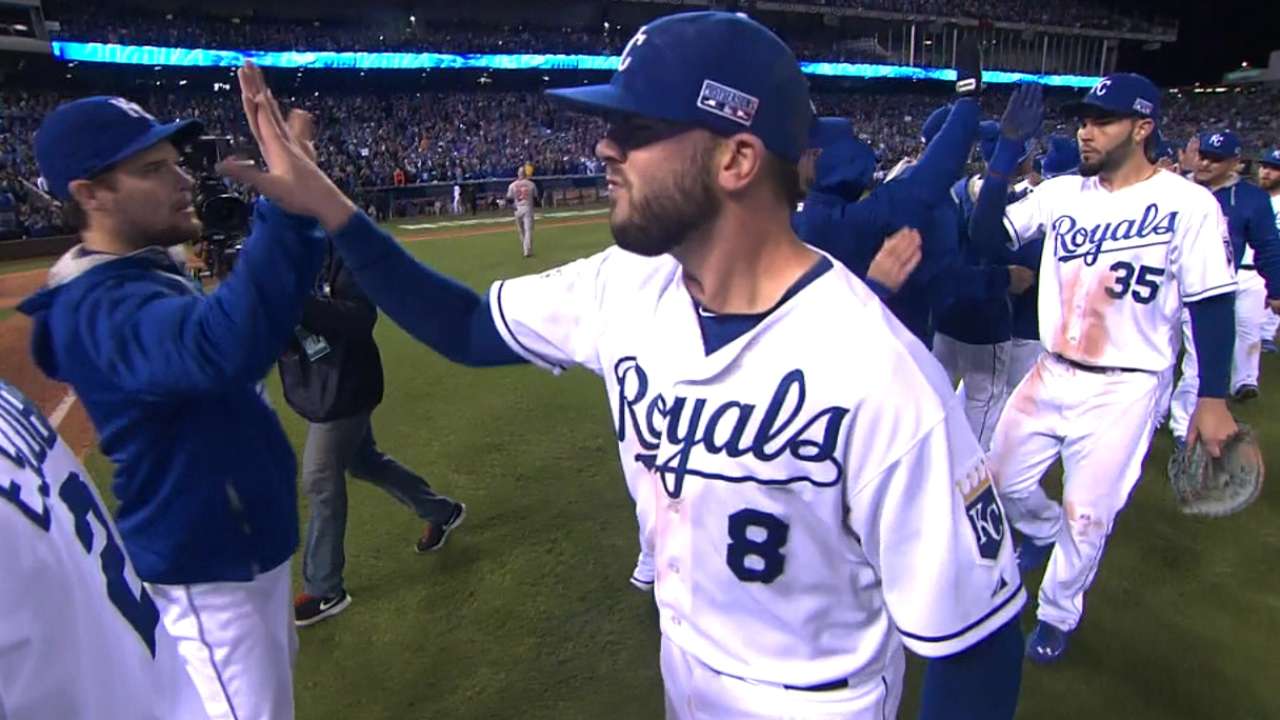 The Orioles must win or go home. The Royals can win and make history.
Everything will be on the line today in Game 4 of the American League Championship Series at Kauffman Stadium in Kansas City (4 p.m. ET on TBS), with the O's on the brink of elimination and the Royals on the cusp of their first World Series appearance since 1985. Here is a breakdown of the starting lineups:
ORIOLES
Manager Buck Showalter and the O's are hoping that one of their biggest Division Series difference makers -- Delmon Young -- can give them a lift in the do-or-die game. The right-handed veteran slugger is in the lineup against left-hander Jason Vargas, who is making his first start of the series. Young's pinch-hit three-run double against the Tigers in Game 2 of the ALDS helped propel Baltimore through that series.
Young has hit .282 against lefties this year, while Alejandro De Aza -- on the bench today -- has hit .138 against southpaws. Young is also a career .389 (7-for-18) hitter against Vargas, who was 11-10 with a 3.71 ERA in the regular season and kept the Angels to two runs (both on solo homers) in six innings in his first career postseason start in the ALDS.
Vargas has not faced the Orioles this season, but he is 2-3 with a 1.94 ERA in eight starts against them in his career.
Nelson Cruz (10-for-30), J.J. Hardy (4-for-16) and Ryan Flaherty (2-for-4) are the other Orioles starters with career batting averages better than .200 against Vargas.
RF Nick Markakis
1B Steve Pearce
CF Adam Jones, CF
LF Nelson Cruz
DH Delmon Young
SS J.J. Hardy, SS
C Caleb Joseph
3B Ryan Flaherty, 3B
2B Jonathan Schoop, 2B
ROYALS
It's more of the same for manager Ned Yost and his Royals, who are undefeated in postseason play and can become the first team in Major League history to win its first eight games of a postseason. Yost is rolling out his regular lineup to face Baltimore's Miguel Gonzalez.
Gonzalez, 30, was 10-9 with a 3.23 ERA this season and has made one career start in the postseason, holding the Yankees to one run on five hits in seven innings in the 2012 Division Series. In one start against the Royals this year, he gave up four runs (three earned) on six hits in six innings. Gonzalez is 1-2 with a 4.82 ERA in three career starts against Kansas City.
Salvador Perez (4-for-9 with a homer and two RBIs) and Nori Aoki (1-for-3) are largely the only Royals starters with notable success against Gonzalez. Eric Hosmer is 1-for-9, Billy Butler and Alex Gordon are 1-for-8, Omar Infante is 1-for-6 and Mike Moustakas is 0-for-8.
SS Alcides Escobar
RF Nori Aoki
CF Lorenzo Cain
1B Eric Hosmer
DH Billy Butler
LF Alex Gordon
C Salvador Perez
2B Omar Infante
3B Mike Moustakas
Joey Nowak is a reporter for MLB.com. Follow him on Twitter at @joeynowak. This story was not subject to the approval of Major League Baseball or its clubs.