Rasmus prepares for potential full-time starting gig
Converted reliever may join rotation in 2015 as Angels build depth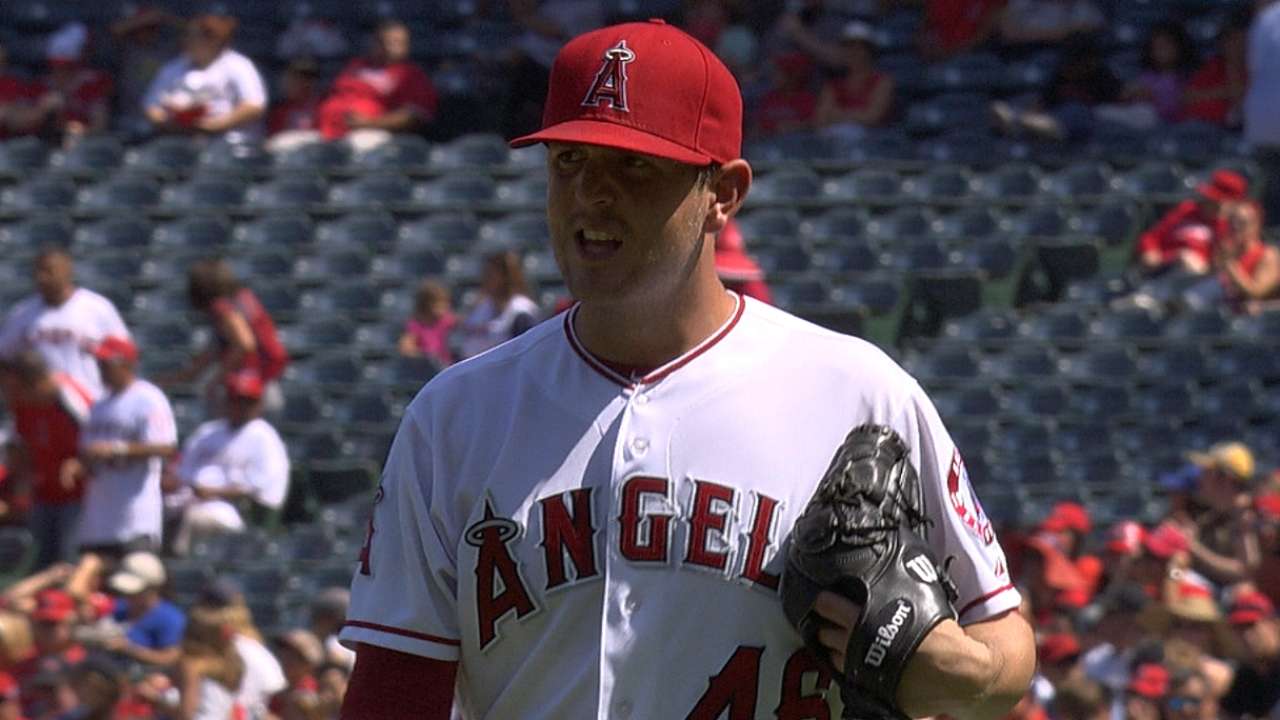 ANAHEIM -- Most pitchers, including Cory Rasmus earlier this season, insist there is no difference between pitching out of the bullpen and starting a game.
They say that they still have to attack hitters and throw strikes, and that they won't change their routine or the way they prepare. After five starts in September of the 2014 regular season, Rasmus now realizes the differences between being a relief pitcher and a rotation member.
"Out of the bullpen for the past four years, it's totally been one hitter at a time," Rasmus said recently. "Where as a starter, you have to think that same way, but at the same time, you have to say, 'What can I do the first time through the order?' and then change it up the second time through the order."
This was just one of the lessons Rasmus learned this past season, when his performances out of the 'pen became so good that the Angels converted Garrett Richards' turn in the rotation into a bullpen day started by Rasmus.
Now, the Angels may even look at converting Rasmus into a full-time starter for next season as they try to build depth in the rotation.
"At the end of the day," Rasmus said, "it was me proving to myself that I could compete at this level, and kind of getting a new understanding for starting with that opportunity that I had. It kind of allows me to more or less know what to expect, if I have that role."
Beginning on Aug. 30, Rasmus made six starts, posting a 2.37 ERA, .164 opponents' batting average and 0.84 WHIP through the end of September. By the end of the season, Rasmus had stretched from a two-inning reliever to a starter who could throw four innings and nearly 60 pitches.
Rasmus said he had not had conversations with the Angels about becoming a full-time starter.
"I feel I pitched pretty well and I'm sure we'll have some talks in the offseason," Rasmus said. "We'll get that taken care of. We have three months, four months until we have to be back. We'll get everything settled and we'll figure it out before Spring Training comes around."
If Rasmus is tabbed as a starter next season, the Angels will see a different pitcher by the start of Spring Training. The 26-year-old said he would tailor his offseason workouts to whatever role the club has in mind for him.
"I'll be able to throw how much they want me to throw," Rasmus said.
Rasmus also said he would reintroduce a windup to his repertoire. Beginning midway through last season, Rasmus has thrown exclusively out of the stretch, as most relievers do. But when he transitioned to a starter late in the season, he became one of the few starters that didn't throw out of the windup.
"It mixes it up," Rasmus said. "You're not doing the same exact thing every pitch. You want to kind of give guys different looks every time. … All that stuff comes into effect whenever you're a starter. You want to get them off their game as much as possible. Use anything and everything you can to disrupt their timing."
Although his numbers were solid (.176 opponents' batting average the first time through the order, .125 the second), Rasmus still said pitch sequencing as a starter could help him improve.
"With me, the few times I started, it was out of the gate, everything I got, here we go," Rasmus said. "Fast, curve, change, slider, whatever, just trying to get some outs. You can kind of learn from guys who have done it for a long time. Take some stuff from what they've done, that they've had success with and use it for yourself. Hopefully I can do that."
Matthew DeFranks is an associate reporter for MLB.com. Follow him on Twitter @MDeFranks. This story was not subject to the approval of Major League Baseball or its clubs.