Highly touted Russell makes appearance at second in AFL
Cubs want shortstop, No. 2 prospect to be versatile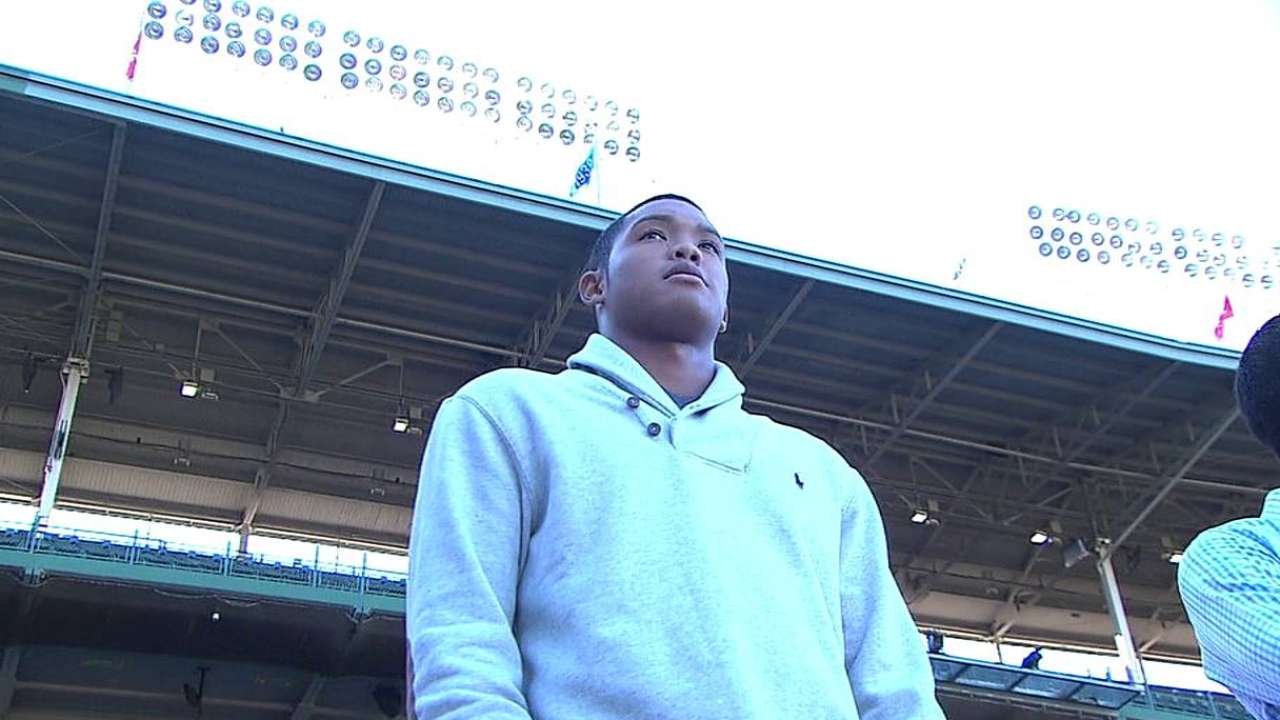 MESA, Ariz. -- The scouts noticed, as did the 400-plus fans at Scottsdale Stadium and any diligent Cubs aficionados who checked the box score. Highly regarded shortstop Addison Russell started at second base this week.
Russell moved to the other side of the infield for the Mesa Solar Sox on Monday in Arizona Fall League play, and he caught two popups and handled three groundouts. No errors, no hoopla. The 20-year-old infielder also had a hit in that game, one of three he's recorded so far in 15 at-bats over four AFL games.
Being able to switch positions is part of the Cubs' big plan for Russell, who is playing in the AFL for the second straight year.
"It's something I don't mind, it's something I'm really interested in learning," Russell said last week. "I'll be able to put that on my resume. It'll be better for me in the long run -- I'll be more versatile and have more experience on both sides of second base."
Versatility is something the Cubs plan on emphasizing with their young players. They have an overload of talented shortstops on the depth chart in Starlin Castro, Javier Baez and Russell, but the front office has repeated that it's a good problem to have. Baez started at second base when he was promoted to the big leagues, but he moved to short when Castro was injured. Next year, Baez is projected as the Cubs' Opening Day second baseman.
Acquired from the Athletics in the July 4 trade that sent Jeff Samardzija and Jason Hammel to Oakland, Russell had only played shortstop in the Minor Leagues, starting there for 217 of his total 221 games. He was the designated hitter in the other four games.
"I've always played short, ever since I was little," Russell said. "I think it comes natural to me. I like to stick to what I know and get better at that."
But he also isn't opposed to moving around.
"I want to be a sponge and soak up everything and try to learn everything," Russell said.
Ranked No. 2 on MLB.com's list of the Cubs' Top 20 prospects behind Kris Bryant, Russell isn't afraid of hard work. At Pace High School in Pensacola, Fla., he weighed 225 pounds his junior season, and he was playing short and third base.
"I was talking to my dad, and he said losing the weight would benefit me in the long run," Russell said. "He was right."
After an offseason of running, diet and some adjustments to his weight training program, Russell dropped to 195 pounds. The Athletics tabbed him in the first round of the 2012 First-Year Player Draft.
Russell admits he'll have to stick to his training program as he gets older.
"I really don't think I'm going to get any taller," said Russell, who is 6-feet tall. "My shoulders will get broader and then I'll get heavier. [My weight] is something I have to be cautious about -- and be cautious of my workouts and make sure I get my work in.
"I thought I had more athletic ability to be at third and at short as well. Once I was that big, people moved me over to third, and I really didn't like that. So I took it upon myself to lose that weight."
This is Russell's second stint in the AFL, and even though he's still learning his way around the Cubs' complex here, he's at ease because he's reunited with some of his Oakland teammates who also play for the Solar Sox.
"I've been with those guys ever since we were drafted," Russell said. "I see how they play the game and go about the game. We like to compete with each other and have that friendly competition. It's something that pushes us harder and makes us better."
Russell has connected with the Cubs' AFL contingent that includes Dan Vogelbach, Bijan Rademacher, Jacob Hannemann and C.J. Edwards, among others. The Cubs wanted Russell to play in the AFL again after missing time this season because of a right hamstring injury. In 68 games, mainly at the Double-A level, he batted .295 with 13 home runs and 14 doubles.
"That's the main reason I'm here [to make up for missed games], and also to face some of the best arms in the Minor Leagues and play with some of the best guys in the Minor Leagues," Russell said. "It's an absolute honor for me."
And he's also in the AFL to learn second base.
"I always like to have little challenges for me throughout the day," Russell said. "I like how the A's challenged me, and how the Cubs are challenging me as well. I'm a competitive person, that's my nature."
However, if he had his say, Russell would be a fixture at shortstop.
"I'd love to stay at short," Russell said. "I think I could play a lot of years there. I think I have good athletic ability, a strong arm, a good mentality at that position. I'd love to stay there."
Just check the box scores to see where Russell plays next.
Carrie Muskat is a reporter for MLB.com. She writes a blog, Muskat Ramblings, and you can follow her on Twitter @CarrieMuskat. This story was not subject to the approval of Major League Baseball or its clubs.