As staff takes shape, GM's chair remains open
Focus is on Moore, Coppolella as Braves fill other front-office positions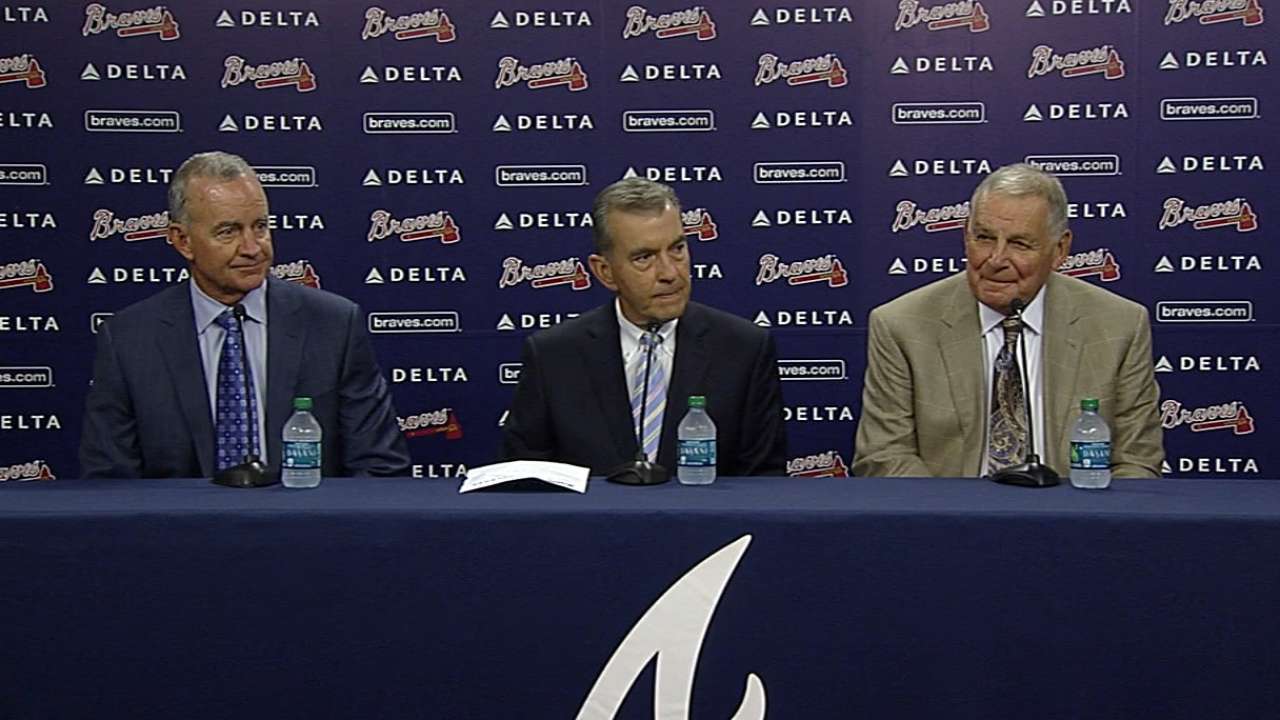 ATLANTA -- Since the moment he agreed to serve as the Braves' interim general manager, John Hart has clearly indicated that he is not interested in filling the role on a long-term basis. But Hart remains committed to assisting with a front-office reconstruction project that has evolved without a full-time GM having been put in place.
Royals GM Dayton Moore and Braves assistant GM John Coppolella have stood as the favorites to land the job dating back to Sept. 22, when Frank Wren was dismissed. But with his club one win away from the World Series entering Wednesday's American League Championship Series game, Moore's focus is currently elsewhere. Thus, there remains uncertainty about who will end up being the leader of Atlanta's front-office staff, which has undergone a significant makeover during the past three weeks.
Braves president John Schuerholz has been calling the shots as he attempts to provide the organization some of the harmony and direction that it possessed when he was the club's GM from 1991-2007. In a unique manner, Schuerholz has chosen to rebuild the scouting and player-development departments before hiring a new GM, who will overlook those who have already been placed in their new roles.
Last week, when the Braves announced the hiring of two special assistants to the GM (Roy Clark and Gordon Blakeley), a new player-development director (Dave Trembley) and a scouting director (Brian Bridges), they indicated that they at least had a pretty good idea of who might end up filling Wren's vacated position.
Accounting for the fact that the new GM would need to be comfortable working with the new additions, there grew even more reason to believe that either Hart, Coppolella or Moore would get the job. But other than the possibility that he might accept the role for a few months or possibly a year, Hart has always seemed to stand as the longshot.
When Schuerholz announced that Hart would serve as interim GM, he made it clear that he would like his longtime good friend to fill the position beyond a short-term basis. But Hart seemed to politely decline during a formal news conference and then confirmed his stance when he informally met with a group of reporters a few minutes later.
"In a perfect world, you're looking for the next John Schuerholz," Hart said last month. "You're looking for the next young or veteran general manager. A guy that has done it before and possesses the qualities of John [Schuerholz]."
Hart's description seemingly only strengthened the candidacy of Moore, who learned his craft while working for Schuerholz in Atlanta's front office from 1996-2006. Blessed with strong people skills, Moore has always drawn great respect from coaches, players, scouts and staff members, many of whom followed him to Kansas City at some point over the past eight years.
But Moore's potential return to Atlanta is complicated beyond the fact that his team is currently in the midst of a postseason run that has allowed him to fulfill his goal to re-energize Kansas City's loyal baseball fans.
Moore is under contract for two more years and has become something of an adopted son of the Glass family, which owns the Royals. If he were given permission to leave, his loyalty to his employees would also influence a potential return to Atlanta. His decision would certainly be influenced by the well-being of his assistant GM, J.J. Picollo, and others who have followed him from Atlanta.
Standing as the man who has a better understanding of the Braves organization than any of the club's current employees, Coppolella has tirelessly worked during the transition that has taken place the past couple of weeks.
Coppolella, 36, is widely regarded to be one of baseball's top young minds and a legitimate GM candidate. But it remains to be seen whether Schuerholz believes he is ready to assume the role at this stage of his blossoming and bright career.
Mark Bowman is a reporter for MLB.com. This story was not subject to the approval of Major League Baseball or its clubs.