Longtime Royal Butler grateful for chance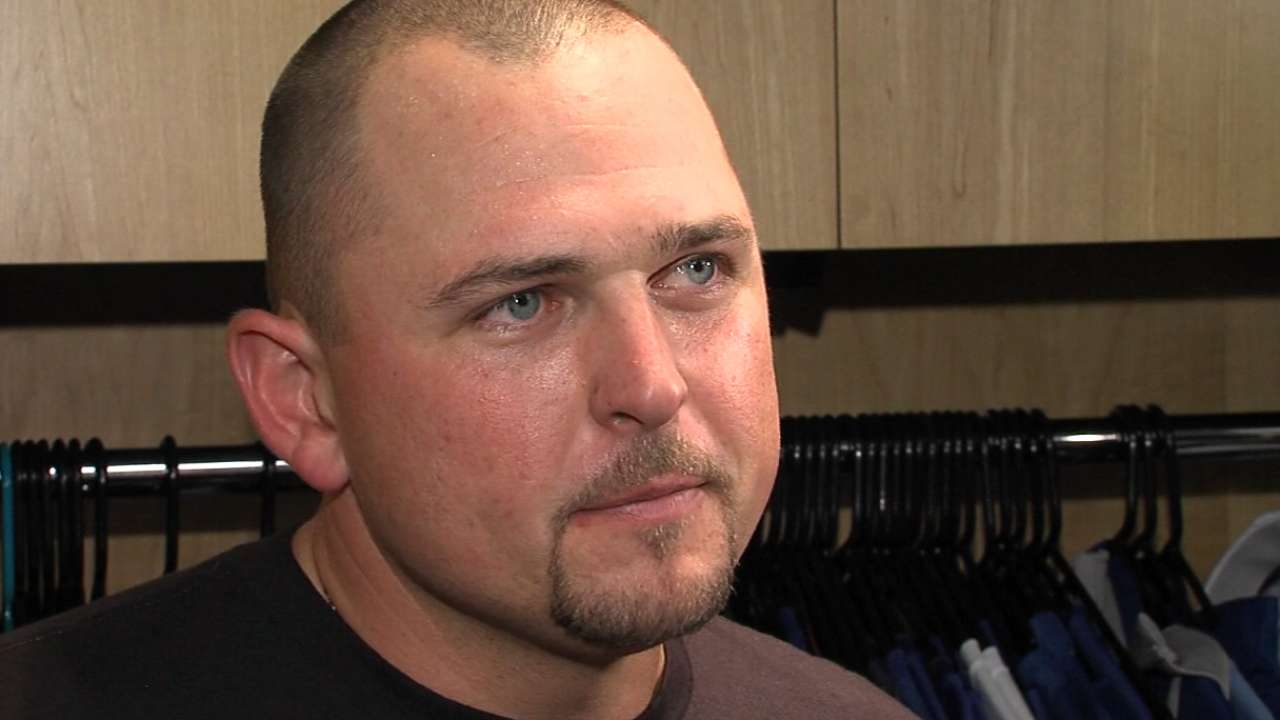 KANSAS CITY -- Alex Gordon arrived with the Royals at the start of the 2007 season. Billy Butler arrived a little later that season. No players have been with the club longer.
So Butler figured it was appropriate that each of them had one of the RBIs that gave the Royals a 2-1 victory over the Orioles on Tuesday night in the American League Championship Series, putting them just one victory from the World Series.
"Me and him drove in both the runs tonight, so it's great," Butler said. "Me and him have seen a few rebuilding processes come along and we've just stayed diligent and kept working. To be in this position right here is just tremendous. [General manager] Dayton [Moore] and the Glass family did a great job drafting players and the city's reaping the benefit of that and so are we."
Gordon grounded out with the bases loaded in the fourth inning, moving Lorenzo Cain across the plate to tie the score, 1-1. Butler's sacrifice fly in the sixth inning scored Jarrod Dyson with what proved to be the deciding run.
When Butler came to the plate, Dyson was at third base and Eric Hosmer was at first with one out. This was the type of situation that often had seen Butler ground into a double play, something that he'd done 21 times in the regular season.
"Obviously the best-case scenario is to get a hit. I was trying to drive the ball and I did," Butler said. "The wind was blowing pretty good, but I got the ball in the air. I put a good swing on it, and that's all you can ask for."
The ball was deep enough to get the swift Dyson home easily.
Butler had to battle a strong crosswind blowing from left to right field.
"I knew off the bat I got it good. On a different night, it might've gone further but ... I knew I got the run in," Butler said.
Being ahead 3-0 instead of 2-1 in the ALCS makes a big difference for the Royals in Butler's view.
"We're on a roll and losing the game might have taken a little bit of steam out of it for you," Butler said. "We've developed a winning atmosphere in here and when you start winning games, it continues to snowball. Two to one, you'd still have the lead in the series but it'd take a little momentum away from you."
The Royals in Game 4 (3 p.m. CT on TBS), with a victory on Wednesday, could become the first team to win eight straight games in a postseason.
"It's not over yet and we've still got a chance to improve that history," Butler said. "We're just taking it a pitch at a time. That's why we are where we are. Nobody's getting ahead of themselves. Everybody's putting their complete focus into that next pitch each time. That's why this group is special."
He sees it as a brotherhood.
"We're an extremely close group and you can see by the way we play and interact and get along," Butler said.
Nobody has been doing that longer than Butler and Gordon.
Dick Kaegel is a reporter for MLB.com. This story was not subject to the approval of Major League Baseball or its clubs.