KC's 3-0 ALCS lead doesn't tell the whole story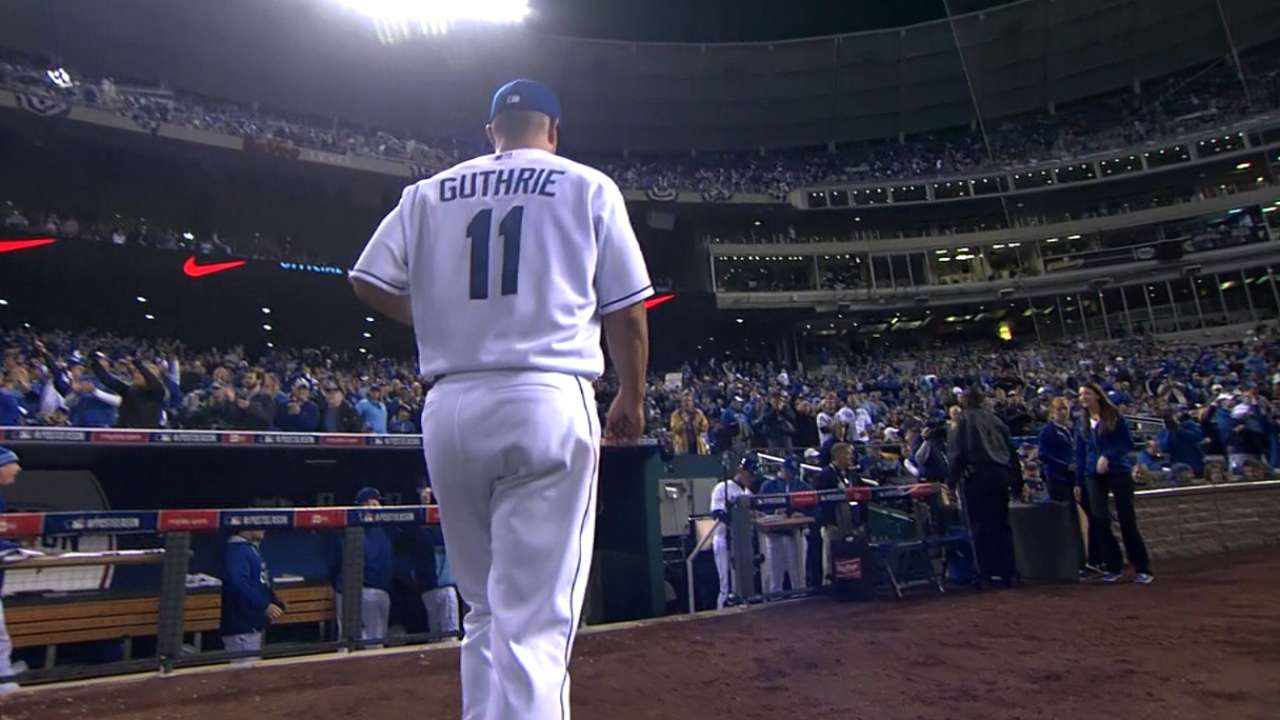 KANSAS CITY -- Jarrod Dyson stood in front of his locker in Kauffman Stadium's home clubhouse on Tuesday evening, having raced down the third-base line to score the deciding run in the Royals' 2-1 victory in Game 3 of the American League Championship Series, and offered a more measured version of the chest-thumping speeches that have stamped his reputation this month.
The Royals have pinned the Orioles against the wall, owning a commanding 3-0 series lead heading into Wednesday's Game 4 at The K, a 4 p.m. ET contest on TBS that could punch an entrance ticket for the World Series. But this ALCS has been anything but lopsided, with Kansas City on the fortunate side of bounces that could have changed the outcomes of all three games.
"We're just playing unbelievable baseball," Dyson said. "I don't think anybody expected us to play this good. But we expect ourselves to play good. It feels better to be up 3-0 than down three, I'll tell you that."
In the near-silent Baltimore clubhouse, the Orioles seemed to be figuring out how they could have landed in this situation. Other than
Steve Pearce
and
J.J. Hardy
's back-to-back doubles in the second inning, the bats were silent in Game 3, as Royals pitchers retired the final 16 Baltimore hitters. But that hasn't been a consistent theme in this series. Game 1 in Baltimore was a taut extra-inning affair, deadlocked at five runs apiece from the sixth inning on, and so it might have taken just one big blow -- or a few of those flare hits that the Royals seem to keep collecting like '85 Topps cards -- to bust it open.
"They've just been a hit ahead of us right now, the first three games of this series," Baltimore's Ryan Flaherty said. "It's baseball. That's the way the balls bounce sometimes. We didn't come out and imagine being down 0-3, but we've had our backs against the wall all year. Just another reason to fight."
Even in the 10th inning of Game 1, after Kansas City scored three times, the Orioles kept at it; Delmon Young knocked a run-scoring single off closer Greg Holland to bring the potential winning run to the plate before Nick Markakis grounded out.
"We came back in Game 1 and tied it up and ended up losing; obviously a tough pill to swallow," Kevin Gausman said. "We still feel like we're playing pretty good baseball, we've just got to play a little bit better than they're playing."
The Orioles put up similar fight in Game 2, knotting the game twice in front of their raucous crowd but unable to push ahead -- including wasting a bases-loaded, one-out chance in the seventh -- before Kansas City shattered the tie with two runs in the ninth.
"We've played three really good games; just fell short in each of the games," Adam Jones said. "Now we have a good idea of what the uphill battle is."
The Orioles could go crazy playing the "what if?" game, and in manager Buck Showalter's worst-case scenario, that's probably how he would spend some of the winter. Here in K.C., maybe if Mike Moustakas doesn't tumble over the dugout railing with a sensational catch, Adam Jones would've put the next pitch into the fountains.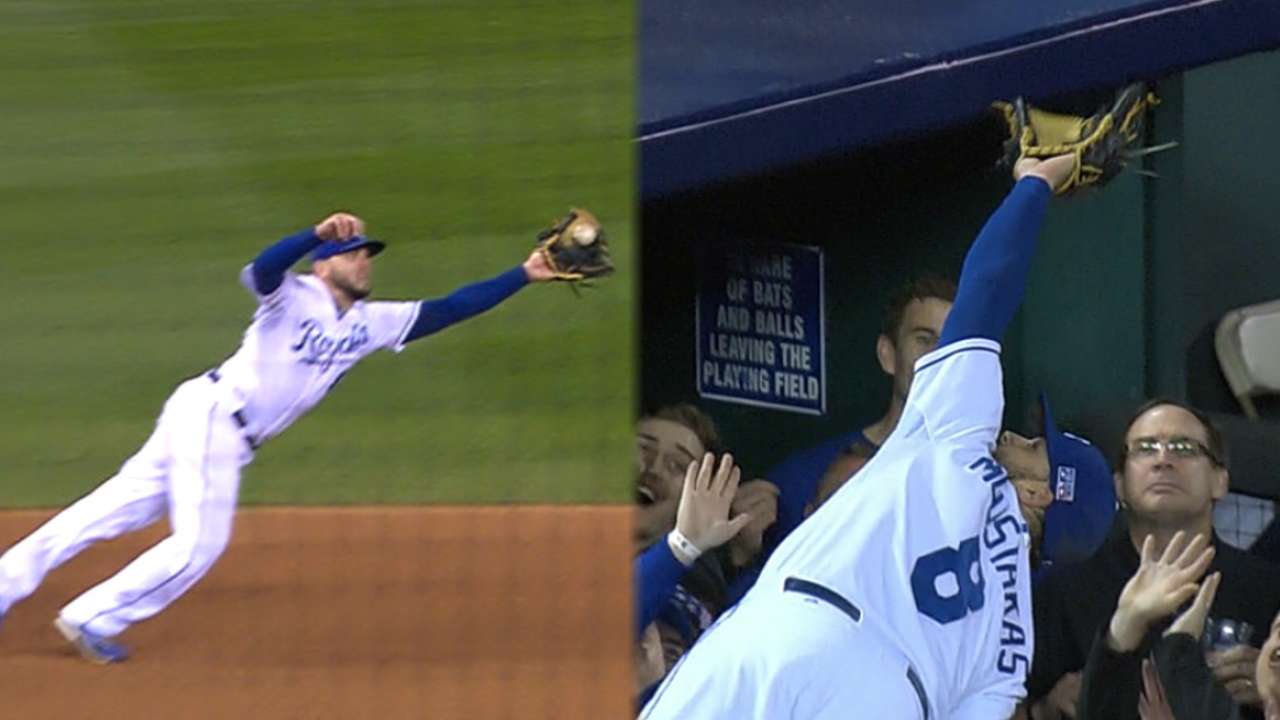 Or who knows what might have happened if Lorenzo Cain hadn't completed what he called his longest run for a fly ball in recent memory, chasing down Flaherty's deep and wind-aided second-inning drive to right-center field?
"It's been a lot of exciting games," Cain said. "Every game has been close and nail-biting, but we've come out on top, that's the biggest thing. We have to continue to fight and continue to find ways to win, and hopefully we can win tomorrow."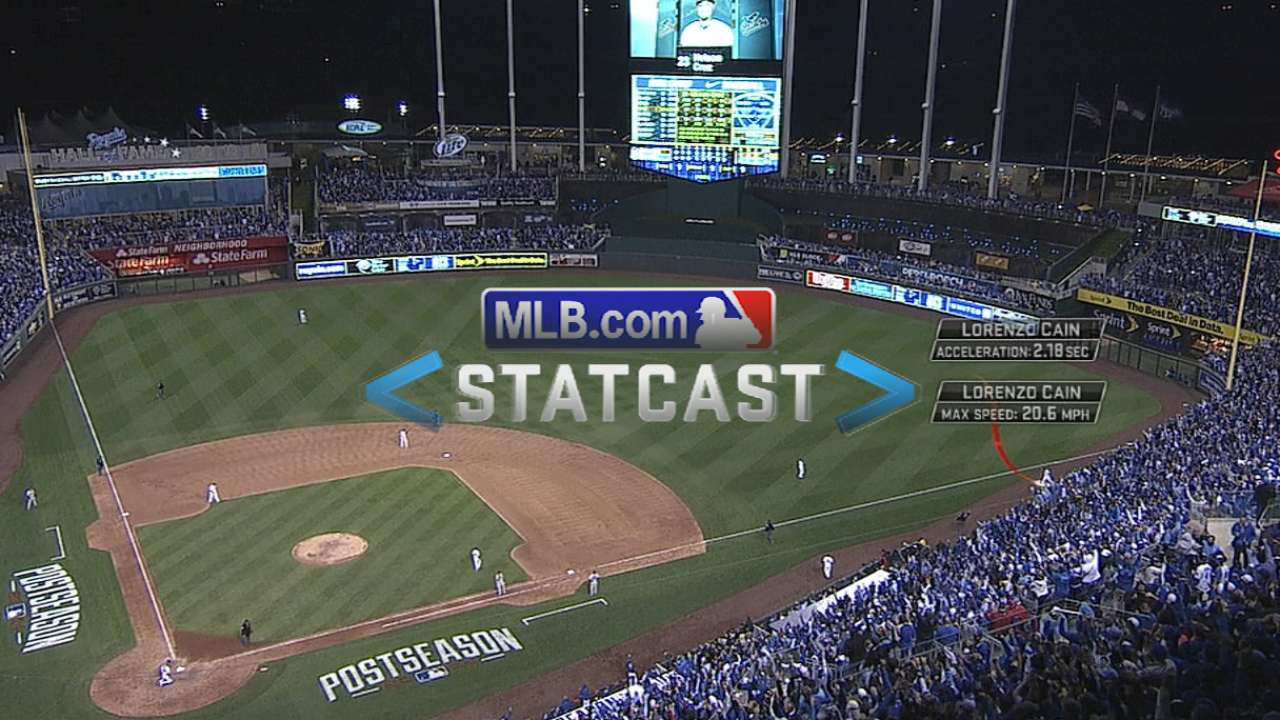 For all the couldas and wouldas, there are a few glaring numbers that have made the difference: The Royals outhomered the O's 4-1 at hitter-friendly Camden Yards, and Baltimore's starters taxed the bullpen by recording just 13 outs in each of the first two contests.
"Such close games," Showalter said. "They've pitched us a little bit better. Not much."
The three-headed monster of Kelvin Herrera, Wade Davis and Holland is a difference-maker, and the Orioles have left 24 men on base in the series -- 10 in each of the first two games. Baltimore has owned a lead for just two innings in the series -- the second and third innings of Game 3. Nevertheless ...
Somewhere out there, the members of the 2004 Red Sox are nodding their heads with the knowledge that this is no longer something that's unheard of. Those lucky breaks can still start to show up, but for the Orioles' sake, it'd better happen within the next 24 hours.
"It's been done before," Jones said, "so it gives you a chance."
Bryan Hoch is a reporter for MLB.com. Follow him on Twitter @bryanhoch and read his MLBlog, Bombers Beat. This story was not subject to the approval of Major League Baseball or its clubs.