Yost's aggressive moves pave way in Game 3
Skipper's deployment of bullpen, pinch-runner help Royals grab 3-0 lead in ALCS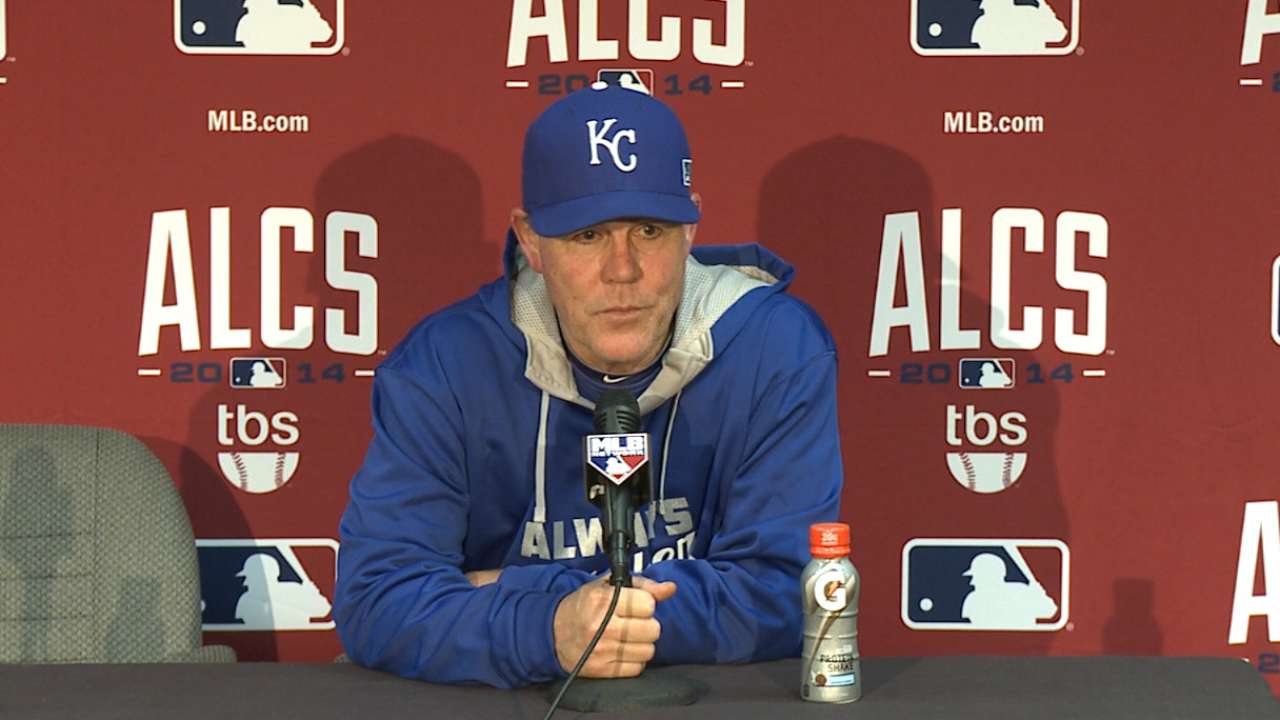 KANSAS CITY -- It took 2 1/2 games, but a proper tactical duel in the much-anticipated manager showdown between the Royals' Ned Yost and the Orioles' Buck Showalter finally occurred in Kansas City's 2-1 victory in Game 3 of the American League Championship Series on Tuesday night at Kauffman Stadium.
After two ALCS games light on manager scrutiny, the outcome of the third contest tilted on sixth-inning decisions by the skippers. And it was the underdog who emerged victorious.
Yost, often criticized for his in-game decisions, did not test his luck with starter Jeremy Guthrie, pulling him after five effective innings and turning the game over to his bullpen. Then in the next half-inning, Yost made an early move to pinch-runner Jarrod Dyson. They were the kind of moves you wouldn't necessarily make in July, but this is October.
Conversely, Showalter, praised for his ingenuity and aggressiveness in pulling his starters, extended starter Wei-Yin Chen into the sixth, attempting to preserve his own fantastic cast of relievers for one more frame.
Yost was rewarded for his aggressiveness with four perfect innings from his impregnable bullpen, beginning with Jason Frasor in the sixth, while Dyson scored the game's decisive run. Showalter watched as Chen surrendered a pair of hits, the first of which came around to score that winning run.
"Frasor had a wonderful one, two, three inning," Yost said. "It was a key inning to get us to the bottom half of the inning [so] we could score the run and go ahead, and do what we've done well all year with [Wade] Davis, [Kelvin] Herrera, and [Greg] Holland."
A combination of factors played into Yost's relatively quick hook for Guthrie, including his starter's pitch count (94), Guthrie's unusually long period between starts, and favorable matchups out of the bullpen.
"In this situation with the rainout yesterday, you've got to plan on going the next five days, you just have to do it in your mind," Yost said. "The matchup was perfect for Frasor right there."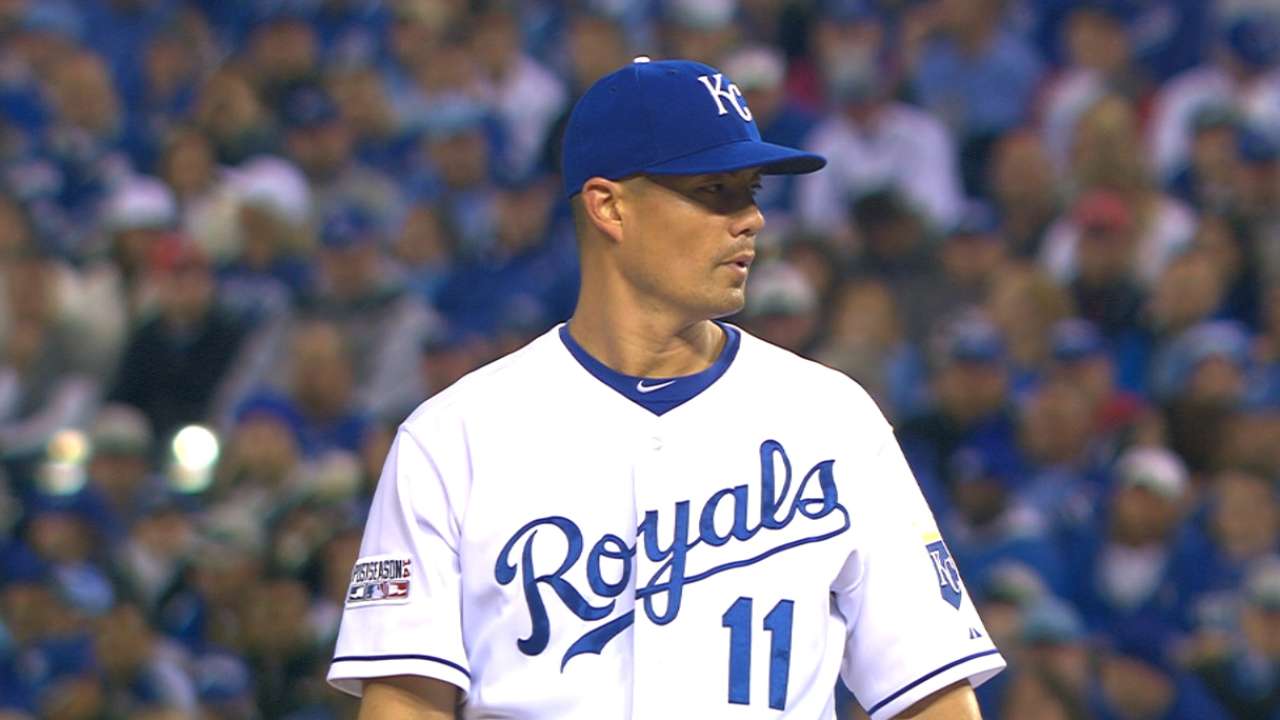 • Video: Guthrie goes five strong
Frasor set down Adam Jones, Nelson Cruz and Steve Pearce in order, handing the ball over to Herrera, Davis and Holland, who helped Kansas City to a 67-4 record this season (postseason included) when entering the seventh with the lead.
The triumvirate sat down the next nine Orioles and helped match a postseason record for most innings pitched by a bullpen without allowing a baserunner.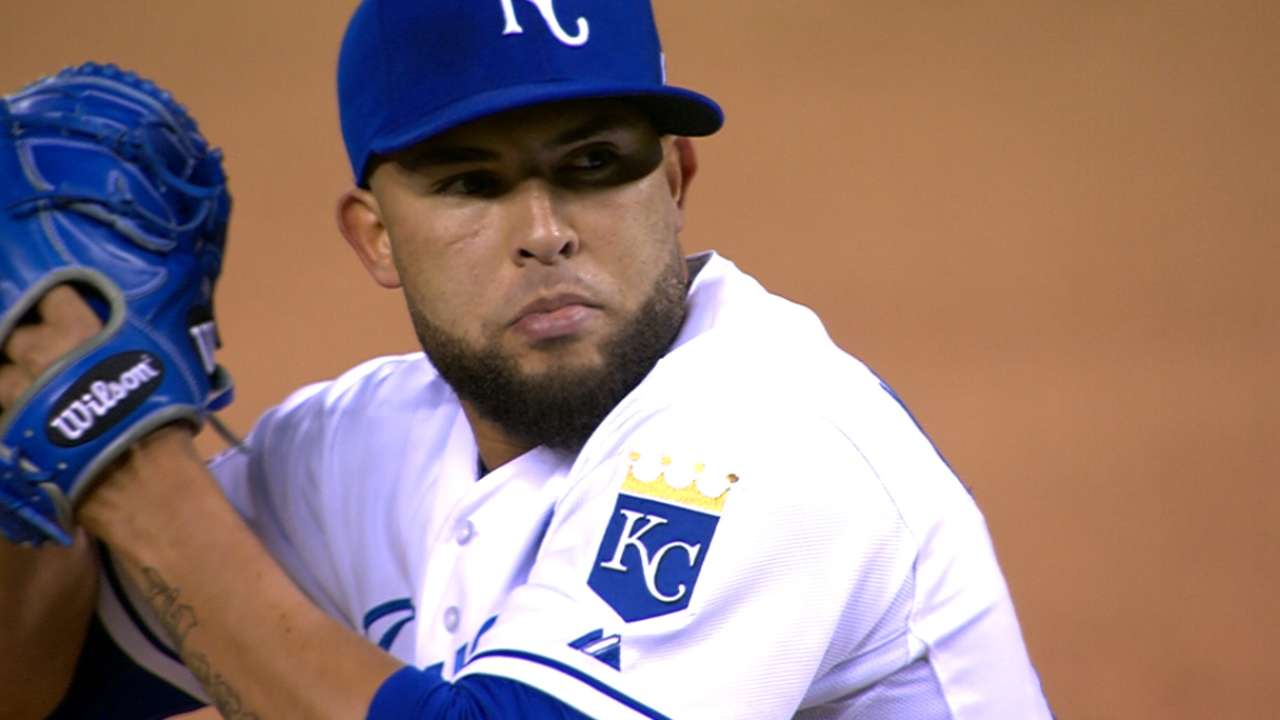 • Video: Herrera fans two in 7th
"They get the job done every single time," Frasor said of his late-inning relief brethren.
Showalter's dedication to Chen was not necessarily misguided. Two Royals left-handed hitters were due up against the southpaw, and he had held Kansas City in check to that point.
But there were options in dynamite lefty relievers Andrew Miller and Brian Matusz, who could have relieved Chen from facing Nori Aoki, Lorenzo Cain and Eric Hosmer for a third time.
For Showalter, sticking with Chen came down to the quality of his pitching thus far -- five innings, one run.
"He's pitching well. He didn't give up one hard hit ball," Showalter said, adding: "Tougher thing [was] taking him out instead of leaving him in."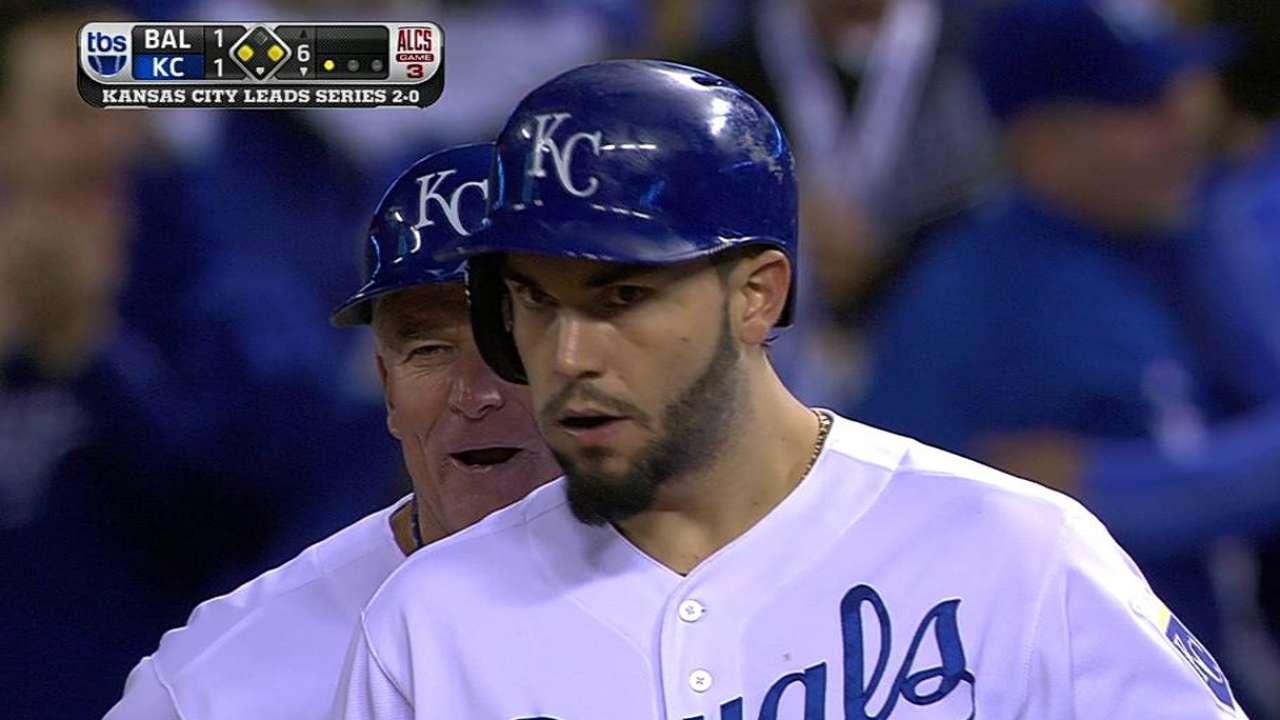 • Video: Dyson goes first to third
Aoki delivered a leadoff single, then Yost again showed his ability to adapt by using Dyson earlier than normal. The speedy outfielder darted from first to third on Hosmer's single, then easily scored on Billy Butler's sac fly to left field.
"My whole mindset with Billy," Yost said. "Try to find a way to get the ball in the air, score this run and we're going to turn this over to Kelvin, Wade, and Holly. Odds of us winning this game [are] going to be great."
Jackson Alexander is an associate reporter for MLB.com. This story was not subject to the approval of Major League Baseball or its clubs.