White Sox prospect Anderson flashes skills
Shortstop goes 3-for-4 with double, stolen base in Glendale win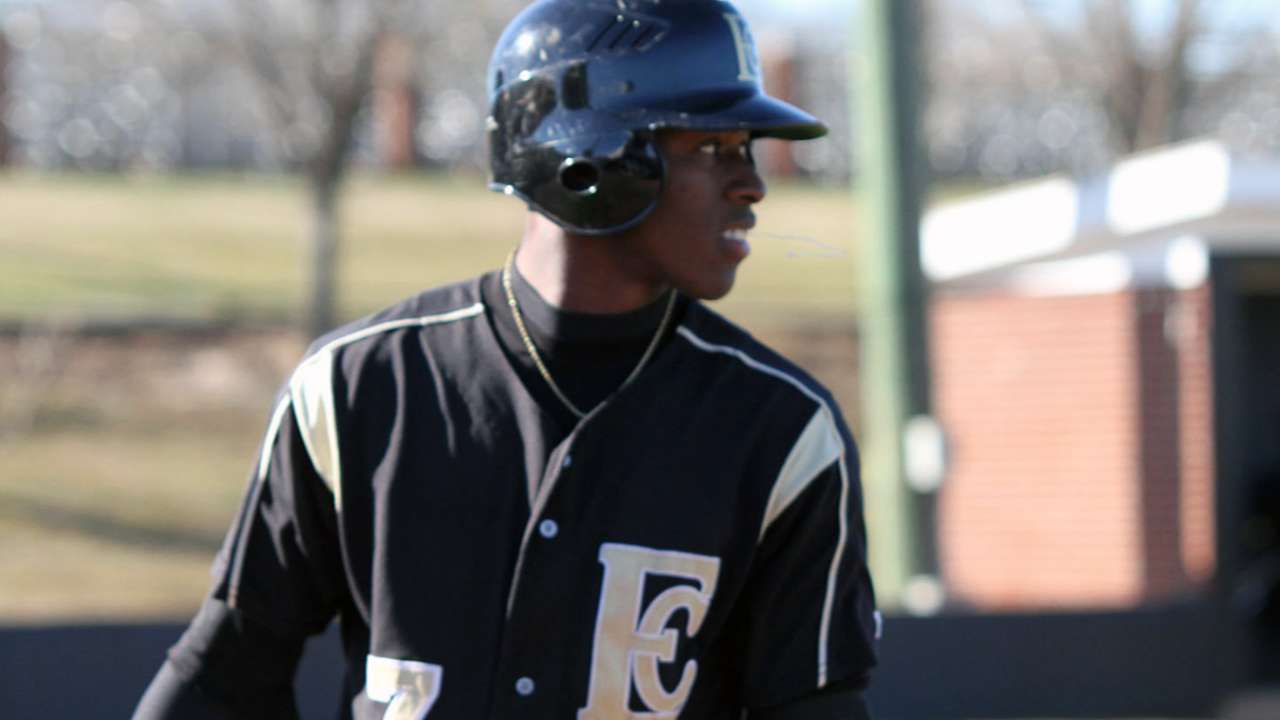 Entering Tuesday, Glendale hadn't won in a week. Since its victory on Opening Day in the Arizona Fall League last Tuesday against Mesa, it had endured a rainout, a three-game losing streak and a tie after 11 innings against Peoria on Monday.
Glendale snapped out of its doldrums Tuesday night, combining solid pitching with an explosive offense to rout Peoria, 9-0.
Shortstop Tim Anderson, the White Sox No. 2 prospect, said it felt good to get back in the win column.
"Getting around the guys and getting to know them, they all are great guys," he said. "We're coming together and growing as a team."
Anderson, ranked No. 82 on MLBPipeline.com's Top 100 Prospects list, went 3-for-4 with a double, two runs and a stolen base. He is hitting .375/.412/.438 with two stolen bases in five games this fall.
Anderson was the 17th overall pick in the 2013 First-Year Player Draft and is completing his first full professional season in the AFL. Despite spending two months on the disabled list after he was hit by a pitch and broke his right wrist in June, he reached Double-A Birmingham and hit .301/.327/.481 in 83 games across three levels during the regular season.
Tuesday, Anderson batted second for the Desert Dogs and helped them jump out to an early lead. Glendale scored a run in the first and added two more in the third before breaking the game open with six runs in the seventh.
The Desert Dogs did all of their damage with two outs in the seventh, sending 10 batters to the plate and pounding out five hits. The biggest blow belonged to right fielder Steven Moya, who cleared the bases with a three-run triple off right-hander Zach Cooper.
"Everybody was locked in at the plate," said Anderson, who singled and scored in the inning. "Everybody was seeing the ball real good."
Moya, the Tigers' No. 7 prospect, finished the game 2-for-5 with a run and four RBIs. Designated hitter Corey Seager, the Dodgers' No. 1 prospect and No. 13 on the Top 100, went 1-for-4 with a double, a walk, a run and an RBI.
Working with a lead from the start Tuesday, the Desert Dogs pitching staff effectively silenced the Javelinas bats, holding them to three hits -- all singles. Right-hander Matt Magill started for Glendale and threw three hitless innings. He struck out three batters, walked two and threw 44 pitches.
Magill has held opponents to two unearned runs on two hits in 5 2/3 innings over two appearances this fall.
"He came out and competed," Anderson said. "He has a strong arm and he did great."
Right-hander Tyler Wagner relieved Magill to start the fourth, but the no-hitter soon ended. But Wagner, the Brewers' No. 14 prospect, and four other relievers combined for six scoreless innings to complete the shutout.
Left fielder Jordan Smith went 2-for-3 to lead Peoria's offense. Catcher Cody Stanley collected the Javelinas other hit.
After their slow start to the season, Anderson and the Desert Dogs are hoping for more wins like Tuesday's. But for players in the AFL, development remains the primary goal. Anderson said he's working on his defense this fall, as well as trying to take as many quality at-bats as he can.
A week into the fall, Anderson said he has been impressed by the quality of the players in the league.
"It's great competition," Anderson said. "There are a lot of great pitchers. It's very competitive."
Teddy Cahill is a reporter for MLB.com. Follow him on Twitter at @tedcahill. This story was not subject to the approval of Major League Baseball or its clubs.