One-run outcomes all the rage in this postseason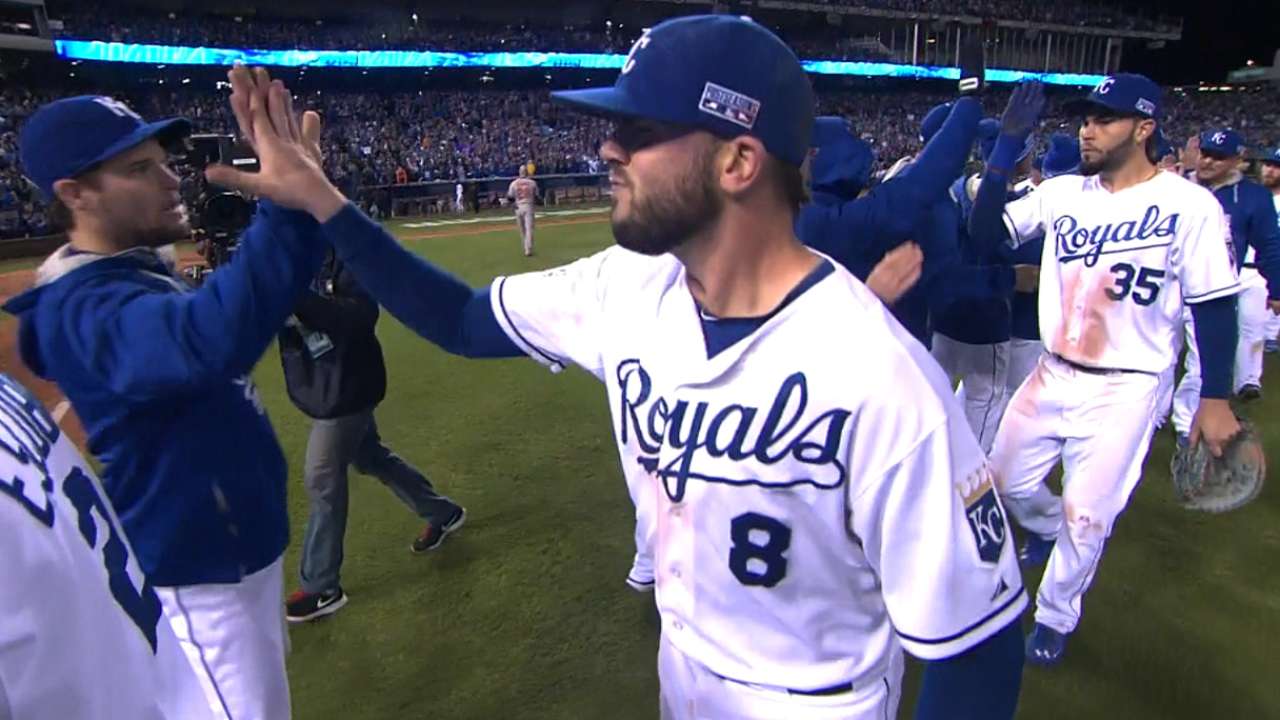 History is made every single October, yet the 2014 postseason is finding some truly unique and exciting ways to make its mark on the tapestry of baseball's most dramatic month. We're talking tight outcomes already at a record level, and extra innings like very few Octobers before it. Add to that bases-loaded tension, spectacular diving catches and the occasional walk-off sacrifice/error. It's all there, awe-inspiring at every turn.
And now the Royals are on the verge of making something really historic happen -- all historic, like, totally back to the 1980s, dude. In its first postseason since it won the 1985 World Series, Kansas City took a 3-0 advantage over the Orioles in the American League Championship Series with a 2-1 victory Tuesday night. It was the 13th one-run game of this postseason, tying an all-time record and putting another exclamation point on a compelling chapter in baseball's October annals.
The ALCS thriller followed the opener of an LCS doubleheader of Game 3 action in San Francisco that saw the Giants score a wild walk-off on a bunt and an error to win, 5-4, over the Cardinals in 10 innings in the National League Championship Series, setting the perfect tone for yet another long and lovely day of October drama -- unscripted and unbelievable.
Today, the Royals will begin another LCS double-dip with left-hander Jason Vargas on the mound against Orioles right-hander Miguel Gonzalez at 4 p.m. ET on TBS, as Kansas City hopes to finish off an ALCS sweep. After that, Game 4 of the NLCS will pit the Giants and right-hander Ryan Vogelsong against the Cardinals and Shelby Miller in an 8 p.m. ET start on FOX Sports 1, with the series still very much hanging in the balance as the Giants lead, 2-1.
You want unscripted? Kansas City's seventh straight win this postseason was its 10th straight dating back to 1985. The outcome also matched the record for one-run games in a postseason at 13, set in 2011 and matched in '13. Fun fact: The 2014 postseason is just 22 games old, while those games won by the slimmest of margins were among 38 postseason contests in both '11 and '13.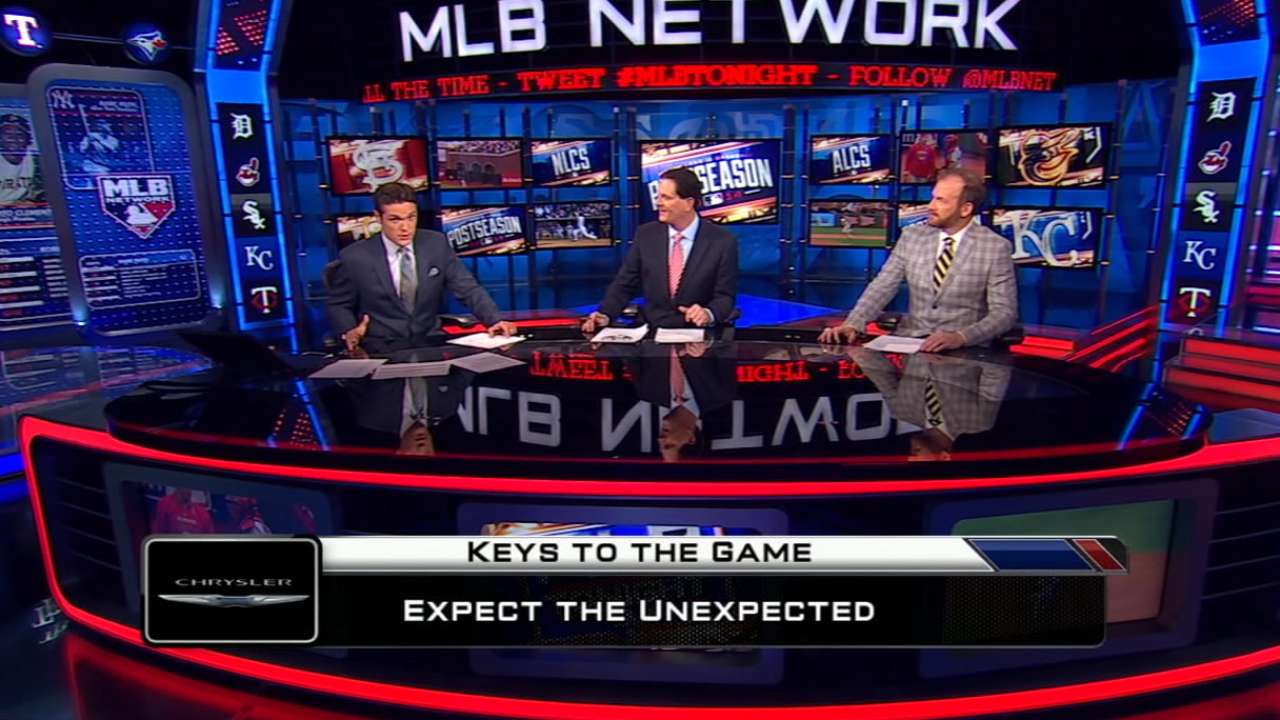 You want unbelievable? You had a third baseman sent to the Minors earlier this year who, after already lighting up the postseason with some serious power chords, did a stage dive into the stands to make a clutch catch. And you had a guy who'd been designated for assignment in April clearing the bases in October. You had it all. Well, that is, if you like baseball.
Royals third baseman Mike Moustakas provided some defensive prowess to a postseason in which he already has had an impact with four home runs by selling out, stretching out and tumbling into a dugout suite for a huge out in the top of the sixth inning, just before the Royals took the lead for good in the bottom half. It was a spectacular catch into the home crowd on the 11th anniversary of the play when fan Steve Bartman and Cubs left fielder Moises Alou shared a truly unbelievable piece of postseason history at Wrigley Field.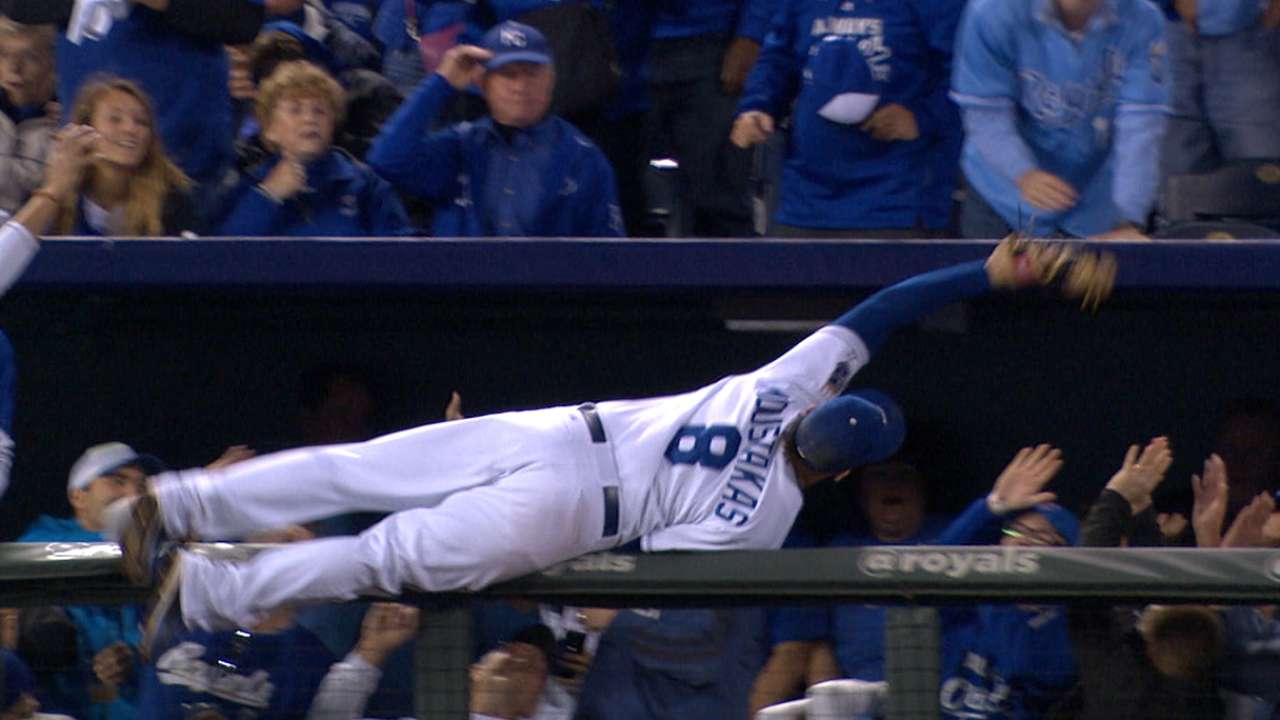 "I've been playing at this field, I mean, my entire career in the big leagues, so I'm pretty familiar with that little dugout suite over there," said Moustakas. "I've been in there once or twice, maybe, but never anything like that. And those people helped me up the entire way, didn't let me fall and kind of lifted me up out of there. It was pretty awesome."
Earlier in the double-dose day of postseason goodness, Travis Ishikawa gave the Giants a huge lift with a soaring fly ball that turned into a three-run double to highlight a four-run first for the Giants. Yet the home team had to withstand a rally by the Cardinals and then construct an unlikely run in the 10th. The winning run scored when Gregor Blanco's bunt and pitcher Randy Choate's errant throw brought Brandon Crawford home from second. Score it SAC/E1, and chalk up another close win for the Giants, winners of 13 of their past 15 postseason games dating back to 2012.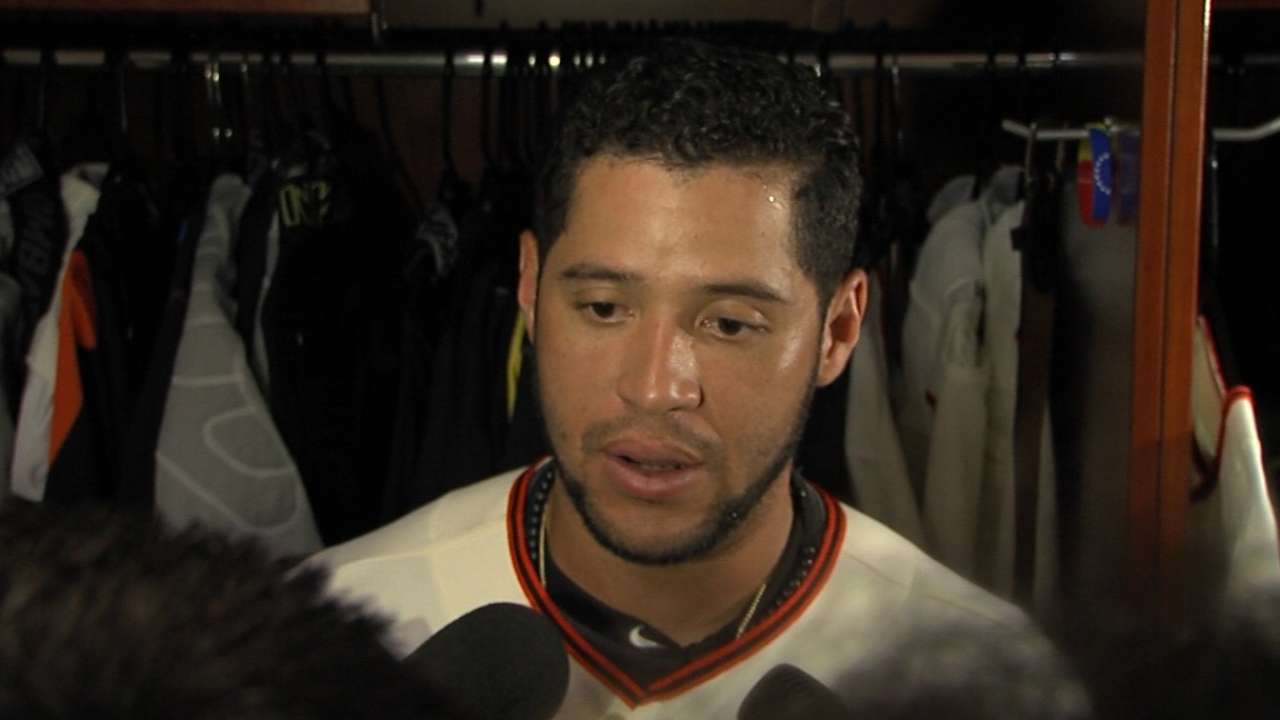 "Somebody asked me earlier if there was a way, if there's any other way we can score a run other than a non-conventional way, and I said, 'If there is, we're going to find a way,'" Ishikawa said of the Giants, who have scored runs in this series without a homer, but with Ishikawa's double, four singles, two errors, a sacrifice fly, a wild pitch and a groundout.
With the 10th-inning walk-off along the shores of McCovey Cove, the 2014 postseason has delivered extra innings six times already. The most postseason games going beyond the regulation nine was eight in 1995, followed by seven each in 2003 and '04. Again, we've seen 22 games thus far this postseason, and it took some 31 games in '95 to reach the record total, with 2003 (38) and '04 (34) needing even more. Stay tuned.
With their stirring victory at Kauffman Stadium, the Royals are in the driver's throne. Only one team among the first 34 getting off to a 3-0 edge in a seven-game postseason series hasn't won it, and four of the five teams in ALCS play before this have wound up sweeping the series. The one exception was the 2004 Yankees, who saw the Red Sox win four straight en route to a World Series title 86 years in the making.
Of course, all this craziness in 2014, all these games being played close and going late began right there in Kansas City, where the Royals rallied in the ninth and won in the 12th against the A's in the first game of this remarkable postseason. That sent a signal not only that something special was in store for this October, but also that the Royals would be key players in the history about to unfold.
"After the Wild Card Game, that was all the experience we needed," Royals manager Ned Yost said. "And you could tell somewhere in the course of that game something clicked for them and they were playoff veterans. And they've played like it."
John Schlegel is a national reporter for MLB.com. You can follow him on Twitter @JohnSchlegelMLB. This story was not subject to the approval of Major League Baseball or its clubs.