MLB.com Columnist
Phil Rogers
Royals find more ways to amaze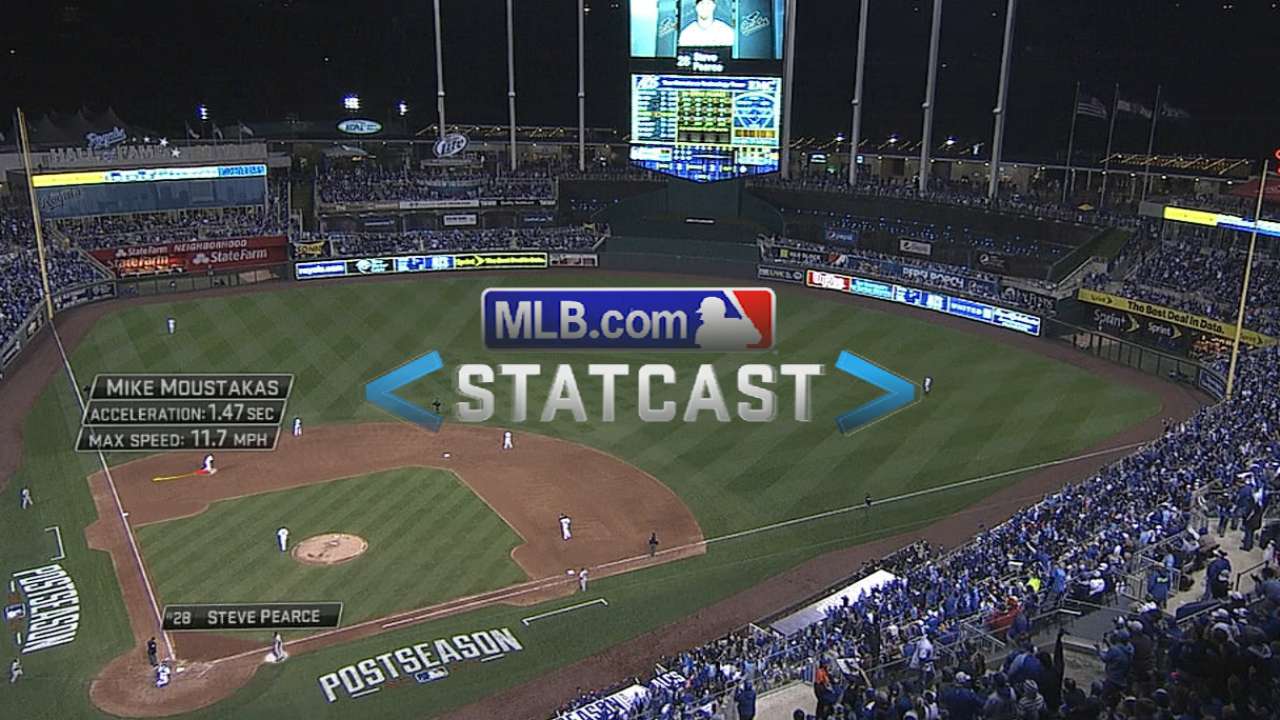 KANSAS CITY -- Not that they need any more adjectives, but here are a couple more for the Royals.
Rust-proof -- regarding 35-year-old Jeremy Guthrie and the non-James Shields and Yordano Ventura portion of the starting rotation.
And Jeterian (or, if you prefer, Jeter-iffic) -- regarding the remarkable Mike Moustakas and the blue-clad fans who moved aside to let the third baseman clear a railing and grab a foul ball hit by Adam Jones, ala Derek Jeter's famous dive into the stands against the Red Sox on July 1, 2004.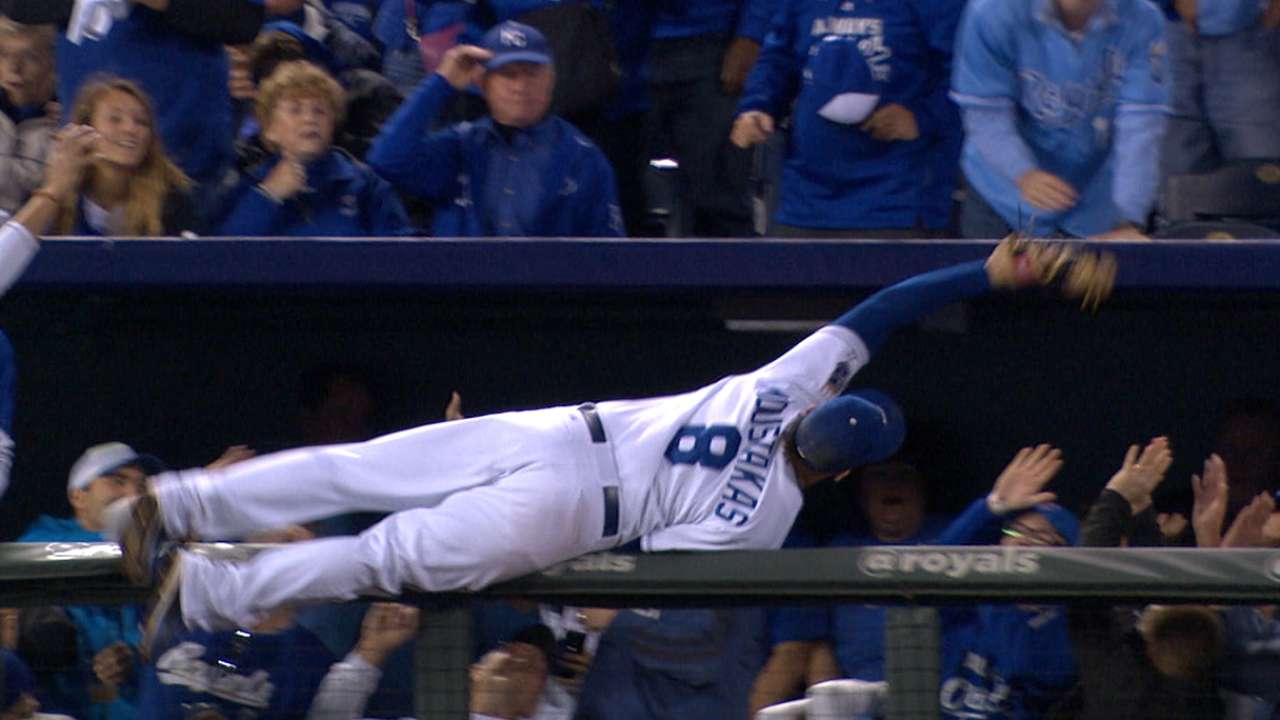 In other words, it remains business as usual for the Little Blue Machine from Kansas City, which is steaming toward the World Series and, who knows, possibly even a place as the greatest October team ever.
Seriously.
At this point it appears the only way they can be beaten is for
Paul Konerko
to be honored in a 40-minute ceremony before the start of the game. They have won 10 of their last 11 games, the only exception being Konerko Night in Chicago, and in fairness that loss to the White Sox came on the heels of their Wild Card-clinching celebration. A few of the fellows might still have had that Archie Eversole classic, "We Ready,'' ringing in their ears. Since then, nothing stops the Royals. Not A's ace
Jon Lester
. Not Angels superstar
Mike Trout
. Not the Orioles team that just knocked off the Tigers and three straight Cy Young winners.
The 2-1 victory over the Orioles on Tuesday night moved the Royals within one game of an American League Championship Series sweep and raised their postseason record to 7-0, equaling the best start to an October run in Major League history. That record was good enough to wrap up the best-of-five National League Championship Series and World Series for the 1976 Reds, but in 2007 only got the Rockies to the World Series, where they were swept by the Red Sox.
With the Wild Card Game added in 2012, the Royals can dream about a 12-0 October -- although I'm sure they'd take 12-6 with a World Series title if you offered it to them now.
And, yes, we are getting ahead of ourselves. The Orioles also have a shot at turning this series around in the most dramatic fashion possible, as the 2004 Red Sox did to the Yankees, winning four in a row to win the ALCS in seven games before sweeping the Cardinals in the World Series. But history says a sweep is far more likely at this point, as 27 of 33 best-of-seven postseason series that have stood 3-0 ended in four games.
While the Royals were returning to Kauffman Stadium for Game 3, it was the Orioles who had a slight advantage. While Wei-Yin Chen had gotten a start in the AL Division Series, Guthrie was working on 15 days' rest in making the first postseason start of his career. He easily could have lost the plot, but instead working five solid innings, giving up one run on three hits and two walks.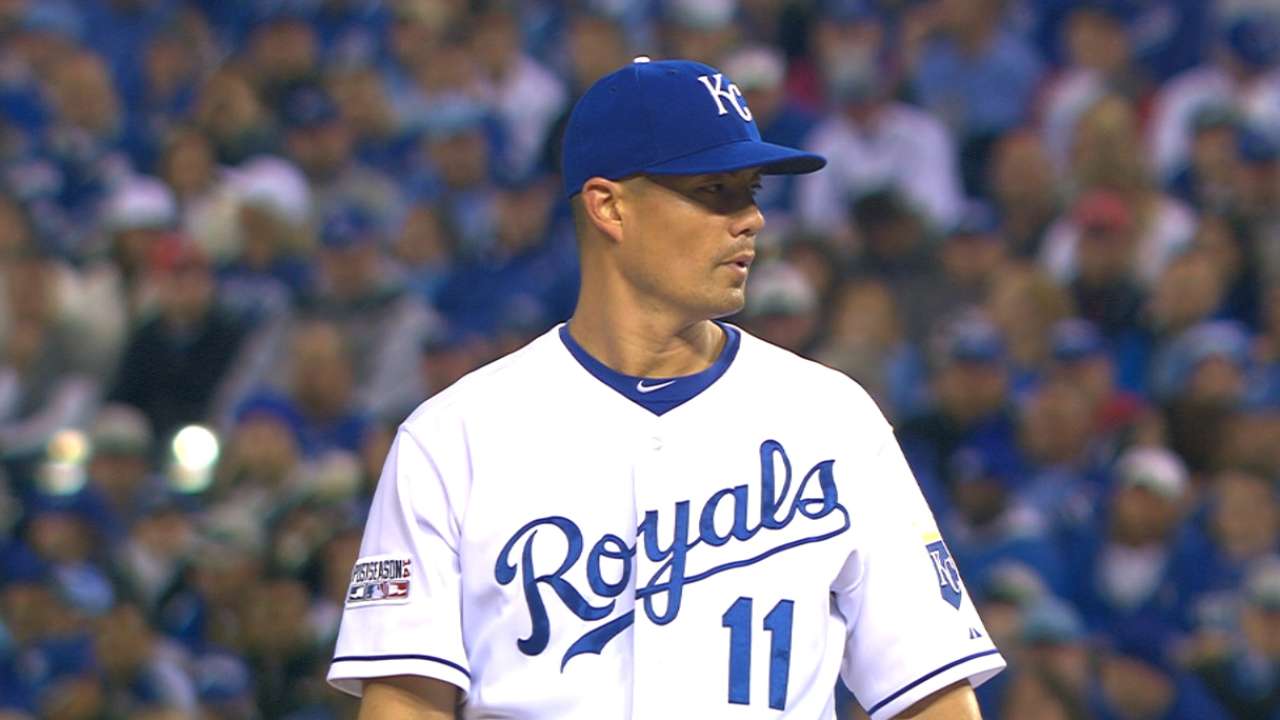 "You know, Jeremy Guthrie is a pro and he's a veteran," Royals manager Ned Yost said. "He's a guy that you knew that he was going to hold the fort for you. He was going to go out there and be prepared both physically and mentally, and he was going to try to find a way to get us through five or six innings. He did a great job."
Entering Game 3, Shields and Ventura had started five of the Royals' six postseason games. But while they're the leading men, the reality is that it was the depth of the starting rotation that was a key for Kansas City during the regular season, just as it was for the Orioles. The Royals' bullpen is a trump card in the late innings, but they can't make a difference without a solid outing from the starter.
"Jeremy threw a heck of a game for us," Yost said. "He kept us in that game and battled the entire time he was out there and kept it to one run. This team just doesn't panic."
Jason Vargas takes his turn on Wednesday afternoon, going for the sweep in Game 4, 4 p.m. ET on TBS. He can only hope to get more work from Moustakas and the other Kansas City fielders, who just keep topping themselves.
Moustakas robbed Steve Pearce of a double with a lunging, diving grab of a liner that seemed to have already passed him when he grabbed it.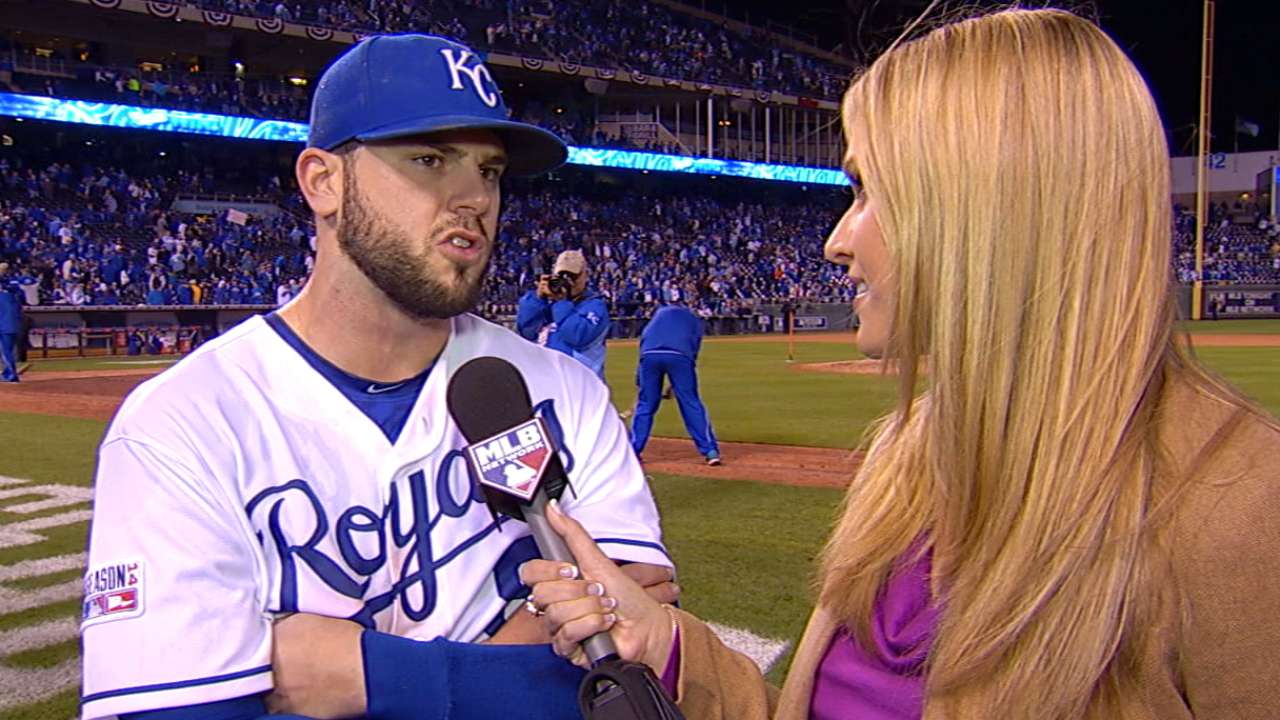 Then pulled a Jeter by going into the crowd -- in this case a group of Royals fans sitting in a dugout suite -- to grab a foul pop from Jones starting the sixth inning, after Yost had brought in Jason Frasor.
"To start an inning off like that, people don't understand how important that is for a pitcher to get that first out," Guthrie said. "[To] have plays like that is huge. That turns around the entire inning."
Moustakas says he's been in that dugout suite "once or twice, maybe, but never anything like'' the catch he made to take the bat out of Jones' hands with the score tied, 1-1, in the fifth. The fans were like the Red Sea, Moustakas was Moses, at least until he had the ball in his glove and they stopped him from banging onto the hard floor.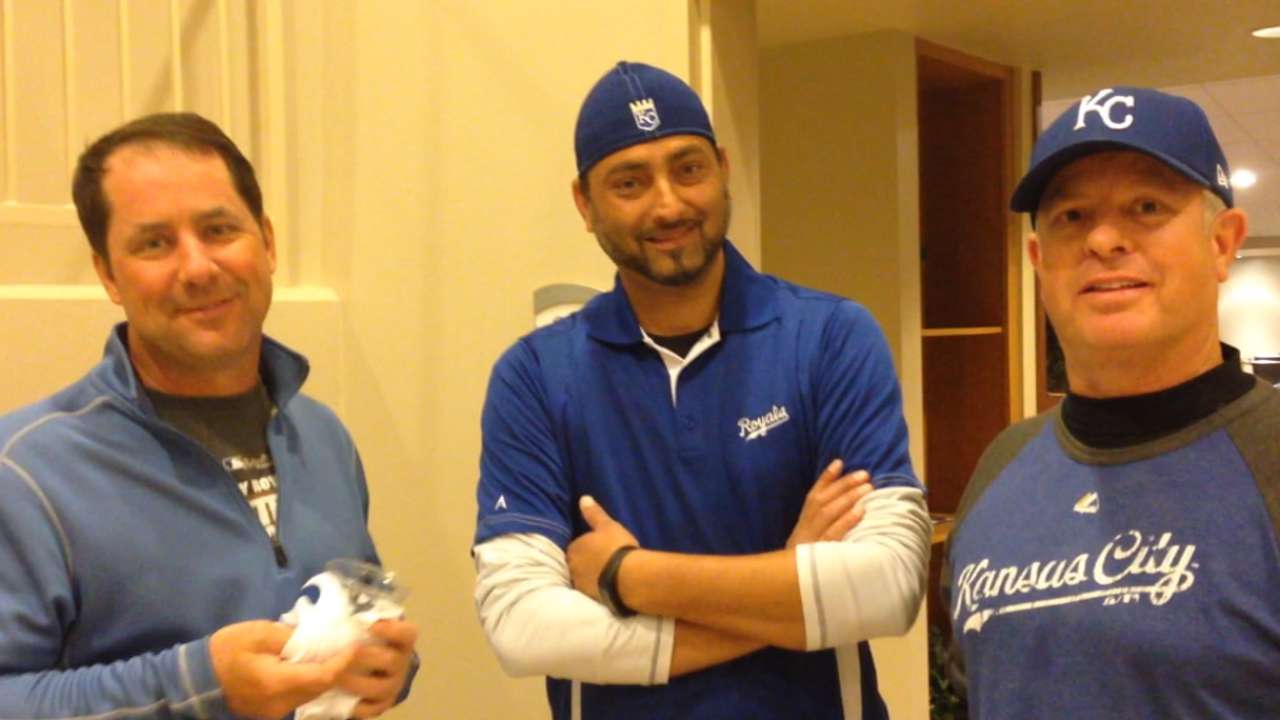 "Those people helped me the entire way, didn't let me fall, and kind of lifted me up out of there," Moustakas said. "It was pretty awesome."
The Royals didn't do much at the plate, but they didn't need much. Billy Butler's sixth-inning sacrifice fly to score pinch-runner/prognosticator Jarrod Dyson broke the tie and, as usual, Kelvin Herrera, Wade Davis and Greg Holland slammed the door.
It's easy to see the Royals as being born in October, but they were 41-23 down the stretch before their 7-0 start to the postseason. No team in either league has a better record since July 22.
"We've been doing it all year," Moustakas said. "We've been playing good defense, scoring timely runs and doing the little things. There's still some plays that I'm sitting back, like, 'Wow, I don't know how [Lorenzo] Cain got there, or how [Alex Gordon] got there.' But it's almost like you expect them to make those plays."
When fans shelled out big money to sit (or mostly stand) in that dugout seat, they didn't figure on having the Royals' third baseman launch himself into their midst. But like Moustakas said, it probably wasn't a surprise either.
Phil Rogers is a columnist for MLB.com. This story was not subject to the approval of Major League Baseball or its clubs.