Appel dominates again in AFL start
Astros pitching prospect makes it nine scoreless innings for Salt River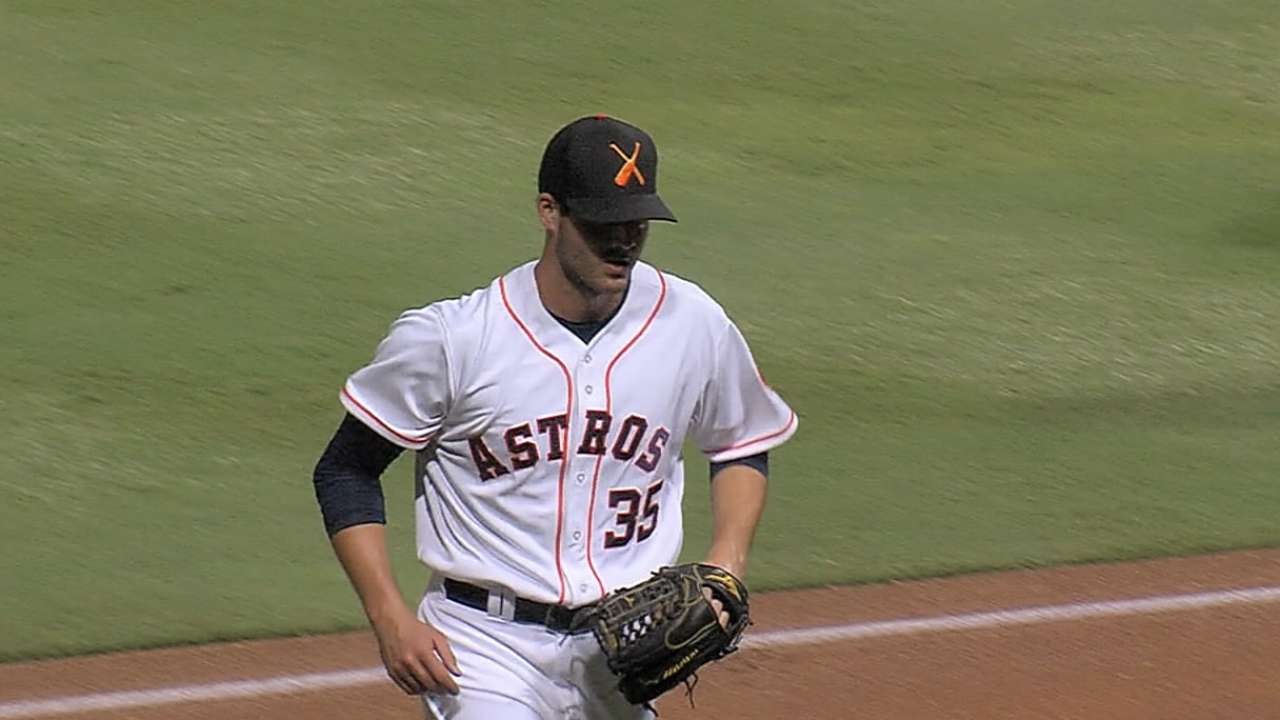 SCOTTSDALE -- The Salt River Rafters were credited with a 1-0 victory over the Surprise Saguaros on Tuesday night in the Arizona Fall League, but the win may as well have gone to the Houston Astros organization.
Astros prospects Mark Appel -- the 46th-ranked prospect by MLB.com and the No. 2 prospect in the Astros organization -- and Andrew Aplin led the way with strong pitching and timely hitting. And Tyson Perez, another Houston farmhand, sealed the deal by picking up the save with a scoreless ninth.
The game also marked the first use of a 20-second pitch clock, which Major League Baseball's Pace of Game Committee is testing -- along with other time-saving rules -- in the Fall League. The game lasted just two hours and 14 minutes.
Appel is coming off a rocky 2014 season as he posted a 6.19 ERA over 18 starts between Lancaster and Corpus Christi, but those struggles have been a distant memory in the Arizona Fall League.
After twirling four shutout innings, Appel has now thrown nine scoreless innings in two AFL starts.
On Tuesday, Appel allowed just one hit while striking out six. Although the box score looked great, his teammate feels the best is yet to come.
"He was a little sporadic at first," Aplin said. "He got a little messed up by the clocks, I guess you could say, but I thought he was under control. He settled in, threw a lot of strikes. He used his fastball a lot which set up his slider and his changeup. I wouldn't say it was his best outing, but he put up zeros and we needed that."
The Rafters needed all the zeros they could get as Saguaros starter Keith Couch was also on top of his game.
Couch, a Red Sox prospect, escaped a two-on, no-out jam in the third on his way to five shutout innings.
However, the Rafters ultimately broke through in the bottom of the eighth. Astros catching prospect Tyler Heineman singled with one out and after a fly ball to center, Aplin came to the plate with one on and two outs.
"I was just looking for a pitch elevated and up in the zone," Aplin said. "The first pitch had good run and sink on it, so I knew the only way I was going to drive something was if I looked up in the zone."
Aplin, who hit .265 in 126 games between Double-A Corpus Christi and Triple-A Oklahoma City, got his pitch and drove it to right field for an RBI triple.
Game-winning hits are always special, but playing in the AFL has additional significance for Aplin.
The center fielder played his college baseball at nearby Arizona State University and is relishing the chance to play in Arizona once again.
"I love it," Aplin said. "It feels like home again, like back in college when I played at ASU. It's fun playing with this group of guys and these coaches. The talent here is awesome."
William Boor is an associate reporter for MLB.com. This story was not subject to the approval of Major League Baseball or its clubs.