MLB.com Columnist
Anthony Castrovince
Orioles running out of time to silence Royals
Dyson's comments regarding ALCS not going back to Baltimore loom heading to Game 4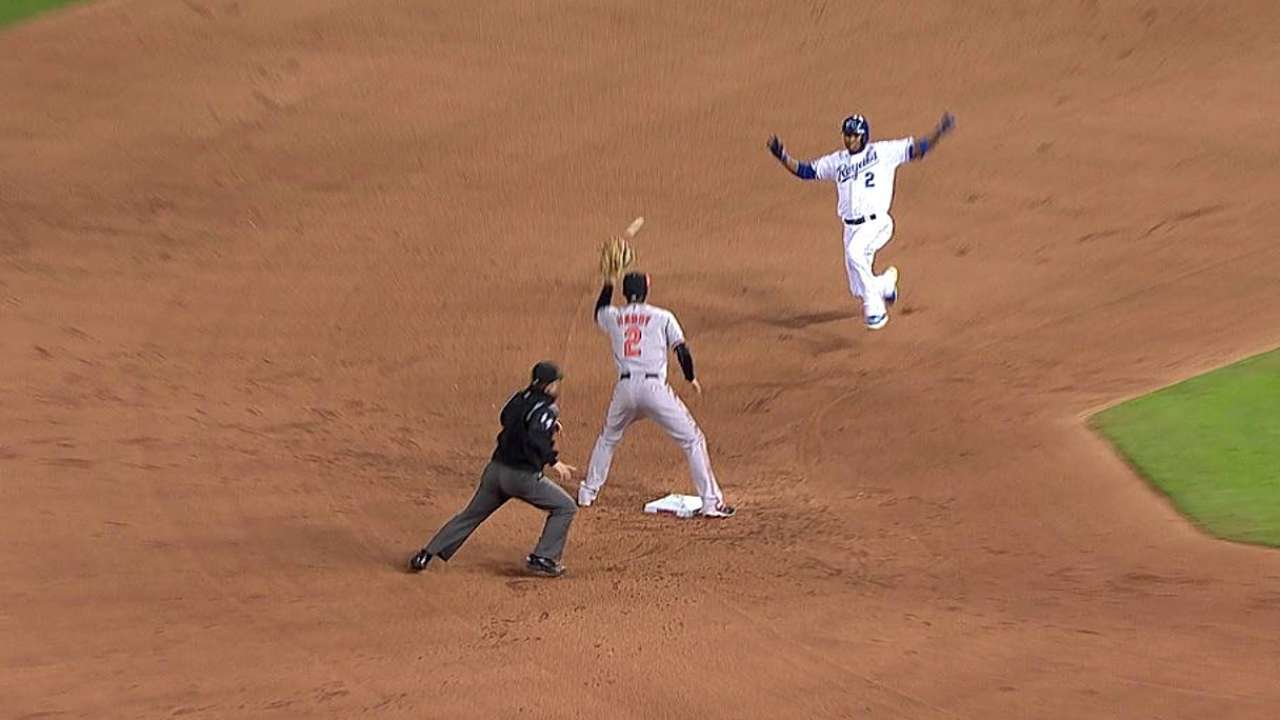 KANSAS CITY -- Everything Jarrod Dyson said prior to Game 3 -- about this American League Championship Series not going back to Baltimore and about the Orioles having to embrace their fate as second fiddles, should they go down 3-0 -- is on the verge of proving prescient.
For the O's, that's the annoyance served as a side dish to their adversity. The only thing worse than having your October opponent talk so much smack is not being able to make him eat his words.
It's not as if the Orioles are playing brutal baseball in this series (although, even by the standards of their hack-tastic ways, there were some poor at-bats over the course of the 2-1 loss they sustained in Game 3 at Kauffman Stadium). It's just become abundantly clear that in energy and execution and, yes, good fortune, the Royals have been just a bit better.
And in a series with a run differential of five, that little bit, clearly, goes a long way.
"I wish I didn't have so much stake in it," manager Buck Showalter said. "I'd probably enjoy watching both teams play more than I do."
The O's have not had much to enjoy, obviously. They find themselves in a situation 33 other teams have faced in a best-of-seven series. Twenty-seven of those clubs wound up getting swept. Only the 2004 Red Sox went on to win four straight to take the series (or even three straight to force a Game 7).
Which brings us to the rewind of what, exactly, Dyson -- the Royals' fourth outfielder and pinch-running specialist -- said.
"I'll just tell you this, man," he said between Games 2 and 3. "If we win Game 3, it's going to be hard for [the O's] to look themselves in the mirror and say, 'We can win the next four.' … It can be done, but not everybody's going to be on the same page. There's going to be some people ready to go home. There's going to be people not cheering in the dugout. Just like if it was vice versa on this side, it might be the same way."
Those would be strong words from a starter, let alone a dude coming in off the bench, and they were particularly bold in the context of a sport in which status and seniority, and decorum and deference to the game, and to the people who play it is considered paramount.
The O's did well to brush aside those comments publicly, but they were more irked by them than they let on -- and understandably so. Still, Dyson wasn't totally incorrect. Nobody's expecting the O's to mail this thing in, but if they're discouraged by recent developments (and does any moment sum up this series quite as well as Mike Moustakas going heels-up over the rail to rob Adam Jones?), that, too, is understandable. Their postgame body language did not necessarily match the defiance of their postgame words.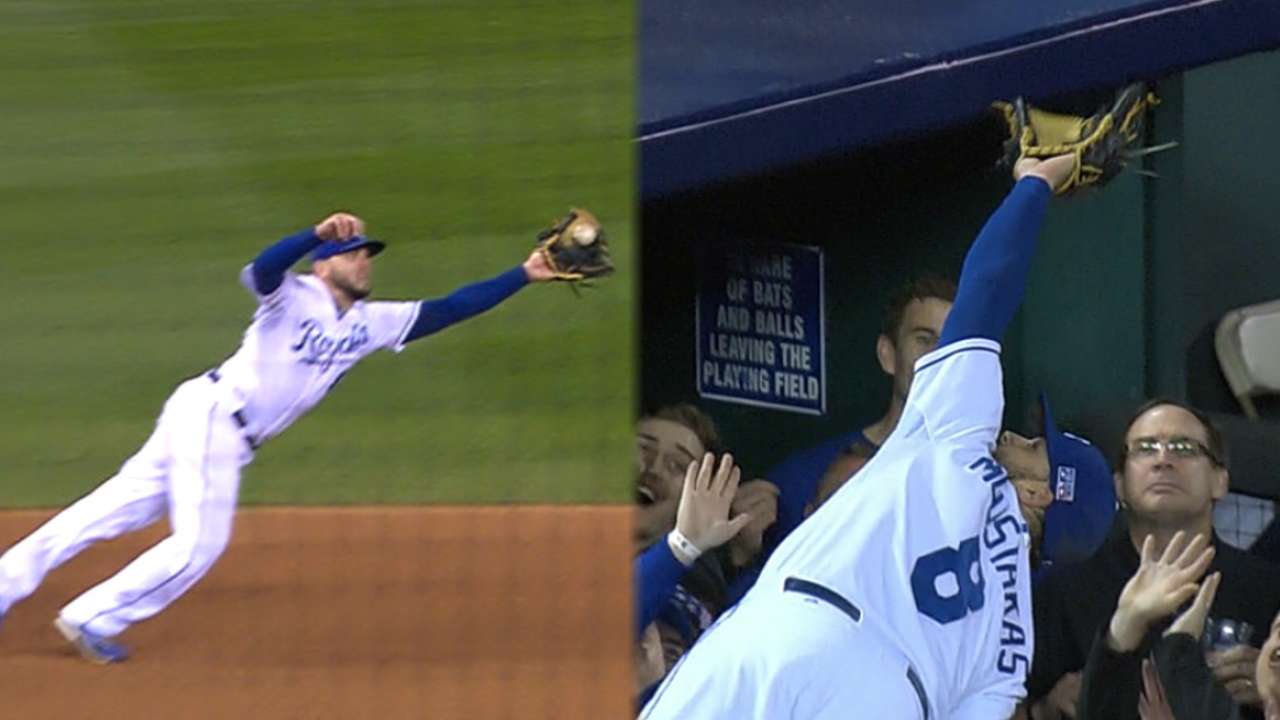 • Video: Moustakas' pair of catches
Jones: "It's been done before, so it gives you a chance. We've won four games before. Obviously not in this situation, but we've won four games."
Nelson Cruz: "We had to win four games since the series started. So hopefully we can do it."
J.J. Hardy: "We've got to take it one day at a time. Come out [Wednesday] and win and go from there."
Nick Hundley: "It's a great challenge for us."
Now that I've fulfilled my reporter's obligation to relay that stuff, let's state the obvious: It's hard to feel all that optimistic about the O's ability to outrun history given the way they let Game 3 -- a game in which Wei-Yin Chen and Kevin Gausman were excellent -- get away.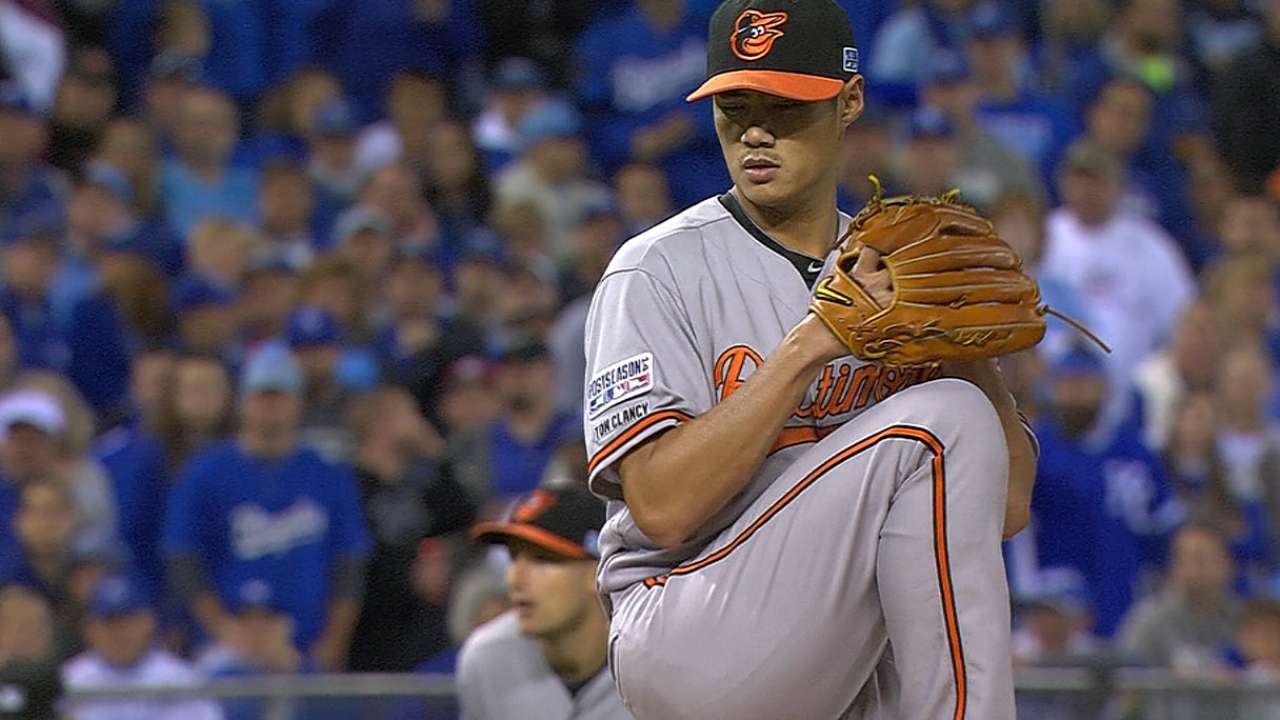 • Video: O's pitch well, but lose Game 3
The Orioles created but did not capitalize upon opportunities against Guthrie, who needed 94 pitches to get through five innings and walked away relatively unscathed. Sure, they took advantage of a Kauffman Stadium outfield with the largest square footage of any in the bigs when Steve Pearce and Hardy ripped consecutive doubles in the second to put the first run on the board, and Ryan Flaherty's ensuing walk gave them the opportunity for the breakout inning they've been looking for all series. But Hundley's deep fly to center died in the spacious Kauffman confines, and Jonathan Schoop's groundout let Guthrie off the hook.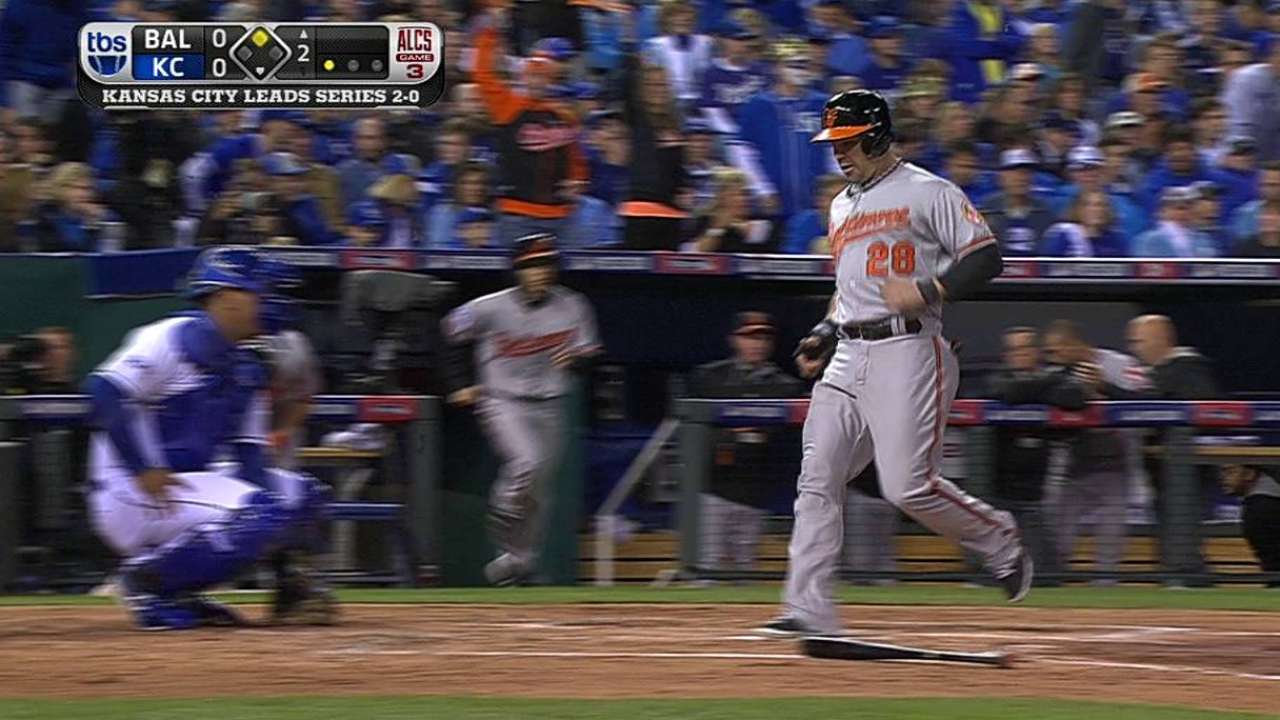 • Video: Hardy doubles in a run
In fact, that began a stretch in which the Royals retired 23 of the final 25 O's batters who came to the plate. Jones struck me as the main offender, seeing just 10 pitches in his four at-bats on the night, which for him concluded with a first-pitch popup against Greg Holland in the ninth. The Orioles committed what at this point can only be described as the cardinal sin of falling behind before Royals manager Ned Yost summoned his rested behemoth of a bullpen. The inability to string a big inning together against Guthrie -- a guy with a 1.303 WHIP in the regular season -- was, ultimately, devastating.
"We've put together good at-bats," Jones said. "We leave it all on the field, so we don't have any excuses."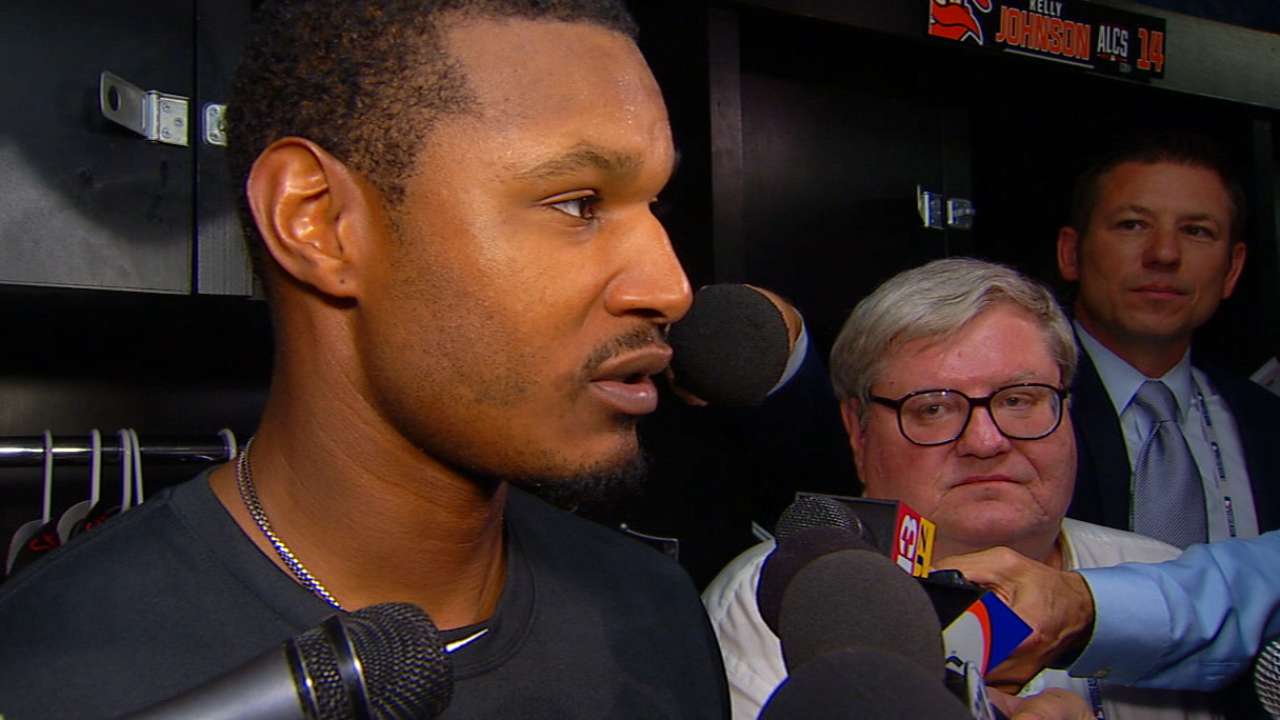 • Video: Jones on being down 3-0 in ALCS
No excuses and, unfortunately, not a whole lot of hope, either. This has been an incredible season for the O's, and they might have a better claim to the old cliché of "overcoming adversity" than anybody who advanced to October. But they've been little more than bit players in this series, in this Royals' ascendance. Some of that is their fault (Chris Tillman and Bud Norris did not give them needed length in Games 1 and 2, and the bats were frustratingly flat in Game 3), but much of it is not. It has simply been three frustrating nights for a club unable to match its opponent's unbelievable untouchability.
In keeping with proper baseball decorum, Dyson might have been wrong to say what he said. But he still might have been right, all the same.
Anthony Castrovince is a reporter for MLB.com. Read his columns and follow him on Twitter at @Castrovince. This story was not subject to the approval of Major League Baseball or its clubs.