Winning four games starts with winning one for O's
Looking to match the '04 Red Sox, Baltimore needs a Game 4 victory to stay alive in ALCS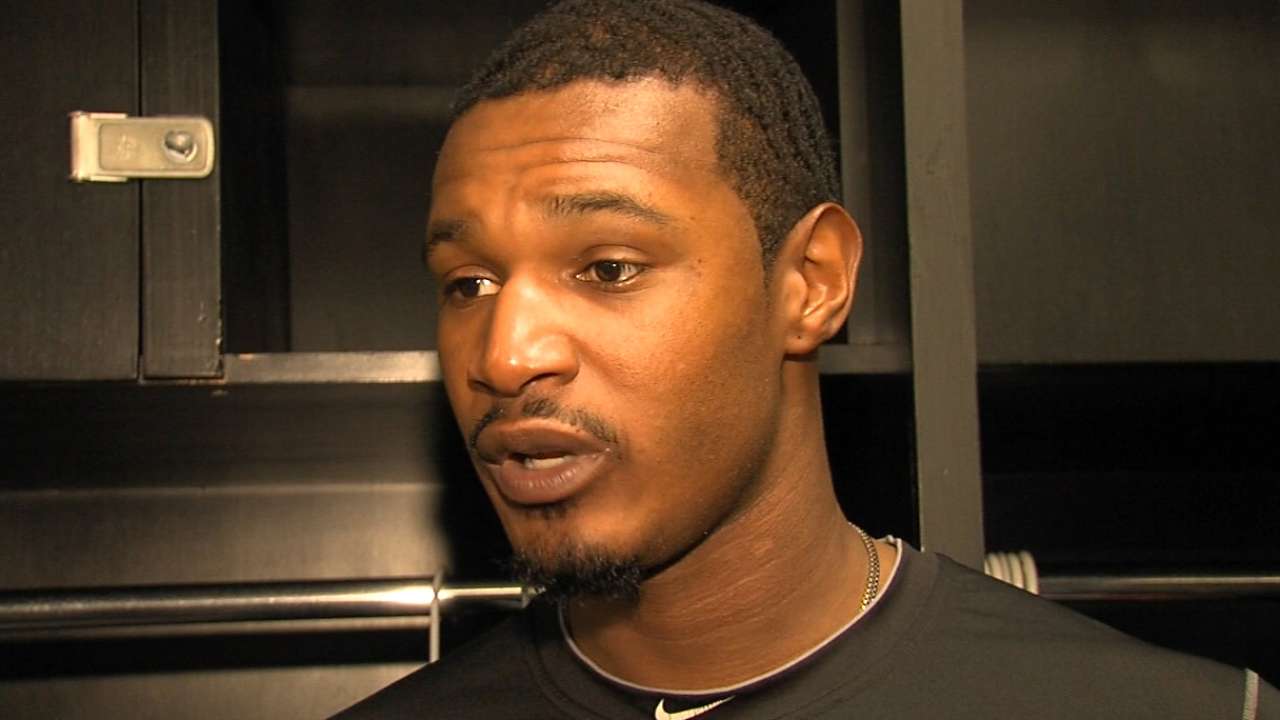 KANSAS CITY -- By narrowly losing three straight tense contests in the American League Championship Series, the Orioles have left themselves with no choice but to reel off their eighth four-game winning streak of 2014.
If they fall short of that, the goal of giving the city of Baltimore its first World Series since 1983 will be history.
Instead, the Orioles will try to make history and join the 2004 Red Sox as the only other baseball team to come back from a 3-0 deficit in a postseason series.
"The Orioles are equally as talented and equally as capable to do what we did in 2004," former Red Sox great Pedro Martinez tweeted on Tuesday night.
Orioles outfielder Adam Jones remembers full well what Boston's beloved "Idiots" did a decade ago.
"It's been done before so it gives you a chance," Jones said. "We've won four games before. Obviously not in this situation, but we've won four games in a row. We've got to start [Wednesday], start in the first inning, get some runs across that board."
Here are four things the Orioles need to do to pull off the biggest four-game winning streak in club history.
Win Game 4
Look it up. The toughest obstacle for teams trying to overcome a 3-0 deficit is simply avoiding the sweep.
There have been five previous occasions when a team held a 3-0 lead in the ALCS. The 2004 Red Sox were the only team that won Game 4. And look at how that turned out.
If the Orioles can simply win Game 4, perhaps momentum can take a sharp turn.
"You always feel like the momentum can change," manager Buck Showalter said. "If we can get one under your belt and get a few things to work our way and make some things happen, we feel like we can get it spinning the other way. Otherwise, we shouldn't show up tomorrow."
In the NLCS, two of the four teams with 3-0 leads pulled out a sweep.
Jump out first, and add on
Not only did the Orioles take a 1-0 lead in the second inning of Game 3, but it was the first time the Royals trailed in the entire series.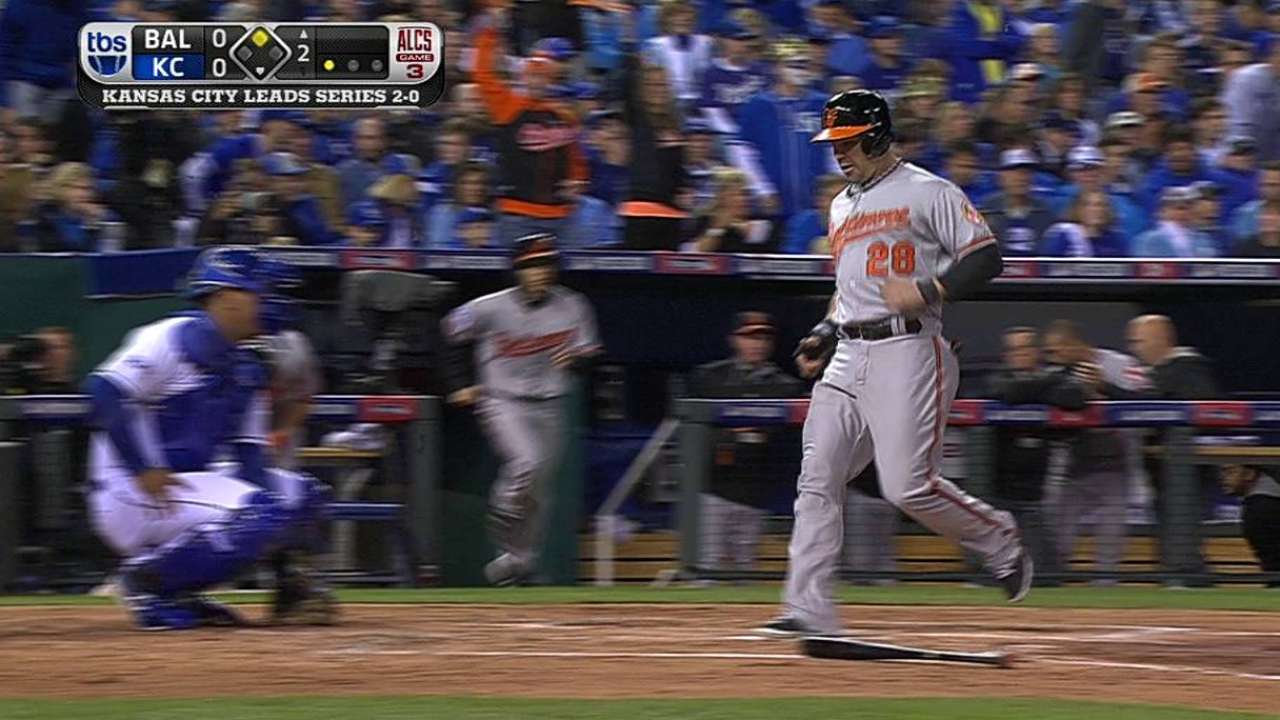 • Video: Hardy doubles in a run
The problem is that Baltimore didn't add on, even as it ran Kansas City starter Jeremy Guthrie's pitch count up to 84 through four innings.
By not extending the lead, the Royals were able to turn the tables with one in the fourth and one in the sixth, and then turn the game over to their lethal bullpen.
The bullpen is also a strength for Baltimore, but Showalter hasn't been able to set up his relievers in the order he'd like.
"They've got a real good bullpen," Jones said. "They're just as good as advertised with [Kelvin] Herrera, [Wade] Davis and [Greg] Holland, but we've still had opportunities against them. It's not like they're just going to go out and shut everybody down. We've had opportunities. It's just we've been unable to come through."
The best way for Baltimore to solve this problem? Play with a comfortable lead.
Pitch-to-pitch focus
The old cliché of taking one day at a time becomes even more simplified in the predicament the Orioles are in.
When the Red Sox produced their epic comeback in '04, Jason Varitek spread the message throughout the clubhouse that the team had to simplify the game to each pitch. He implored the players to try to win every pitch and every inning, and the results would take care of themselves.
It's when a team takes a broader view -- thinking about having to win four games in a row -- that it can be overwhelming.
"We're not looking at it like that," Orioles shortstop J.J. Hardy said. "We've got to come out tomorrow and win, and just take it one day at a time. It's tough to look at it in the long haul."
Ride the big guns
While the Royals are the masters of creating havoc with their legs, the Orioles are capable of changing games with their power. Jones and Nelson Cruz, the team's two most impactful hitters, went a combined 0-for-8 in Game 3.
If one of those players can get into a groove, much like David Ortiz did during Boston's 2004 comeback, the tone of the series could change.
"Yeah, it's tough," Cruz said. "We can't get it done with three hits. The offense has to do a better job, has to find a way to score runs, get hits, and we haven't been able to do it. We had to win four games since the series starts. So hopefully we can do it tomorrow."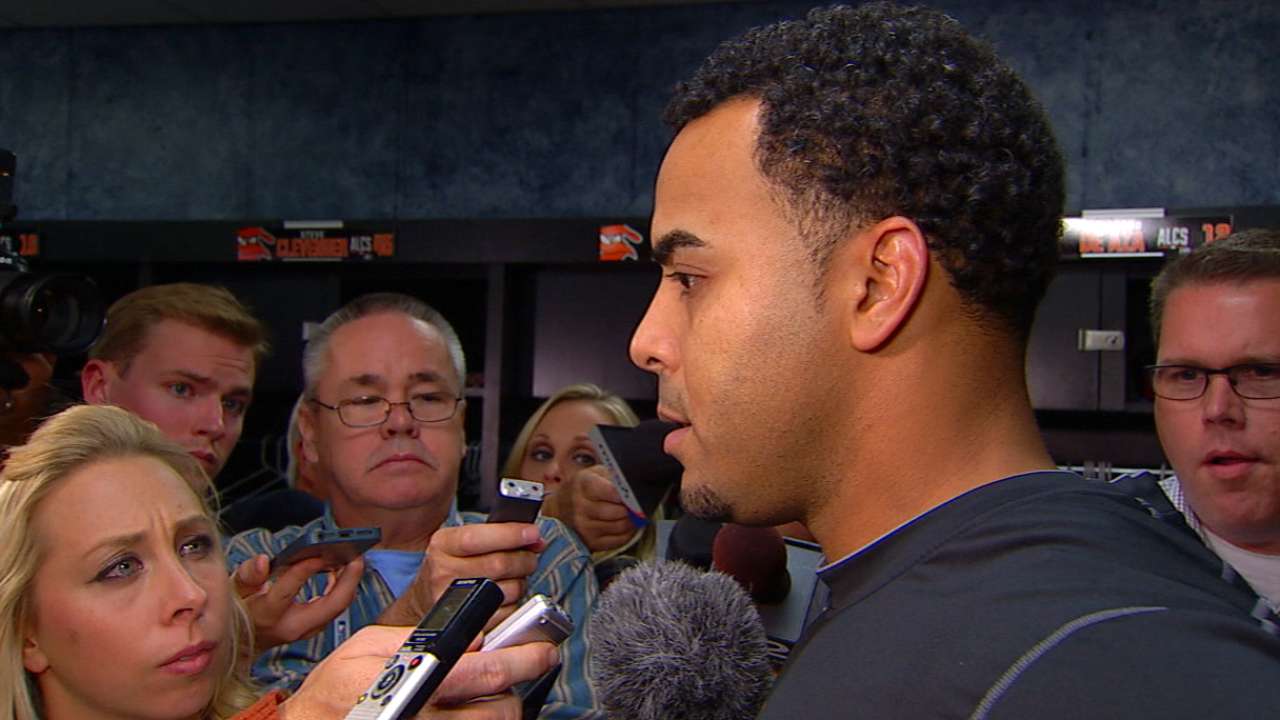 Jones sounded loose as he spoke to the media following Game 3, and he didn't think his team would put undue pressure on itself. In fact, maybe much of the pressure is off now.
"It's going to be just like we normally are. We're going to be having some fun, playing some cards and getting ready for a big league game," Jones said. "Score more runs than them. We've just got to win. We're down 3-0. Got to win. It's no ifs, ands or buts. It's 'do' at this point."
Ian Browne is a reporter for MLB.com. Read his blog, Brownie Points, and follow him on Twitter @IanMBrowne. This story was not subject to the approval of Major League Baseball or its clubs.