Frasor's clean sixth pivotal for Royals in Game 3
Right-hander's 1-2-3 frame lessens workload of backend trio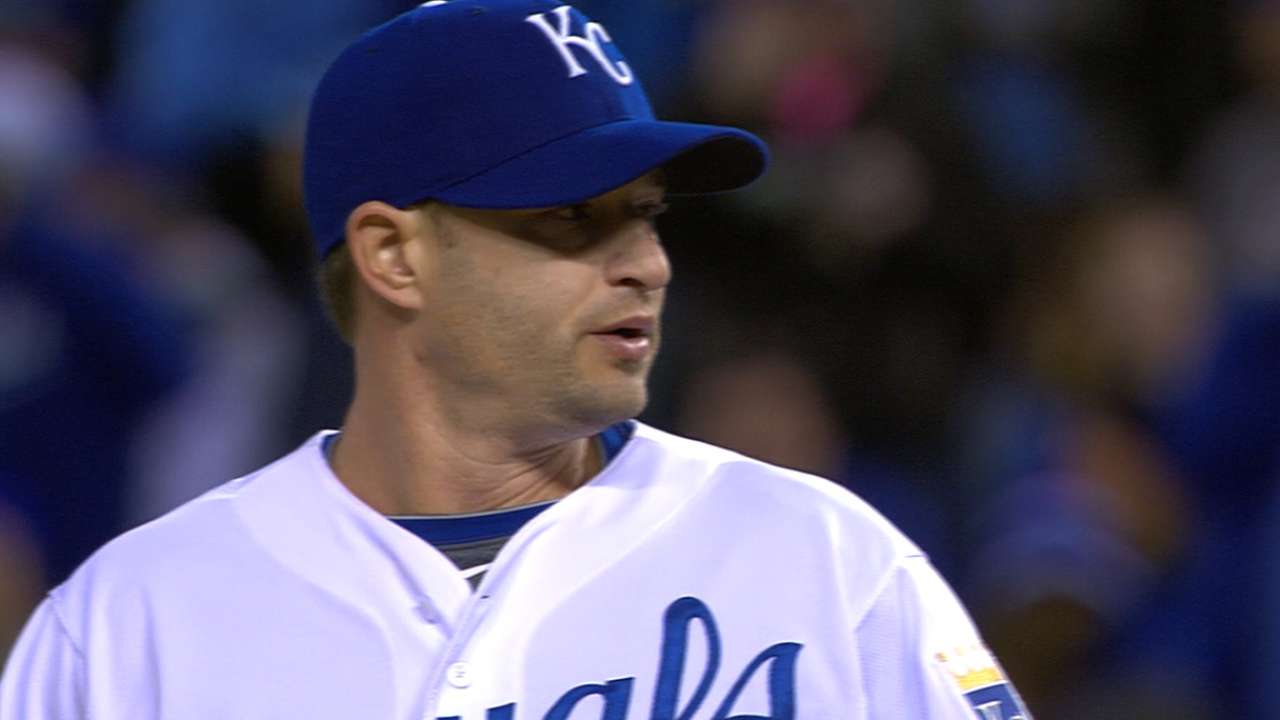 KANSAS CITY -- Not long before Kelvin Herrera, Wade Davis and Greg Holland completed their nightly three-inning ritual of securing yet another Royals victory by way of sheer dominance on Tuesday, Jason Frasor stepped to the mound. And his performance, albeit under the radar, proved just as significant -- if not moreso -- than the others.
Just ask Holland, who closed out Kansas City's record-tying seventh-straight victory, a 2-1 win that gave the Royals a 3-0 lead over the Orioles in this American League Championship Series.
"I think that was probably the most pivotal inning," Holland said. "You've got the heart of the order in the sixth inning of a tied game."
And all Frasor did was set down Adam Jones, Nelson Cruz and Steve Pearce in order.
This coming from an 11-year vet who tallied nearly 620 innings spanning 647 games before making his debut on a postseason stage in this year's gripping AL Wild Card Game against the A's. Just as he did in that game, the 37-year-old Frasor exited Tuesday's with the win in his pocket, marking the sixth time in seven Royals games the victory's been credited to a relief pitcher.
Frasor's outing followed five innings of one-run ball from starter Jeremy Guthrie.
"I totally deserve that one, right? I get three outs, Guthrie gets 15, and I get the win," said Frasor, smiling. "I don't think anyone cares who it is. It was just nice to contribute tonight, to be out there and help the team win."
Frasor did more than that. By bridging the gap to the seventh inning, he allowed manager Ned Yost to ask just one inning of each of his big three, guaranteeing that Herrera, Davis and Holland are all available again come Wednesday in a potential clinch game that could send the Royals to their first World Series since 1985.
"I think, in the long run, for their arms and for our health in this series and the next, if we can have those guys pitch one [inning] at a time," said Frasor, "we're in better shape that way."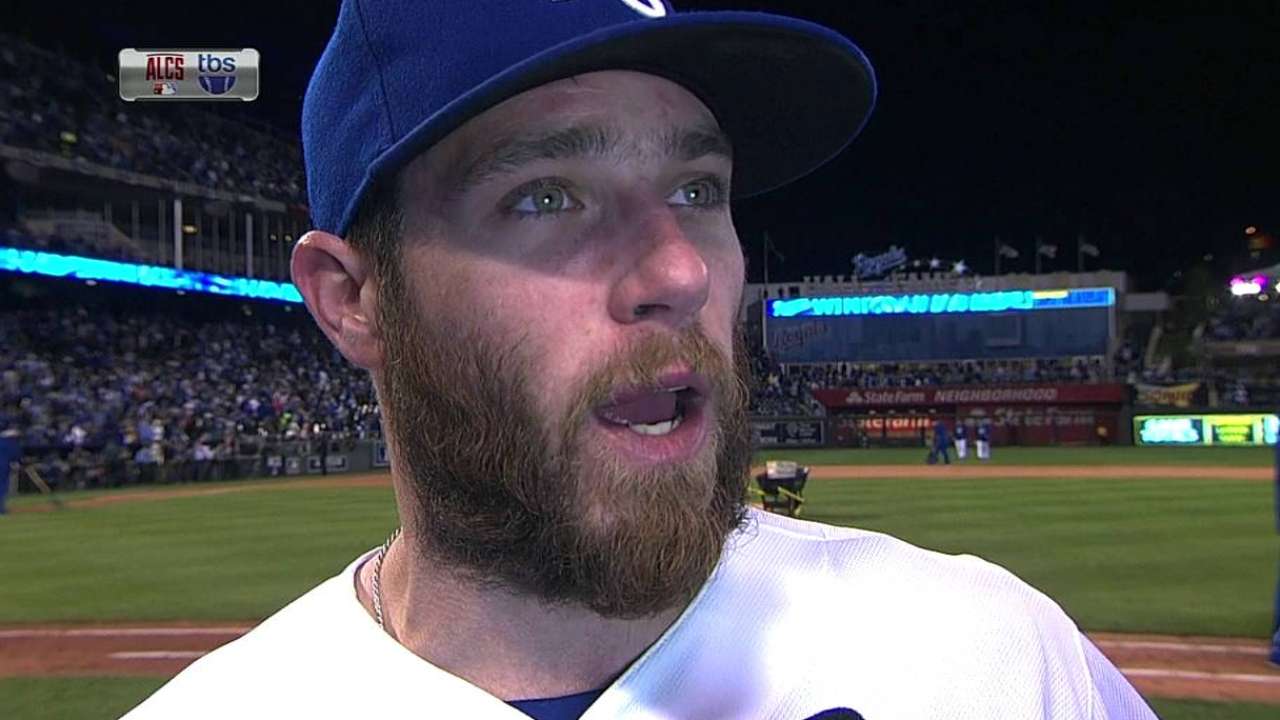 • Related video: Holland on shutting down the O's
"Because of Jason, we don't have to throw Kelvin out there for two innings and save him from pitching on fumes tomorrow," said Holland. "That could save tomorrow's game. You never really know, but it always helps when you can stay out of those two-inning stints."
Especially when Mother Nature takes away an off-day, as she did to force a rain-induced postponement of Game 3 on Monday, to open the possibility of these clubs playing five games in as many days.
"In this situation, with the rainout yesterday, you've got to plan on going the next five days," said Yost. "You just have to do it in your mind. You hope it doesn't happen, but you have to do it in your mind.
"Our sixth-inning guys are Frasor and [Brandon] Finnegan, depending on the matchup. The matchup was perfect for Frasor right there. And then we were going to back him up with Herrera in that spot if we got one or two outs and trouble developed. But Frasor had a wonderful 1-2-3 inning, and it was a key inning to get us to the bottom half of the inning, so we could score the run and go ahead and do what we've done well all year with Davis, Herrera, and Holland."
Frasor has faced Jones and Cruz plenty in his career, and they've fared rather well against him in the past, going 7-for-24 (.292). Pearce was 0-for-1 against the righty. Frasor needed just 11 pitches to get them all out.
Jones' at-bat brought about the most memorable play of the game -- and this series. Ahead 0-1, Frasor grooved him a slider, and Jones popped one up into foul territory, where Royals third baseman Mike Moustakas climbed over the railing and fell into the crowd while making a phenomenal catch.
"As soon as I saw the umpire give that call, I was relieved," said Frasor, "but then I still had Nelson Cruz and Pearce after that."
Cruz flew out to right field on five pitches, and Pearce drove his fourth pitch into center field for another flyout to close out the top half of the inning. The Royals, infused with newfound momentum, scored the go-ahead run in the bottom half.
Like Frasor, the untouchable trio of Herrera, Davis and Holland did not allow a baserunner, and their four perfect innings match the postseason record for most innings pitched by a bullpen without allowing one. The only other instance was when the Cardinals did it in Game 3 of the 2011 NLCS against the Brewers.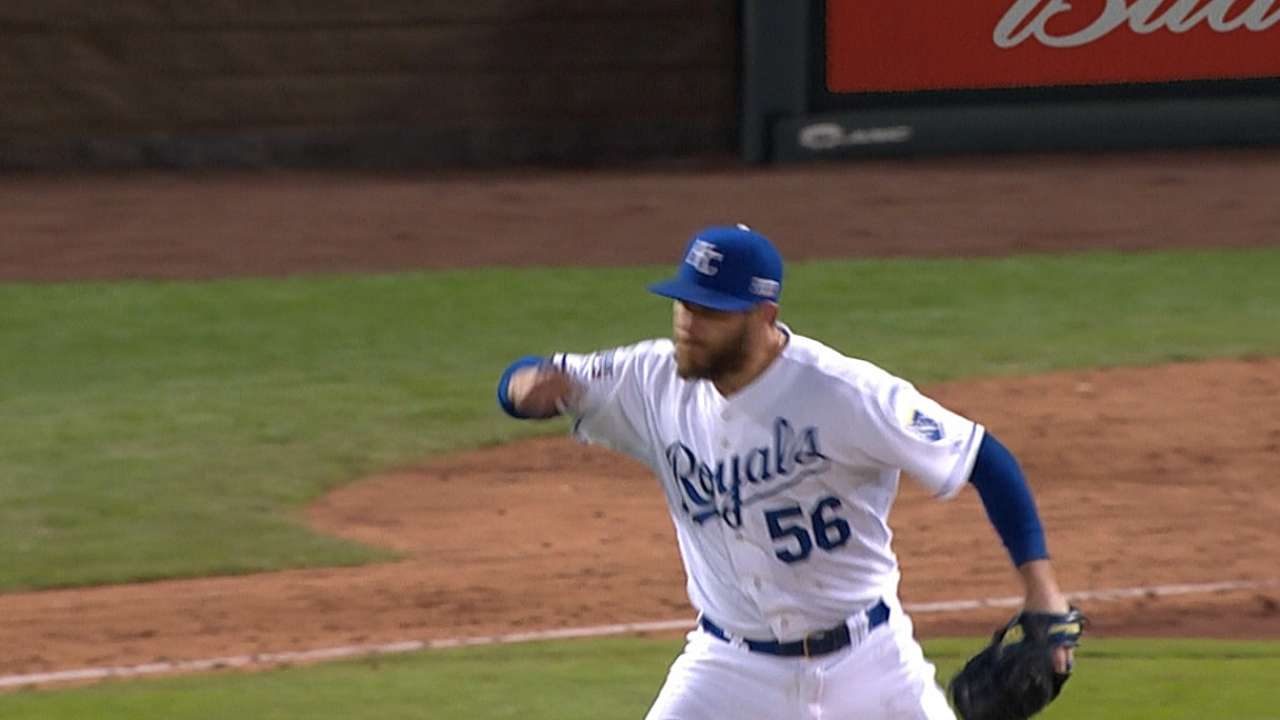 "It means a lot to contribute to a winner," said Frasor. "It's such a great feeling to be a part of something special. That's what we all want, and to be doing it with this team is unbelievable. It's intense out there. It's hard to explain. I pitched in the Wild Card Game, I pitched in Anaheim, but this felt even heavier. It was just nice to help the team win."
"He's been in the game a long time and never played in the playoffs, so to see him get big outs throughout all this," said Holland, "it's very enjoyable."
Jane Lee is a reporter for MLB.com. This story was not subject to the approval of Major League Baseball or its clubs.