Oct. 14 Ned Yost postgame interview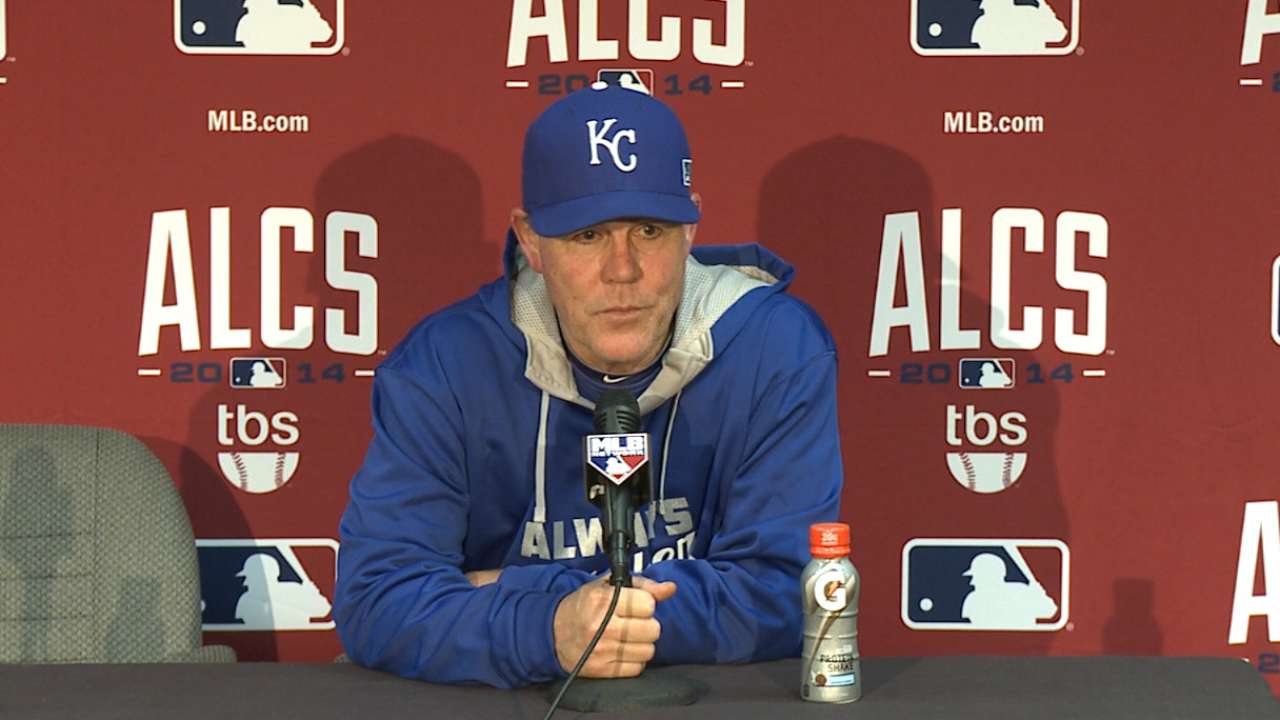 Q. Obviously the sixth inning is a big inning for a couple of reasons. First of all, you get the lead and you get in your bullpen. Can you take me through the decision to go to Frasor in the 6th?
NED YOST: In this situation with the rainout yesterday you've got to plan on going the next five days. You just have to do it in your mind. You hope it doesn't happen but you have to do it in your mind. And we were going to go ‑‑ the matchup was good.
Our sixth inning guys are Frasor and Finnegan, depending on matchup. The matchup was perfect for Frasor right there. And then we were going to back him up with Herrera in that spot if we got one or two outs and trouble developed, Herrera was going to come into that ballgame.
But Frasor had a wonderful one, two, three inning, and it was a key inning to get us to the bottom half of the inning, we could score the run and go ahead and do what we've done well all year with Davis, Herrera, and Holland.
Q. How about the two defensive plays that Hos made?
NED YOST: They were both tremendous plays. The ball, the first play, the line drive, I didn't see it. From where I was standing, I didn't see any way he could get a glove on that ball. Just tremendous reactions, made a tremendous play on that.
But the next play was even bigger because at that situation I think that was in the sixth inning, you want to go out and try to get the first out in that situation. You don't want trouble developing where you've got to bring Herrera in for more than a one‑ or a two‑out stint in the sixth inning, and that was a huge out for us to start that inning.
Q. Does it ever surprise you with only five guys with postseason experience, sitting here on this kind of run in the postseason, guys that haven't been here before?
NED YOST: No, it doesn't. After the Wild Card game, that was all the experience we needed. And you could tell somewhere in the course of that game something clicked for them and they were playoff veterans. And they've played like it.
Q. What was your take on Guthrie tonight, the job he did? And what is it like to do that with that much time off?
NED YOST: Well, I think he had like 12 days off. But he was real sharp in between. We had him slated to go Game 4 of the Division Series. We never got there. He threw a 5‑inning simulated game five days ago to set him up for this day. He was very sharp in that, even though it was a sim game. His side session in between that and this start he was extremely sharp.
But, you know, Jeremy Guthrie is a pro and he's a veteran. And he's a guy that you knew that he was going to hold the fort for you. He was going to go out there, and be prepared both physically and mentally, and he was going to try to find a way to get us through five or six innings. He did a great job.
Q. It's a one‑run game and you watched all year your 7th, 8th and 9th. How enjoyable and comfortable is that for a manager?
NED YOST: It's real comfortable. When we had first and third and Billy was up, my whole mindset with Billy, try to find a way to get the ball in the air, score this run and we're going turn this over to Kelvin, Wade, and Holly. Odds of us winning this game is going to be great.
He did a phenomenal job of getting a pitch up, driving it deep in the outfield, deep enough for Dyson to score. It was the run that we needed to get over the edge.