Oct. 14 Buck Showalter postgame interview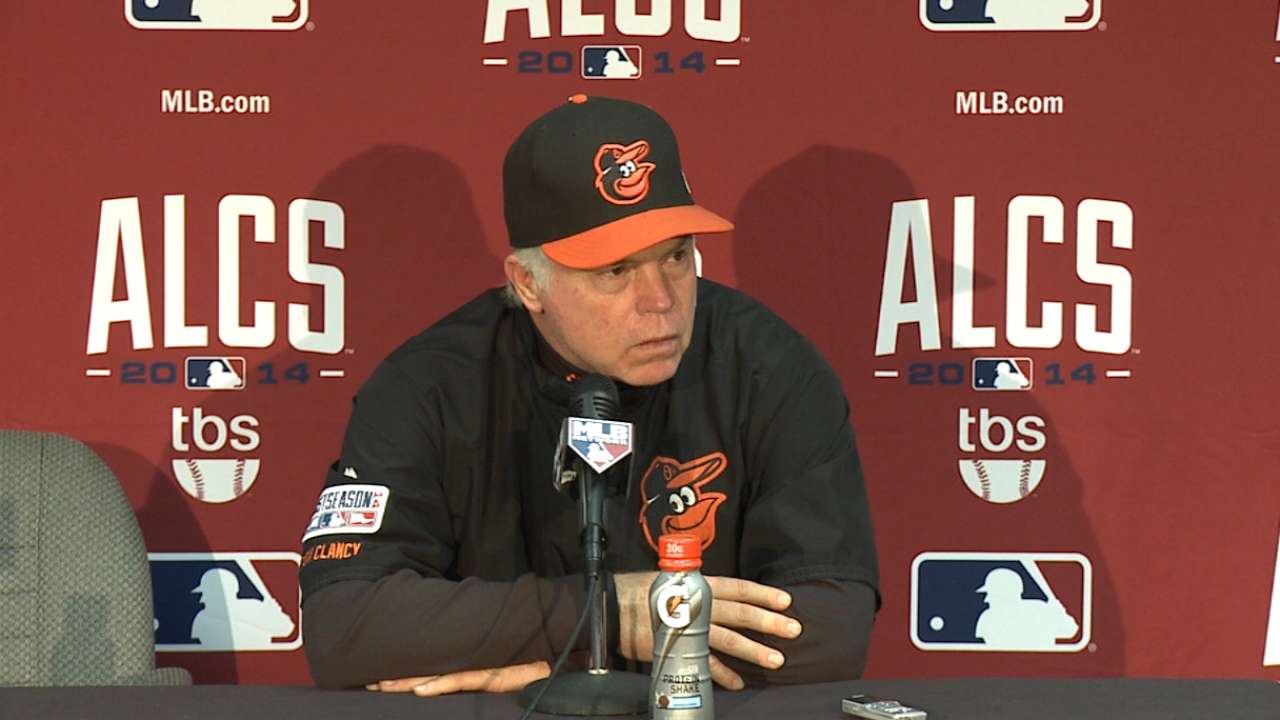 Q. Was it a case of KC pitching a little better tonight?
BUCK SHOWALTER: Yeah, it's been such close games. And they pitched us a little bit better, not much. Wei‑Yin, tough luck, made a couple of really good pitches on Cain and Hosmer, and didn't get much to show for it. Nicky had a flare to left field, we just couldn't take advantage. Just not a lot offensively.
Q. Can you take me through the decision to stick with Chen in the 6th?
BUCK SHOWALTER: Decision to stick with him? He's pitching well. He hasn't ‑‑ didn't give up one hard hit ball. We hit some balls really hard. And they did, too. But he was pitching well. And tougher thing is taking him out instead of leaving him in.
Q. What did you think of the play Moustakas made on the dugout suite?
BUCK SHOWALTER: Really nice play on the line drive. Did they put those in for the playoffs? Did they take them out? I think they were already here.
They played a lot of good defensive plays. Probably the difference in the series so far. We've played good defensively, too. But they turned a lot of hits into outs and foul balls that would have been an at‑bat.
But we pitched well tonight. And they, I'm trying to think, Gordon, I think, one, he may have lost it in the lights a little bit, may have been as good a play as any, it was really hard.
So second base made a couple of nice plays. They're solid. A real good base run play Nicky did on the decision Hosmer made to try to get two.
Q. What's it like watching that bullpen from where you're sitting, the 7th, 8th, and 9th?
BUCK SHOWALTER: Well, I've got a real good feel for that because we have one very similar. That's one of the biggest reasons why we're both playing here and the starting pitching. That's what gets overlooked is the quality job the starting pitchers have done all year long to make leads matter and precious outs late in the game matter. You can't have one without the other.
But the off days make it, in the playoffs, which is different, make it a little bit easier to continue to follow a pattern and get a good return for it.
Q. What's the feeling from your standpoint? You guys are down 3‑0, but every game has been so close. Tonight there was a difference of a tiny margin and a couple of flares fall in.
BUCK SHOWALTER: They're doing ‑‑ they're earning everything. Strong people. Thing you notice up here, strong guys, the strength, and the muscle balls over the infield.
Squaring up these pitchers, especially the guys they are pitching this time of year, is hard to do. Our guys, I always feel like they're one away from getting the thing going the other way.
Q. Was Dyson's speed, having him on first base, a big factor with positioning and how the batter was pitched on Hosmer's first and third?
BUCK SHOWALTER: No. I don't think there's been any other guys, with one or two exceptions, that would have gone first and third to throw the ball anyway, especially with the depth the outfielders play here compared to other places. The ball is going to get deep on the outfield because the grass is real fast.
No, it's a great tool for him. But he'd be pretty picky to say ‑‑ it's a real tribute to the rest of their team's speed, that most all of them have been able to do it, too.
Q. Against Guthrie, did you feel like you guys had a lot of deep at‑bats and you got a big pitch count on him early, but just couldn't do enough damage with it?
BUCK SHOWALTER: Well, I think that you look at Duffy statistically this year, and Frasor was a good addition for them. It's not a three‑man ‑‑ just like ours isn't. I don't think I've ever seen two teams playing with deeper bullpens than these two. And it shows up.
Guthrie is trying to stay engaged in the game. He's pitching well. We're playing in the same ballpark. We're playing in the same conditions. You hit a ball through the gap against him, you better drive it through there, if it hangs up they'll run it down. A lot like our outfielders.
I wish I didn't have so much stake in it, I'd probably enjoy watching both teams play more than I do.
Q. Down 3‑0, what can you guys do to get back in the series?
BUCK SHOWALTER: Very similar question David asked. Always feel like the momentum can change. If we can get one under your belt and get a few things to work our way and make some things we feel like we can get it spinning the other way. Otherwise we shouldn't show up tomorrow.
I know what our guys in our locker room feel like. They know they're up against some good competition. But always one more opportunity away, which is tomorrow. And we'll sleep fast, and our guys will be ready.
Q. Down 3‑0, any temptation of putting Tillman back for Game 4 or putting Gonzalez back?
BUCK SHOWALTER: You've got as many things to pick from, I feel I've been fortunate enough with our organization, when you think about all of them, all the guys are going to have to pitch, and pitch well. And Gonzalez has pitched some big games for us and especially on the road and in tough spots. They'll get challenged again tomorrow.